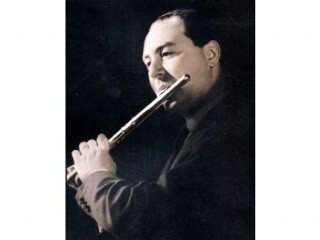 Jean-Pierre Rampal biography
Date of birth : 1922-01-07
Date of death : 2000-05-20
Birthplace : Marseille, France
Nationality : French
Category : Famous Figures
Last modified : 2011-07-20
Credited as : Jazz flautist, ,
Jean-Pierre Louis Rampal was born on January 7, 1922, in the southern French port city of Marseilles. Son of Joseph (a flute professor and performer) and Andree Roggero Rampal, he was not drawn to music early, despite his father's career in music. Throughout his childhood, he dreamed instead of a career in medicine and only reluctantly did he take up the flute at age 13 when his father— equally reluctantly—began giving him lessons. His father only consented to teach his son when he needed additional students to fill out his class at the Marseilles Conservatory. The senior Rampal and his wife both wanted their son to find a life outside music, which they considered an unreliable means of support. Despite his lack of enthusiasm about the flute and music in general, young Rampal showed a natural talent for the instrument and advanced rapidly. He played second chair flute in the Classical Concert Orchestra of Marseilles and made his professional solo debut at the Salle Mazenod in Marseilles when he was only 16. Although he was well received in his premiere recital, the audience calling for several encores, Rampal remained fixated on a life in medicine, preferably as a surgeon. After graduating from Marseilles' Lycee Thiers (the equivalent of high school) with a degree in letters and philosophy in 1939, Rampal began his studies toward a pre-medical degree at the University of Marseilles.
Of his father's influence, Rampal wrote in his autobiography, "I worshipped my father and wanted to be like him. In his wisdom, he permitted me to develop my own style. I often played pieces too difficult for me, and my father was sometimes angry. I played everything in the music library and was so excited. I was really walking like a giant. … My father taught me how to nurture my musical talent and also how to lead my life. He said to walk out on the stage knowing that you are the best, and when you are finished and walk off the stage, always know that there is someone better. My father's influence, encouragement, and example have stayed with me all my life."
Under the Nazi occupation of France, Rampal faced mandatory service in the German military but managed to avoid it—at least for a time—by joining the Chantiers de Jeunesse, which he later described as a kind of "Boy Scout army without arms." He received permission from the group to audition at the Paris Conservatory and was selected for admission after the first round of auditions. Rampal asked that his admission to the conservatory be deferred for a year. Shortly thereafter, however, he learned that his unit was going to be sent to Germany for forced labor only days after his scheduled return to Marseilles. Desperate to remain in France, Rampal went into hiding. With the help of his extended family, he managed to elude German authorities for a year until he could enter the Paris Conservatory. He felt certain he would be safe once he began classes there, because the school's director, Claude Delvincourt, had earned a reputation for sheltering illegal students in the past. In 1944, after only five months of study, Rampal won first prize in the conservatory's annual flute competition.
Suddenly Rampal discarded his plans for a life in medicine. "I decided to be a flute player," he later explained in Instrumentalist. "Up until I was 21 I had thought my future was to be a surgeon, no doubt about it. But then I changed my mind. … Suddenly I just knew that I would be unable to do anything but music. … I was excited but also upset, because I didn't want to disappoint my parents by leaving medical studies. Finally I did it." Upon graduation from the conservatory, Rampal won a job with the prestigious orchestra of the Paris Opera, rapidly working his way to the chair of principal flutist. After the liberation of Paris in 1945 he was invited by French National Radio to perform Jacques Ibert's "Concerto for Flute" in a national broadcast that helped to launch Rampal's concert career. It was during the latter half of the 1940s that Rampal developed the musical relationships that were to play a significant role in his life for decades. He engaged pianist Robert Veyron-Lacroix as his accompanist, a collaboration that continued for 35 years. In 1946 Rampal founded the French Wind Quintet, a group that remained active until the early 1960s. Two years later he organized the Paris Baroque Ensemble, which lasted until the late 1970s.
Not since the Baroque period, which stretched from roughly 1600 to about 1750, had the flute found such favor with the general public as it did in the years following World War II. In an interview with David Wright of the New York Times, Rampal himself offered this explanation for the ascendancy of Baroque-style music—and with it, the flute— after the war: "With all this bad mess we had in Europe during the war, people were looking for something quieter, more structured, more well balanced than Romantic music." As for the specific appeal of the flute, Rampal told the Chicago Tribune: "For me, the flute is really the sound of humanity, the sound of man flowing, completely free from his body almost without an intermediary. … Playing the flute is not as direct as singing, but it's nearly the same."
During a rehearsal for a 1946 performance of Mozart's "Concerto for Flute and Harp" at the spa in Vichy, Rampal was introduced to Francoise-Anne Bacqueyrisse, the 17-year-old daughter of harpist Odette le Dentu, with whom he was to play. In his autobiography, Rampal admitted that about a week after meeting Francoise, he told her: "If I weren't engaged already, I'd ask you to marry me," to which she replied: "If I weren't engaged as well, I might have accepted." Prior commitments notwithstanding, Rampal and Francoise were married on June 7, 1947. Like her mother, Francoise was a harpist, but she abandoned her musical career to manage the Rampal household. For his part, Rampal deeply valued his wife's support and insight. Of Francoise, he wrote: "She is my severest critic, but she believed in me from the beginning. … She has inspired my work and my life. It was the best thing I ever did when I married her." Rampal and Francoise had two children, Isabelle and Jean-Jacques, both of whom grew up to become amateur musicians.
From the earliest years of his career, Rampal recorded extensively. Strong record sales in the 1950s earned him two Grand Prix du Disque awards, while his concert appearances across Europe and Asia won for him the Oscar du Premier Virtuose Français in 1956. In 1958 he made his U.S. debut with a performance at the Library of Congress in Washington, D.C. Writing in the Washington Star, critic Day Thorpe observed: "Although I have heard many great flute players, the magic of Rampal still seems to be unique. In his hands, the flute is three or four music makers—dark and ominous, bright and pastoral, gay and salty, amorous and limpid. The virtuosity of the technique in rapid passages simply cannot be indicated in words."
Once he'd made his debut in the United States, he toured the country frequently, making appearances with the leading symphony orchestras of Boston, Chicago, Cincinnati, Dallas, Detroit, Indianapolis, Houston, Los Angeles, Minneapolis, New York, San Diego, and San Francisco. In addition to his solo performances on the flute, Rampal occasionally conducted the orchestras with which he appeared. He appeared in all the world's major musical venues, including London's Royal Albert Hall, Carnegie Hall and Avery Fisher Hall in New York City, the Hollywood Bowl in Los Angeles, Paris's Theatre de Champs-Elysees, and the Kennedy Center in Washington, as well as smaller halls on four continents.
Rampal's ventures into music other than the classics sometimes brought criticism from musical purists, but it widened the flutist's audience. In the very early 1970s, collaborating with harpist Lily Laskine, he released an album of Japanese folk songs that was eventually named record of the year in Japan. Even more successful was Rampal's collaboration with French jazz artist Claude Bolling. Their album together—the Bolling Suite album—was enormously successful in the mid-1970s and gave Rampal a much higher profile with the general public. In the wake of this commercial success, Rampal was invited to appear on Jim Henson's Muppet Show, where he performed "Ease on down the Road" from The Wiz with Miss Piggy. Other musical forms explored by Rampal included English folk songs and the music of India. A number of France's best-known 20th-century composers wrote works specifically for him. These included Jean Francaix, Andre Jolivet, Jean Martinon, Francois Poulenc, and Pierre Boulez. In the early 1990s he debuted the "Flute Concerto" of Krzsztof Penderecki.
Rampal appeared on the Sony label from the 1970s until the end of his life, recording almost every major work for the flute. Among his better-known recordings were the flute concertos and sonatas of Johann Sebastian Bach and the flute concertos and quartets of Wolfgang Amadeus Mozart, as well as the flute compositions of Franz Joseph Hadyn, Antonio Vivaldi, Georg Philipp Telemann, and such lesser-known composers as Johann Kuhnau, Boccherini, Giuliani, and Carulli. In 1982 Rampal's longtime accompanist Robert Veryron-Lacroix retired because of ill health and was replaced by American pianist John Steele Ritter. In his appearances around the world, Rampal played one of his two trademark 14-carat gold flutes—not an affectation or a gimmick but a simple preference for the sound produced by instruments crafted from the precious metal.
When he was not touring the world, Rampal and his wife shared a home on the Avenue Mozart in Paris, where their child and their families visited them often. The end came suddenly for Rampal, who died in Paris of heart failure on May 20, 2000. One of the first to note Rampal's passing was French President Jacques Chirac, who was quoted in the Washington Times as saying that "his flute … spoke to the heart. A light in the musical world has just flickered out." Issac Stern, who had collaborated extensively with Rampal, was quoted in the same article as recalling: "Working with him was pure pleasure, sheer joy, exuberance. He was one of the great musicians of our time, who really changed the world's perception of the flute as a solo instrument." Fellow flutist and musical commentator Eugenia Zukerman observed: "He played with such a rich palette of color in a way that few people had done before and no one since. He had an ability to imbue sound with texture and clarity and emotional content. He was a dazzling virtuoso, but more than anything he was a supreme poet."
Read more
Latest headlines