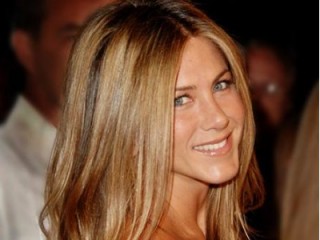 Jennifer Aniston biography
Date of birth : 1969-02-11
Date of death : -
Birthplace : Sherman Oaks, California, United States
Nationality : American
Category : Arts and Entertainment
Last modified : 2010-09-07
Credited as : Hollywood actress, role in the series Friends, comedy He's Just Not That Into You
Jennifer Aniston became a household name in the mid-1990s with the success of the NBC sitcom
Friends
, about a tight-knit group of twenty-something pals living in Manhattan. As Rachel Green, the suburban princess turned ditzy coffeehouse waitress, Aniston won fans for her ability to show the human side of a slightly snotty yet spunky underachiever. In addition, she spawned imitators in salons across the globe thanks to her ultra-popular shag hairstyle. Though Rachel eventually grew out her hair and graduated from waiting tables to working at Ralph Lauren headquarters, she never lost her scatterbrained charm or her hard abs and attractive features that drew many male viewers. The show continued to post strong ratings several seasons into its run, and some wondered what would happen once the Friends contract expired in 2000, especially since the entire cast had also been pursuing feature films.
Aniston
was born on February 11, 1969, in Sherman Oaks, California. However, she grew up in an apartment in Manhattan with her actor father, John Aniston, her actor-model mother, Nancy Aniston (now a photographer), and her older half-brother, Johnny Melick, from her mother's first marriage. Her father got his start on the daytime drama The Days of Our Lives in 1969, and since 1985, has played the villainous Victor Kiriakis almost continuously except for a period of time in 1998. He was born in Greece, and his family surname was originally Anastassakis. His close pal, Telly Savalas, the late actor who played Kojak on television, was Aniston's godfather.
When Aniston was about nine or ten, her father left her mother for another woman (whom he eventually married), and the divorce was hard on her. She told Rich Cohen in Rolling Stone, "I felt so totally responsible. I know it sounds cliché, but I really felt it was because I wasn't a good enough kid." To Mal Vincent of the Knight-Ridder Tribune News Service, she recalled, "I was always a little troublemaker. Nothing really criminal, but I'd always get reported for clowning or talking. I'd do things just to get both parents together in the principal's office."
At a young age, after seeing a Broadway production of Children of a Lesser God, Aniston decided to become an actor. "My father did not want me to be in this business," she noted to Cohen. "It's so full of rejection." Nevertheless, she was accepted to New York's High School of Performing Arts (better known as the school in the film Fame). After graduating in 1987, she lived with her mother for about a year, going to auditions and working at Jackson Hole, an eatery on the Upper West Side of Manhattan. Her father wanted her to enroll in college, but Aniston was determined to begin her acting career. She landed some off-Broadway parts, in For Dear Life in 1988-89 and Dancing on Checker's Grave.
At age 20, Aniston moved to Los Angeles to try to break into the business there. She worked in telemarketing while trying to land parts, and became part of a close-knit community of actors and writers in Laurel Canyon, where "everybody watched out for everybody," as she related to Cohen. She recalled fondly the women's support group that formed out of that circle, and during that time she met some of the people who would remain her long-time friends. But her resume was not expanding, though her waistline was. Her agent advised her to shed some pounds. She remarked to Susan Korones Gifford in Redbook, "I didn't even know I was overweight until someone told me. I hate it that your self-worth is metered by how much you weigh." After going on the Nutri/System plan and giving up her favorite dish, mayonnaise-on-white-bread sandwiches, she lost weight and began to win roles.
In 1990, Aniston showed up on the short-lived series Ferris Bueller, playing Jeannie Bueller, and on Molloy, playing Courtney Walker. Later, she appeared on The Edge, 1992, and Muddling Through, 1994, in addition to landing guest spots on shows like Herman's Head, Quantum Leap, and Burke's Law. But she was terrified of going on movie auditions, as she mentioned to Watson, because her agent insisted that she would become a television celebrity. "I hated him for that," Aniston stated to Watson, "because I thought, You have no faith in me." She did, however, manage a starring part in 1993's hokey horror flick The Leprechaun.
As predicted, Aniston's big break came when she tried out for a part on a pilot called Friends Like These. Initially asked to read for the part of Monica, she declined, insisting that she was "so much more Rachel," as she mentioned to Watson, adding, "more neurotic than Monica, a bit offbeat." The series began airing in 1994 as Friends, and immediately became one of the hottest new shows, thanks to the quirky and likable characters and their on- screen chemistry. The sitcom also stars Courtney Cox, Lisa Kudrow, Matt LeBlanc, Matthew Perry, and David Schwimmer.
Before long, Aniston emerged as the "sexiest" friend, appearing on camera in tight-fitting, midriff-baring clothes and showing up on dozens of magazine covers even in the buff on one issue of Rolling Stone. She also made more waves than her co-stars for her signature hairdo, a layered and fluffy shoulder-length style with ends curled toward the face. It became the envy of women nationwide, who poured into salons asking their stylists for the "Rachel" look. It was the biggest hair fad since Farrah Fawcett's feathered locks on the 1970s cheesecake cop show Charlie's Angels. And despite her plea to be recognized for her talent and not her hair, she snagged a lucrative contract in Western Europe and Russia to model for L'Oreal shampoo.
Though Aniston's tresses attracted much attention, all of the Friends actors were extremely popular, and the cast remained close even off-screen. Their camaraderie led them to stick together and all negotiate a higher salary, given the show's phenomenal success. In 1996, they all asked for a raise and were harshly criticized for their request. As Aniston noted in Cosmopolitan, "We never threatened to strike. The six of us wanted to be paid the same amount because we all work the same amount as each other." But, she added, "It was twisted into 'Look at these brats demanding all this money.'" The final deal was that they received an increase from $35,000 to $75,000 an episode, increasing incrementally each season to $120,000 by their sixth year. As the program continued, the ratings remained high thanks to an on-again, off-again romance between Rachel and the character of Ross, a cerebral, soft-hearted anthropologist.
Meanwhile, the other Friends cast members were parlaying their small-screen celebrity into film roles, with varying degrees of success. Aniston posted one of the best critical receptions of any of them in She's the One, 1996. She started small, with a minor role as a neglected wife. It was the first big-budget work by director Ed Burns, who gained acclaim for The Brothers McMullen. Following that, she took the bigger step of a starring role in 1997's Picture Perfect, about a junior advertising executive who concocts a fictional fiancé when she realizes that her single status has a negative impact on her chances of getting ahead at work. This serves to draw the attention of a "bad boy" coworker, played by Kevin Bacon. Also that year she took a supporting role in the romantic comedy 'Til There Was You. As with her character of Rachel, many accounts pointed out that one of Aniston's main strengths as an actor lie in her ability to come across as perky and just insecure enough to make her human without being irritating.
The next year, Aniston appeared in two more features. The Object of My Affection required her to flex her dramatic muscles a bit more than earlier projects, portraying an unwed pregnant woman who falls in love with her gay best friend. For the part, she wore a pad that made her look and feel pregnant. Also in 1998, she co-starred with Ione Skye in Dream for an Insomniac, about a coffee house employee (Skye) who moves to Los Angeles with a friend (Aniston) in hopes that the man she is after will follow her. And in 1999, she appeared in the corporate-rebellion comedy Office Space, written and directed by Mike Judge of Beavis and Butthead fame. Also that year, she provided a voice-over for animation in The Iron Giant.
Being one of the most popular stars out there, Aniston, like many celebrities, has had to endure constant probing into her personal life. When she was starting out, she dated actor Charlie Schlatter, her costar on the sitcom Ferris Bueller. After that, she briefly saw Counting Crows lead singer Adam Duritz, but she reported that too much publicity too soon ended up extinguishing any hopes for that. Then, her high-profile two-and-a-half year relationship with actor Tate Donovan ended in March 1998.
Subsequently, Aniston was seen out and about with actor Brad Pitt, who was coming off of a breakup with actor Gwyneth Paltrow. Though they insisted they were just friends for a long stretch, the media continued to hound them. They finally went public with their relationship by early 1999, making them a much-sought after photo opportunity, since both have been considered two of the handsomest people in Hollywood. In addition, rumors immediately surfaced that the two were already married, but the gossip later turned up false when Aniston began to sport a flashy engagement ring near the end of that year. The couple married at an oceanside wedding atop a Malibu cliff on July 29, 2000, in what People described as nothing less than a "spectacular wedding." Pitt and Aniston settled in Los Angeles, where they began renovation on 20-room mansion, even as Hollywood tabloid snoops hovered in anticipation of any news of little Aniston-Pitt offspring.
In other personal news about Aniston, she became estranged from her mother in 1996 after the latter spoke about her daughter to a tabloid television show. They spoke once during the next few years but parted ways again after her mother penned a tell-all book in 1999 titled From Mother and Daughter to Friends: A Memoir. It included tales of Aniston's childhood antics and the family's poverty-stricken days when her father was a struggling actor. Nancy Aniston told Charles Laurence of the Daily Telegraph that writing the book was "therapy."
In 1999 Aniston was named among the 50 most Beautiful People in the World by People. At five feet, five inches tall, she has kept her weight down to a willowy 112 pounds, though she told Gifford in Redbook that she does not monitor her diet as closely as she used to when she was trying to slim down. "I watch what I eat, but I don't not eat a cheeseburger, because life is no fun living on salads and fruit." She keeps fit with yoga and a personal trainer. She loves to shop for antiques, and is known to be generous, often splurging on f riends and family. She once bought her brother a Bronco as a gift, and another time picked up the whole tab for a ski trip to Aspen with a dozen pals.
In 2000 Aniston renewed her contract with Friends for a reported $750,000 per episode. The next year, she was nominated for a Golden Globe for her role in the sitcom. Aniston eventually won both an Emmy and Golden Globe award for her role in Friends in 2002. She had a supporting role in her box office performer to date, Bruce Almighty. In January 2004, Aniston won the People's Choice Award for best female television performer. Friends ended its run of 238 episodes in May 2004 with a two-part finale. Aniston, meanwhile, starred in a number of films after the shows end, including two releases in 2005, Derailed and Rumor Has It.
Aniston's personal life continued to overshadow her film career in 2005. The strain of celebrity marriage took its toll on Aniston and Pitt, and they announced their separation in January of 2005; Aniston filed for divorce in March of that year. By the time the divorce became final in October of 2005, Pitt was publicly involved with actress Angelina Jolie, who was soon pregnant with his first child, a daughter named Shiloh. Aniston sought solace in a relationship with actor Vince Vaughn, whom she met while filming The Break-Up in 2005. While the couple stayed together for a number of months, their movie's title proved to be prophetic as they broke up several months after it came out in the summer of 2006. The romantic comedy was her first real box office hit, and Aniston was able to command up to $18 million a picture after its release.
While Aniston looked for the right projects, she was content to live life. She told Nancy Collins of Harper's Bazaar, "There are so many things I'd like to do: learn a language, perhaps investigate energy healing since part of me has always wished I'd been a doctor or scientist. And I'm definitely taking a really big trip. I feel like I haven't been anywhere." Aniston also commented, "I don't want to work for a while."
After The Break-Up, Aniston became the subject of many tabloid articles but essentially took a break, working only in carefully selected roles. In addition to returning to television for well-received guest spots on Dirt in 2007 and an Emmy-nominated turn on the hit comedy 30 Rock in 2008.
Aniston's first major film role after The Break-Up came with the family dramedy about a family's relationship with a beloved pet dog in 2008's Marley & Me. A few months later, she appeared in the popular ensemble romantic comedy He's Just Not That Into You, released in early 2009. Marley & Me and He's Just Not That Into You combined for more than $230 million at the box office. Next, Aniston had a role in the indie office place comedy, Management. Aniston also formed her own production company, Echo Films, and had more films scheduled for release in 2009 and 2010 as she became a respected, much in demand, film star.
AWARDS
Screen Actors Guild Award (with others) for outstanding performance by an ensemble in a comedy series, for Friends, 1996; People's Choice Award for best female television performer, 2001; Emmy Award for outstanding lead actress in a comedy, for Friends, 2002; Actress of the Year Award, Hollywood Film Festival, 2002; People's Choice Award for best female television performer, 2002; Golden Globe Award for best performance by an actress in a television series--musical or comedy, Hollywood Foreign Press Association, for Friends, 2003; People's Choice Award for best female television performer, 2003; People's Choice Award for best female television performer, 2004; ShoWest Award for female star of the year, ShoWest Convention, 2005; People's Choice Award for favorite female movie star, 2007; Vanguard Award, GLAAD Media Awards, 2007.
Read more
Jennifer Aniston Picture Gallery
Latest headlines