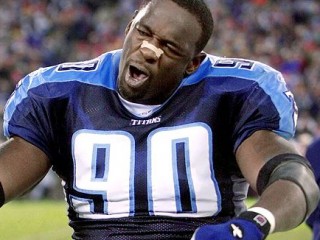 Jevon Kearse biography
Date of birth : 1976-09-23
Date of death : -
Birthplace : Fort Myers, Florida, U.S.
Nationality : American
Category : Sports
Last modified : 2010-08-10
Credited as : Football player NFL, currently plays for the Philadelphia Eagles, Super Bowl
Here on earth, undersized and injury-prone does not add up to a megamillion-dollar football contract. But Jevon Kearse's otherworldly attributes—explosive speed and quickness, turbo-charged power and an engine that the guys at NASA wish they could duplicate—make him well worth the risk. The Eagles certainly think so. They gambled $66 million that the "Freak" can bring a Super Bowl title to Philadelphia. Jevon is eager to prove them right.
GROWING UP
Jevon Kearse
was born on September 23, 1976, in Fort Myers, Florida to Joseph and Lessie Mae Kearse. Joseph had the skills to become an athlete but not the opportunity, and circumstances eventually led him to a life of crime. He was so large and so intimidating that he often robbed people without a weapon, and even the Ft. Myers police made a point of steering clear of him. Joseph was murdered shortly before Jevon was born.
Jevon's family continued to be touched by tragedy. When he was a toddler, his grandfather was gunned down in front of his house. That same year, his cousin Danny was killed in self-defense when he assaulted someone. Another cousin, Marcell, died in prison after being sent up for attempted murder.
Growing up in the poverty-stricken Dunbar section of Ft. Myers during the height of the crack epidemic, Jevon learned how to spot trouble and steer clear of it. He also recognized that school might supply a way out. Jevon was an avid reader and, despite a stutter, enjoyed the classroom environment. His home life, however, was not conducive to studying, so he looked for any reason to get out of the cramped apartment in the Sabal Arms projects.Jevon had an older brother, J.J., and a younger half-brother, Jermaine. All three were big, fast and rambunctious. They would go fishing or crabbing, play basketball, wrestle, or play football.
When J.J. reached his teen years, he began hanging out with a rough crowd. Jevon, a much gentler soul, could not see himself following in his brother's footsteps. He devoted himself instead to football, becoming the star of the Lee Middle School team. Yet even in the heat of battle, he rarely tackled opponents as hard as he could.
In eighth grade, Jevon became friends with Cisco Navas. The Navas home was on the outskirts of Ft. Myers, surrounded by several acres of open space. The more time Jevon spent there, the more he came to despise his own overcrowded circumstances. At the beginning of the 1992 school year, when Jevon was 16, he was invited to live with Cisco and his widowed mom. Lessie Mae agreed to the arrangement, and Jevon transferred what few possessions he had to casa Navas. Jevon's grades shot up after the move. The rule was no fun until homework is done
Jevon was becoming increasingly serious about football. He was well over six feet tall, yet extremely quick and agile. He began taking weight-gaining supplements to add bulk to his body, but no matter how much muscle he packed on, he did not slow down. After he and Cisco transferred to Fort Myers High School in North Fort Myers in 1993, Jevon began attracting the attention of college recruiters as he refined his game under coach Wade Hummel. It was not unusual for a dozen scouts to attend his home games—along with 15,000 fans. He played strong safety and tight end, and was a terror on special teams. In his first season for the Red Knights, he returned four kicks for touchdowns.
In 1994, Jevon's senior season, he took his game to a new level, recording 96 solo tackles, intercepting six passes and blocking four punts. He also caught 24 passes. He was honored as a prep All-American by USA Today. The number that interested many colleges was his GPA, a solid 3.6. Jevon was also a member of the National Honors Society. He was a star athlete, a solid student and, despite a tragedy-plagued childhood, one of the nicest kids anyone had ever met.
Jevon was viewed as an impact player by the recruiters, who projected him as either a defensive back or linebacker. His wingspan was almost seven feet from fingertip to fingertip, and as he was scary fast. Jevon considered dozens of scholarship offers, looking at a school's football program as well as the academic opportunities it offered. He seriously thought about Notre Dame, but the thought of those frigid winters led him closer to home. He selected the University of Florida, where a familiar face—cousin Johnnie Church—was already on the team.
Jevon was red-shirted for the 1995 season, which gave him a chance to acclimate himself to college life. He experienced the Gators' run at the NCAA title that year from the sideline, as they made it to the national championship game against Nebraska before losing.
ON THE RISE
By 1996, Jevon had grown to 6-6 and weighed well over 200 pounds. Now considered a linebacker or defensive end, he made it clear in spring practice that he had the talent and desire to start the following fall. Though Jevon was still learning the defense, he was dominating his teammates in scrimmages regardless of where he played. Coach Steve Spurrier could hardly wait to spring the "Freak"—as he was now being called by his fellow Gators—on SEC opponents.
Jevon was a member of one of college football's greatest teams in 1996. Danny Wuerffel, who QB rating was the highest in NCAA history the previous year, was throwing to future NFL stars Ike Hilliard, Jacquez Green, and Reidel Anthony. Fred Taylor, who would gain 1,000 yards three times as a pro, was the Gators' featured back. Bob Stoops, a brilliant defensive coordinator, called the shots when Florida's opponent had the ball. Many of the team's starters had graduated or moved on to the pros, so it was up to Jevon and other young studs to hold the defense together.
The Gators opened their season in the Swamp with 85,000 fans roaring their support. Jevon starred as Florida destroyed Southwest Louisiana 55-21. In his debut, he made six solo tackles, including a sack.
That was the first of many highlights for the Gators and Jevon. The team went on to win the national title against arch-rival Florida State and Jevon—who came off the bench all year and lined up at a half-dozen different positions—made the All-SEC Freshman team. His great season was marred, however, by the death of his younger brother, Jermaine, who was killed in a drive-by shooting.
Florida's 1997 squad was thin on experience and featured little depth, yet with players like Jevon stepping into full-time roles, the Gators were able to fashion a respectable 10-2 record and earn a bid to the Citrus Bowl. After beating Penn State in the season finale, the team was voted #4 in the final ranking. Actually, Jevon was not technically a full-timer. Although he was in on most downs, Stoops continued to spot him based on the game situation. Still, he earned All-SEC honors.
The death of his brother and the continued economic hardship being endured by his family convinced Jevon that he should enter the NFL draft as soon as possible. In the meantime, he tried any way he could to help out at home. This is when notorious agent Tank Black entered the picture. Preying on Jevon's desperation, he agreed to cover Lessie Mae's bills with the "understanding" that Jevon would use him as an agent once he went pro.
Prior to the 1998 campaign, Jevon began receiving national attention in newspapers and magazines. The Sporting News called him the best linebacker in college ball. He was the heart of a defensive unit that steamrolled opponents all year. It included great players like Mike Peterson, Ed Chester, Reggie McGrew and Johnny Rutledge. The Gator offense was not nearly as good, however. Problems on this side of the ball hamstrung Florida in losses to Tennessee and Florida State, and in the Orange Bowl, against Syracuse.
Jevon had a terrific season, making All-SEC again and being named to several All-America teams. He was also a finalist for NCAA Defensive Player of the Year. That spring, he declared for the 1999 NFL Draft. In the combine at Indianapolis, he proved his explosiveness by recording the second-fastest time ever in the 10-yard dash. (First on the list was Deion Sanders.)
While some experts believed Jevon was the best athlete in the draft, others predicted he might slip down because he had played so many different positions in college. No one had enough film on him to evaluate his different skills properly. Some wondered whether Jevon was too big to play linebacker and too small to play the line.
The Tennessee Titans weren't among those questioned Jevon. His speed, size and intelligence were exactly what they were looking for in a pass-rusher. Their aggressive, hard-hitting defense lacked one thing: someone who could flush enemy quarterbacks out of the pocket. Their only concern was whether Jevon would still be on the board when their #16 pick came around.
Tennessee GM Floyd Reese tried several times to trade up but was thwarted again and again. Imagine his delight when Jevon was still available at 16. Despite criticism from the fans—who wanted a third offensive star to go with Steve McNair and Eddie George—Reese and head coach Steve Fisher sensed that he had just found the key that would turn on the Titan engine. Jevon was a bit insulted that he had dropped so low, but grateful to join a team that did not view him as a "project."
On the first day of camp, Jevon found himself among a crowd of players waiting to be measured, weighed and tested. Stuck at the end of the "vertical leap" line, he asked DB coach Jerry Gray if he could move on to the next station if he could touch the ceiling. Gray looked up at the 12-foot ceiling and answered in the affirmative. Jevon soared off the floor and brushed the tile with his fingertip.
The Titans were built around a core of no-name, workmanlike stars that included McNair, George, tight end Frank Wycheck, guard Bruce Matthews and safeties Blaine Bishop and Marcus Robertson. Coming off an 8-8 season, everyone seemed to have an opinion of what they needed to do, but there was little in the way of a consensus. Jevon would quickly bring clarity to this issue.
The Titans opened their season in their new home, Adelphia Coliseum, with a 36-35 win over the Cincinnati Bengals. There was no post-game celebrating, however, as McNair had injured his back and would require surgery. Backup Neil O'Donnell, who had once guided the Pittsburgh Steelers to the Super Bowl, stepped into the starter's role for five games. The Titans won four of them, and Jevon played a hand in each victory with his increasingly confident performances.
In Week 2, Jevon embarrassed Pro Bowl tackle Orlando Brown and created havoc in the Cleveland backfield, registering three sacks. In Week 3, he had seven solo stops against the Jacksonville Jaguars, who were favored to edge Tennessee for the division crown. Even in a Week 4 loss to the 49ers, Jevon was dominant. For his efforts, he was named NFL Defensive Rookie of the Month.
McNair returned to the starting lineup for Week 7 with the Titans sporting a 5-1 record. They played the NFL's most surprising team, the St. Louis Rams, who were running roughshod over the competition behind the running of Marshall Faulk and the passing of former Arena League QB Kurt Warner. All game long, Jevon abused tackle Fred Miller, who was whistled for six false-start penalties, but the St. Louis offense stormed back to come within a missed field goal of tying the game. The Titans won 24-21 in what would be a preview of that year's Super Bowl.
A major reason why Tennessee reached the big game was Jevon, who at the behest of the Titan staff began freelancing more and more in the second half of the season. Opponents could never be sure where he would line up, and he became a wildly disruptive force. With Jevon coming from a dozen different angles, the hard-hitting Titans overwhelmed many of their opponents.
The only loss suffered by Tennessee in the season's final month was to the Ravens. In that game, Jevon made a play that still seems impossible. He bull-rushed quarterback Tony Banks, who fired a quick pass to Qadry Ismail. "The Missile" juked his way past a couple of tacklers until there was nothing between him and the end zone but green. As he sprinted to the goal line, Ismail was surprised to feel himself being pulled down from behind—and shocked when he saw who it was: Jevon.
In the season finale against the Steelers, Jevon turned in another amazing performance. The highlight of the game was what DE's call the "Quadruple Crown." Jevon sacked Mike Tomczak, stripped him of the ball, recovered the fumble and ran it in for a touchdown.
It was his 10th fumble caused, and it also gave him 14.5 sacks on the year to break the NFL rookie record. Jevon, who had been named Defensive Rookie of the Month every month but one, was named Defensive Rookie of the Year.
Despite beating the Jaguars twice in 1999, Tennessee could not knock them out of the division lead, and had to settle for a Wild Card slot in the playoffs. In their opening-round game against the Buffalo Bills, Jevon gave his team two points by pouncing on Rob Johnson in the end zone for a safety. The Titans held a 12-0 lead, but the Bills scored twice to go up 13-12 in the second half. A late field goal by Al Del Greco put Tennessee back in front, 15-13, then Johnson engineered a drive on the game's final possession to give Buffalo a field goal and an apparent 16-15 victory. All that remained was to cover the ensuing kickoff and allow the last few seconds to tick away.
What came next has been dubbed the "Music City Miracle." A low kickoff to Lorenzo Neal ended up in the hands of Wychek, who began lumbering toward the right sideline. Kevin Dyson stayed near the left sideline, hoping the man assigned to cover him would drift toward the ball carrier.The play worked to perfection. On cue, Wychek wheeled around a throw a cross-field lateral to Dyson, who raced down the field un touched to win the game.
Given a second life in the playoffs, the Titans put a serious hurt on Peyton Manning and the high-scoring Indianapolis Colts in a 19-16 victory. This set up a third meeting with the Jaguars for the AFC Championship. There were no secrets between these two teams, which was apparent by the third quarter, when the Titans managed to grab a tenuous lead.
The game turned on a defensive series deep in Jacksonville territory. With the Jags pinned against their own goal line, quarterback Mark Brunell dropped back to pass. Jevon whirled around blocker Ben Coleman and came face-to-face with his old gator teammate, Fred Taylor. The halfback had no choice but to give up his body to block Jevon. This enabled two other Titans to sack Brunell for a safety. When Derrick Mason returned the ensuing free kick for a touchdown, Tennessee broke the game wide open. The Titans went on to a 33-14 victory.
In losing to the Titans, the Jaguars had managed to contain Jevon. The Rams studied films of this in the two weeks leading up to the Super Bowl and determined that the best way to deal with the rookie was to employ a straight-on block by one player in concert with a chip block by a teammate. The St. Louis coaching staff figured Jevon would still dominate play in his area, but would be unable to chase the ball all over the field.
Jevon, playing in his 24th game (including pre-season) as a pro, had to dig down deep to survive the Super Bowl. It was a tough game, but he managed to tie up two Rams on almost every play, which enabled his teammates to make big plays. After falling behind 16-0, the Titans clawed their way back to tie the game with two minutes left.
The Rams received the kickoff and began what figured to be the game's final drive. On the first play, Warner dropped back, looking for receiver Isaac Bruce. Jevon overwhelmed the St. Louis pass blockers and charged toward Warner. The quarterback rushed his throw as Jevon hammered him to the turf. Bruce adjusted to the fluttering toss in mid-stride and caught the ball, then danced past the Tennessee DBs to score a 73-yard touchdown.
The score happened so fast that the Titans now had a chance to tie. McNair engineered a beautiful drive that brought Tennessee to the St. Louis 10-yard line with enough time left for one last play. He hit Dyson on a crossing pattern but linebacker Mike Jones hauled him down as he strained to reach the goal line. The Rams escaped with a 23-16 win in history's most thrilling Super Bowl.
Jevon was furious after the game. In his mind, the play he made on Warner should have ended up with an interception, not a touchdown. He told the press Warner was lucky and that in his mind the Titans were still the superior team. Fortunately for Jevon, rather than ripping him a new one, most reporters chose not to use the quote.
The 2000 season found the Titans laboring to defend their AFC championship. They thought they had picked up the third "impact" offensive player they had coveted in veteran Carl Pickens, but he didn't pan out, leaving McNair to throw to the same group of Grade-B receivers. Once again the offense hinged on George's workhorse talents and McNair's ability to take hits and play in pain. Meanwhile, opponents had learned that they couldn't afford to "get freaked" against Tennessee and devised myriad blocking schemes to limit Jevon's effectiveness.
Jevon worked like crazy to power his way through the double- and triple-teams, sometimes to the point of needing intravenous fluids during games. Despite his supreme efforts, the eye-popping stats were no longer there—at least not under his name. Others on the defense were racking up Kearse-like tackle and sack numbers, enabling the Titans to hold their own while Jevon continued to evolve at his position.
One of the biggest adjustments Jevon had to make was accepting how the officials were reacting to him. In 1999, obvious holds were called on a consistent basis, forcing offensive linemen to play him honestly. In 2000, the zebras seemed like they were trying to restore balance to the trenches, and many times when Jevon was being held they looked the other way.
Defensive Coordinator Gregg Williams explained to Jevon that this was the NFL's version of the star treatment. Once he proved he could handle these situations, the calls would start going his way again. And as for the low sack numbers, Jevon was not to worry. Game films clearly showed that he was actually playing better and making fewer mistakes than he had during his rookie year.
Slowed early in the season by a painful hip injury, Jevon turned it on in the final six weeks. He ended up leading the team in tackles and sacks, and had developed some moves for which opposing linemen could find no answer. The Titans finished with the league's best record at 13-3, and Jevon racked up 10.5 sacks to give him the second-best two-year total in history.
Jevon had secretly hoped to become Defensive Player of the Year in 2000, but that honor went to Ray Lewis of the Baltimore Ravens. The Ravens had given the Titans all they could handle in splitting two close games during the regular season.
After defeating the Broncos in the AFC Wild Card game, the Ravens took it right to the Titans. In a classic defensive battle, Jevon and Company limited Trent Dilfer to just five completions and Jamal Lewis to a mere 47 rushing yards. The Ravens did an even better job, blocking three field goals, and running one back for a touchdown that broke a 10-10 tie. Down 17-10, McNair tossed a short pass to George, who bobbled the ball for an instant. That was all Lewis needed, as he snatched the ball away and chugged the other way to make it 24-10. Baltimore eventually beat the Oakland Raiders in the AFC title game and the Giants in the Super Bowl.
The big news in camp heading into 2001 was the addition to the defensive line of Kevin Carter. It was a reunion of sorts for Jevon, who had met his new teammate in the spring of 1995 during a recruiting visit to Gainesville. Carter went to the pros that June, but returned several times over the next few years to check on Jevon's progress. Tennessee acquired him from the Rams in exchange for a '01 first-rounder.
New Defensive Coordinator Jim Schwartz slotted Carter in at left end, the position Jevon had settled into, and moved the third-year star to the right side of the line. The idea was for Jevon to come at right-handed QB's from their blind side, causing them to drift into Carter country. With opponents forced to double-team both ends, the Titans figured to have clearer paths to the quarterback.
Another key development heading into 2001 was Samari Rolle's decision to stay with the Titans. The cornerback had blossomed into an All-Pro performer in 2000 and was tempted to sign with the Rams. Jevon called Rolle to remind him how easy his job would be with the Titans, now that they had two of the league's top pass rushers.
What began as a season of great promise, however, slowly unraveled into grinding mediocrity. George never regained form after off-season foot surgery, forcing McNair to gamble more with his passing. Playing injured all year, the QB nonetheless enjoyed a fine statistical season, but it wasn't enough. Jevon was dominant despite a sore back and a torn triceps tendon suffered in the pre-season, finishing with 11 sacks. But the club's predictable offense and injuries to the secondary doomed the Titans to a 7-9 season.
The 2002 edition of the Titans looked like the champion of old. McNair had established himself as a top-tier leader and George had returned to health. Bishop had departed via free agency, but Lance Schulters, picked up from the 49ers, was an able replacement.
On the second play from scrimmage in the opener against the Eagles, Donovan McNabb dropped back to pass and Jevon chased after him. As he closed in on the Philadelphia quarterback, he hurdled fallen DT Henry Ford, but landed awkwardly and immediately grabbed his left foot. Unable even to hobble to the sideline, Jevon was helped off the field and x-rays revealed a broken fifth metatarsal.
The Titans won that game, but dropped the next four with Jevon on the mend. Injuries also claimed Wycheck and linebacker Randall Godfrey, their top tackler. Once the team hit bottom, however, it began to rise back up. With super performances from Rolle and young Keith Bulluck, Tennessee won five straight, dropped a nail-biter to the Ravens, then ran the table to finish 11-5 and earn a playoff berth. Jevon, playing with a couple of screws in his foot, made it back for the last three games, crucial wins over the New England Patriots, Jaguars and expansion Houston Texans.
The Titans stayed on a roll in the post-season, taking the Steelers in a wild overtime battle, then squared off with the high-powered Raiders in the AFC Championship. After an explosive first quarter, Tennessee appeared to take control at the end of the first half. But a pair of turnovers led to 10 Raider points right before halftime, shifting the contest's momentum. The game hung in the balance until two Oakland TD drives sealed Tennessee's fate in the fourth quarter. Jevon and the Titans were denied a return trip to the Super Bowl.
A month later, Jevon underwent an operation to have the screws removed from his foot, while having a bone graft to strengthen it. By then end of July, he was running around camp like a wild man, unconcerned about how his foot would hold up. He was also thinking about a new contract, as his original deal was set to expire at season's end.
A sprained ankle delayed Jevon's comeback, but he was in the lineup on opening day of the 2003 campign for a little payback against the Raiders. The Titans beat Oakland 25-20 and he registered his first sack of the season. Over the next two months, Jevon brought down the quarterback 8.5 more times and forced four fumbles as the Titans posted six more wins.
With Jevon back in peak form, Tennessee's defense was as formidable as ever. Bulluck was joined at linebacker by emerging star Peter Sirmon, while Rolle watched rookie Tank Williams blossom before his very eyes. The team finished the year 12-4, with Jevon posting a total of 42 tackles and 10 sacks, while forcing four fumbles.
The Titans began the playoffs in Baltimore. Though McNair was hobbling, the offense controlled the ball with a bruising running game. The defense, meanwhile, held when it had to, and Tennessee escaped with a 20-17 win. The team's post-season drive ended the following week in New England, as the Patriots took a 17-14 victory on a late field goal by Adam Vinatieri.
It was a fun season for Jevon, but it also marked his last one in a Tennessee uniform. Agent Drew Rosenhaus was unable to get a new deal done with the Titans, who opted not to place a franchise tag on Jevon. That made him an unrestricted free agent. On the first day of the NFL's signing period, he inked an eight-year deal with the Eagles worth more than $65 million. Philadelphia, desperate for big-play performers after three straight losses in the NFC title game, got the pass rusher they desperately needed. In return they made Jevon the highest-paid lineman in NFL history.
As the Eagles address other holes in their roster, they can rest assured that they now have a player who will create some serious havoc in opposing backfields. Meanwhile, after numerous near-misses, Philly fans finally have something to screech about.
JEVON THE PLAYER
Jevon's athleticism, tenacity and speed make him a brilliant pass rusher, capable of disrupting an offense for an entire game. And what he lacks in run-stopping ability, he often compensates for with his enormous wingspan and tackling ability.
Jevon's favorite technique off the ball is to pick a spot and simply decide he will beat his man there. Only if a blocker guesses correctly does he stand a chance of holding him back.
How do teams deal with Jevon? They beat the crap out of him. They try to hit him from two sides at once, using a tackle up front and a tight end from the side. Some teams have assigned a running back to chip him, too. Jevon hates this tactic and can be unnerved for a time. But once that passes, he tends to take it out on the offending blocker.
Besides being one of the most focused and dedicated defensive linemen in football, Jevon also happens to be one of the league's genuinely nice guys. On the field, however, his sparkling personality doesn't always shine through. Jevon once admitted that when he has to dig down deep in a game, he pretends the man across from him on the line is the guy who killed his little brother.
EXTRA
* In the fall of 1996, Jevon was arrested for grand theft auto. It was a case of mistaken identity (his brother J.J. was the actual culprit) and luckily the cops were able to sort things out quickly. By the time they caught up with J.J. he had also added an armed-robbery rap. He was locked up for more than seven years.
* In college, Jevon ran the 40-yard dash in full pads in less than 4.5 seconds.
* Jevon was the first AFC rookie ever to make All-Pro at defensive end.
* In 1999, Jevon was in on at least one sack in the season's final nine games. He ran the string to 12 straight in 2000, establishing a new NFL record.
* Jevon lost 25 pounds during his first NFL campaign, going from 255 to 230 by the time the Titans met the rams in the Super Bowl.
* In 2001, Jevon joined Reggie White and Derrick Thomas to reach double figures in sacks their first three years.
* When Jevon spreads his hand, his thumb and pinkie are more than a foot apart.
Read more
Latest headlines