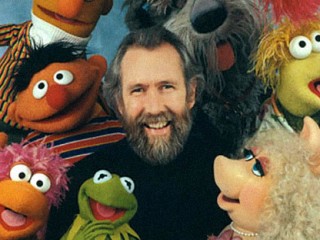 Jim Henson biography
Date of birth : 1936-09-24
Date of death : 1990-05-16
Birthplace : Greenville, Mississippi, U.S.
Nationality : American
Category : Arts and Entertainment
Last modified : 2010-08-31
Credited as : Puppeteer and writer, creator and animator of "The Muppets", co-founder and president of Henson Associates-tv and film production company
Jim Henson
, also known as
James Maury Henson
born September 24, 1936 in Greenville, Mississippi - died May 16, 1990 in Manhattan, New York was an American puppeteer. He was one of the most widely known puppeteers in history and was the creator of
The Muppets
. He was the leading source behind their long run in the television series Sesame Street and The Muppet Show and films such as The Muppet Movie (1979) and creator of advanced puppets for projects like Fraggle Rock, The Dark Crystal, and Labyrinth.
"Sidelights"
Creator and animator of the Muppets--foam-rubber creations part puppet, part marionette that included Kermit the Frog and Miss Piggy--Jim Henson was one of the most ingenious, most successful, and best-loved puppeteers in history. Over the course of more than thirty years his furry, funny creatures--each a unique individual with its own virtues and faults--brought their master eighteen Emmy awards, seven Grammy awards, four Peabody awards, and numerous other honors. In addition to his television work with the popular educational show "Sesame Street," network prime-time's "Muppet Show," and cable's "Fraggle Rock," Henson took his wizardry to feature films such as "The Muppet Movie," "The Dark Crystal," and "Labyrinth." His films, considered milestones in celluloid monster making, combine traditional puppetry techniques with remote-control electronics to animate an assortment of bizarre beings. Henson's success was attributed in part to his skill at adapting puppetry to television and film, but perhaps even more to the endearing humanity of the Muppets' personalities, with which their audiences, both child and adult, overwhelmingly identified. Henson served variously as puppeteer, writer, director, and producer for his projects; his screenplays include "Time Piece" and "The Cube"; he also wrote The Muppet Show Book.
Henson was the first puppeteer to adapt his craft exclusively to the visual requirements of television and film. Getting his start in puppetry while still in high school, he turned professional as a college freshman when a Washington, DC, television station gave him his own five-minute-long late-night show called "Sam and Friends." Henson first came to national attention in the late 1950s by making a series of television commercials for dog food, using one of his first Muppets, Rowlf the Dog. In designing Rowlf and his early sidekick Kermit the Frog, Henson rejected the painted wood construction of most puppets and marionettes of the time as insufficiently expressive for the all-seeing eye of television. Instead, he crafted his creatures out of flexible, fabric-covered foam rubber, giving them supple bodies and huge mouths that helped them convey a broad range of emotions. By the mid-1960s Henson and Rowlf were being featured on the "Jimmy Dean," "Tonight," and "Ed Sullivan" shows, and in 1968 the puppeteer broadcast his first special, "Muppets on Puppets," for National Educational Television.
The Muppets soon reached superstardom when they moved to "Sesame Street," the innovative children's television show that made its nationwide debut on educational stations in November, 1969. Produced by the nonprofit Children's Television Workshop, "Sesame Street" successfully adapted the flashy imagery and quick pacing of television commercials to teach preschoolers about letters, numbers, and social values. Joining a regular cast of children and adults, the Muppets enlivened the show with their unpredictable antics and endeared themselves to audiences of all ages with their sharply etched and humanly fallible personalities. By the early 1970s an estimated six million of the three-to five-year-olds in the United States were regularly watching "Sesame Street," which was only a fraction of the show's total audience.
"Sesame Street" introduced many now-famous Muppets, including Ernie and Bert, two argumentative friends; Oscar the Grouch, a shaggy misanthrope who lives in a garbage can; the Cookie Monster, a wild being consumed by his lust for cookies; and Big Bird, an eight-foot-tall canary with the mind of a young child. Though Henson designed and built the Muppets, their individual characters were developed by a loose-knit creative team that also included puppeteer Frank Oz, chief writer Jerry Juhl, and the show's producer, Jon Stone. Henson and Oz acted as "Sesame Street"'s principal puppeteers, with Henson animating and speaking for Kermit, Rowlf, and Ernie, among others, and Oz personifying Bert, Cookie Monster, and the easygoing Grover.
The huge success of "Sesame Street" primed audiences for Henson's first weekly television program, "The Muppet Show," a syndicated half-hour series that premiered in September, 1976. Produced in England by Henson, in partnership with Lew Grade of the Independent Television Corporation, "The Muppet Show" was an instant hit that rapidly rose to become the top syndicated television show in the United States and the most popular first-run program in the world. At the height of its phenomenal success, approximately 250 million adults and children were watching the show in one hundred different countries. Henson drew again on the talents of Oz and Juhl to help him create a new crew of popular Muppets for the show, including Fozzie Bear; the rock musician Dr. Teeth and his drummer, Animal, a boisterous Muppet given to shouting demands like "Woman!" at odd intervals; and Oz's most outstanding character, the egotistical but sensitive Miss Piggy--the world's only porcine bathing beauty. "The Muppet Show" also featured frequent guest appearances by human celebrities who engaged in good-humored banter with the Muppets, usually on the losing side.
"The Muppet Show" was still going strong in 1981, but Henson decided to end the series that year to pursue new challenges. By then his humble cloth puppets had spawned a New York City-based business enterprise, Henson Associates, whose activities included licensing scores of children's books and records on Muppet themes, producing industrial films starring the Muppets, and merchandising a host of minor spin-off products, ranging from Big Bird lunch pails to Kermit coffee mugs. In 1983, Henson launched a new puppet show called "Fraggle Rock" that aired on the Home Box Office cable television network in the United States and was also seen in ninety other countries. "Fraggle Rock" featured a new family of Henson characters--fun-loving Fraggles, tiny mechanical workaholics called Doozers, and seven-foot giants known as Gorgs--to make a lighthearted point about the need for social cooperation and tolerance. During the following year, Henson produced the Emmy Award-winning show "Muppet Babies" for the Columbia Broadcasting Service (CBS-TV), airing on Saturday mornings and showing the Muppets in their infancy. In 1987 Henson's next Saturday morning series appeared--the animated "Fraggle Rock." The same year, the first of eight specials for the National Broadcasting Corporation (NBC-TV) began airing. Titled "The Storyteller," the productions were based on European folktales and involved human actors and the use of animatronic creatures instead of Muppets.
Increasingly, though, Henson turned to film because it afforded opportunities for expanding the technical limitations of puppetry and for exploring more sophisticated themes. He produced his first full-length feature film, "The Muppet Movie," in 1979, scoring a major hit with both young and mature audiences. A satire on the American fast-food industry and the lure of show-business fame, the film featured Kermit as a talented swamp singer who sets out on a cross-country trip to make his name in Hollywood. Along the way he encounters a variety of other Muppets--including the amorous Miss Piggy--and narrowly escapes the clutches of Doe Hopper, the owner of a chain of frog legs restaurants who wants to force Kermit to pose in ads for him. "The Muppet Movie" boasted some impressive feats in puppeteering, including the opening scene showing Kermit strumming a banjo on his swamp log, which Henson animated from an air-tight tank below the water, and a sequence depicting the amiable frog riding a bicycle. Two later Muppet films, "The Great Muppet Caper" in 1981 and "The Muppets Take Manhattan" in 1984, continued the Kermit-Miss Piggy love story with new madcap adventures and were also critical and commercial successes.
While maintaining an active association with the Muppets, Henson also created two extraordinary fantasy films:
"The Dark Crystal" (1982)
and
"Labyrinth" (1986)
. "The Dark Crystal," conceptualized by Henson and directed by Henson and Frank Oz, features no human characters at all but rather an assortment of fantastic beings designed by the English fantasy artist Brian Froud and animated by puppetry, electronics, and special effects. The twenty-six-million-dollar film is set in the mythical past, with marauding, vulture-like creatures called the Skeksis plotting to get possession of a magic crystal that will allow them to tyrannize the world. They are opposed by the benevolent, armadillo-shaped Mystics and the planet's only surviving humanoids, a boy and a girl known as Gelflings. Even critics who found "The Dark Crystal"'s narrative unexceptional were dazzled by Henson's animation techniques and visual effects, and the film also proved to be a strong commercial success, grossing over fifty million dollars at the box office.
"Labyrinth"
was a still more ambitious fantasy film collaboration, this time directed by Henson and produced by George Lucas (of "Star Wars" fame), who also served as story consultant. Lighter in tone than "The Dark Crystal," "Labyrinth" features a human heroine and villain and an imaginative assortment of animated monsters, gnomes, and elves. Its plot revolves around a fifteen-year-old girl who must learn the secrets of a magical labyrinth so that she can rescue her baby brother from his goblin kidnappers and their king, played by popular singer David Bowie. The labyrinth's ingeniously made, mechanically assisted inhabitants include the Wild Things--birdlike creatures with huge eyeballs--and Hoggle, a friendly gnome with an oversized head.
Henson and his team spent two years developing these odd beasts, who, as New York Times film critic Nina Darnton observed, "are not cold, automated electronic marvels, but fantastic humanoid creatures inhabiting a newly created world who mirror our own foibles, and so can move us and make us laugh." Darnton deemed "Labyrinth" a "remarkable achievement" and praised Henson for expanding the "possibilities of imaginative fantasy that can be transferred to the screen."
PERSONAL INFORMATION
Known professionally as Jim Henson; born September 24, 1936, in Greenville, MS; died of pneumonia, May 16, 1990, in Manhattan, NY; son of Paul Ransom (an agronomist) and Elizabeth Marcella (Brown) Henson; married Jane Anne Nebel (a puppeteer and business executive), May 28, 1959; children: Lisa Marie, Cheryl Lee, Brian David, John Paul, Heather Beth. Education: University of Maryland, B.A., 1960. Memberships: Puppeteers of America (president, 1962-63), American Federation of Television and Radio Artists (AFTRA), National Academy of Television Arts and Sciences, Directors Guild of America, American Film Institute, American Center of Union Internationale de la Marionette (president of board of directors, 1974-80; president emeritus, 1980-90), Henson Foundation (president), Writers Guild, Screen Actors Guild.
AWARDS
Seventeen Emmy Awards from the National Academy of Television Arts and Sciences, including those for "Sam and Friends" (best local entertainment program), 1958; for "Sesame Street" (outstanding individual achievement in children's programming), 1973-74 and 1975-76; for "The Muppet Show" (outstanding comedy-variety or music series), 1978; for "The Muppet Show With Carol Burnett" segment (outstanding writing in a variety, music, or comedy program), 1980-81; and for "The Storyteller-`Hans My Hedgehog'" (outstanding children's program), 1987.
Oscar nomination from the Academy of Motion Picture Arts and Sciences, 1965, for "Time Piece" (best live action short subject); award for outstanding children's show of the year from National Education Television, 1968, for the special, "Muppets on Puppets"; Entertainer of the Year Award from the American Guild of Variety Artists, 1976; eight Grammy Awards from the National Academy of Recording Arts and Sciences, including those for "The Muppet Show" album, 1979, and for best children's record, 1981.
Citation from the Film Advisory Board, 1979, for "The Muppet Movie"; three George Foster Peabody Awards for excellence in television broadcasting, including one in 1979; awards for best television script of the year from the Writers Guild, 1979 and 1980, for "The Muppet Show"; First Founders Award from National Academy of Television Arts and Sciences, 1981; President's Fellow Award from Rhode Island School of Design, 1982; International Emmy from the International Council of the National Academy of Television Arts and Sciences, 1983, for the "Fraggle Rock" series; two Oscars from the British Academy of Television Arts; Award for Cablecasting Excellence, 1984, for "Fraggle Rock"; Humanitas Prize from the Human Family Educational and Cultural Institute, 1985; special recommendation from Central Council for Children's Welfare in Japan for "Fraggle Rock" series, 1987; Quill Award, Health/ Self Improvement category, 2006 for It's Not Easy Being Green: And Other Things to Consider.
CAREER
Puppeteer; creator of the Muppets (puppets), 1954; co-founder and president of Henson Associates (television and film production company), New York, NY, and London, England, 1957-90. Producer of "Sam and Friends" (daily program) for WRC-TV, Washington, DC, 1955-61; guest performer on television programs, including "The Ed Sullivan Show," "Today," "The Tonight Show," and "The Jimmy Dean Show"; creator and puppeteer of Muppet segments for "Sesame Street" television series, beginning in 1969; producer, writer, and performer for "The Muppet Show" series for Independent Television Corp., 1976-81; producer and director of "Fraggle Rock" series for Home Box Office, 1983-87; executive producer of "Muppet Babies" animated series for Columbia Broadcasting System (CBS-TV), 1984-90; executive producer of "Fraggle Rock" animated series for National Broadcasting Company (NBC-TV); producer of more than two hundred television commercials.
Producer and director of television specials, including "Muppets on Puppets," 1968, "The Muppets Go Hollywood," 1979, "Of Muppets and Men," 1981, "The Muppets Go to the Movies," 1981, "The Fantastic Miss Piggy Show," 1982, "The Storyteller," 1987, "The Tale of the Bunny Picnic," 1987, and "Down at Fraggle Rock: Behind the Scenes," 1987.
Producer and/or director of motion pictures, including "The Muppet Movie," 1979, "The Great Muppet Caper," 1981, "The Dark Crystal," 1982, "Muppets Take Manhattan," 1984, and "Labyrinth," 1986. Puppeteer for motion picture "Follow That Bird," 1985. Producer of short films, including "Time Piece," 1965, "Run, Run," 1967, "Organized Brain," 1968, and "Final Speech," 1975.
Performer, as Muppet characters, on sound recordings, including "The Muppet Show" album, 1977, "The Muppet Show II," Arista, 1978, "The Muppet Movie," Atlantic, 1979, "A Christmas Together," RCA, 1979, "The Great Muppet Caper," Atlantic, 1981, "A Rocky Mountain Holiday," RCA, 1983, "The Muppets Take Manhattan," Warner, 1984, "Silly Songs," IJE, 1984, and "Presenting Fraggle Rock," CBS Records, 1987.
WRITINGS
* (And producer and director) "Time Piece" (screenplay), Contemporary Films, 1965.
* (Co-author; and producer and director) "The Cube" (teleplay), broadcast by NBC-TV, 1969.
* The Muppet Show Book, Abrams, 1978.
* Sesame Street Character Book: Featuring Jim Henson's Muppets, Children's Television Workshop (New York, NY), 1979.
* Muppet Madness, Random House (New York, NY), 1980.
* Ernie and Bert Can--Can You?, illustrated by Smollin, Random House, 1982.
* In & Out, Up & Down, illustrated by Michael Smollin, Random House, 1982.
* Storyland: A Selection of Favorite Sesame Street Stories, Featuring Jim Henson's Sesame Street Muppets, Western (Racine, WI), 1986.
* A Merry Muppet Christmas: Starring Jim Henson's Muppets, Western, 1993.
* Here, Kitty, Kitty, Random House, 1993.
* Look What I Found, Random House, 1993.
* It's Not Easy Being Green: And Other Things to Consider, Hyperion, 2005.
MEDIA ADAPTATIONS
Henson's
Muppets
have been the basis for hundreds of books for children, including Sweet Dreams on Sesame Street, Random, 1983;
You Are the Star of a Muppet Adventure
, by Ellen Weiss, Random, 1983; and
Muppet Babies at the Circus, Random, 1985.
Read more
Latest headlines