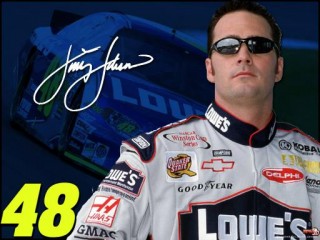 Jimmie Johnson biography
Date of birth : 1975-09-17
Date of death : -
Birthplace : El Cajon, California, U.S.
Nationality : American
Category : Sports
Last modified : 2010-07-27
Credited as : NASCAR driver and racer, Daytona auto racer,
Stock-car racing fans may be scratching their heads for a while over NASCAR's four-time top gun. Sprint Cup champ Jimmie Johnson is not your father's good ol' boy. A California desert rat who began his career on two wheels, he was in his twenties before he actually raced a car on pavement. Hmmm. A risk-averse point-maker, Jimmie is good looking, well mannered, articulate and congenial. Hmmm. He may be nothing like the cartoon-character drivers that the folks in the infield love, but even they have to admit—when it comes to driving fast, no one can top Jimmie.
GROWING UP
Jimmie Johnson
was born on September 17, 1975 in El Cajon, California, a working-class suburb on the desert side of San Diego. Jimmie's parents, Cathy and Gary, raised him and his two younger brothers, Jarit and Jessie, in a modest home.
Gary worked for a tire company and moved earth as a bulldozer operator. Cathy drove a school bus. They made financial sacrifices to give their boys the best opportunities possible and support them in their various passions. For Jimmie, that included surfing and racing.
Jimmie got the speed bug during the family's frequent camping vacations, which included thrills and spills on dirt bikes. He displayed a prodigal aptitude for these machines and began his motorsports career at the age of four, racing 50cc bikes. Four years later, he won the 60cc championship. Jimmie had to sit out the end of that season with a broken knee, but he had garnered so many victories that all he had to do was run another lap to win the points title. He did so in the final race with a cast on his leg.
Over the years, Gary would drive Jimmie all over the western part of the U.S. in their beat-up Ford van, as the youngster made a name for himself in motocross events. Between races, Jimmie attended Granite Hills High School in El Cajon. One of his friends was Marcus Giles, the star of the baseball and football teams. Giles would go on to play for the Atlanta Braves and San Diego Padres. Jimmie was also friendly with Tommy Vardell, who became a college football stud at Stanford and then logged several years in the NFL.
In 1992, Jimmie won his first of three-straight stadium motocross championships in the Mickey Thompson Entertainment Group Stadium Racing Series. The following year, supercross legend Rick Johnson introduced him to Herb Fishel of GM Racing during an event at the L.A. Coliseum. Fishel agreed to back Jimmie in off-road buggy and truck racing, and the teenager was soon one of the top drivers on the Short Course Off-Road Drivers Association (SODA) Series and the SCORE Desert Series.
Jimmie won the SCORE title in 1994 and the SODA winter championship in 1996 and 1997. By this time, he was driving for Herzog Motorsports. In this type of racing, Jimmie learned how to handle his vehicles under the most extreme circumstances.
In 1998, Jimmie graduated to the American Speed Association Grand National circuit. He was named Rookie of the Year after finishing fourth in points. A year later, he finished third in the standings.
Before long, Jimmie was getting the occasional Busch Series ride with the Herzog brothers. He made his first Busch appearance at the Kroeger 200 in Indianapolis, and then finished 15th in his next start at the CarQuest Auto Parts 250. Jimmie ran five more Busch events in 1999, including a seventh-place finish at the Die Hard 250.
ON THE RISE
Jimmie became a full-time Busch Series competitor in 2000. Though he did not record a Top 5 finish in 29 starts, he still wound up 10th in the standings. Jimmie admittedly did not have much asphalt experience, but he was a fast learner and an intuitive analyst when his machine wasn't feeling right. He seemed to grow with each race.
Jimmie's first Busch victory came in July of 2001, when he edged Mike Skinner and Jeff Burton at the Chicagoland Speedway. Jimmie ended the year ranked #8, almost 1,000 points behind champion Kevin Harvick.
Jimmie started his first Winston Cup race that same fall, in the UAW-GM 500 at the Lowe's Motor Speedway. He ran 192 laps before a wreck sent him home early. In November, he made two more starts, finishing 25th and 29th.
Jimmie began the 2002 season as a full-fledged member of the Hendrick Motorsports racing organization. Rick Hendrick had planned to start a fourth team, and Jeff Gordon suggested that he give Jimmie a look. Hendrick knew his top driver was interested in a co-ownership deal and asked Gordon whether he was willing to put his money where his mouth was. Gordon nodded, and the rest was history.
Many thought Hendrick was crazy when he had signed Jimmie toward the end of the 2000 season. The neophyte driver did not have the résumé or reputation to support this quantum leap, but Hendrick saw his potential. He had first noticed Jimmie when he raced against Hendrick's son, Ricky. Meanwhile, the home improvement company Lowe's followed Hendrick's lead and sponsored the rookie's #48 car. It turned out to be a brilliant investment.
Jimmie rewarded all this confidence by grabbing the pole position at Daytona, where he finished a respectable 15th. In April, he won the pole again at the Aaron's 499, and then won his first Winston Cup race a week later in the Napa Auto Parts 500 at the California Speedway. It was Jimmie's seventh Top 10 finish in eight starts. He took the flag again at Dover and woke up the next morning as NASCAR's #2 driver.
Even more gratifying to Jimmie than his fast start was his fast-developing friendship with Gordon. Jimmie had admired Gordon for many years. The two were close in age and got along famously. Jimmie and Gordon, said crew chief Chad Knaus, were like peanut butter and jelly. After Jimmie's first win, Gordon ran to Victory Lane, hugged him, and screamed, "You rock, buddy! I guess we hired the right guy!"
Also fueling interest in Jimmie's breakthrough season was his rivalry with fellow rookie Ryan Newman. It had been a long time since two first-timers had challenged for the championship in the same season. Jimmie, however, did not win NASCAR Rookie of the Year. Although he would out-point Newman, the award was based on each driver's best 15 finishes. Newman beat him out.
Jimmie ran consistently throughout the summer of '02. After winning the MBNA All-American Heroes 400, he occupied the circuit's top spot. Unfortunately, his finishing kick in October and November was not enough to consolidate his position. Still, he managed to end the year as NASCAR's #5 driver.
Jimmie went the entire 2003 season without ever getting another taste of the top spot, but he never fell out of the Top 10. He won two races and ran well enough in October and November to ease into the #2 slot at season's end. Jimmie's final six races all produced Top 5 finishes (3rd, 2nd, 4th, 3rd, 2nd and 2nd).
Jimmie finished second overall again in 2004, after holding the top spot in the new Nextel Cup standings on and off for almost three months. He earned his first victory of the year at Darlington in March. He added a win at the Coca-Cola 600 and two more at the Pocono Raceway to secure a spot in the inaugural Chase for the Cup. Jimmie surged toward the points championship with three straight victories at Lowe's, Martinsville and Atlanta—and another at Darlington in the season's second-to-last race. A second in the season-ending Ford 400 added 170 points to his total—just shy of champion Kurt Busch.
Jimmie's great stretch run was overshadowed by the plane crash that took the lives several of Hendrick family members and engine builder Randy Dorton. His victory in Atlanta was emotional one, coming just days after the tragedy.
Jimmie spent the first half of the 2005 season at or near the top of the driver standings. He began the year on a tear, posting with four Top 5 finishes and three victories, including his second straight Coca-Cola 600. A win at the UAW-GM Quality 500 in October vaulted him into the #2 spot with five races left, but once again he fell just short. A cut tire on the 124th lap at Homestead in the season finale dropped him to fifth place on the year.
MAKING HIS MARK
Jimmie began the 2006 season a smarter, more focused driver. His year got off to a rocky start, however, when his crew chief Knaus was sent home for making illegal modifications to Jimmie's #48 Chevy during Daytona 500 qualifying. Jimmie responded by picking his way through the field, avoiding crashes among the leaders, and nosing in front of teammate Brian Vickers with 14 laps to go, just before a yellow caution flag.
Jimmie stayed in front after the restart and held off challenges from Newman and Dale Earnhardt Jr. to take the checkered flag. He sweated out an unusually thorough post-race inspection and was proclaimed the winner. A win at Talladega and another at the Brickyard 400 gave Jimmie three majors after just 21 races.
Jimmie held on to the #1 spot most of the season until a string of nine mediocre finishes dropped him to the bottom of the Chase points standings with just five races to go. His fortunes took a dramatic turn for the better at the Bank of America 500, when he finished second to Kasey Kahne. One week later, Jimmie won the Subway 500 at Martinsville. After two more second-place finishes, Jimmie found himself back atop the standings with just two races to go. He barely lost to Tony Stewart at the Texas Motor Speedway but maintained his lead, setting up the season finale in Homestead.
Since Stewart was not one of the 10 drivers qualifying for the Chase, Jimmie technically did not lose any ground. He would begin the Ford 400 needing only to finish 12th to assure himself of his first driving championship. Matt Kenseth was his primary pursuer, while Kevin Harvick and rookie Denny Hamlin still technically had a shot.
The week before the race, Jimmie was a wreck thinking about a wreck. He drove his wife Chandra and his teammates crazy, but once he got behind the wheel on race day he mellowed out. Jimmie survived some front-end damage and a shaky pit stop to consolidate his position in the lead pack, and then drove carefully through several late cautions and restarts. He finished ninth and won the Nextel Cup by 56 points. On the victory lap, Gordon pulled up on his right and gave him a love tap.
At one point, Kenseth called Jimmie's team the Indianapolis Colts of NASCAR. He meant it as a compliment—week in, week out, the #48 car was the one to beat. Kenseth was on the money when he lauded Johnson's team. The core had remained in tact since 2002, and no one was grumbling that they wanted out.
As 2007 approached. Jimmie and his team were a well-oiled machine. Indeed, he took four races early in the year—the UAW-DaimlerChrysler 400, the Kobalt Tools 500, the Goody's Cool Orange 500 and the Jim Stewart 400.
At the Brickyard in the Allstate 400, Jimmie encountered trouble when he blew a tire and hit the wall. His fans were horrified when his car burst into flames. Jimmie climbed out unhurt but not unscathed—the heat crinkled his eyebrows.
With six wins during the first part of the '07 season, Jimmie piled up more than 5,000 points and enjoyed the lead heading into the Chase phase. He took the checkered flag at the first race, the Chevy Rock & Roll 400, and later in October in the Subway 500 at Martinsville and then the Pep Boys Auto 500 in Atlanta. He was neck-and-neck with Gordon at this point for first place.
Jimmie slammed the door on Gordon in the next two races, winning at the Texas Motor Speedway and at the Phoenix International Raceway for four victories in a row. He made it official in the season-ending Ford 400, when he finished seventh to beat Gordon for the final Nextel Cup by 77 points.
One question was one everyone's mind heading into 2008: Could Jimmie make it three in a row? He grabbed the pole at the Daytona 500 and recorded three Top 5 finishes in his first seven races. Jimmie's first victory came at the Subway Fresh Fit 500 in Phoenix. While May and June produced no wins, he racked up plenty of point-worthy finishes.
Feeling they needed to refine Jimmie's ride, Knaus and his crew began an aggressive testing regimen in the spring. By mid-summer, the results began to show. In July, Jimmie redeemed himself at the Brickyard, winning the race by holding off a strong challenge from Carl Edwards.
Jimmie visited Victory Lane again in late August, taking the Pepsi 500 Auto Club Speedway in a thoroughly dominant performance. A week later, he repeated as champion of the Chevy Rock & Roll 400. That put him just 40 points out of first place when the Sprint Chase for the Championship began.
The third event of the Chase, at the Kansas Speedway, saw Jimmie win his first of four races during a five-event stretch. After victories at Lowe's Speedway, Martinsville and Atlanta, he had a whopping 183-point lead. A win in the second-to-last race, the Checker O'Reilly Auto Parts 500, all but assured him of a third straight NASCAR title.
The only driver who could catch Jimmie was Edwards. He did is best, winning the season-concluding Ford 400 in Homestead. Jimmie, however, finished 15th, which gave him a 69-point cushion and a third consecutive championship. The only other driver to win three straight NASCAR titles was Cale Yarborough, from 1976 to 1978.
The 2009 season promised to be another campaign of front-running, especially after NASCAR announced its new two-row restart policy. Jimmie had always been good in restarts, and this reconfiguration favored him every time a caution flag came out.
After a sluggish start to the season, Jimmie heated up in late March. Starting at Bristol in the Food City 500, he notched four straight Top 5 finishes, including a win at Martinsville—his sixth at that track. In the late stages of the short-track race, where drivers battle for every inch, Denny Hamlin took the lead with a slick move on a restart and held it through three cautions. But a bump-and-pass by Jimmie with 15 laps to go gave him the lead for good.
Jimmie stayed within a couple hundred points of the NASCAR leaders throughout the spring and early summer with strong showings at Darlington and Daytona, plus a victory at Dover in the Autism Speaks 400. Jimmie led this race by a wide margin until a bungled pit stop put him in the middle of the pack with 36 laps remaining. He picked his way through the field and passed leader Tony Stewart with just two laps to go for NASCAR's most exciting finish of the season.
The Dover win came in the second race in the Chase for the Cup. Jimmie won three more times in the final 10 NASCAR events, including back-to-back victories in the Pepsi 500 and Banking 500 in mid-October. He followed those with a second-place finish at the Tums Fast Relief 500, pushing his points lead into the hundreds.
Jimmie sewed up his record-smashing fourth consecutive NASCAR championship with a win in Race 9, at the Auto Parts 500. In all, Jimmie won seven Sprint Cup races in 2009 and earned over $7.3 million.
At this point, it's fair to say that Jimmie and Hendrick Motorsports have mastered the Chase for the Cup system. Jimmie and his crew spend the year refining their approach and getting their car running right and tight—and then blow through the final 10 races. For skill, consistency, and knowledge, there may never have been a team better suited to dominate in NASCAR's modern era.
Yet despite his four championships, off the track Jimmie has yet to inspire the passion of racing fans. He is flawlessly polite and considerate—and notoriously closed-mouth when it comes to being quotable for racing reporters. Despite his classic rags-to-riches sports story, Jimmie frets about his vanilla persona, understanding that on some level it diminishes him in the eyes of NASCAR fans. That may not change until he's comfortable with a less-than-perfect image.
JIMMIE THE DRIVER
Jimmie's days as an off-road champion enable him to hang it all on the NASCAR ovals without losing control. He also senses little things in his car that the top data-acquisition systems sometimes miss. This allows his pit crew to make that extra miniscule adjustment when he refuels.
Although he won races in 2006 and 2007 while Chad Knaus was suspended, Jimmie's success has long hinged on the relationship he formed with the Hendrick Motorsports veteran. Knaus was a member of Jeff Gordon's amazing 1997 Rainbow Warrior crew and saw close-up the rapport that Gordon had with Ray Evernham. Now Knaus has surpassed Evernham in this regard.
Knaus and Gordon agreed that they would try to "clone" this team for Jimmie, and it has obviously worked well. Jimmie is basically making history every time he slides behind the wheel. It's a credit to his skill and his crew in an era of multiple tire, body and chassis changes. It will be interesting to see whether his dominance continues as NASCAR enters an era of economic uncertainty.
Read more
Latest headlines