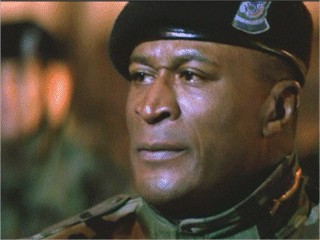 John Amos biography
Date of birth : 1941-12-27
Date of death : -
Birthplace : Newark, New Jersey
Nationality : Canadian
Category : Famous Figures
Last modified : 2010-12-27
Credited as : Actor, film director and producer, role in miniseries Roots
Professional football player in American, Continental, and Canadian football leagues, c. 1962-65; actor, producer, director, writer, c. 1965--. Principal television appearances include Mary Tyler Moore Show, 1970-73; Maude, 1973-74; Good Times, 1974-79; Roots, 1977; Hunter, 1984; 704 Hauser Street, 1994. Principal film appearances include The World's Greatest Athlete, 1973; Let's Do It Again, 1975; The Beastmaster, 1983; American Flyers, 1984; Coming to America, 1988; Lock Up, 1989; and Die Hard 2, 1990. Principal stage appearances include Norman, Is That You?; The Emperor Jones; Master Harold ... and the Boys; Split Second; And Miss Reardon Drinks a Little; and Halley's Comet (also writer and director).
Life's Work
Actor
John Amos
will forever be associated with the miniseries Roots, in which he portrayed a proud African man sold into slavery and subjected to unspeakable cruelties. However, Amos is just as comfortable with comedy, and his powerful build and stern but wry expression suit him for a variety of character roles. Amos's break into stardom came with the Mary Tyler Moore Show in the early 1970s, and for most of that decade he worked in a string of situation comedies, including the highly popular Good Times. After a decade of theater and film work, the former football player returned to lighter fare with the 1994 debut of 704 Hauser Street, a television show that addresses many current issues of political debate presented from the clashing viewpoints of a liberal father and a conservative son.
Amos plays the liberal role on 704 Hauser Street. His character, Ernie Cumberbatch, is a Vietnam War veteran and former civil rights activist abhorrent of Republican politics. The part seems tailor-made for Amos, who was for many years a liberal crusader in Hollywood, known for his willingness to jeopardize his career for his views. In fact, Amos once left a lucrative sitcom job because he objected to the images being purveyed by other black actors on the show. Ironically enough, Amos has found that his advancing years have moved him farther from the left than the lovable character he portrays in 704 Hauser. "I guess I have gotten more conservative as I've grown older," the actor was quoted as saying in the Washington Post. "I can't solve all the world's problems, and I can't solve all my country's problems. So I do what I can: I start with my own family, taking care of my own kids first, my loved ones. I've got to concentrate on my own family because I've got to conserve energy. And from 'conserve' comes the word 'conservatism.'"
The quiet admission of a more conservative view notwithstanding, Amos continues his crusade against the stereotyping of blacks both in front of the screen and in film and television production. A former screenwriter who has himself been victimized by bigotry more than once, Amos has worked long enough to benefit from changes in the entertainment industry. He notes with pride that two of the writers and the producer of 704 Hauser Street are black. More important, Amos himself has been accorded a degree of creative control that he lacked in previous television work--a change he has welcomed more than any other. "Now I'm being given the opportunity to give of myself, not just to report to work each day and crank it out," he told Newsday.
Amos was born and raised in Newark, New Jersey, the only son of an auto mechanic. He was a rebellious youngster, especially after his parents divorced. "I got in a lot of trouble as a kid and as a young man," he recalled in the Washington Post. "I never hurt another human being, but I took things that didn't belong to me. I was a candidate for prison, a very good candidate." More than once, Amos's mother--who had sole responsibility for him and his sister--was forced to bail her son out of jail. She finally informed Amos that she would no longer be humiliated by his behavior--he was on his own. "I straightened up," the actor said. "The idea of losing your last safety net, it scared the hell out of me more than any incarceration in any institution ever could."
Scrapes with the law behind him, Amos plunged into sports. He became a good enough football player in high school to earn an athletic scholarship to Colorado State University. There he studied social work in preparation for a career helping others in the black community. After leaving Colorado State he returned east to New York City, where he served briefly as a public defender trying to get bail reductions for people who were incarcerated while awaiting trial. That job proved terribly disillusioning; Amos became convinced that the criminal justice system in New York was biased against black males. A different sort of work beckoned him, and he decided to give it a try.
Though many young boys dream of playing professional football; few ever achieve that goal. Amos was invited to try out for the Kansas City Chiefs, who signed and then cut him. When the Denver Broncos did the same thing, Amos enrolled in a training program that would prepare him to manage a McDonald's franchise. He then heard from several semi-pro football teams as well as the Canadian Football League. He spent three years in the American, Continental, and Canadian football leagues, including a brief stint with the British Columbia Lions. When the Lions also dropped him, Amos gave up on football. "I said to myself, 'John, you're getting a little long in the tooth to be going to [football] tryouts,'" the actor remarked in the Washington Post. "My daughter was then about a year and a half old, and I knew I was going to have to make a life's decision."
Having performed as a stand-up comic in British Columbia, Amos decided to take a chance on a career in show business, figuring he could at least write for other people if he could not break in himself. Hollywood proved a tough arena for the former football player. "I'd go in when I first started in the business, trying to get a job as a writer, and they'd see a black guy with a 19-inch neck," Amos told Newsday. Once, he was informed that he could not possibly know anything about comedy. Amos refused to give up, though, and in the late 1960s he was hired as a writer-performer for the Lohman and Barkley Show, a cult classic in Los Angeles that also launched the career of director Barry Levinson.
The big break for Amos came in 1970, when he was cast as weatherman Gordy Howard on the Mary Tyler Moore Show. The role was small and intermittent, but it gave Amos the kind of exposure he needed to secure other, more meaningful parts elsewhere. He made his stage debut in 1971, in Norman, Is That You?, a drama that earned him a best actor nomination from the Los Angeles Drama Critics Circle. He also found better stand-up work as a regular on the Columbia Broadcasting System (CBS) series The Funny Side. The "black guy with a 19-inch neck" was well on his way to stardom.
In 1973 Amos took a small part on another CBS sitcom. On Maude, a spinoff from the highly popular All in the Family, Amos played Henry Evans, husband to Maude's maid, Florida. The Henry and Florida characters proved so popular that CBS created another show exclusively for them, Good Times, which debuted in 1974. The sometimes controversial show profiled a fictitious black family living in public housing and trying to make a better life for themselves. Originally conceived as a comedy that would explore the social concerns of poor families, Good Times gradually became a vehicle for comedian Jimmie Walker, whose ebullient personality and trademark quip "Dyn-o- MITE! " began dominating the show. Amos objected strenuously to the changes. "There was too much emphasis on wearing chicken hats and 'dyn-o-mite,' and no equal representation of the other side, which is the world of academia, the young black guy who's not grabbing his crotch or wearing his hat sideways, but who aspires to a good life through the old traditional values," Amos opined in Newsday. "While we shouldn't have been doing [educational and cultural programming that appears on] PBS every week we certainly should have been putting more emphasis on a more positive role model."
Amos eventually quarreled with Norman Lear, the producer of Good Times, and when their exchange grew heated, Lear terminated Amos's contract. The Henry Evans character was "killed off" by heart attack, and Good Times continued for several more seasons without Amos. The abrupt end to his sitcom work was hardly devastating for Amos, however. He had accepted a major dramatic role in a mini-series that would ingrain itself in American culture.
The miniseries Roots was based on the story of writer Alex Haley, who had traced his ancestry back to an enslaved African man named Kunta Kinte. In several installments, the show follows Kunta Kinte's life from his youth on the African savannah to his old age as a brutalized but still proud plantation slave. Amos was cast as the adult Kunta Kinte--a man determined to preserve his African heritage for future generations. In one of Roots' most memorable moments, Amos holds a child toward the night sky and says: "Behold! The only thing greater than yourself!" Chicago Tribune correspondent Allan Johnson referred to that scene as "surely one of the most significant moments in a drama filled with significant moments." Johnson further noted that Amos's work in Roots "sparked an awareness in African Americans of their heritage." The actor was nominated for an Emmy Award for his portrayal of Kunta Kinte.
At the time of its first broadcast in 1977, Roots drew the highest ratings of any television show in history. The miniseries has since been rerun many times, and Amos has become closely associated with his role in the drama. In the wake of Roots' success the actor concentrated on theater and film work. He wrote his own one-man show called Halley's Comet and traveled across country performing it. He also took cameo roles--a villain here, a hero there--in such films as Die Hard 2, Lock Up, Coming to America, and The Beastmaster.
Middle age and the responsibility of caring for two growing children brought a gradual shift in Amos's political views. Once a "superliberal," as he described himself in the Washington Post, he has come to be more supportive of the conservative cause. This has not eroded Amos's social consciousness, however. Having moved back to New Jersey after years of living in California, he helped to open the first movie theater in downtown Newark since the 1960s and has worked with youngsters there who want to pursue theatrical careers. "I don't want to be blase about it, but i go where the work is, and then I come home," Amos told Newsday, referring to his decision to live in New Jersey. "Cause this is my home--because of the theater, and because of my involvement with various organizations in the state."
The 1994 television series 704 Hauser Street teams Amos with Norman Lear once again. The two men have left their differences in the past and are working together in harmony on the new show. "We've both changed, obviously for the better," Amos observed in USA Today. "We have a great relationship now." Lear has welcomed Amos's creative ideas on 704 Hauser Street, even making the lead character a mechanic at Amos's request. The show effectively turns the old All in the Family formula upside down, featuring a liberal father and a conservative son living in the former home of the bumbling bigot and main character of All in the Family, Archie Bunker. While 704 Hauser Street is filmed on the former set of All in the Family, the new comedy has taken care to present all of its characters as intelligent and well-read, able to argue their points on an intellectual level as well as an emotional one. Newsday reporter Diane Werts pointed out that various episodes "get to the crux of contrasting views on discrimination, virginity, and other issues. Sometimes Amos seems right; sometimes his son seems right. All the time, they compel each other to ponder why they believe what they do."
Reflecting on his return to situation comedy, Amos told the Washington Post: "I really don't know what's going to happen with this show. It was always my contention that this show was either going to crash and burn or was going to go through the roof. We get stronger and the shows get better [with each episode], but I think that happens with any ensemble group."
Amos, who lives in western New Jersey, is the father of two grown children. His daughter, Shannon, is a physical therapist, and his son, K. C., is a filmmaker. Amos takes great joy in his children's accomplishments and has likewise found personal peace and stability as he edges toward 60. In a review of 704 Hauser Street, Newsday' s Diane Werts found that Amos's character "still spends an inordinate amount of time being over-the-top angry. But John Amos has learned to expect the world not to agree with him, and to live peacefully with that difference of opinion. Or, when he can't live with it, to work with equanimity at overcoming it."
Awards
Los Angeles Drama Critics Award nomination, 1971, for Norman, Is That You?; Emmy Award nomination for best actor, 1977, for Roots; National Association for the Advancement of Colored People (NAACP) Image Award nomination for best actor, 1985, for Split Second.
Read more
Latest headlines