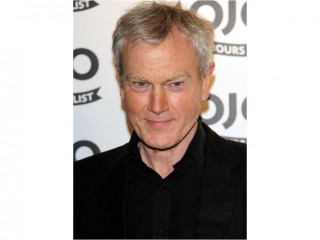 John Foxx biography
Date of birth : 1947-09-26
Date of death : -
Birthplace : Chorley, Lancashire, England
Nationality : English
Category : Arts and Entertainment
Last modified : 2011-11-15
Credited as : Singer, photographer, Ultravox
John Foxx (born Dennis Leigh) is an English singer, artist, photographer and teacher. He was the original lead singer of the band Ultravox before being replaced by Midge Ure, when he left to embark on a solo career in 1979. Primarily associated with electronic synthesiser music, he has also pursued a parallel career in graphic design and education.
John Foxx has challenged and influenced generations of artists with his extensive body of rock and electronic pop music. Born in Chorley, Lancashire, England, as Dennis Leigh, Foxx moved to London to attend the Royal College of Art. After hearing the experimental sounds of electronic music pioneers John Cage and Walter Carlos, Foxx became entranced by the style and set about starting a group of his own. In 1973, Foxx, along with bassist Chris St. John (a.k.a. Chris Cross), keyboardist Billy Curry (a.k.a. Billy Currie), guitarist Steve Shears, and drummer Warren Cann, formed Tiger Lily. The moniker was short-lived, but they managed to record one single, a cover of Fats Waller's "Ain't Misbehavin'," for use in an adult film of the same name. The money secured from the track reportedly went towards buying Currie a new keyboard.
After a few name changes--including the Innocents, the Zips, London Soundtrack, and Fire of London--in 1976 Tiger Lily became Ultravox!. (The exclamation point was soon dropped). It was also at this time that Leigh began to formally take on the name John Foxx.
Ultravox signed to Island Records, and with Steve Lillywhite and ambient producer/Roxy Music keyboardist Brian Eno at the helm, released their self-titled debut in 1977. "I Want to Be a Machine" and "My Sex," the disc's major singles, were touchstones for New Wave, but that didn't stop the British media from pointing out Ultravox's similarities to Eno's old group.
That year, Paul Rambali of New Musical Express wrote, "There were uncomfortable similarities to Roxy Music--the lack of musical history, the high stylisation content both in music and appearance, and the comparatively lavish sleeve on their debut album--which have led to rumours of the group being no more than a bunch of session musicians put together by Island to fill the Roxy gap."
Foxx responded to the accusation by saying, "Believe it or not, we've never really spent time thinking about how we project ourselves as an image band. We're just affected by things that happen in the street, same as anyone else. If you're in the media, you accumulate things around you that become your image whether you like it or not."
Later in 1977, the band returned with Ha! Ha! Ha!, which featured one of the group's early well-known songs, "Hiroshima Mon Amour," its name taken from an Alain Resnais film.
The single's popularity did not contribute much to Ultravox's sales, and after a rather unfortunate showing at the cash register with their 1978 follow-up, Systems of Romance, Island dropped the band from their roster. The group continued with a successful tour of the United States without any label support, but upon returning to the United Kingdom, Foxx took his leave. While he was pleased with the band's sound--an amalgam of angular rock and glam influences--he wanted to pursue electronic music more seriously.
Ultravox went on, recruiting singer Midge Ure and scoring a Top Five album with 1981's Vienna, and Foxx began his solo career. However, despite the band's newfound success, many still remembered Foxx as Ultravox's most qualified front man. In 1980 Robert Paln of the New York Times wrote that Ultravox "is an innovative band that's never been as well known in the United States as some of its more popular derivatives. But in its original configuration, with John Foxx as lead vocalist and lyricist, Ultravox was never so one dimensional as its imitators."
Foxx's solo debut, 1980's Metamatic, came out on his own Metal Beat label, with distribution through Virgin Records. Made entirely with electronic instruments, save for the odd bass guitar, Metamatic was Foxx's biggest selling record, mostly due to the ultra-synthetic single "Underpass." Metamatic, named after a painting machine created in 1959 by kinetic artist Jean Tinguely, would prove a lasting influence on synth-pop star Gary Numan and Can's Holger Czukay, and both musicians have acknowledged their artistic debt to Foxx.
The Garden, named after Foxx's studio, followed the year after. With its much more lively sound, it included a version of the "Lord's Prayer (Pater Noster)" chanted in Italian with a disco beat beneath it. Some copies of the disc came with a monograph titled "Church," and featured Foxx's poetry and photography. Trouser Press called it "a lush, thick paean to Foxx's Catholicism and the mysticism that has always lurked beneath his austere urbanity. Pastoral in tone, the album flourishes under a denser sound, replete with acoustic instruments that offset the onslaught of synthesizers."
Foxx's recording schedule became increasingly busy during those years, and 1983 saw the release of two albums: the soundtrack to Michelangelo Antonioni's film Identification of a Woman, and his own record, The Golden Section. The latter was a stylistic leap for Foxx, as some of its arrangements resembled those of the Beatles and their jangly, later-period psychedelia.
However, after releasing the rather lackluster In Mysterious Ways in 1985, Foxx took a hiatus from pop music production. He sold his studio, went back to calling himself Dennis Leigh, and returned to working as a graphic designer and visual artist, where he designed covers for books by such authors as Jeanette Winterson and Salman Rushdie.
Slowly and quietly, though, he began to experiment with ambient sound textures in the privacy of his home, and was inspired by the acid house and techno music emerging from Chicago and Detroit. In fact, he began anonymously releasing white label test pressings of his dance tracks and feeding them to DJs at home and overseas. Soon LFO, the British techno group, enlisted Foxx to produce their debut music video.
His next project, Nation 12, involved an early 1990s collaboration with Bomb the Bass's Tim Simenon. Together they released two 12-inch singles, "Remember" and "Electrofear," to much dance floor acclaim.
By 1995 Foxx was back to full-on collaborations, and with Louis Gordon he released Shifting City, an intentional return to the style of Metamatic. He also put out Cathedral Oceans that year, a project that examined religion, spirit, sound, and architecture in equal measure. Loosely based on Claude Debussy's "Sunken Cathedral," Cathedral Oceans exemplified Foxx's renewed creative spark. Writing in All Music Guide, Jim Brenholts stated, "Foxx has built some very serene and peaceful soundscapes that are perfect for relaxation and meditation. The arrangements are flawless."
The Gordon partnership released The Pleasures of Electricity in 2000 and the vaguely political Crash and Burn in late 2002. The following year, with Eno's frequent musical partner Harold Budd, Foxx released 2003's Translucence/Drift Music, continuing in the vein of ambient music he'd been experimenting with. The club scenes in New York and London were booming with the electroclash fad--a style of punk, hip-hop, techno, and electro all converging--and bands like Adult., Peaches, and Miss Kittin and the Hacker were digging back into Foxx's legacy. Rumors that he would collaborate with some of those artists did not materialize, but Foxx's influence was felt strongly throughout that time, and he has continued to have an impact on all forms of experimental and electronic dance music.
In June 2006, Foxx released an instrumental solo album called Tiny Colour Movies consisting of fifteen instrumental tracks inspired by short art films he saw at a private screening. Three collaborative albums with Louis Gordon were released in late 2006: Live From a Room (As Big as a City), a 'live' studio album from the 2003 tour (released in association with an interview CD entitled "The Hidden Man") in October; the studio album From Trash in November; and a further album from the same sessions a few weeks later during the accompanying mini-tour. This two-CD package, entitled Sideways, included ten original tracks plus two extended versions of songs on From Trash. The second disc contained an extensive interview with Foxx describing the making of From Trash which was available only at concerts on the 2006 tour. The album saw a more commercial UK-wide release in April 2007.
In March 2010, Berlin producer Mark Reeder was given remixed the track Underpass (Reeder Sinister Subway Mix) for John Foxx's CD/DVD retrospective compilation Metatronic. Reeder not only remixed his versions from the original master tapes in stereo for the CD, but he also made 5.1 mixes of his own remixes and John Foxx's original 1980s version.
Selected discography
Solo albums:
-Metamatic Metal Beat/Virgin, 1980.
-The Garden Virgin, 1981.
-The Golden Section Virgin, 1983.
-In Mysterious Ways Virgin, 1985.
-Shifting City Metamatic, 1995.
-Cathedral Oceans Resurgent, 1997.
-The Pleasures of Electricity Metamatic, 2000.
-Crash and Burn Universal, 2002.
-Translucence/Drift Music Metamatic, 2003.
- Crash and Burn (with Louis Gordon),2003
- Cathedral Oceans III (2005)
- Electrofear (as Nation,2005)
- Tiny Colour Movies,2006
- The Hidden Man (2CD interview set, a reading from The Quiet Man and three new songs.),2006
- From Trash (with Louis Gordon),2006
- Sideways (with Louis Gordon. 2CD companion piece to From Trash, containing new tracks and an interview CD.),2006
- Metal Beat (2CD interview set between Steve Malins and John Foxx, discussing the making of Metamatic.),2007
- Impossible (with Louis Gordon. Remix album,2008)
- My Lost City (2009)
- A Secret Life (with Steve D'Agostino and Steve Jansen,2009)
- Mirrorball (with Robin Guthrie,2009)
- The Quiet Man (Extracts from the ongoing Quiet Man book read by Justin Barton, together with a new piano score by John Foxx ,2009)
- D.N.A.,2010
- Interplay John Foxx and The Maths with Benge,2011
- Nighthawks - John Foxx & Harold Budd featuring Ruben Garcia,2011
- Torn Sunset - John Foxx & Theo Travis,2011
- The Shape of Things John Foxx and The Maths with Benge,2011
With Ultravox:
-Ultravox Island, 1977.
-Ha! Ha! Ha! Island, 1977.
-Systems of Romance Island, 1978.
-As Nation 12
-"Electrofear," Rhythm King, 1991.
-"Remember," Rhythm King, 1991.
Read more
Latest headlines