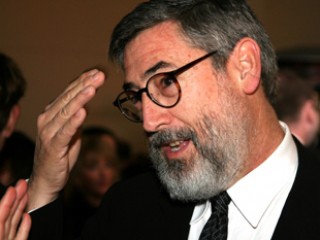 John Landis biography
Date of birth : 1950-08-03
Date of death : -
Birthplace : Chicago, Illinois, USA
Nationality : American
Category : Arts and Entertainment
Last modified : 2010-08-03
Credited as : Actor and producer, screenwriter, directed Michael Jackson's videos Thriller and Black or White
John Landis
, also credited as
John David Landis
born on August 3, 1950 in Chicago, Illinois, USA is an American director, producer, actor, screenwriter, dialogue coach, mail boy, production assistant, stuntman, videotape operator.
Though not nearly a household name like contemporary filmmakers Steven Spielberg and George Lucas, writer-director-occasional actor John Landis became one of the more important Hollywood filmmakers to come into prominence in the late 1970s. Enormously successful and influential, particularly because of the first half of his career, Landis directed some of the seminal comedies of the century, including
"The Kentucky Fried Movie" (1977)
and the college favorite
"National Lampoon's Animal House" (1978)
. Following the huge success of
"Animal House"
, which spawned new generations of fans throughout the years, Landis scored another big hit with
"The Blues Brothers" (1980)
, marking a high point in his career, which he followed with the cult classic
"An American Werewolf in London" (1981)
. Accused of being responsible for an unspeakable tragedy following the deaths of three actors, including Vic Morrow, on the set of
"The Twilight Zone - The Movie" (1983)
, Landis hit a career skid that saw few highlights - only
"Trading Places" (1983)
and
"Coming to America" (1988)
being worthy of any note. Though he directed Michael Jackson's
"Thriller" (1983)
, widely considered to be the best music video ever made, and later Jackson's
"Black or White" (1991)
, one of the most-watched videos of all time, Landis was unable to resuscitate his feature career, even when trying to recapture old magic with
"Blues Brothers 2000"
(1998). Still, Landis remained an influential filmmaker, if only because of past glories.
Born on Aug. 30, 1950 in Chicago, IL, Landis was raised by his father, Marshall, an interior decorator, and mother, Shirley. When he was just four months old, his family relocated to Los Angeles, where he spent the remainder of his childhood. Landis began his Hollywood career the old fashioned way - he worked in the mailroom at 20th Century Fox. He soon found himself in Yugoslavia as an assistant director on "Kelly's Heroes" (1970), which starred Clint Eastwood, Telly Savalas and Donald Sutherland as World War II Army misfits who lead a unit behind Nazi lines to steal $16 million in gold. Landis made a cameo appearance as a nun after falling short in trying to round up enough females to fit the bill. After the production wrapped, Landis decided to stick around Europe and work as a stunt double on countless German action movies and Spanish spaghetti Westerns. Once he made his way back stateside, he made his directorial debut with "Schlock" (1973), a low-budget satirical horror comedy about an ape-like creature (Landis in a gorilla suit) who terrorizes a sleepy Southern California suburb that does not really find him all that menacing.
Four years later, Landis directed one of his most subversive movies, "The Kentucky Fried Movie" (1977), a series of unconnected sketches lampooning television commercials, educational films and drive-in movies that was written by the comedy trio of David Zucker, Jim Abrahams and Jerry Zucker. Full of hilarious bits like "Zinc Oxide and You," "United Appeal for the Dead" and "That's Armageddon," Landis' madcap spoof lived a long-life as a cult classic. He followed up with perhaps his most revered movie, "National Lampoon's Animal House" (1978), a raucous frat-house comedy set in 1962 that launched the careers of Tom Hulce, Tim Matheson and Karen Allen as well as propelled then "Saturday Night Live" (NBC, 1975- ) cast member John Belushi into superstardom, and became a cultural milestone that remained relevant and popular generations later. Though rude and crude on the outside, what separated "Animal House" from other teen sex comedies was the sly allegory about the Nixon administration, as represented by the ruthless dean (John Vernon) and his two clean-cut, uptight lackies (James Daughton and Mark Metcalf), who seek to destroy the loveable lugs at Delta House.
After appearing in a cameo for friend Steven Spielberg's reviled farce, "1941" (1979), Landis had the acclaimed director return the favor for the much funnier and more beloved comedy, "The Blues Brothers" (1980), which starred Belushi and Dan Aykroyd as Jake and Elwood Blues, two lowlife criminal blues singers in dark suits and shades who go on a "mission from God" to raise $5000 to save their old orphanage. But standing in their way are a pair of Neo-Nazis, a spurned country music band, half of the Illinois state police and Jake's machine gun-wielding ex-girlfriend (Carrie Fisher), all of whom want the Blues Brothers dead or in jail. The filming of the car-crash epic drained Landis, due in no small part to his lead actor's (Belushi) colossal cocaine habit which effected filming in a variety of ways. According to Bob Woodward's decidingly dark look at the comic's short life in his book Wired, Landis was concerned enough to confront the comic in his trailer and attempt to flush his stash down the toilet. Though not a huge hit upon release due to its overblown budget, "The Blues Brothers" had a long shelf life on television and in video stores and went down in the annals of comedy history as an all-time classic and the definitive onscreen teaming of Belushi and Aykroyd. He next wrote and directed "An American Werewolf in London" (1981), a thinly-plotted, but nonetheless frightening horror flick with touches of comic wit about two American college students (David Naughton and Griffin Dunne); one of whom gets bitten in the shoulder and slowly transforms into a lycanthrope. Though dismissed at the time by critics, "American Werewolf" developed a following that turned yet another Landis film into a cult classic and helped put makeup artist/creature maker Rick Baker on the map for his inventive work with prosthetics as he turns a naked Naughton into a werewolf in the film's classic metamorphosis scene.
Thanks to "American Werewolf," pop icon Michael Jackson hired Landis to direct the music video for "Thriller" (1983), widely considered to be the most successful music video ever made. Clocking in at over 13 minutes long, the video featured Jackson in several elaborate dance numbers alongside the living undead while trying to convince his date (Ola Ray) that it is all only dream. At the beginning of the video, while Jackson and his date are in a movie theater watching a horror movie, one of the characters on screen says the line, "See you next Wednesday," a recurring phrase that first appeared in "Schlock" as the title of a movie and subsequently was referenced in the "Fell-Around" sketch in "The Kentucky Fried Movie," on a billboard in "The Blues Brothers" and on a porn theater marquee in "An American Werewolf." The phrase also appeared as a movie poster hanging on an apartment wall in his next movie, "Trading Places" (1983), a rags-to-riches comedy starring Eddie Murphy as a street hustler who is given the keys to the Wall Street kingdom as an experiment being conducted by billionaire-bad guys, Randolph and Mortimer Duke (Ralph Bellamy and Don Ameche). In return, they plan to reduce a successful businessman (Dan Aykroyd) into abject poverty to see whether nature or nurture makes the man. "Trading Places" went on to become a top-grosser at the box office while solidifying Murphy's status as a fast-rising star.
Landis had a brush with tragedy on the ill-fated production of "Twilight Zone - The Movie" (1983), which he co-directed with Steven Spielberg, Joe Dante and George Miller. During the filming of his own segment in 1982, a low- flying helicopter spun out of control and crashed onto the set following the detonation of pyrotechnic explosions, killing veteran actor Vic Morrow and two child extras, Myca Dinh Le, age seven, and Renee Shin-Yi Chen, age six, who struggled through a pond below the crashing helicopter. Overshadowing the film itself - which opened to mixed reviews and poor box office totals - the accident led to charges of involuntary manslaughter and child endangerment against Landis and several crew members. After a long legal battle, which also brought to light the director's bullying style and a perceived lack of concern for other's well-being, Landis and his co-defendants were acquitted. But in a civil suit, the families of the two children were awarded $2 million each. Meanwhile, Morrow's daughters, Carrie Morrow and Jennifer Jason Leigh, also sued and settled for an undisclosed sum. Ultimately, the tragedy led to stricter child safety and labor laws in California and a reluctance by Hollywood to film many helicopter scenes until the advent of better CGI technology, while Landis emerged from the ordeal with his reputation in tatters.
The tragedy that overwhelmed "Twilight Zone" appeared to have knocked Landis off his creative game. He stumbled with several forgettable comedies for the remainder of the decade, including the comedic thriller "Into the Night" (1985), the Cold War spy comedy "Spies Like Us" (1985), starring Chevy Chase and Dan Aykroyd, and the period slapstick farce "Three Amigos!" (1986), with Chase, Steve Martin and Martin Short. Landis went back to the "Kentucky Fried Movie" well with the lowbrow spoof, "Amazon Women on the Moon" (1987), co-directing the segments "Video Date," "Blacks without Soul" and "Don 'No Soul' Simmons." Landis had a much-need commercial hit with "Coming to America" (1988), starring Eddie Murphy as the crown Prince of Zamunda, who spurns an arranged marriage and travels to Queens, NY to find his real bride. Both lightly funny and emotionally endearing, "Coming to America" marked a return to form for the flailing director. However, tension hung over the shoot, as one-time compatriots Landis and Murphy butted heads, with Landis citing the personality change in his star between "Trading Places" and superstardom by likening to him to "a pig of the world," while Murphy famously stated that his director had a "better chance of working with Vic Morrow again" than with him. After the huge box office success of "America," Landis threw away any built-up good will with the dreadful screwball comedy "Oscar" (1991), which starred Sylvester Stallone as a 1930s Mafia don who promises his dying father (Kirk Douglas) that he will give up crime and live the straight life. Landis earned a Razzie Award nomination for Worst Director following a poor showing at the box office.
Once again collaborating with Michael Jackson, Landis directed the music video for "Black or White" (1991), which featured an extended dance intro; Macaulay Culkin, George Wendt and Tyra Banks in cameo roles; and one of the first uses of morphing technology in a music video. Not as seminal as "Thriller," it nonetheless was another huge hit, thanks in part to the simulcast debut on MTV, VH1, BET and Fox. He next directed "Innocent Blood" (1992), a horror comedy about a modern day vampire (Anne Parillaud) whose code of honor limits her blood-sucking to criminals, including a would-be victim-turned-undead gang boss (Robert Loggia). After cameo acting appearances in "Sleepwalkers" (1992) and "Silence of the Hams" (1994), Landis and Eddie Murphy made nice in an effort to bolster Murphy's then-sagging box office fortunes by directing the underperforming action-oriented sequel, "Beverly Hills Cop III" (1994). Though generally perceived as superior to the second installment, the feature failed to re-establish Murphy's prominence with a tired viewing audience. Landis fared even worse with "The Stupids" (1996), a grating slapstick comedy starring Tom Arnold that awaited distribution for over a year and was met with hostile critical reaction.
As a result of his diminishing film career, Landis devoted more of his time to television as a producer and director, enjoying his greatest success in the medium as the executive producer and occasional director of the ribald movie-mad sitcom, "Dream On" (HBO, 1990-96). Meanwhile, he executive produced the first season of the sci-fi adventure series "Sliders" (Fox, 1995-96), becoming an executive consultant after the show returned from hiatus. He also executive produced "Weird Science" (USA, 1994-97) and the made-for television movie, "Here Come the Munsters" (Fox, 1995). Going back to the well once again, he directed the ill-conceived "Blues Brothers 2000" (1998), which featured Aykroyd reprising Elwood Blues, minus John Belushi as Jake, who was conveniently described in the movie as having died in prison. Filling those rather large shoes was John Goodman, who joined Aykroyd and Landis on a journey that many felt never should have been taken without Belushi. A pale imitation of the original, "Blues Brothers 2000" was a huge box office flop that perhaps gave Landis pause about rehashing his classic material.
Turning to more independent filmmaking, Landis directed "Susan's Plan" (2000), a comedy thriller about a woman (Nastassja Kinski) plotting to kill her ex (Adrian Paul) with an insurance salesman (Billy Zane). Back to working in television, he helmed episodes of "Masters of Horror" (Showtime, 2005-07), "Psych" (USA, 2006- ) and the horror-suspense anthology series, "Fear Itself" (NBC, 2008-09). He also executive produced the biographical documentary, "Mr. Warmth: The Don Rickles Project" (HBO, 2007), which highlighted the life and career of his old friend from "Kelly's Heroes." After almost a decade-long absence, Landis returned to feature film directing with "Burke and Hare" (2010), a black comedy about two Irish immigrants, William Burke (Simon Pegg) and William Hare (Andy Serkis), who kill 17 victims in order to sell their corpses for dissection.
Extra
* 1970 Made feature debut at age 18, working uncredited as a production assistant on Kelly s Heroes
* 1973 Appeared as an actor in Battle for the Planet of the Apes
* 1973 Made feature debut as writer/director with the monster spoof Schlock ; also starred (in gorilla suit) as the Sclockthropus; first collaboration with makeup effects designer Rick Baker
* 1975 Had a small role in Paul Bartel s Death Race 2000
* 1977 Returned to directing when he was hired by writers Jerry Zucker, Jim Abrahams and David Zucker to direct their screenplay for Kentucky Fried Movie
* 1978 Breakthrough feature as director, National Lampoon s Animal House ; first collaboration with actor John Belushi
* 1979 Appeared as an actor in Steven Spielberg s 1941
* 1980 Co-wrote and directed The Blues Brothers ; at the time was the most expensive - and subsequently the highest-grossing - comedy feature ever made; first collaboration with Dan Aykroyd who co-starred with Belushi and co-wrote with Landis
* 1981 Directed, wrote and appeared in the well-received horror comedy An American Werewolf in London ; re-teamed with Rick Baker, who won the Academy Award for Best Makeup Effects
* 1982 Helmed first documentary, Coming Soon, which was released only on VHS
* 1983 Directed Michael Jackson s landmark longform music video Thriller ; again collaborating with makeup FX master Rick Baker
* 1983 Helmed the comedy Trading Places ; first collaboration with Eddie Murphy and second teaming with Dan Aykroyd
* 1983 Made producing debut with Twilight Zone: The Movie ; also directed the opening teaser and first segment of the film, which is known for the Helicopter crash which took the lives of actor Vic Morrow and two child actors
* 1983 Produced the best-selling home video documentary short subject Making Michael Jackson s Thriller
* 1984 Executive produced the USA Network series Weird Science based on the movie of the same name
* 1985 Directed the feature Into the Night and the accompanying documentary B.B. King Into the Night
* 1985 Made TV directing debut with Disaster at Buzz Creek, an episode of the CBS comedy series George Burns Comedy Week
* 1985 Re-teamed with Dan Aykroyd, who co-wrote and co-starred, for the comedy Spies Like Us
* 1986 Directed ¡Three Amigos! with Chevy Chase, Martin Short and Steve Martin
* 1986 TV producing debut, Fuzzbucket, a fantasy telefilm on ABC s Disney Sunday Movie
* 1987 Co-directed the satirical comedy Amazon Women on the Moon, which is a compilation of twenty-one comedy skits directed by five different directors
* 1988 Re-teamed with Eddie Murphy to direct Coming to America
* 1990 Executive produced (and occasional directed) the popular HBO sitcom Dream On
* 1991 Re-teamed with Michael Jackson to direct his Black and White video
* 1992 Replaced Jack Shoulder as the director of the horror film Innocent Blood
* 1994 Once again teamed with Eddie Murphy for Beverly Hills Cop III
* 1995 Executive produced the first season of Fox s Sci-fi series Sliders
* 1996 Guest starred as himself in an episode of the NBC sitcom Caroline in the City
* 1998 Returned to direct Blues Brothers 2000
* 1999 Produced the syndicated series Sir Arthur Conan Doyle s The Lost World
* 2005 Directed Deer Woman and Family episodes of the Showtime series Masters of Horror
* 2007 Directed three episodes of Psych on the USA Network
* 2007 Directed the documentary Mr. Warmth: The Don Rickles Project for HBO
* Formed St. Clare Entertainment with Robert Weiss and Leslie Belzberg to produce TV series, telefilms and miniseries
* Reportedly worked as an uncredited co-writer for the James Bond film The Spy Who Loved Me
* Worked as an extra and stunt man in several German action movies and Spanish-filmed spaghetti Westerns
Read more
Latest headlines