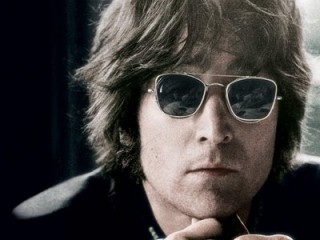 John Lennon biography
Date of birth : 1940-10-09
Date of death : 1980-12-08
Birthplace : Liverpool, England
Nationality : British
Category : Arts and Entertainment
Last modified : 2010-10-04
Credited as : Rock musician, co-founded the Beatles, won Grammy Awards
Grammy Award, 1969
"[Songwriting]'s not a matter of craftsmanship.... It's like being possessed; like a psychic, or a medium. The thing has to go down. It won't let you sleep, so you have to get up, make it into something, and then you're allowed to sleep...."
Born October 9, 1940, in Liverpool, England,
John Lennon
was a musician and composer who co-founded the Beatles, one of the greatest pop music groups of all time. He was shot and killed by a self-described fan on December 8, 1980, in New York, New York.
On February 7, 1964, more than 10,000 people gathered at Kennedy International Airport in New York City to greet the Beatles--John Lennon, Paul McCartney, George Harrison, and Ringo Starr--on their first visit to America. The "Fab Four" had burst onto the British scene only the year before, and almost overnight were stars. The acknowledged leader of the group was Lennon, the so-called "thinking man's Beatle," whose collaborative songwriting efforts with bandmate McCartney changed music forever.
John Winston Lennon was born October 9, 1940, in Liverpool, England. His father abandoned the family when John was a baby, and his mother could never quite accept the responsibilities of parenthood. He was raised by an aunt and uncle who lived in a respectable, working-class section of Liverpool. There John grew up amid the drabness of postwar England.
Lennon was a mediocre student, but his intelligence and artistic talent enabled him to move through school. By his mid-teens, he had taken up the guitar so that he could play the speeded-up, bluesy "skiffle" music then sweeping across Great Britain. (In the United States, the sound was similar to that of the early Elvis Presley.)
During the spring of 1955, Lennon and some other students at Quarry Bank High School formed their own band and dubbed themselves the Quarry Men. Two years later, McCartney joined the group, and Harrison joined in early 1958. Stu Sutcliffe, an artist friend of Lennon who played bass guitar, joined a year later.
From 1957 until 1959, Lennon played with the Silver Beatles (as the group was now known), while attending Liverpool Art College. During this period, the band's sound slowly began to shift from skiffle to rock `n' roll, and they went from appearing at youth club dances and church halls to pubs and dance halls. The group's drummer also left and was replaced by Pete Best.
In 1960, the group--now known as simply the Beatles--headed to Hamburg, West Germany. The work was demanding and not very lucrative, but they worked on polishing their act. The entire band clowned around onstage; Lennon in particular reportedly played guitar in his underwear with a toilet seat around his neck. In fact, noted Nicholas Schaffner in his book Beatles Forever, "the quick-witted, witheringly cynical Lennon was by all accounts the driving spirit behind the Beatles in those days." The group made a second trip to Hamburg in 1961, and at the end of the gig, Sutcliffe opted to remain in Hamburg to marry his German girlfriend. (He died less than a year later.)
Record shop manager Brian Epstein sought out the band in the fall of 1961, and became their manager in January 1962. Within a year the Beatles had a recording contract with E.M.I. Records producer George Martin. On the eve of this triumph, they dumped Pete Best as their drummer and replaced him with Ringo Starr.
Despite initial doubts, Martin used original compositions by Lennon and McCartney on both sides of the Beatles' first single, thus launching a songwriting collaboration that would produce some of the most popular music of the century. "Love Me Do," released in October of 1962, did well, and when "Please Please Me" was released in January of 1963, it became an immediate hit. The Beatles' first British album, recorded in a thirteen-hour session, remained at the top of the charts for six months.
The United States remained indifferent to the Beatles phenomenon until early 1964, when E.M.I.'s U.S. subsidiary, Capitol Records, released the single "I Want to Hold Your Hand" and launched an unprecedented promotional campaign. When the Beatles arrived in America, "I Want to Hold Your Hand" was a number-one hit. The group wasted no time in endearing themselves to American teenagers and the media although many adults and music critics remained skeptical. "Beatlemania" had begun.
The Beatles opened their tour with a television performance on "The Ed Sullivan Show" that confirmed their status as rock `n' roll's newest phenomenon. "I Want to Hold Your Hand" ended up spending seven weeks at the top of the charts, dropping to number two to make room for "She Loves You," which in turn gave way to "Can't Buy Me Love." By April 4, 1964, they held the first five slots on the Billboard list of top sellers. One week later, fourteen of the top one hundred songs were by the Beatles--a feat unmatched before or since.
The core of the Beatles' brilliance was the musical relationship between Lennon and McCartney, a relationship that was as complex as the music it spawned. Sometimes, they wrote songs together, but more often they seemed to serve as each other's editors, helping to fix or finish a song that the other was having a problem with.
Vocally and thematically, too, they balanced each other perfectly, with McCartney's buoyant sweetness playing off Lennon's gritty edginess. After the Beatles broke up, Lennon downplayed the importance of their teamwork, but in his final interview with Playboy he acknowledged, "I said that, but I was lying.... We wrote a lot of stuff together, one on one, eyeball to eyeball.... In those days we absolutely used to write like that--both playing into each other's noses."
The Beatles went on to revolutionize rock music several times over. In 1964, they appeared in their first full-length feature film, A Hard Day's Night, which was followed by their second U.S. tour, and their second film, Help!. The albums Rubber Soul (1965) and Revolver (1966) marked a turning point in the Beatles' recording history. The more sophisticated structure of the songs clearly revealed the brilliance just hinted at in earlier works. Lennon alienated some Beatles' fans, however, when he remarked to a reporter for the London Evening Standard, "We're more popular than Jesus Christ now." While the British dismissed the statement as just another outrageous "Lennonism," some American teens were shocked by his words and responded by burning Beatles' albums as the group finished their final U.S. tour amid death threats.
Enjoying advance sales of more than one million copies as well as widespread critical acclaim, Sgt. Pepper's Lonely Hearts Club Band (1967) was perhaps the high point of the Beatles' recording career. It earned the group four Grammy Awards and represented a radical departure from the Beatles of the early 1960s.
According to Ray Coleman in the biography Lennon, the tension between Lennon and McCartney began to build after the death of their manager in 1967. Lennon, who at that point was deeply into drugs, unhappy in his marriage (he and the former Cynthia Powell had been together since 1962 and had a son Julian), and bored with being a Beatle, began to withdraw from the group. McCartney took over the direction of the band.
The Beatles' next project was another film, Magical Mystery Tour, which was a commercial failure. The resulting soundtrack album, however, featured polished studio numbers such as "Fool on the Hill" and "I Am the Walrus." The American version added tracks, including "Penny Lane," "Hello Goodbye," and "Strawberry Fields Forever." As the 1960s drew to a close, the group drifted further and further apart and became involved in other projects. During this period, Lennon made his solo acting debut in the film How I Won the War, and met and fell in love with a Japanese artist named Yoko Ono.
With the success of individual projects, the group began to disintegrate. This was evident in the 1968 two-record set entitled The Beatles, often called The White Album. Individuality and the growing rift between Lennon and McCartney were prominent. Lennon also brought Ono to the recording sessions. The other Beatles resented this, which alienated Lennon even further.
A week after the release of The Beatles, Two Virgins, an album of avant-garde music Lennon and Ono had recorded in his home studio, was released. The controversial cover photo, which showed the couple in the nude, was banned in some countries and covered with brown wrapping paper in the United States, but its release firmly established the Lennon-Ono relationship in the public's mind. By then, Lennon was in the process of divorcing his wife, Ono had suffered a miscarriage and the couple was also arrested for drug possession.
The Beatles' musical estrangement deepened and was documented in the movie Let It Be, filmed in 1969 as they worked on what was to be their last album. The accompanying album was put on hold, so the group gathered to produce another album, Abbey Road, which showed all of the Beatles at their absolute best. Winner of a 1969 Grammy Award, Abbey Road was a triumphant exit from the decade, and its declaration, "And in the end, the love you take is equal to the love you make," read like an epitaph--that is, until the release of Let It Be.
By this time, the group's financial affairs were in disarray. In late 1969, Lennon had informed the others that he no longer considered himself a Beatle, but he was persuaded not to make a public announcement until the group's financial position was stabilized. By the end of 1970, all four Beatles had recorded solo albums and the breakup had become public. In 1971, McCartney sued for the official dissolution of the group.
Lennon had long since moved on, however, forming the Plastic Ono Band with Ono in early 1969. Lennon and Ono were married and he legally changed his name to John Ono Lennon. The group released three singles, "Give Peace a Chance," "Cold Turkey," and "Instant Karma," and in September 1969, they gave a live performance at the Toronto Peace Festival. The following year, Lennon released his first solo album, Plastic Ono Band. Made in the wake of his primal scream therapy with psychiatrist Arthur Janov, the record was therapeutic and a musical exercise. Riley, in Tell Me Why, wrote: "The soul-baring leanness of the sound embodies the crux of what rock `n' roll is all about: a restlessness with the status quo, a hopeful dissatisfaction, and a gnawing sense of encumbrance that finds release as it expresses itself."
Lennon's next album, Imagine, was much more successful commercially, and the title song became the most popular of Lennon's solo career. But Ben Gerson of Rolling Stone, called Imagine a disappointing follow-up, faulting what he called its "sloppiness and self-absorption." He wrote that Plastic Ono Band, "in its singing and instrumental work, was as much a triumph of artifice as of art. It managed to sound both spontaneous and careful, while Imagine is less of each.... It serves to reinforce the questioning of what John's relationship to rock really is."
Lennon himself was questioning that relationship, too. Freed from the confines of the Beatles' wholesome image, he began branching out into other activities. Inspired by Ono's conceptual art, he made several avant-garde films and exhibited a series of erotic lithographs entitled "Bag One."
Lennon also began speaking out openly on the subject of politics, which had been another Beatles taboo. He had first crossed that line in May 1969 with the antiwar anthem "Give Peace a Chance," recorded while he and Ono were staging a "bed-in" to promote world peace. Later that year, he returned the medal he had received in 1965 when the Beatles were made members of the Most Excellent Order of the British Empire, partly as a protest against British support of America's war in Vietnam. After moving to New York City in 1971, he established ties with a group of prominent American radicals and became overtly politicized.
In 1972, with the presidential election campaign in full swing, Lennon's new friends urged him to join the protests scheduled to take place at that year's Republican Convention in San Diego. Suspecting that they were trying to provoke a riot similar to the one at the Democratic Convention in Chicago in 1968, he declined to attend. Rumors that Lennon planned to be there spread quickly and eventually reached some officials of the Nixon administration, who launched a campaign to have him deported as a convicted drug user. The FBI shadowed him, tapped his phone, and took thousands of pages of notes on his various activities. The case was finally settled in 1975 when a court declared that Lennon's British marijuana conviction was not grounds for deportation under U.S. law.
While Lennon was still under the influence of what he described in Skywriting by Word of Mouth as "male-macho`serious revolutionaries' and their insane ideas about killing people to save them from capitalism," he recorded a politically didactic single, "Power to the People"--which he later termed "rather embarrassing"--and another album with Ono, Some Time in New York City. Stephen Holden of Rolling Stone called the record "incipient artistic suicide" while acknowledging that "John sings better than ever." Observed Holden: "Some Time in New York City is ... entirely devoted to propaganda. But as propaganda it is so embarrassingly puerile as to constitute an advertisement against itself."
In 1973, Lennon and Ono separated. She remained in New York while he headed to Los Angeles for what he later characterized in Playboy as a "lost weekend that lasted eighteen months." Lennon was a staple of the gossip columns, yet he also managed to release three albums. The first two, Mind Games and Walls and Bridges, turned away from politics and back toward the musical territory of Imagine. While neither was particularly well received by critics, Walls and Bridges did bring Lennon his first American number-one hit, the single "Whatever Gets You Through the Night."
For the third album--which marked the beginning of a five-year break from the music business--Lennon turned to legendary producer Phil Spector to make an album of old rock `n' roll songs. This was partly to fulfill a legal obligation stemming from an out-of-court settlement reached with Chuck Berry's publisher. To avoid a lawsuit, Lennon had agreed to record several Berry tunes. He then decided to fill out the album with other fifties classics.
The sessions did not go well. Spector's eccentric behavior and Lennon's drinking made the sessions expensive and unproductive. Spector took the tapes and refused to relinquish them. It took Lennon months to recover them, and when he finally did they were all but unusable. He went into a New York studio to record ten songs in a week to complete the album. Rock `n' Roll was released early in 1975 to lukewarm reviews and unimpressive sales. A few critics, however, ranked it with Lennon's best work.
Around this same time, Lennon and Ono were reconciled, and the Beatles were finally dissolved as a legal entity. Chet Flippo noted in The Ballad of John and Yoko that Lennon later remarked that it was "the first time in thirteen years that he had not been under written contract to at least someone.... It was his desire now to exert that freedom by quitting rock & roll." He quit, resisting requests from fans and promoters for a Beatles reunion. He insisted that he had no regrets about the breakup of the band and no desire to look back, and he believed that his solo work was as good as--if not better than--anything the Beatles had ever done.
Lennon retired to his apartment in the Dakota building on Central Park West to live quietly and raise his and Ono's son, Sean. He explained in Playboy, "The serious intent was to orchestrate what went into the baby's mind and body for at least five years." In 1980, his sabbatical ended when he heard the music of the B-52s while in Bermuda. "It sounds just like Yoko's music," he told Jonathan Cott of Rolling Stone, "so I said to meself, `It's time to get out the old axe and wake the wife up!`"
Lennon and Ono wrote twenty-five songs over the next few weeks and were soon in the studio recording. The resulting album, Double Fantasy, was quite different from their previous collaborations--it was their first album of pop songs on which they received equal billing, alternating writing credits and lead vocals throughout. It presented, as Holden wrote in Rolling Stone, "the Lennons' marriage as an exemplary pop fairy tale." As Jay Cocks noted in Time magazine, John's "simple, direct, and melodic" contributions to the album "were celebrations of love and domesticity that asked for, and required, no apology."
Double Fantasy received mixed reviews, with some critics expressing disappointment that the pop music trends of the late 1970s seemed to have passed Lennon by. Nevertheless, the single "Starting Over" went quickly to number one, and Lennon and Ono went back to the studio and began work on a follow-up album.
However, that project remained unfinished, for upon returning home from a recording session on the evening of December 8, 1980, Lennon was shot several times by a self-described fan named Mark Chapman, for whom he had signed an autograph earlier that day. He was pronounced dead on arrival at Roosevelt Hospital. Crowds gathered outside the Dakota as soon as the news broke, and many remained there for days, singing "Give Peace a Chance," "Imagine," and other Lennon songs. "It's the last nail in the coffin of the '60s," declared one fan.
Lester Bangs noted in the Los Angeles Times, much of the grief displayed in the wake of the murder was at odds with Lennon's attitude toward the past. "John Lennon at his best despised cheap sentiment and had to learn the hard way that once you've made your mark on history those who can't will be so grateful they'll turn it into a cage for you...," commented Bangs. "The Beatles were most of all a moment.... It is for that moment--not for John Lennon the man--that you are mourning."
Lennon's death once and for all quashed any hope of a Beatles reunion. In the mid-1990s, however, the surviving members of the group played over taped instrumentation and vocals Lennon had left behind and released it as new Beatles music. The song "Free as a Bird" debuted with a music video in the United States during a six-hour documentary on the Beatles broadcast on ABC-TV in 1995. The success of the collections has ensured that the group remains one of the best-selling bands of all time more than thirty years after their U.S. debut.
In 1994, Lennon was inducted into the Rock & Roll Hall of Fame. Parke Puterbaugh and Steve Fullerman noted in Rolling Stone: "Quite simply, there is no single figure more important in the history of rock & roll than John Lennon. He didn't invent it, nor did he embody it as toweringly as figures like Elvis Presley and Chuck Berry, but he did more than anyone else to move it forward and instill in it a conscience.... His impact remains universal, his influence undiminished."
Read more
Latest headlines