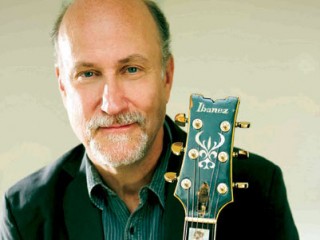 John Scofield biography
Date of birth : 1951-12-26
Date of death : -
Birthplace : Dayton, Ohio,U.S.
Nationality : American
Category : Arts and Entertainment
Last modified : 2012-01-27
Credited as : jazz guitarist, Composer, faculty member in the Jazz Department of NYU
John Scofield, often referred to as "Sco," is an American jazz guitarist and composer, who has played and collaborated with Miles Davis, Dave Liebman, Joe Henderson, Charles Mingus, Joey Defrancesco, Herbie Hancock, Pat Metheny, Bill Frisell, Pat Martino, Mavis Staples, Phil Lesh, Billy Cobham, Medeski Martin & Wood, George Duke, Jaco Pastorius, John Mayer, and many other well known artists. At ease in the bebop idiom, Scofield is also well versed in jazz fusion, funk, blues, soul, and other forms of modern American music.
"I have a couple of bags. The funk bag, the slow melodic bag, the jazz bag, the blues bag.... I think everybody has about three or four tunes in them--Beethoven included. And you just keep writing them over and over again, trying to get them right," jazz guitarist and composer John Scofield told Bill Milkowski in Down Beat. Tagged "post-modern" because his music blends together a variety of disparate influences, Scofield appeals both to the connoisseur and the ordinary jazz enthusiast: he won Down Beat 's International Critics Poll in 1986 and ranked third on the magazine's Reader's Poll the same year. Scofield's so-called jazz-rock fusion style combines the best of fusion, bebop, and the influences of legendary jazz trumpeter and composer Miles Davis. "Sco's distinctive sound and approach," praised Jim Ferguson in Guitar Player, "coupled with his expert talents as a composer, place him at the vanguard of contemporary jazz guitarists."
Born in Ohio on December 26, 1951, Scofield grew up in the suburb of Wilton, Connecticut. Although his parents had no special musical talents, young Scofield displayed an interest in the field at an early age. Having received his first guitar at the age of eleven, he is said to have stopped doing his homework for an entire year to concentrate on his music. His parents were concerned about his future but eventually yielded to his desire to pursue a career as a jazz guitarist. As Scofield revealed to Sam Freedman in Down Beat, he was enthralled by the time he was fifteen with the prospect of becoming a professional musician: "There was something at first about the image of New York being this great, cosmopolitan place, and jazz being the sound of New York, but all that romanticism got replaced really early by just a love for the music--abstractly, not connecting the music with any culture or groove. It was just the sound, the sound."
"The music of my people--who knows what that is?" replied Scofield to Howard Mandel in Down Beat when questioned about his unlikely jazz origins. "The Connecticut Sound's not a big part of my thing." Throughout his career, Scofield has had to answer for a less than traditional musical background. Defending his early instruction, he explained to Mandel, "I learned from records and the radio and the few live bands and musicians I met.... And that's the background of everybody I know, whether they're from the ghetto or wherever. They learned from the media, and the few good musicians they'd meet."
In the early 1970s Scofield spent three years taking classes at the Berklee School of Music in Boston. While frequenting some jazz clubs in the area, he met a highly respected local guitarist, Mick Goodrick, who became his mentor. When Goodrick, who often worked as a sideman, withdrew from a show at Carnegie Hall reuniting Gerry Mulligan and Chet Baker in 1974, he recommended Scofield to replace him. After the concert, which was recorded on two albums, Scofield was asked to join the Billy Cobham/George Duke fusion band. Though he played with the band for two years, Scofield was uncomfortable as the guitar hero of the fusion movement. "Billy's band was really hot when I got the call, " he told Milkowski, "so all of the sudden I started getting national exposure. And all this time, ironically, I was trying to learn how to play bebop." Scofield left the band in 1977 to perform on the sideman circuit with distinguished jazz artists Charles Mingus and Jay McShann, among others.
The next year Scofield joined Gary Burton and then formed a band with drummer Adam Nussbaum and bassist Steve Swallow, each of whom played bebop in the mode of Jim Hall. In the era that followed, the group's albums Bar Talk, Shinola, and Out Like A Light debuted to critical success, but they lacked popular acceptance in the United States. Around the same time, Scofield also played in the Dave Liebman quintet. But he found his largest audience in Europe in the early 1980s.
Scofield recorded Solar, a duet of standard bop with John Abercrombie, in 1982. The limited success of the album fueled Scofield's doubts about the breadth of his marketability: "It is possible to play this music for audiences that are not incredibly sophisticated. But let's face it, it's a connoisseur's music," he told Freedman. After resigning himself to a limited popular appeal, Scofield soon found himself in an advantageous position: he was asked to join the legendary Miles Davis band.
"My public persona expanded 100%," Scofield told Ferguson in Guitar Player , summarizing his work from 1983-1985 with Davis's band. "I can't remember the first time I ever heard of Miles," he related to Milkowski. "It seems I've been listening to him ever since I could think." The aspiring artist was also interested in joining the ranks of such noted musicians as John McLaughlin, Ron Carter, Keith Jarrett, Herbie Hancock, and Chick Corea--all of whom worked with Davis's band at some point in their careers. With You're Under Arrest and Star People under Davis, Scofield made contributions to the group as performer and co-composer, but the album Decoy established Scofield as an electric guitarist of unparalleled distinction. "Scofield grabs Most Valuable Player honors on that album," commented Milkowski in Down Beat.
Feeling he should leave Davis's band while audiences still remembered the success of Decoy, the 35-year-old guitarist began to do solo work and concentrate on his own group in 1986. That same year, Scofield won top honors in Down Beat 's International Critics Poll and third place in the magazine's Readers Poll. His 1985 release Still Warm, featuring a new group composed of drummer Omar Hakim, bassist Daryl Jones, and keyboardist Don Grolnick, presented a more muscular, rhythmic sound than his work with the Davis Band. With the album Blue Matter in 1986, Scofield led one of his most successful partnerships, uniting drummer Dennis Chambers and bassist Gary Grainger. The group recorded several additional albums together, including the live from Japan release Pick Hits.
Throughout his career, critics have lauded Scofield's play and compositions. "One quality that has always come out in his playing, no matter what context--fusion, bop, Miles, or his post-Miles solo career--is an authentic feeling for the blues," wrote Milkowski. "And he's evolving a distinctive voice as a composer as well." Critic Mandel concurred: "His band may be an ensemble of several years' accomplishment, a trio he called together, or a spur-of-the-moment collaboration. Scofield's music is by turns piercing, lyrical, reckless, thoughtful--depending on his mood, the response of his colleagues and audience. When he's hot--and he has a true professional's consistency--he shoots off steely, far-from-predictable lines with natural, funky rhythm.... Scofield can rock a house with altered Tin Pan melodies, post-bop harmonies, and what-the-hell spirit."
Critics frequently question Scofield's tendency to abandon a musical group or style at the height of its success. When questioned by Mandel about the contradiction of moving from fusion to blues to other interests, Scofield admitted a need for novelty, concluding, "I don't know if I'm going to do anything new in my life but I would like to ... because all the stuff that I admire is new and different."
Never one to follow an expected path, in recent years Scofield launched a personal search for musical inspiration beyond the standard 12 bar blues and found it in "old time gospel music - the closest relative to and inspiration for the R& B." His 2009 release Piety Street with bass legend George Porter, Jr. and singer/keyboardist Jon Cleary. The collaboration heard on the 2010 release 54 had its origins back in the 90's when Vince Mendoza asked John Scofield to play on his first album. John has since been featured on two of Vince's records and his guitar sound and improvisational skills work well within Vince's concept. When Mendoza assumed directorship of The Metropole Orchestra, he and Scofield decided to collaborate again with a primary focus on Mendoza's arrangements of Scofield compositions as performed with The Metropole Orchestra.
In a return to Scofieldesque "straight ahead" jazz, he went to the studio in January 2011 with pianist/organist Larry Goldings, bassist Scott Colley and drummer Brian Blade, laying the tracks for a ballads album scheduled for a May 2011 release on EmArcy Records.In April 2010, Scofield was named an Officier of the Ordre des Arts et des Lettres by the French Ministry of Culture.Scofield is currently serving as an adjunct faculty member in the Jazz Department at New York University's Steinhardt School of Education.
As leader and co-leader:
-John Scofield Live (1977) - Enja Records
-John Scofield aka East Meets West (1977) - Trio Records/Black-Hawk Records, Bellophon Records
-Rough House (1978) - Enja Records
-Who's Who? (1979) - Arista/Novus
-Bar Talk (1980) - Jive/Novus
-Out Like a Light (1981) - Enja Records
-Shinola (1981) - Enja Records
-Electric Outlet (1984) - Gramavision
-Still Warm (1985) - Gramavision
-Blue Matter (1986) - Gramavision
-Loud Jazz (1987) - Gramavision
-Pick Hits Live (1987) - Gramavision
-Flat Out (1989) - Gramavision
-Time on My Hands (1990) - Blue Note
-Meant To Be (1991) - Blue Note
-Grace Under Pressure (1992) - Blue Note
-What We Do (1993) - Blue Note
-I Can See Your House From Here (1994) - w/Pat Metheny - Blue Note
-Hand Jive (1994) - Blue Note
-Groove Elation (1995) - Blue Note
-Quiet (1996) - Verve
-A Go Go with Medeski Martin & Wood(1998) - Verve
-Bump (2000) - Verve
-Works For Me (2001) - Verve
-Überjam (2002) - Verve
-Oh! (2003) - as ScoLoHoFo - Blue Note
-Up All Night (2003) - Verve
-Scorched (2004) - w/Mark-Anthony Turnage - DG Deutsche Grammophon
-EnRoute: John Scofield Trio LIVE (2004) - Verve
-That's What I Say: John Scofield Plays the Music of Ray Charles (2005) - Verve
-Saudades (2006) - as Trio Beyond - ECM
-Out Louder (2006) - as Medeski Scofield Martin & Wood - Indirecto
-This Meets That (2007) - Emarcy Records
-Piety Street (2009) - Emarcy Records
-54 (2010) - w/Vince Mendoza & The Metropole Orkestra - Emarcy Records
-A Moment's Peace (2011) - Emarcy Records
Read more
Latest headlines