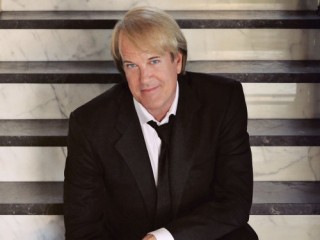 John Tesh biography
Date of birth : 1952-07-09
Date of death : -
Birthplace : New York City, U.S.
Nationality : American
Category : Arts and Entertainment
Last modified : 2012-02-21
Credited as : Composer, pianist, Radio host and TV presenter
John Frank Tesh is an American pianist and composer of pop music, as well as a radio host and television presenter. His 10-year-old 'Intelligence for Your Life Radio Show' reaches 14.2 Million listeners/week, and is syndicated by Teshmedia on 400 stations in US, Canada, and the UK.
Tesh has won six music Emmys, has four gold albums, two Grammy nominations, and an Associated Press award for investigative journalism. Tesh has sold over eight million records. His live concerts have raised more than $20 million for PBS. His NBC Basketball Theme has been hailed as one of the top three sports themes of all time. He is also known as the longtime co-host of the television program Entertainment Tonight. He has previously worked as a sportscaster for the Olympic Games, a news anchor and a reporter.
Few musicians have had as many successful careers outside the music industry as John Tesh. An overachiever in many aspects of his media career, Tesh has traded all that to devote his time to his dream, a full-time music career. Tesh's music is instrumental--tagged by some as New Age--and grandiose, combining aspects of jazz, classical and rock music, while highlighting Tesh's piano virtuosity.
Tesh began his music career composing music for sportcasts. When he was chosen to cover the Tour de France as a sports commentator for CBS, Tesh wrote music that accompanied the broadcast and viewers were wowed by his musical talents. He received so many requests for a recording of the music that he released it on his own and went on to sell 30,000 copies out of his garage.
Tesh's music career has grown immensely since those early days. Today he has his own production company, called John Tesh Productions, and his own record company called GTSP Records. The GTSP stands for Gib, his stepson, Tesh, Connie Selleca, his wife and their daughter Prima.
Tesh's album Avalon was recorded as a live album and video. Performed on the beautiful Catalina Islands in Southern California, the album was inspired by time spent in Europe. Song titles and arrangements have a distinctive European influence; these include "Spanish Steps," "Venezia," and "Aquila." Avalon entered the New Age charts at number one and the video will be used as a PBS fund- raiser.
Tesh's music really came to the public's attention when he released John Tesh: Live at Red Rocks in 1995. The project was funded by Tesh and was filmed with the intended use as a fund-raiser for PBS. But the event also produced a video and an album. Filmed at the scenic Red Rocks amphitheater, Tesh created a drama that featured a full orchestra and gymnastic performances. Although the filming was precarious, threatened by a rainstorm and unseasonable cold, the video was a smashing success. The performance was one of PBS's most successful fundraisers and went on to earn Tesh a gold record as his debut solo album. His newest fundraising special for PBS is entitled John Tesh: The Avalon Concert and was filmed in the gorgeous town of Avalon on Santa Catalina Island.
Tesh's fans are thought to be primarily women, but Tesh tells Roger Catlin of the Hartford Courant that his concerts contain some of the excitement and drama of rock concerts. Tesh explained, "Men are usually dragged there by their wives, but they're the ones who come back afterward and say, 'This is like a rock concert!' There are tunes where we get literally out in the audience. I'm a theatrical guy; I like that kind of thing. We carry a lighting rig as big as Lollapalooza. I feel that when they purchase a ticket to a show, it should be a show."
John Tesh is a household name, but not because of his musical talent. Rather, it is because of his ten-year run as co-host of the syndicated hit show Entertainment Tonight. For years Tesh and Mary Hart hosted the show together and became celebrities themselves by reporting on celebrities in the entertainment industry. As co-host of the show, Tesh interviewed the greatest stars in Hollywood and even married a famous actress, Connie Selleca. The job was exciting and always brought Tesh into the epicenter of the Hollywood community, but few knew of his passion for music and his great talent.
Tesh's music abilities became apparent when he accepted a job as commentator for the Olympics. He wrote background music for the athletic performances and released an album called The Games, which was used on the telecasts of the Barcelona Summer Games in 1992. Tesh began to juggle his growing music career with his full time job at Entertainment Tonight. Eventually, Tesh decided to end his long stay with ET and devote himself full time to music, enabling him to tour extensively and reach a wider audience.
Part of Tesh's appeal as a television personality was his all- American good looks and friendly smile. Standing a hulking 6'6," Tesh is large and non-threatening. He seems to personify family values and religious morals. He is also considered an excellent role model to the public. During his engagement to his current wife Connie Selleca, it was widely publicized that the couple had taken a vow of chastity until the wedding night, despite their divorced status. The couple are born again Christians and have two children, Gib, from Selleca's previous marriage, and Prima.
Tesh's devotion to his family is evident in his music, having written a trio of songs for his family. "Concetta" was written for Connie and performed for her on the night he proposed. For the children, Tesh wrote "In a Child's Eyes" and "Song for Prima."
Tesh's philanthropy extends beyond his well-publicized fundraising concerts for PBS. He firmly believes in the blessing of music and the right of all children to music education. As Tesh kicked off his world tour in the spring of 1997, he announced that one dollar from every ticket sold would be donated to a local elementary school's music education program. Also, Tesh is working with the National Coalition for Music Education to arrange donations for musical instruments and music books for elementary schools. Tesh was presented with a Music for Life award in July 1997 to acknowledge his participation in raising funds for the musical education for children.
Despite Tesh's apparent virtues he has become a favorite target of the media. Jay Leno in particular has enjoyed roasting Tesh in his monologues on the Tonight Show. Tesh is always a good sport and invited Leno to film a gag at one of his live shows. The show was filmed at a Tesh concert at Detroit's Fox theater, which incidentally was being picketed by a Detroit rock band called Mog, who protest at all of Tesh's Detroit performances, insisting that Tesh is an alien. The May 9th performance gag on the Tonight Show gave Tesh a chance to mock Leno before a national audience and prove that he can laugh at himself.
Newsweek's Rick Marin responds to the public's bashing of Tesh in his article called "The Teshing of America." Marin describes the music that has been dubbed Teshmusic as "elementary synthesized melodies embellished with grandiose chord progressions and superfluous pageantry." But Marin admits, "Tesh would be an easier target if he weren't so nice. He's self-deprecating and surprisingly caustic for a born-again Christian. He admits that after three years of saccharine overexposure, he and his wife have a 'nauseating' image."
After Tesh left his 10-year job as co-host for Entertainment Tonight in 1996, he turned to his career as a contemporary keyboardist. This led to him starting The John Tesh Radio Show in 2003.In 2008, he put out a piano gospel dance DVD called "Alive: Music & Dance." It combines Tesh's music, big gospel choirs, and hip-hop dance.
Tesh currently has a nationally-syndicated radio show called the John Tesh Radio Show, which typically airs on Adult Contemporary and Classic Hits radio stations, which plays Teen-oriented Soft rock (music, or music selected by an affiliate station themselves), interspersed with various factoids and other information Tesh considers useful to listeners, often with topics such as health and well-being. These factoids are called "Intelligence for Your Life." It is played on radio stations across the United States and Canada.
Discography:
(1987) Music from the Tour de France, Vol. I - Tesh Music BMI
(1988) A Thousand Summers
(1988) Tour de France - Private Music
(1989) Garden City- Cypress
(1989) You Break It - Atlantic Records
(1990) Tour de France - The Early Years - Private Music
(1992) A Romantic Christmas - Decca Records
(1992) Ironman Triathlon - GTSP
(1992) The Games - GTSP
(1993) Monterey Nights - Decca Records
(1994) A Family Christmas - Decca Records
(1994) Sax by the Fire - Decca Records
(1994) Winter Song - Decca Records
(1995) Music in the Key of Love - GTSP
(1995) Backstage with John Tesh - Digital Entertainment
(1995) Live at Red Rocks - Decca Records
(1995) Sax on the Beach - Decca Records
(1995) Anthology
(1996) Discovery - Decca Records
(1996) Choirs of Christmas, featuring Rock Theatre, Paulist Boy Choristers of California, Encore Children's Chorus - GTSP
(1997) Avalon - Decca Records
(1997) Sax All Night - Decca Records
(1998) Grand Passion - Decca Records
(1998) Guitar by the Fire - Decca Records
(1998) Songs from the Road - BMG Special Products
(1998) Pure Movies - GTSP
(1999) One World - Decca Records
(1999) John Tesh & Friends - Columbia River
(1999) One Day - Unison
(2000) Pure Movies, Vol. 2 - Garden City Music
(2000) Pure Hymns - Faith M.D.
(2001) Classical Music for an Intimate Mood - Garden City Music
(2001) Pure Orchestra - Garden City Music
(2001) Classical Music for a Stress-Free World - Garden City
(2001) Pure Gospel - Faith M.D.
(2001) Classical Music for Babies (And Their Moms), Vol. 1 - Garden City
(2001) Classical Music for Babies (And Their Moms), Vol. 2 - Garden City
(2001) Classical Music for a Prayerful Mood - Faith M.D.
(2002) The Power of Love - Garden City Music
(2002) Christmas Worship - Word Entertainment
(2002) A Deeper Faith - Garden City
(2003) Worship Collection: Awesome God - Garden City Music
(2003) A Deeper Faith, Vol. 2 - Garden City Music
(2004) Worship at Red Rocks (live) - Garden City Music
-God of Wonders - Word Entertainment
-Drive Time Intelligence CD
-Grand Piano Christmas
-Heart of the Sunrise
-John Tesh - Romantic Christmas Collection
-John Tesh - Ultimate Christmas Collection
-The Power of Prayer and Worship
-Ultimate Love Song Collection
-Victory
Read more
Latest headlines