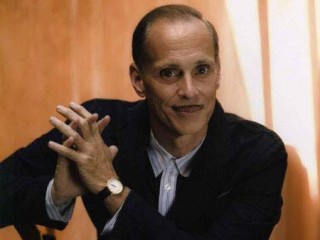 John Waters biography
Date of birth : 1946-04-22
Date of death : -
Birthplace : Baltimore, Maryland, U.S.
Nationality : American
Category : Famous Figures
Last modified : 2010-08-27
Credited as : Writer and actor, film director and producer, directed A Dirty Shame in 2004
John Waters
1946-
Birth: April 22, 1946 in Baltimore, Maryland
"Sidelights"
John Waters has risen to notoriety by writing and directing films exploring the more odious aspects of popular culture. Reaching what many consider his peak of underground "trash" filmmaking with the 1972 "Pink Flamingos"--a work that continues to play on midnight movie circuits--Waters has attracted a more mainstream audience with his comedies "Polyester" and "Hairspray" in the 1980s. With adjectives describing his works ranging from sleazy, disgusting, and offensive to witty, irreverent, and profoundly satirical, Waters does not "make any grand claims of messages or art," he declared to Sally A. Lodge in Publishers Weekly. The filmmaker, in fact, is a self-proclaimed lover of bad taste. "To me," Waters writes in his autobiography Shock Value, "bad taste is what entertainment is all about." Further assessing his outlook to Bob Pfeiffer in the Washington Post, Waters explained: "I amplify everyday behavior that mystifies me or shocks me or makes me laugh.... What I see in the newspapers, or hideous little things that happen but that I exaggerate. If you push it far enough it can somehow be funny."
Born in Baltimore--where he would eventually set all of his films--Waters grew up in affluent surroundings and attended Catholic schools. As a child, he reportedly savored smashing toy cars (frequenting junkyards to see the real thing) and looked forward to acquiring acne as a teenager (only to be later disappointed with the persistence of clear skin). Waters also enjoyed seeing films. He explained his early affinity for alternative film to Lodge: "I always loved movies as a kid, and went to see them constantly. I really thank God himself for starting me on this [subversive] kind of movie, because in school the Catholic nuns used to read us a list of all the films that we'd go to hell if we saw, and I'd run to see them." As a teenager, Waters made his first film after receiving a movie camera from his grandmother in 1964. Titled "Hag in a Black Leather Jacket," the work depicts a Ku Klux Klansman performing an interracial wedding ceremony. "It was terrible," Waters described the filmmaking endeavor to Lodge. "It was shot on the roof of my parents' house, and I never even edited it." Shown in a downtown Baltimore coffee house, the film, according to Waters, turned a profit of twenty dollars.
After finishing high school Waters attended the University of Baltimore for a year before transferring to the film school at New York University. Prior to the end of his first semester there, the young Waters was expelled because of a dormitory drug bust. He was released in the custody of his parents and returned to Baltimore where he proceeded to shoot short films. Influenced by the experimental filmmaking of Andy Warhol, George Kuchar, and Kenneth Anger at that time, Waters created "Roman Candles," a 1966 work shown in simultaneous triple-screen projection which featured a nun and a priest "making-out," a junkie injecting himself with drugs, and a corpulent woman eating fruit. His next project, the forty-minute "Eat Your Make-Up," concerns a demented governess who abducts models and forces them to model themselves to death. "Eat Your Make-Up" was mostly significant for its presentation, in a major role, of Divine, a three-hundred pound actor who specialized in playing women. Divine's name would eventually become synonymous with John Waters' films.
Like many of the off-beat and unusual-looking performers in Waters' projects, Divine was a personal acquaintance of the filmmaker before becoming an actor. "I knew of Divine a long time before I met him," Waters was quoted by J. Hoberman and Jonathan Rosenbaum in Midnight Movies. "My father used to drive us to school and we'd see this creature with dyed red hair. My father would just shudder. I figured anyone who could get that reaction just by standing there I had to know.... I met him through a girl living up the street who had a green bee-hive hairdo." After his appearance in "Eat Your Make-Up," Divine was given his first starring role in Waters' next film, the full-length feature "Mondo Trasho."
Filmed on a budget of two-thousand dollars that Waters borrowed from his father, "Mondo Trasho" is "a combination of cheap theatrics, obsessional fantasies, and a true love for all that is trashy in filmmaking today," Waters said in Midnight Movies. The film features the scantily dressed Divine (in the role of a woman) who, while driving her car, accidentally hits a young woman pedestrian. Stowing the unconscious girl in the trunk, Divine, after numerous bizarre escapades, takes the girl to a drug-addicted doctor who saws off the victim's feet and grafts onto her those of a chicken. A gunfight ensues in the doctor's waiting room, and a wounded Divine escapes only to die later in a mud-filled pigsty. The young girl is magically transported to a Baltimore street corner, where two women berate her with insults and the movie ends. "Mondo Trasho" was the first of Waters' films to play outside of Baltimore and was considered by some critics to be a humorous satire.
Following "Mondo Trasho" with "The Diane Linkletter Story"--a short film starring Divine as entertainer Art Linkletter's daughter who committed suicide after taking the drug LSD--Waters went on to create his second feature-length film, "Multiple Maniacs." The work focuses on "Lady Divine's Cavalcade of Perversions," a traveling exhibition of homosexuals, heroin addicts, pornographers, and such singular characters as a "puke eater" and a bicycle-seat sniffer. Constantly harassing and sometimes murdering members of her cavalcade, Divine becomes increasingly crazed throughout the film. When two members attempt to shoot her, Divine stabs them, eats their internal organs, and, after being raped by a gigantic lobster, commences a neighborhood rampage wherein she terrorizes passersby. The film ends when Divine is gunned down by a cheering National Guard. Waters, as quoted by Hoberman and Rosenbaum, explained his intentions in making "Multiple Maniacs" in 1970: "Violence [is] this generation's sacrilege, so I wanted to make a film that would glorify carnage and mayhem for laughs."
While "Multiple Maniacs" toured sixteen cities on an underground movie circuit, it was not until the release of "Pink Flamingos" that Waters inspired his biggest cult following. Filmed on a ten-thousand dollar budget with sets collected from junk yards, "Pink Flamingos" chronicles the competition between two families vying for the title of "The Filthiest People Alive." As the film unfolds, the characters perform such unsavory antics as salivating on a house-full of furniture, decapitating live chickens, and--in the film's most noted scene--consuming dog excrement. "Pink Flamingos," suggested Hoberman and Rosenbaum, "is less a narrative than a vaudevillian string of prize gross-outs."
Making its debut at the University of Baltimore, "Pink Flamingos" was later acquired by a commercial distributor that screened the film in a Boston pornography theater. Meeting with poor reception, the film, at Waters' insistence, played in New York City as a midnight feature in small theaters. Soon the work "was the talk of New York," wrote Hoberman and Rosenbaum, and it went on to become one of the most popular underground movies of the 1970s, grossing more than one hundred times the amount Waters spent on it and so becoming one of the most profitable films ever released. Currently considered a cult classic, the work still plays in theaters across the country.
Inspired by the success of "Pink Flamingos," Waters continued to create films in the 1970s. "Female Trouble" appeared in 1974 and features Divine as Dawn Davenport, a rebellious teen who runs away from home, finds employment in a beauty salon, becomes obsessed with glamour to the point of becoming murderous, and is eventually arrested and sentenced to die in the electric chair. Waters' next film, "Desperate Living," appeared in 1977. Despite the absence of Waters' favorite actors (David Lochary--who had appeared in many of Waters' previous films--died of a drug overdose the year before, and Divine, growing ever popular, had committed to other theatrical endeavors), the film nonetheless displays a cast of colorful characters, including a four-hundred-pound housekeeper and a deep-voiced, scar-faced lesbian. Set in the surreal, garishly adorned town of Mortville, a haven harboring fugitives and other misfits, the film details the town's rebellion against its evil queen. Discussing "Desperate Living" in Midnight Movies, Hoberman and Rosenbaum observed that the film "seems to have signaled the end of Waters's own adolescent rebellion. He was past thirty when Desperate Living was released to perfunctory disgust.... Most critics dismissed the film as a hardcore cult item. Clearly, it was time for Waters to switch gears." The writers quoted Waters: "I had this nightmare of myself at 80, making movies about people eating colostomy bags."
The 1981 "Polyester" marked Waters' first attempt to reach a larger audience. Working from a comparatively large budget of three-hundred thousand dollars, the film also brandished the return of Divine in a leading role. In addition, "Polyester" was given an R rating, thus allowing it--unlike Waters' previous X-rated films--to screen in more mainstream movie houses. "Many people won't see X-rated movies--they automatically think they're pornography," Waters imparted his assessment of moviegoers to Lodge. "I wanted to make a film that would ... reach those who would be frightened to see my other films. I wanted to infect a larger group of people ... make the cancer grow."
While "Polyester" is unquestionably more tame than Waters' previous efforts, it nonetheless contains the filmmaker's characteristic eccentricities. The movie, for example, employs Odorama, a process wherein filmgoers are given cards upon entering the theater and, when cued by the screen, are to scratch the appropriate section of the card, releasing such scents as sweaty athletic shoes, intestinal gas, and various foods. The smells are designed to complement the film's plot, which focuses on Francine Fishpaw, a frustrated Baltimore housewife who retaliates against her husband's unfaithfulness by pursuing a love affair with another man. Among other highlights of the film are daughter Lulu's attempt to obtain an abortion, son Elmer's expulsion from school on the suspicion that he is criminally insane, and the suicide of the family dog.
While "Polyester" displeased several critics--Francis Wheen in New Statesman, for instance, declared that "the film stinks"--the work garnered favorable comments from others. "This suburban tale is a rancidly hilarious piece of Americana," remarked David Ansen in Newsweek. Similarly, Vincent Canby in the New York Times decided that the film "demonstrates gifts for social satire that were largely lost in ... [Waters'] earlier work.... [He] still celebrates the seedy, the tacky and the second-rate, but this time with a coherence and a wit that sharpen the point of view."
Waters broadened his viewing audience even further with his next effort, the PG-rated "Hairspray," in 1988. Casting Divine in what would be his last role (the actor died shortly after the release of the work), the film is set in the 1960s and centers around "The Corny Collins Show," a televised dance contest featuring bouffant-coiffed teens doing the latest dance steps. When the chubby Tracy Turnblad--daughter of Edna (Divine)--appears on the show, she transforms the program into a forum for racial integration; shattering the existing racist attitudes of the decade, Tracy and her rebellious friends encourage black teenagers to appear on Collins's "whites only" telecast. Deciphering the film's intentions, Ansen wrote, "This has to be the first movie to treat the civil-rights movement with a camp sensibility.... `Hairspray' merrily sends up and crossbreeds the teens-in-revolt genre and the social-problem melodrama."
"Hairspray" met with favorable reaction. Deeming the film "as unexpected as it is smashingly effective," Kevin Thomas in the Los Angeles Times determined the work "totally original and authentic.... Leave it to Waters ... to resolve this [racial] conflict with a final burst of exuberant hilarity coupled with a new underlying seriousness." Because the combination of the film's upbeat humor and serious subject matter made some Waters' aficionados suspect the filmmaker had abandoned his bizarreness, Ansen clarified: "Waters cult-followers needn't fear a sellout: mainstream Waters is still like nothing else on the block." And Thomas noted that "in a very real sense, `Hairspray' is Waters' most daring movie. It took more courage and judgment to make a comedy like `Hairspray' ... with its bigots and fat people than it did to make `Pink Flamingos' with its famous shocking moment involving dog feces. John Waters has matured without losing a single iota of his outrageousness."
In addition to his films, Waters has produced books. Explaining to Lodge that he has always relished the writing aspect of filmmaking, Waters proclaimed: "Yes, to me the writing is by far the most exciting part ... to get to the germ of an idea." Book reviewers subsequently recognized Waters as a talented writer, praising his 1981 Shock Value--an autobiographical account of the author's moviemaking escapades--as a hilariously deadpan rendition of his career. His second book, Crackpot, is a collection of essays published earlier in periodicals. In such works titled "Hatchet Piece (101 Things I Hate)," "The Pia Zadora Story," and "Why I Love the National Enquirer," Waters irreverently comments on contemporary American society.
Crackpot secured Waters' reputation as an accomplished author. Declaring that Waters is "just as gifted as a satirist as a film maker," Patrick Goldstein in the Los Angeles Times Book Review added: "Blessed with an eye for telling detail ..., Waters gleefully lampoons our age's fascination with hype and celebrity." Gary Dretzka, reviewing the work for the Chicago Tribune, decided that the author is a "uniquely observant humorist" whose "opinions are amusing and thought provoking." And Jonathan Yardley, writing in the Washington Post, commented: "[Crackpot] is a treasure chest of arcane knowledge, all of it delightful and all of it deliciously described." Yardley assessed the writer as both a filmmaker and author of books: "Waters is the ultimate connoisseur of pop culture gone berserk."
PERSONAL INFORMATION
Born April 22, 1946, in Baltimore, MD; son of Mr. and Mrs. John Waters. Education: Attended University of Baltimore, 1965, and New York University, 1966.
CAREER
Producer, director, and writer of films. Worked in book stores; teacher of English and film, 1983-86, at Patuxent Institution, a psychiatric prison in Maryland. Lecturer at comedy clubs and colleges; actor.
WRITINGS:
SCREENPLAYS; AND DIRECTOR
* (And producer) "Mondo Trasho," New Line Cinema, 1969.
* (And producer) "Multiple Maniacs," New Line Cinema, 1970.
* (And producer) "Pink Flamingos," New Line Cinema, 1972 (also see below).
* (And producer) "Female Trouble," New Line Cinema, 1974.
* (And producer) "Desperate Living," New Line Cinema, 1977 (also see below).
* "Polyester," New Line Cinema, 1981.
* "Hairspray," New Line Cinema, 1988.
* "Cry-Baby," Universal, 1990.
* A Dirty Shame, Fine Line Features, 2004.
Author and director of short films "Hag in a Black Leather Jacket," 1964, "Roman Candles," 1966-67, "Eat Your Makeup," 1968, and "The Diane Linkletter Story," 1970.
OTHER
* Shock Value: A Tasteful Book About Bad Taste (autobiography), Dell, 1981.
* Crackpot: The Obsessions of John Waters (essays), Macmillan, 1986.
* Trash Trio: Three Screenplays (contains "Pink Flamingos," "Desperate Living," and "Flamingos Forever" [unproduced]), Vintage Books, 1988.
* Role Models, Farrar, Straus & Giroux (New York, NY), 2010.
Contributor to periodicals, including Rolling Stone,Vogue, Vanity Fair, American Film, and Film Comment.
MEDIA ADAPTATIONS
Hairspray was adapted for the stage with music by Marc Shaiman and Scott Wittman and was first produced on Broadway, 2002.
Read more
Latest headlines