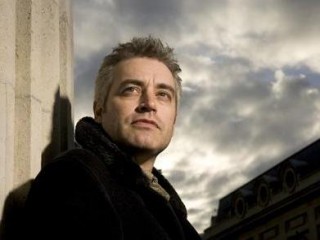 John Wesley Harding biography
Date of birth : 1965-10-22
Date of death : -
Birthplace : Hastings, England
Nationality : English
Category : Arts and Entertainment
Last modified : 2011-11-28
Credited as : singer-songwriter, folk musician, The Good Liars
Wesley Stace is a folk/pop singer-songwriter and author who goes by the stage name John Wesley Harding. He has called his style of music folk noir and gangsta folk. Under his real name, he has written three novels.
With the release of his first major-label LP, Here Comes the Groom, in 1990, John Wesley Harding quickly became a favorite singer-songwriter among music critics. He also gained a substantial following with his solo acoustic performances and popular video. Harding's second album, The Name Above the Title, released in 1991, demonstrated that his initial success was no accident and convinced many of his admirers that his evolution as a writer and vocalist would be even more impressive than they had imagined.
Harding was born Wesley Harding Stace in Hastings, England, on October 10, 1965, the son of two schoolteachers. "My mother was a mezzo-soprano opera singer," he said in an interview with Contemporary Musicians, but she gave up singing for teaching; his father plays jazz piano in addition to teaching. Harding himself would later go in the opposite direction. Though he grew up listening to and loving pop music, playing folk songs in local pubs by age seventeen, his career at first looked to be an academic one. He studied English literature at Cambridge University, earned a first--the highest undergraduate grade--and began work toward a Ph.D there in political and social theory. Soon, however, he put aside his graduate work to play music. "I started getting money for doing concerts," he explained to CM. "Also, I think I did my Ph.D, although I enjoyed it very much, because I didn't know what else I was going to do."
Taking his stage name from an album by the most famous of all folk-rock artists, Bob Dylan, Harding performed a set of original songs at a performance in London in the summer of 1988; fortunately for his career, several music industry people attended the show and approached him. Soon afterward he went on tour with the group Hothouse Flowers in the United Kingdom and singer-songwriter John Hiatt in the U.S. Later that year, he released a live album recorded for less than one thousand pounds, during one performance, aptly titled It Happened One Night. The title of the record, released by the British label Demon, comes from the 1934 film by acclaimed director Frank Capra, who also made the film It's a Wonderful Life. Harding's admiration for Capra can be seen in the titles of his subsequent LP's, the first of which he named for another Capra film, and the second for the director's autobiography.
Harding then put together a band that included the bassist and drummer from British singer-songwriter Elvis Costello's group the Attractions, and recorded a demo that impressed Seymour Stein, president of Sire Records. Harding met with Stein and, as he told Andy Craft in Bomb, "played Seymour three songs in his office and he said, 'Okay, you've got it. You're signed.'" Stein assigned producer Andy Paley, who had just produced an album with former Beach Boys leader Brian Wilson, to work with Harding. The songwriter's first release for Sire was God Made Me Do It: The Christmas EP, which included the title song from Harding's later LP, Here Comes the Groom, two other original songs, a solo acoustic rendition of Madonna's hit "Like a Prayer," and a lengthy interview with British comic Viv Stanshall called "A Cosy Promotional Chat."
Recorded quickly with The Good Liars--a band that included Pete Thomas and Bruce Thomas from the Attractions, guitarist Steve Donelly, and keyboardist Kenny Craddock--Here Comes the Groom appeared in 1990 and received exceptional reviews. Robert Hilburn of the Los Angeles Times called it "the first great album of the 90's," comparing Harding's lyrics to those of Dylan and Costello. Rolling Stone referred to Groom as an "impressive major-label debut." Most critics noted in some way the similarities between Harding's singing and writing style and those of Costello, but Harding made no attempt to conceal his influences. In fact, in the last song on the CD and cassette of Groom, "Bastard Son," he sings "Bob Dylan is my father, Joan Baez is my mother," and goes on to list a number of his other favorite songwriters in the lyrics. Folk singer John Prine--a Harding favorite and one of the many artists named in "Bastard Son"--called Groom one of the best albums of the year. The LP also contains "Things Snowball," a duet sung and composed with Los Angeles songwriter Peter Case. The single from the album, "The Devil in Me," spawned a video that aired extensively on MTV. Harding immediately went on the road for the 1990 Lafftour, along with rock bands The Ocean Blue and The Mighty Lemon Drops. Performing solo with an acoustic guitar, Harding captured the attention of fans across the U.S. with his witty songs and hilarious between-song patter. He toured a few months later with fellow singer-songwriter Michelle Shocked. Harding also appeared on two 1990 Sire/Reprise compilation albums, Just Say Da, to which he contributed a live version of his satirical "When the Beatles Hit America", and Where The Pyramid Meets The Eye, a tribute to psychedelic rock pioneer Roky Erickson. To the latter Harding contributed a high-energy version of Erickson's "If You Have Ghosts." In 1991 he collaborated with singer-songwriter Steve Wynn on a song called "Warning: Parental Advisory" for yet another Sire anthology, Just Say Anything, released in response to controversy over warning stickers on albums.
Harding's second Sire LP, The Name Above the Title, garnered additional positive reviews. "I wanted the people who liked the first album to know that it wasn't a fluke," he told Erin Culley in Hits. He seemed to have made his point. People' s Craig Tomashoff, while noting the still-strong resemblance of Harding's work to that of Dylan and Costello, observed that the music "burrows right into your pleasure center." Jock Baird wrote in Musician that the record "unpacks an engaging rogue's gallery of characters and story lines, all placed in solid rock settings." Harding's preoccupation with the movies is especially clear on this LP: Featuring a song called "The Movie of Your Life," the record is structured like a film, with a short instrumental theme at the beginning and a lively band introduction serving as closing "credits." The Name Above the Title --which again made excellent use of the Good Liars--was recorded in a month and contains 14 original songs and one cover, a lush reworking of Tommy James and the Shondells' 1960s classic "Crystal Blue Persuasion." Other songs on Name include "The Person You Are," for which Harding himself conceived the video, "Bridegroom Blues," a rocker with a hip-hop beat that Harding claims was recorded in about an hour and which he intended as a sequel to "Here Comes the Groom," and two soul-influenced ballads, "Driving in the Rain" and "Save a Little Room for Me."
In 1991, true to his literary leanings, Harding published a small book of his lyrics, Collected Stories: 1990-1991, as a publicity gesture. The lyrics appear in slightly altered form, frequently with parenthetical remarks in prose by Harding. The book seemed to answer a growing demand: Many admiring reviewers had wondered why Harding never included lyric sheets with his albums.
By mid-1991 fans and critics alike seemed to see past Harding's obvious influences to a new and original talent. As Tomashoff ventured in People, "In the end, Harding may remind you of a lot of people, but the true testimonial to his abilities will come a few years from now. Some smart singer-songwriter will happen along, and the first thing you'll say is, 'Doesn't he sound a lot like John Wesley Harding?'"
In 2005, he published his first novel, Misfortune, under his real name, Wesley Stace. It was nominated for the Guardian First Book Award, and shortlisted for the Commonwealth Writers Prize and the James Tiptree, Jr. Award. Misfortune was also chosen by Amazon.com as one of the Ten Best Novels of 2005, and was one of the Washington Post's Books of the Year. Misfortune, translated as L'infortunée, became a bestseller in France, and has also been translated into many languages including Hebrew, Chinese, and Japanese. The movie rights to "Misfortune" were sold in 2008. His 2005 album Songs of Misfortune comprises songs written for, or appearing in, that book.
His second novel, By George, was published in August 2007; it was one of the New York Public Library's "Books To Remember" of 2007, and Booklist Editor's Choice for books of the year. A third, Charles Jessold, Considered as a Murderer was published by Jonathan Cape in the UK in July 2010 and Picador, USA, Feb 2011.
Harding reviews for the Times Literary Supplement. Other writings include chapbooks for some of his albums, and essays for various music publications from Creem to Raygun. His essay, "Listerine: The Life and Opinions of Laurence Sterne," published in Post Road #5, was nominated for a Pushcart Prize.
His series of "Cabinet of Wonders" variety shows in spring 2009 in New York City at Le Poisson Rouge includes appearances by Rosanne Cash, Graham Parker, Josh Ritter, Rick Moody, Colson Whitehead, and Jonathan Ames.
Discography:
-It Happened One Night (live)
-God Made Me Do It: The Christmas EP
-Here Comes The Groom
-The Name Above the Title
-Why We Fight
-Pett Levels: The Summer EP
-John Wesley Harding's New Deal
-Dynablob (studio outtakes, fan club release, later commercially released)
-Dynablob 2 (live recordings, fan club release, later commercially released)
-Awake
-Trad Arr Jones (a tribute to Nic Jones)
-The Confessions of St. Ace
-Dynablob 3: 26 March 1999 (live, fan club release)
-The Man With No Shadow (unreleased, later issued as Adam's Apple with slightly different tracks)
-Dynablob 4: Swings & Roundabouts (studio, new material, fan club release)
-Garden of Eden: The Fall EP (EP)
-Adam's Apple
-Songs of Misfortune (as the Love Hall Tryst)
-Who Was Changed And Who Was Dead (with The Minus Five)
-John Wesley Harding Sings to a Small Guitar, Volumes I & II (previously unreleased demos)
-The Sound of His Own Voice (2011)
Read more
Latest headlines