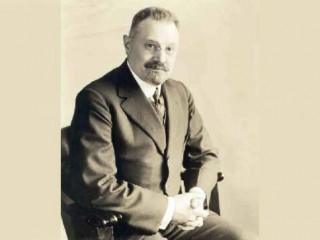 John William Lieb biography
Date of birth : 1860-02-12
Date of death : 1929-11-01
Birthplace : Newark, New Jersey
Nationality : American
Category : Science and Technology
Last modified : 2010-05-28
Credited as : Electrical engineer, ,
John William Lieb
worked for
Edison Electric Light Company
and contributed to the development electrical power technology.
John William Lieb was born 12 February 1860, in Newark, New Jersey, the son of John William Lieb, a leather worker, and Christina Zens.
He acquired his formal education in the local public school and at the Newark Academy, a private high school, from which he graduated in 1875. Perhaps influenced by his father's interest in chemistry and mechanical technology, Lieb entered the preparatory high school connected with the Stevens Institute of Technology in nearby Hoboken, NJ, in September 1875. A year later Lieb became a student in mechanical engineering at the Stevens Institute.
While at the Stevens Institute Lieb first became interested in the newly emerging electrical industry. Among his class assignments he assisted with tests of the Brush arc light system in fall 1877 at the Coney Island pier. In early 1880 he and his classmates also visited Thomas Edison's Menlo Park Laboratory to see the newly invented incandescent electric lighting system. Lieb's practical experience with the Brush arc light led to his joining the Brush Electric Company in Cleveland after graduation. Hired as a draftsman, Lieb was soon being trained as a central station constructor and manager. However, while visiting his family over the Christmas holidays, he met with Edison to ask for a job and in January 1881 began his long association with the Edison electric light interests.
Lieb joined the staff of the Edison Electric Light Company at its 65 Fifth Avenue headquarters in New York City. He initially worked as a draftsman in the company's engineering department but was soon transferred to the Edison Machine Works on Goerck Street, where he assisted in the development of generators and other equipment for the Pearl Street central generating station. When this station opened in September 1882, Lieb was placed in charge.
Lieb's knowledge of central station technology as well as his facility with French impressed Italian professor Giuseppe Colombo during the latter's visit to the Edison Machine Works to observe tests of dynamos for the central station his Italian Edison Company was building in Milan. As a result, Colombo requested that Lieb be sent to Milan to supervise the installation of the Milan station.
He became chief electrician of the plant, which was put into service in March 1883. Lieb, who soon became fluent in Italian, was appointed chief electrician of the Italian Edison Company when it was reorganized later in the year as the Societa Generale Italiana di Elettricita Sistema Edison. As the company began to erect other central power stations in the second half of the decade, Lieb took on increasing technical responsibilities, supervising both the company's power plant business and its manufacturing facilities.
During his years in Italy Lieb was an innovative leader of the electrical industry. The Milan station was among the first to install an alternating current distribution system in 1886, and in connection with this he conducted some of the earliest experiments with direct-driven alternators connected in parallel. The same year he also introduced the Thomson-Houston arc light system for street lighting in the city. In 1892-1893 Lieb directed the installation of Milan's first electric trolley line and one of the earliest in Italy.
While stationed in Italy for Thomas Alva Edison, John.W.Lieb was fascinated by the unearthing of many of Leonardo da Vinci's papers, to the point that he obtained a set of the first copies of Leonardo's works. These copies were donated to Stevens and are now located in the S.C.Williams Library.
Lieb continued to maintain close ties to the United States and married Minnie F. Engler while visiting New York in 1886, with whom he had three children. In 1894 he returned permanently to the United States when he became assistant to R.R. Bowker, vice-president of the Edison Electric Illuminating Company of New York (later New York Edison). As general manager, and later vice president, Lieb was in charge of all the company's technical operations, including the installation and operation of its central stations and electrical distribution system and supervision of all research and development efforts. At the time of his death, Lieb was senior vice president of New York Edison and president of the Electrical Testing Laboratories, which he had helped to found.
Although Mr. Lieb spent most of his life in the service of The New York Edison Company, his scholarly attainments, his wide interest and acquaintance, both in America and abroad, led to participation on an extensive scale in progressive movements far transcending his immediate business scope. Yet so energetic and indefatigable was he that the interests of The New York Edison and affiliated companies received first attention and benefited by the effective administration of the wide responsibilities which were his.
He worked for these companies incessantly. A staunch believer in privately owned public utilities, he recognized the responsibility to the public, which operation of such companies entails and sought to make the companies with which he was connected worthy of their high calling.
To these enterprises he was unfailingly loyal. Personal considerations never took precedence where their success was involved. His service to them was never stinted, not even during his last days of failing health. So far as physical condition permltted, and a little farther, he died in the harness in which it was his delight to pull.
Mr. Lieb characteristically worked to best advantage under pressure. He was not content to deal merely with the task in hand but liked to have several additional matters pressing for attention.
Residing in the suburbs in recent years, he utilized much of his time at home and during journeys between home and office, to read reports and technical articles. From these he rarely failed to extract ideas for application in affairs with which he was concerned. He would bustle into his office early in the morning, calling to his secretary to get Smith or Jones or Robinson to whom he would entrust for investigation or application ideas conceived in the course of reading or meditation on business affairs during hours which many men would have devoted to recreation or entertainment.
A portfolio in his office, generally designated as "my wad", was the daily recipient of material to be considered at home. A truly remarkable amount and range of literature found its way daily into the "wad," to come back later marked for someone's attention. And many a useful piece of information reached those within the circle of his acquaintance because of the omnivorous reading of John W. Lieb.
Out of his concern for best development of electric lamps grew an interest in illumination. Though not a lighting technician, he was familiar with the technical fundamentals of the subject and did much to promote illuminating engineering, upon the sound progress of which he recognized that a full development of electric lighting depended. His last technical paper, "Some Engineering Aspects of Electric Lighting," submitted at the World Engineering Congress in Tokio at about the time of his death, reflects this view.
Living in the city in which the great engineering societies and the national electrical trade organizations have their headquarters he was a more or less continuous participant in the counsels of such bodies, several of which he served as President.
A wise and ready counsellor, he was called upon frequently to assist in formulating policies and guiding activities of these bodies along constructive lines. An unfailing interest in their success gained an ever ready welcome for those who conferred with him on any subject having to do with the welfare of the electrical industry or of the engineering profession.
His keen interest in those enterprises, his readiness to assist them and his success in handling difficult tasks led to frequent calls which, it is to be feared, sometimes overtaxed his strength. Until the last year of his life, "Let Lieb handle it" or "Referred to Mr. Lieb with power" was the frequent conclusion of committee discussions of difficult or delicate projects.
Leading participation in early developments of the electric light, power and traction business in Italy gave Mr. Lieb a wide acquaintance among European leaders of the industry. With the passing of the years this ripened into many enduring friendships which placed him, in the estimation of European contemporaries, as one of the best known and highly respected American engineers. His life contributed conspicuously to international understanding and amity, which to him was an objective of major importance.
The English and German languages were at his command from boyhood. His sojourn in Italy when a young man gave him a native's fluency in the use of Italian and an unusual command of its several dialects. He also acquired a degree of facility in the use of the French language. Thus, when the International Illumination Congress met in America in 1928, Mr. Lieb, as Chairman of the Reception Committee, was able to address in their own languages the English, French, German and Italian delegates.
To his Alma Mater, the Stevens Institute of Technology, he rendered conspicuous and sustained senice. Not only as Member of the Board of Trustees, but also through personal contact with the President and the Faculty, his influence made itself effective. When the Institute granted him the honorary degree of Doctor of Engineering, it honored not only the recipient but also the giver.
Mr. Lieb was a good and useful citizen, alert to community needs and always ready to serve them. In trade and eleemosynary activities he never lagged. His career was featured by a consistent rectitude – the outcome of an underlying ethical perception, which, not neglecting expediency, yet never allowed mere expediency to mislead from the course of right dealing. A fundamentally honest man, unselfish, energetic and far-seeing, his career offers much that is worthy of emulation.
In a life of loyalty to worthy causes, loyalty to family was outstanding. A congenial home atmosphere and a beautiful home were a sustaining influence of large importance in enriching his life and engendering fundamental contentment which made possible his wide outside activities.
A richly developed personality of very human qualities made Mr. Lieb an interesting character. A keen sense of humor, often relieved the tedium of hard work and the strain of controversy. The humorous aspects of a situation or an experience were rarely lost upon him. He delighted to recount interesting experiences and a story rarely lost interest in his telling.
Lieb led an active professional life as a member and officer of several technical and scientific societies and congresses in the United States and Europe, and also served on many industry associations and public commissions related to the energy industry. Honored for his work by both the Italian and French governments, Lieb also received the Edison Medal of the American Institute of Electrical Engineers "For the development and operation of electric central stations for illumination and power."
After becoming a member of the Raccolta Vinciana of Milan during his stay in Italy, Lieb retained a lifelong interest in Leonardo da Vinci, collecting a large library of Vinciana. Mr. Lieb's admiration for Leonardo da Vinci as an engineer, artist and versatile genius did credit to his own innate versatility. He delighted to explore the mind of Leonardo and to make known the astounding prescience of that unique genius.
And it is probable that his painstaking research in Vinciana stimulated and enlarged that versatility which was his own conspicuous trait. His lecture on Leonardo as an Engineer before The American Society of Mechanical Engineers was a classic and contributed greatly toward attracting the attention of American engineers to Leonardo's achievements.
An outstanding pioneer in the electrical industry, one of the foremost electrical engineers among central station executives, a man of strong personality with well developed traits of leadership, a staunch and devoted American, a man of marked integrity, high ideals and breadth of vision, and above all a loyal and sympathetic friend, John William Lieb won respectful esteem and attained to a position of honor among those who stand at the head of the electrical industry.
Lieb died at his home in New Rochelle, New York, 1 November 1929. The electrical industry lost a renowned leader, the engineering profession one of its outstanding members, and national and civic affairs a constructive influence of oft-proven value.
Read more
Latest headlines