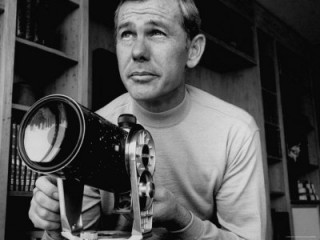 Johnny Carson biography
Date of birth : 1925-10-23
Date of death : 2005-01-23
Birthplace : Corning, Iowa, U.S.
Nationality : American
Category : Arts and Entertainment
Last modified : 2010-08-30
Credited as : Comedian and writer , actor and TV personality, host of The Tonight Show
Carson, John William "Johnny"
, also known as
Johnny Carson
born October 23, 1925 in Corning, Iowa, United States - died January 23, 2005 in Los Angeles, California, United States was an American comedian, writer and television entertainer who hosted
The Tonight Show
from 1962 to 1992 on the National Broadcasting Company network, greatly increasing the popularity of late-night television.
Carson was the second of the three children of Homer Lloyd Carson, a lineman for the Iowa-Nebraska Power and Light Company, and Ruth (Hook) Carson, both of whom were descendants of Methodist pioneers who had emigrated from the British Isles to the Missouri River valley during the nineteenth century. The family lived in several towns along the Missouri River during Carson's early childhood, settling in Norfolk, Nebraska, in 1937 when Homer Carson was promoted to district operations manager for the utility company. Carson attended public schools in Norfolk, where he was an above-average student with a shy personality. His interest in becoming an entertainer was first evident in a boyhood fascination with magic, as he learned to perform card tricks and other sleight-of-hand parlor-room novelties. As a teenager, Carson dubbed himself "The Great Carsoni," donned an outfit his mother made for him, and performed at parties and family gatherings.
Joining the U.S. Navy weeks after graduating from Norfolk High School in 1943, Carson was chosen for officer's training school and commissioned as an ensign on the battleship USS Pennsylvania. He served in the Marshall Islands and elsewhere in the Pacific during World War II. After his discharge in 1946, he enrolled in the University of Nebraska–Lincoln, relying for support on the educational entitlements of the GI Bill. A radio and dramatic arts major, he appeared in several college stage productions, including a farce he helped write in which he played the role of Cleopatra. He secured his first job in show business while still in school, working as an announcer and copywriter for the radio station KFAB. Carson was awarded a BA in 1949 and moved to Omaha to work at WOW, one of the region's leading radio stations. Although he was hired as an announcer, he found opportunities to invent himself as a comedian. Station management was gratified by positive listener response and reassigned Carson to a disc jockey slot more suited to the exploitation of his talents. On 1 October 1949 Carson married his high school sweetheart, Joan ("Jody") Morrill Wolcott. The couple had three children before divorcing in 1963.
Carson also made his first television appearances at WOW, performing live commercials when the station expanded broadcast operations into the new medium. The experience served as the basis for Carson's "Art Fern," a checker-coated, glad-handing pitchman, one of a handful of recurring characters he would inhabit on The Tonight Show years later. His first television series, The Squirrel's Nest, was an afternoon children's show that premiered on WOW-TV in 1950. Carson enjoyed the opportunities television presented for mixing joke telling with physical comedy and reoriented his career goals toward that medium, applying for jobs at major-market television stations. When an offer came from KNXT, the Los Angeles station owned and operated by the Columbia Broadcasting System (CBS), Carson traveled west to seek his fortune in 1951.
In television as in radio, Carson established himself as a comedian while performing conventional announcing chores. Months after arriving in Los Angeles, he approached station management with an offer to produce and star in a half-hour comedy show on Sunday afternoons (then considered a commercially "dead" time slot), asking for no additional salary. Carson's Cellar premiered as a live program on KNXT and several other West Coast CBS stations in 1951. The show featured the unknown comic on a primitive studio set performing a series of monologues and one-man sketches, most of which derived jests from the news of the week. Although it was far from popular (and was cancelled in less than a year), Carson's Cellar gained a loyal following among comedy stars living in Southern California, including Groucho Marx, Fred Allen, Jack Benny, and Red Skelton, performers Carson had idolized during his childhood. Marx and Skelton both contacted Carson and expressed their admiration by making gratis appearances on the show. Carson's career picked up velocity in 1954, when CBS assigned him to host Earn Your Vacation, a prime-time summer game show, and Skelton hired him to write for his hit prime-time comedy show.
That fall, Skelton sustained an injury during a dress rehearsal and called upon Carson to fill in—live on national television, with just two hours' notice. Carson seized the opportunity, offering the audience a satirical lecture on the workings of the television industry and reading hastily prepared cue cards or ad-libbing as the moment demanded. CBS executives were impressed and, at Skelton's urging, offered Carson his own prime-time variety show. Premiering in 1955, The Johnny Carson Show was a disaster that almost cut short his career. Having worked alone as an improvisational comedian and game-show host, Carson suddenly had writers, directors, and a host of intermediaries to collaborate with—and contend with. Six writers and seven directors were fired during the series' single-season production run; worse yet, without a hit to his credit, the young performer found himself saddled with a reputation as a moody prima donna, and CBS lost all interest in him. Carson then moved to New York City and attempted to stay in the public eye by making guest appearances on television and radio programs.
A break came in 1957. Edgar Bergen, one of radio's greatest stars, had attempted to find himself a place in television by hosting Do You Trust Your Wife? (later called Who Do You Trust?), an American Broadcasting Company (ABC) afternoon game show. The series was commercially viable, but Bergen tired of the job, opting out of his contract at the end of the 1956–1957 season and suggesting Carson as his replacement. The premise of the show—a wisecracking host questioning married couples to test their knowledge of each other—appealed to Carson, and, humbly accepting the move from prime time to daytime, he took ABC's offer. During his five years at Who Do You Trust?, Carson developed his skills as an interviewer and raconteur in daily interactions with a parade of unpredictable guests and as such negated the fallout from the CBS fiasco. Ed McMahon, the show's announcer, became a friend and longtime collaborator, helping to affirm Carson's confidence. The series was ABC's top-rated daytime program when Carson left to accept the opportunity of a lifetime.
In 1961 The Tonight Show was the only network television show airing in the "late night" spot, after 11:30 eastern standard time. Broadcast from New York on the National Broadcasting Company (NBC) network and hosted by Jack Paar, the show featured as cosmopolitan a tone as could then be found on entertainment television, regularly mixing authors, theater personalities, and film directors with popular entertainment stars in the desk-and-sofa format it had pioneered. But as television service expanded at the end of the 1950s from its early base in major metropolitan areas to national saturation, the show's audience remained stagnantly urban, with many of the new heartland stations choosing to sign off before midnight rather than carry it. NBC executives were determined to replace Paar with a "Midwestern-type" who could broaden the show's appeal and make it a truly national phenomenon. Paar quit the show early in 1962, and Carson, who had filled in as host while Paar was on vacation in 1958, emerged as the network's favorite. He accepted NBC's offer in the spring of 1962; as he was obligated to fulfill the remaining months of his ABC contract, his debut on the newly renamed program, The Tonight Show Starring Johnny Carson, was delayed until 1 October of that year.
Within six months, Carson was beating Paar's biggest audiences by more than half a million viewers, with a projected average of 7.5 million households tuning in each night. Twenty-one stations in eleven states began carrying The Tonight Show Starring Johnny Carson during Carson's first year, bringing the national total to more than 200, and advertising revenues soared accordingly. Noting Carson's popularity, CBS and ABC began offering late-night programming, staging successions of competitors, but no one could top Carson himself, who became known as the "King of Late Night." The industry's biggest film and television stars happily accepted minimal fees to appear on his show to promote their latest projects, and unknowns (and their agents) could hope for no better career boost. The show became an increasingly lucrative draw for NBC, especially during the late 1970s, which were lean times for the network's prime-time schedule.
Audiences responded positively to the slow, friendly pace that Carson set for the show. Intelligent and self-assured in a style that suggested Main Street rather than Broadway or Hollywood Boulevard, Carson never insulted guests but did share distaste or impatience with the audience by rolling his eyes or smirking with a hint of exasperation. He was quick with comebacks but used plainspoken, even monosyllabic language. If Paar had been mercurial and bombastic, Carson was wry and subtly acerbic, keeping control of conversations without appearing to dominate them. Perhaps the single most useful talent that Carson brought to The Tonight Show was an uncanny ability to elicit laughs by making light of his own failed material. Critics, though generally slower than audiences to appreciate Carson, came to see the genius with which he tackled what was arguably the most difficult job in television. Writing in the New Yorker, Kenneth Tynan observed that Carson "prevents us from being bored by making his own boredom funny." This was no small feat, especially in Carson's early days as host. The Tonight Show ran for an hour and forty-five minutes daily in 1962, including a fifteen-minute opening segment seen only in the New York City area. As Carson's popularity gained him leverage, he won battles to shorten the program first to ninety minutes in 1967 and then to sixty minutes in 1980.
Carson, in fact, had a fair number of squabbles with the network. Angered that NBC aired Tonight Show reruns during a labor strike, Carson quit in 1967. To lure him back, the network raised his salary from $15,000 to $20,000 per week, agreed to provide his staff's salaries, and granted him more vacation time. His salary peaked at a reported $10 million per year in the 1990s. All the while, The Tonight Show progressively shortened, Carson's vacation blocks grew in duration and frequency, and the uses of substitute hosts and Carson reruns were increasingly built into the schedule.
In 1972 Carson proved victorious in his biggest long-term battle with the network: over moving The Tonight Show from New York to the Los Angeles area, which would necessitate the afternoon taping of each night's show. While contending that the program's voracious booking needs would be better served by the West Coast's larger resident talent pool, Carson also made no secret of his desire to trade in his skyscraper apartment and the frenetic pace of Manhattan life for the quieter charms of a seaside Malibu home. The show's producer, Fred De Cordova, was credited with negotiating the move to Burbank and with creating a buffer that kept the star free of day-to-day production problems and relaxed at his job for the first time. Carson had married Joanne Copeland, a former model and actress, on 17 August 1963. After a protracted court proceeding, in which Copeland was awarded a hefty divorce settlement and substantial alimony, the couple was divorced in 1972. Carson then married Joanna Holland on 30 September 1972; the two divorced in 1985.
Saddled with The Tonight Show's demands, Carson took on few additional projects; most notable among them was that of hosting the Academy Awards telecast, which he did five times, from 1979 to 1982 and in 1984. Carson also wrote two comedy books on the heels of his success on The Tonight Show: Happiness Is... a Dry Martini (1965) and Misery Is... a Blind Date (1967). Outside show business, his most well-known success was Johnny Carson Apparel, a men's clothing line produced by Hart Schaffner Marx, in which the comedian owned a 20 percent share.
By the 1980s The Tonight Show, featuring Ed McMahon as announcer and sidekick and Doc Severinson as conductor of the NBC Orchestra, was an American institution. As introduced by McMahon's signature announcement, "And heeeeeeere's Johnny," Carson offered a daily monologue in which he particularly enjoyed talking about life in Los Angeles, with attention to such topics as pollution, traffic, and the heat. Politically, he remained a moving target by lampooning politicians of all parties and stripes, including all seven of the U.S. presidents who served during his reign. Carson saved his most sincere irreverence for his employers. In one monologue, he read a holiday card that he claimed to have received from General Electric, the parent company of NBC: "In lieu of a gift, a G.E. employee has been laid off in your name."
Although a Tonight Show appearance could foster public recognition quite literally overnight, Carson did not revel in his role as an entertainment industry gatekeeper, doing little to discover new talent over the years. He was more apt to promote young stars on the rise (such as Barbara Streisand and Steve Martin), to help resuscitate the careers of veteran comedians (such as Buddy Hackett and Don Rickles), or to keep in public memory the names of aging Hollywood stars (such as Jimmy Stewart and William Demarest). The up-and-coming performer who benefited most from Carson's patronage was David Letterman, a fellow midwesterner who, like Carson, had risen through the ranks from local broadcasting and daytime work. In 1980 Carson wrested ownership of The Tonight Show from NBC. His company, Carson Productions, in addition to producing his own show, contracted to produce a second hour-long program to follow, Late Night with David Letterman.
Carson retired from the The Tonight Show at age sixty-six in May of 1992, having become a household name and having earned six Emmy Awards and many other honors, including the American Comedy Lifetime Achievement Award and the Presidential Medal of Freedom, both in 1992. He was a Kennedy Center honoree in 1993. According to all accounts, he remained shy and reclusive throughout his life, caring little for parties or social advancement and preferring to pursue amateur interests in astronomy, sailing, and flying while also playing drums and tennis. Carson had married Alexis Maas on 20 June 1987, a marriage that lasted until his death. A long-term cigarette smoker, Carson announced in 2002 that he had been diagnosed with emphysema. He died of the chronic effects of that disease in Los Angeles, and his remains were cremated and given to his wife.
Carson cooperated in the preparation of a biography, Ronald L. Smith, Johnny Carson: An Unauthorized Biography (1987), but was unhappy with the result and refused other such offers. Of the other half dozen biographies that came to print, Laurence Leamer, King of the Night: The Life of Johnny Carson (1989), received the most critical respect. See also the biographies written by his producer, Fred De Cordova, Johnny Came Lately: An Autobiography (1988), and by his sidekick, Ed McMahon, Here's Johnny! My Memories of Johnny Carson, "The Tonight Show," and 46 Years of Friendship (2005). Alex Haley's interview with Carson for Playboy (Dec. 1967) is perhaps the only extensive interview he ever gave for publication; it is most easily accessed in Alex Haley, The Playboy Interviews (1993). Kenneth Tynan's New Yorker profile (20 Feb. 1978) stands alone among hundreds of magazine articles on Carson for its insights and cultural awareness; it also appears in Tynan's book Show People (1979). Obituaries are in the Los Angeles Times and New York Times (both 24 Jan. 2005).
PERSONAL INFORMATION
Born October 23, 1925, in Corning, IA; died of emphysema, January 23, 2005, in Los Angeles, CA; son of Homer (a utility company manager) and Ruth (a homemaker; maiden name, Hook) Carson; married Joan (Jody) Wolcott, 1948 (divorced, 1963); married Joanne Copeland, 1963 (divorced, 1972); married Joanna Holland, 1972 (divorced, 1983); married Alexis Maas (a secretary), 1987; children: (first marriage) Christopher, Richard (deceased), Cory. Education: University of Nebraska, B.A., 1949.
AWARDS
Winner of four Emmy awards; Entertainer of the Year award, Friars Club, 1965, 1969; Man of the Year award, Hasty Pudding Club, Harvard University, 1977; American Comedy Lifetime Achievement Award, 1992; Presidential Medal of Freedom, 1992; Honored by the John F. Kennedy Center for the Performing Arts, 1993, for contributions to American culture.
CAREER
Television personality and host, writer, producer, actor. KFAB, Lincoln, NE, announcer, 1948; The Squirrel's Nest, WOW-TV, Omaha, NE, host; Carson's Cellar, KNXT, Los Angeles, CA, host, 1951; Red Skelton Show, writer and guest host; Earn Your Vacation, Columbia Broadcasting System, Inc. (CBS), host, 1954; The Johnny Carson Show, CBS, host, 1955-56; Who Do You Trust?, American Broadcasting Companies, Inc. (ABC), host, beginning 1957; Tonight Show, National Broadcasting Company, Inc. (NBC), host, 1962-92. Sammy Davis, Jr. Show, NBC, substitute host, 1966; "Joys!," U.S. Steel Hour, 1976; Academy Awards ceremonies, host, 1979-82, 1984; The Big Chill, producer. Carson Productions Group, Fullerton, CA, founder; John W. Carson Foundation, founder; Garden State Bank, Hawaiian Gardens, CA, co-chairman. Military service: U.S. Navy, ensign, 1944-46.
WRITINGS:
* Happiness Is... a Dry Martini, illustrated by Whitney Darrow, Jr., Doubleday (New York, NY), 1965.
* Misery Is... a Blind Date, illustrated by Whitney Darrow, Jr., Doubleday (Garden City, NY), 1967.
* (Author of introduction) Ed McMahon and David Fisher, For Laughing Out Loud: My Life and Good Times, Warner (New York, NY), 1998.
Various sound and video recordings have been produced that highlight segments of the Tonight Show and Carson's career, including the Ultimate Carson Collection (DVD), Carson Productions Group, 2001.
Read more
Latest headlines