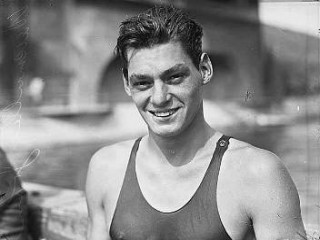 Johnny Weissmuller biography
Date of birth : 1904-06-02
Date of death : 1984-01-20
Birthplace : Bánság, Austria-Hungary
Nationality : Austro-Hungarian American
Category : Famous Figures
Last modified : 2011-08-09
Credited as : Swimmer and actor, Tarzan 1930, Olympic gold medals
Johnny Weissmuller, who played the role of Tarzan in films made during the 1930s, was one of the best swimmers of the twentieth century. He won five Olympic gold medals, set 24 world records, and won 51 AAU titles.
Although many older sources claim that Weissmuller was born in Windber, Pennsylvania, the son of Austrian immigrants, it has become known since his death that he was born in Freidorf, near Timisoara, Hungary (now in Romania). His parents immigrated to Windber when he was three years old, and his father supported the family by working as a coal miner. Later, Weissmuller simply claimed that he had been born in Pennsylvania.
Weissmuller, who only attended school through the eighth grade, was sickly and weak as a child, and his family doctor put him on a special high-nutrition diet and advised him to take up swimming to strengthen his body. When he was a young boy, his father moved the family from Pennsylvania to Chicago, where Weissmuller joined the YMCA when he was 14. At age 15, he joined the Illinois Athletic Club. The coach there, Bill Bachrach, said, "Swear that you'll work a year with me without question and I'll take you on. You won't swim against anybody. You'll just be a slave and you'll hate my guts, but in the end you just might break every record there is," according to Ralph Hickok in A Who's Who of Sports Champions.
In Biographical Dictionary of American Sports, James D. Whalen wrote, "Bachrach, a gruff individual weighing 350 pounds, yelled at the exhausted Weissmuller during workouts, 'Form! Never swim for speed-always for form!"' His advice paid off. Weissmuller trained for over a year, then attended his first competition, the 1921 Amateur Athletic Union (AAU) outdoor championship. He won the 220-yard freestyle swim. The only event he lost, the 440-yard freestyle, would be the only race, of any distance, that he ever lost during his entire swimming career.
In 1922, Weissmuller set world records in the 150-yard backstroke and the 300-meter freestyle. He also won national championships in the outdoors 100-, 220-, and 440-yard freestyle events and in the indoor 100-and 220-yard events. He won all the same championships in 1923, and also set a world record in the 150-yard backstroke. His new record was 6.8 seconds faster than the old one. On July 9, 1922, he became the first person ever to swim 100 meters in less than a minute, completing the distance in 58.6 seconds. He also broke the 5-minute barrier in the 440-yard freestyle swim.
Weissmuller swam in the 1924 Olympics in Paris, and won gold medals in the 100-and 400-meter freestyle events. He set a world record of 5:04.2 in the 400, and his time of 59.0 in the 100 was an Olympic record. At the same Games, he was a member of the gold-medal-winning 4-200 freestyle relay team as well as the bronze-medal-winning U.S. water polo team. In the same year, he beat his own world-record 100-meter time, lowering the record to 57.4 seconds. This time wasn't beaten until 1944.
In 1925, 1926, and 1927, he won 15 more national titles. He held the record for the 100-yard freestyle, with a time of 51.0 seconds, for the next 17 years, and his record for the 200-meter freestyle stood for seven years. At the 1928 Olympics in Amsterdam, he won more gold medals in the 400-meter freestyle and as a member of the 4 × 200-meter relay team.
In addition to being a fine athlete, Weissmuller was good-looking, with broad shoulders, narrow hips, and long legs. He weighed 195 pounds and was six feet, three inches tall. He also had a gift for entertaining crowds. Between serious swimming events, he often made the crowds laugh by doing comedy dives. After the 1928 Olympics, he became a professional swimmer, and performed at exhibitions all over the United States. In 1940, when he was 36, he broke his own 100-yard freestyle record, swimming the distance in 48.5 seconds. Bill Bachrach's insistence on good form was apparent in his style; as Pat Besford wrote in Encyclopedia of Swimming, "His high-riding stroke, with its pull-and-push arm stroke, independent head turning action for breathing and deep flutter leg-kick, was revolutionary and had a tremendous influence on the development of the crawl throughout the world."
Weissmuller's second career as an actor began in 1932, and might not have begun at all if Metro-Goldwyn-Mayer studios (MGM) had not had a very successful jungle movie, Trader Horn. The studio had a great deal of extra jungle footage, and not wanting to waste it, decided to use it to make a film based on the book Tarzan, by Edgar Rice Burroughs, about a man who had been abandoned in the jungle during his infancy and then raised by apes. According to Gabe Essoe in Tarzan of the Apes, MGM director William S. Van Dyke said, "What I want is a man who is young, strong, well-built, reasonably attractive, but not necessarily handsome, and a competent actor. The most important thing is that he have a good physique. And I can't find him." The studio considered hundreds of candidates with no success. Tarzan screenwriter Cyril Hume was staying at the same hotel as Weissmuller. When he saw the champiion swimmer in the hotel pool, he knew he'd found the man the studio wanted. According to Essoe, Van Dyke later praised Weissmuller's ability to be comfortable wearing almost nothing. He said, "Most actors without clothes are undressed rather than naked and are too self-conscious to act naturally." Because Weissmuller was a swimmer, he was used to being in public while wearing only swim trunks.
At first, Weissmuller wasn't interested in the movie part, and in fact he had signed an exclusive contract with BVD, a manufacturer of swimsuits and underwear, as a spokesman for their products. BVD refused to release him from the contract and let him act for MGM. MGM, undaunted, sent over a team of lawyers to try and convince the executives at BVD to come to an agreement. Eventually, the two sides made a deal. If BVD would let Weissmuller act for MGM, MGM would allow BVD to photograph all the big MGM stars in swim suits. This list included stars such as Greta Garbo, Joan Crawford, and Jean Harlow. MGM would hire Weissmuller for seven years, beginning with a pay rate of $500 a week, with raises of up to $2,000 a week during that time.
The producer of the film, who didn't follow sports, had no idea that Weissmuller was a well-known Olympic champion and at first, wanted to change his name. According to Besford, he said, "Johnny Weissmuller, that's too long, it won't go on the posters, we'll have to change it," until someone told him who Weissmuller was.
Although Edgar Rice Burrough's original Tarzan was a "noble savage" who was a cultured gentleman who spoke several languages, the film Tarzan is an animal-man who can barely speak. Tarzan, the Ape Man was well-made for its time, starred the beautiful Irish actress Maureen O'Sullivan, and featured scanty costumes, romance between Weissmuller and O'Sullivan, little dialogue, and a lot of jungle action. It was an immediate success with both the public and critics, who praised its sweeping action, entertaining story, and its actors. Essoe quoted critic Thornton Delehanty, who wrote that Weissmuller was "the complete realization of this son-of-the-jungle role. With his flowing hair, his magnificently proportioned body, his catlike walk, and his virtuosity in the water, you could hardly ask anything more in the way of perfection."
Weissmuller would go on to star in eleven more Tarzan movies, half for MGM, and half for RKO. The MGM films were of higher quality, and according to Scott Siegel and Barbara Siegel in the Encyclopedia of Hollywood, Tarzan and His Mate 1934 "is considered the cream of the crop." They also wrote, "For generations who saw Weissmuller swinging from vines on the big screen, and their children who saw him doing the same when the movies were rebroadcast on television, Weissmuller would always be Tarzan."
Throughout the Tarzan series, Weissmuller swam in at least one scene-usually more-showing off his famous form and speed, and often wrestled crocodiles or other watery menaces. Fortunately, the role did not demand much acting ability; in the Encyclopedia of Hollywood, Scott Siegel and Barbara Siegel wrote, "Weissmuller was a wooden actor with a halting speech pattern that worked just fine for the monosyllabic role of the ape man created by Edgar Rice Burroughs."At the same time, however, Weissmuller was well aware that he was not a particularly skilled or expressive actor, and he retained a sense of humor about his lack of acting talent and his character's limited conversational ability. Of his role as Tarzan, he once said, according to Hickok, "It was up my alley. There was swimming in it, and I didn't have much to say." He commented that the secret of his success as Tarzan was his ability to grunt, according to Ray Narducy in the International Dictionary of Films and Filmmakers. He also joked about his character's frequent habit of swinging through the treetops on a long vine; according to Robert A. Newton and Gwendolyn Wright Nowlan in Movie Characters of Leading Performers of the Sound Age, he said, "The main thing is not to let go of the rope."
When Weissmuller grew older and loincloths no longer flattered him, he starred in the low-budget Jungle Jim series, in which his character was very similar to Tarzan, except that he wore clothes. The first of these adventures was filmed in 1948; 15 more were made, although in the last three, his character was called "Johnny Weissmuller," not "Jungle Jim." In 1956, he appeared in a television series called Jungle Jim, which lasted for 26 episodes. Weissmuller only played in one film that did not involve Tarzan or Jungle Jim. Titled Swamp Fire, the film also starred Buster Crabbe, another swimmer who played Tarzan in a rival film company's film in the 1930s.
After retiring from the movies, Weissmuller gave his name to a swimming pool company, the Johnny Weissmuller Swimming Pools Company, a franchise based in Chicago, and had a fairly successful business career. He was also manager of the International Swimming Hall of Fame in Fort Lauderdale, Florida. His love life was less successful; he married six times. He had three children, Wendy, John, and Heide, with his fifth wife, Allene Gates. His autobiography, Water, World and Weissmuller, was published in 1967.
Weissmuller's last film appearance was in a film called The Phynx in 1970. After battling a series of strokes and surgeries, he died at his home in Acapulco, Mexico in 1984.
Read more
Latest headlines