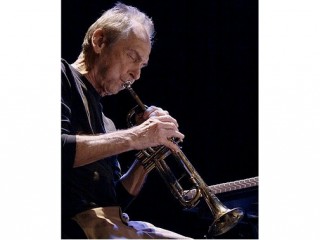 Jon Hassell biography
Date of birth : 1937-03-22
Date of death : -
Birthplace : Memphis, Tennessee, U.S.
Nationality : American
Category : Arts and Entertainment
Last modified : 2011-11-29
Credited as : composer, trumpeter, Fourth World music
Jon Hassell is an American trumpet player and composer. He is known for his influence in the world music scene and his unusual electronic manipulation of the trumpet sound.
Throughout the large part of his 40-year career, composer, and trumpeter Jon Hassell has been drawn to the union of Eastern and Western music, including advanced electronics, which he has appropriately dubbed "Fourth World." His primitive yet futuristic sound--usually described as ethereal, dark, erotic, and mysterious--greatly influenced the variety of styles heard in music today. However, Hassell regards his processes as a composer as quite basic. "I keep asking the central question: What is it I really like? What is it that I really want to hear? And both in the personal realm, the sex fantasy realm, and the musical realm, it comes down to shockingly simple things," he told David Thomson in a feature story for Wire magazine. "I love lush sensual atmospheres. I love beautiful chords. I'm in love with harmony."
This vision of creating pleasure-inducing, harmonic, and expansive music, or what Hassell calls "sound monuments," both borrows from and inspires numerous musical genres, ranging from minimalism and the avant-garde to jazz, pop, techno, trance, and trip-hop. Hassell tours and records with his own ensemble and often works with musicians from different cultural backgrounds. An example of one memorable cross-cultural collaboration was a 1987 concert called "Serious Fun" at the Lincoln Center in New York with the West African group Farafina, an eight-member ensemble comprised of percussionists, singers, and dancers. The group also participated on Hassell's 1988 album Flash of the Spirit.
Besides his work as an individual composer, performer, and recording artist, Hassell has recorded with a long and diverse list of well-known musicians, among them Brian Eno (who produced or coproduced many of Hassell's records), David Sylvian, the Kronos Quartet, the Talking Heads, k.d. lang, and Ani DiFranco. His appearances for film soundtracks include Mike Nichols' Primary Colors and Wim Wenders' The End of Violence, both scores by Ry Cooder, as well as Richard Kwietniowski's Love and Death in Long Island. Hassell has likewise worked in theater and television. In collaboration with Magazzini Criminali, he composed the score for the stage production Sulla Strada, which premiered at the Venice Biennale in 1982 and went on to win an Ubu Award that season for Best Music for a Theatrical Work. He additionally joined forces with director of note Peter Sellers on a play by Russian futurist poet Velimir Khlebnikov entitled Zangezi. This work was produced in 1987 at the Brooklyn Academy of Music's "Next Wave Festival" and in 1988 at Boston's Museum of Fine Arts. For television, Hassell cowrote the theme for the popular ABC drama series The Practice, winning an Emmy Award for the score in 1999.
Hassell was born on March 22, 1937, in Memphis, Tennessee, a city known for its rich musical environment. Coming of age in the 1950s, he was exposed to the blues, country, and especially big band, taking up the trumpet in grammar school. He also studied privately to learn music theory and later played in several local Glenn Miller-type bands. After high school, Hassell enrolled at the Eastman School of Music in Rochester, New York, to study trumpet and composition.
At Eastman, where he earned both his bachelor's and master's degrees, Hassell's musical interests broadened. "That was the first time that I had contact with people who were in the realm of entertainment, in the upper strata of the musical world, if you will," he recalled in an interview with Theresa Stern of the online publication Perfect Sound Forever. "I remember one of the first things that I saw there was a live TV broadcast of Lena Horne with Mitch Miller conducting the Rochester Symphony--that made my jaw drop. That didn't happen in Memphis. I hung out with a radical group of student composers who were into Webern, Schoenberg, etc. We considered ourselves apart from the general conservative feel of the Eastman school, which was very 'Americana' in feeling."
Following studies in Rochester, Hassell, in order to avoid the draft, joined the Army band in Washington, D.C. During his tenure, he also worked towards his Ph.D. in musicology at Catholic University, though he never completed his thesis. In the meantime, Hassell became intrigued with the theoretic writings and music of Karlheinz Stockhausen, and earned a two-year grant to study in Cologne, Germany, with the renowned post-Webern composer. In his classes with Stockhausen, where he became acquainted with serial and electronic music, Hassell also met and befriended Irmin Schmidt and Holger Czukay, who, incidentally, later founded the influential German rock band Can. While in Germany, he composed the piece Music for Vibraphones, for vibraphones and tapes, and Scan, for 10 stringed instruments and contact mikes.
In 1967 Hassell returned to the United States and accepted a fellowship at the Center for Creative and Performing Arts at the State University of New York (SUNY) Buffalo, an institution funded by the Rockefeller Foundation for musicians who also composed and performed. This period also marked Hassell's first recordings with American composers Terry Riley and LaMonte Young, events that, as he explained to Stern, marked another turning point in his development. "This American experience being around Terry and later LaMonte Young was a great antidote to the European experience with Stockhausen ... coming into contact with people who were concerned with feeling good via music--not just some intellectual exercise. It was more holistic. It spoke to the whole body. I'm talking about what they would later refer to as 'minimalism.'"
Fascinated with the concepts of minimalism as well as electronics, in 1969 Hassell completed Solid State, a composition by which a mass of pitched sounds seemingly surrounds the audience. The piece would eventually, in 1977, earn Hassell a National Endowment for the Arts grant. Other compositions during this period included Blackboard Piece for Girls and Loops and Superball. Since then, however, Hassell's musical focus has included a number of environments.
Through Riley, Hassell met world-renowned vocal master Pandit Pran Nath, with whom, beginning in 1972, he studied classical Indian music of the Kirana tradition. "This beautiful form of non-Western classical music, which requires you to think on your feet and improvise permutations and variations, is so much more interesting, compelling and alive than sitting and hearing something repeated verbatim," he explained to David McCracken of the Chicago Tribune. "Certainly, in terms of horizontal or melodic movement, I don't think there's anything as refined and developed as Indian music."
These teachings--coupled with the composer's deepening interest in incorporating Indian classical elements into his own writing--led Hassell to adapt Indian vocal techniques to the trumpet, in essence creating an entirely new way of playing the instrument. Hassell arrived at the sound by controlling the pitch with his lips and removing or loosening the mouthpiece. He furthermore devised a musical setting for his unique trumpet playing, a combination of world ethnic styles and modern electronic techniques. In 1977 he completed his first "Fourth World" album, Vernal Equinox, featuring the Kirana trumpet, shifting synthesizer drones, and sampled rhythmic tracks of natural occurrences such as the sounds of oceans and birds.
Hassell pursued his fascination with weaving together the art forms of East and West with the recordings Earthquake Island (1978), Possible Musics (1980), Dream Theory in Malaya (1981), Aka-Darbari-Java (1983--an effort now considered the best illustration of Hassell's classic sound), and Power Spot (1986). In these, he subtly blends elements heard in such forms as raga, gamelan, and African and Indian vocal styles using Western classical composing techniques and technology. He next released a live album recorded between 1985 and 1987 entitled Surgeon of the Nightsky Restores Dead Things by the Power of Sound, followed by a collaboration called Flash of the Spirit and tour with the African ensemble Farafina.
In the 1990s Hassell took his concept of Fourth World music to another level. For the 1990 landmark album City: Works of Fiction, for instance, he borrowed from the innovations of hip-hop. Dressing for Pleasure, recorded in 1994, also drew from dance and club music. In 1999, following a period of various outside projects, Hassell returned with Fascinoma. Here, he surprisingly leaves out electronics in favor of a mostly acoustic set featuring Ry Cooder on guitar, Jacky Terrasson on piano, Ronu Majumdar on bansuri flute, Rick Cox on guitar, bass clarinet, and samples, Jamie Muhoberac on zendrum, Joachim Cooder on drums, and Rick Masterson and Rose Okada on tambura.
Within all his albums and compositions, however, Hassell displays an affinity examining his multitude of influences and desire to consider classical music on a global scale, a sort of layering of styles from around the world.
Discography:
-1977 Vernal Equinox
-1978 Earthquake Island
-1980 Fourth World, Vol. 1: Possible Musics with Brian Eno
-1981 Fourth World, Vol. 2: Dream Theory in Malaya
-1983 Aka / Darbari / Java: Magic Realism
-1986 Power Spot (produced by Brian Eno / Daniel Lanois)
-1987 The Surgeon of the Nightsky Restores Dead Things by the Power of Sound
-1988 Flash of the Spirit
-1990 City: Works of Fiction (All Saints Records)
-1994 Dressing for Pleasure
-1995 Sulla Strada (release of soundtrack from 1982)
-1998 The Vertical Collection
-1999 Fascinoma
-2005 Magic Realism, Vol. 2: Maarifa Street
-2009 Last Night the Moon Came Dropping Its Clothes in the Street
Read more
Latest headlines