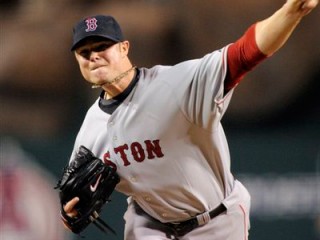 Jon Lester biography
Date of birth : 1984-01-07
Date of death : -
Birthplace : Tacoma, Washington
Nationality : American
Category : Sports
Last modified : 2010-11-04
Credited as : Baseball player MLB, pitcher with the Boston Red Sox ,
Jonathan Tyler Lester was born on January 7, 1984 in Tacoma, Washington. His parents, Kathie and John, were loving and supportive. They encouraged Jon in anything he tried, especially sports.
Jon was a big, powerful left-handed athlete. He had a strong arm that served him well in football and baseball. His height was an advantage in basketball. Jon was one of those kids who, all through youth-league sports, was the best player on the field or court.
Baseball was Jon's first love. One of his first sports thrills occurred during the summer of 1994, when he was 10. The family was visiting relatives in New England, and he attended a Red Sox game at Fenway Park.
Bob Christofferson, who would become head groundskeeper for the Seattle Mariners, was a longtime family friend of the Lesters. This got Jon closer to the field than anyone his age.
Starting in the early 1990s, Jon began rooting for the Mariners. The team had plenty of stars during this time, including Edgar Martinez, Jay Buhner and Randy Johnson. No one was more captivating that Ken Griffey, Jr. Jon was thrilled when Junior and his dad formed baseball's first father-son team.
Jon enrolled at Bellarmine Prep, a Catholic school in Tacoma, in the fall of 1998. Sports was—and is—a major focus of the 1,000-student school. Rick Barnhart was well into his second decade as head coach of the baseball team when Jon joined the program. He had heard that Jon was something special, but wanted to see for himself. Barnhart watched Jon's first practice with the freshman team and was convinced—he grabbed him for the varsity.
Jon was amazing from his first season for the Lions. He should great poise and competitiveness for a 15-year-old, and was named league MVP as a freshman. He would win this award three times in four years and earn All-State honors in three seasons, too. As a sophomore, he was named the Gatorade State Player of the Year.
By Jon's senior year, he stood 6-5 and could pop his fastball in the mid 90s. As many as dozen pro scouts attended his starts regularly, and plenty of college recruiters called in between. The Red Sox made Jon the 57th player selected in the 2002 draft. He wasn't sure whether to go pro or not. Jamie Moyer, who was pitching for the Mariners at the time, talked to him. The Seattle lefty warned Jon that baseball in the minors was difficult, and that he could continue to grow in college while still having fun. Despite the cautionary tale, Jon decided he would try pro ball, assuming the money was right.
After a protracted contract negotiation with Boston, Jon ended up with the highest bonus among second-rounders. In his abbreviated 2002 campaign, he appeared in just one minor-league game. jon gave up five hits and a walk in two-thirds of an inning and took the loss. He later participated in Fall Instructional League action.
Jon joined the starting staff of the Augusta Greenjackets of the Class-A South Atlantic League in 2003. He went 6–9 with a 3.65 ERA. Jon's teammates on that club—which finished dead last in both halves of the split season—included future All- Star Hanley Ramirez.
Over the winter, Jon nearly became a member of the Texas Rangers. The Red Sox were trying to engineer a deal for Alex Rodriguez, and Texas insisted that the young lefty be part of the trade. Boston might have relented, but eventually the teams reached an impasse. Two years later, Florida tried to get Jon in the Josh Beckett deal, and again the Red Sox would not part with him.
ON THE RISE
Jon spent 2004 in Class A again, this time moving up a notch to Sarasota. He pitched well at times and struggled during others —hardly unusual for a raw lefty. Jon went 7–6 with 97 strikeouts in just over 90 innings. He held enemy batters to a .244 average.
Jon's coming out party was 2005. He began to mix a cutter with his 94-mph heater and occasionally mixed in a changeup and curve. Pitching all year for the Class-AA Portland Sea Dogs, he earned honors as Eastern League Pitcher of the Year. Dominating from start to finish, Jon won 11 games, sporting a league-best 2.61 ERA and 163 strikeouts in just under 150 innings.
In training camp the following year, Jon was befriended by Curt Schilling, who saw a little of himself in the young flamethrower. After a shaky spring ERA of 19.50, Jon was assigned to Class-AAA Pawtucket, but Schilling stayed in touch and encouraged him to stick with the program. The Red Sox would need him that season, the veteran said. Jon needed to be ready when the call came.
Interestingly, Jon played an unsuspecting role in a media storm in 2006. He was the pitcher who struck out Delmon Young before Young hurled his bat at the homeplate umpire. The incident earned Young a 50-game suspension.
Jon made 11 starts at Triple-A and was practically unhittable in his final six appearances. Meanwhile, in Beantown, starters David Wells, Matt Clement and Tim Wakefield were all battling injuries. Jon essentially forced Boston's hand with his lights-out performance, and the team called him up for a June 10th game against the Rangers. Jon could have started against the Yankees in New York a few days earlier, but GM Theo Epstein did not want to put too much pressure on him.
Jon pitched fairly well and got a no-decision in a Boston loss. Six days later, he outdueled Tim Hudson and beat the Braves 4–1 for his first major-league victory. Jonathan Papelbon finished off Atlanta for his 21st save in 22 chances. Five days after that, Jon blew away the Washington Nationals and became the first Sox hurler of the year to fan 10 hitters in a gme.
On July 18, Jon handcuffed the Kansas City Royals for eight innings, allowing only a second-inning single to Mark Teahan. Papelbon mopped up the thrilling 1–0 win. It was an exciting glimpse of the future for Boston fans.
The victory was Jon's fifth in a row without a loss since joining the big club. It marked the first time in team history that a lefty had won his first five decisions as a rookie. Jon did not lose until his 10th start of the year, in late July against the Angels. Jon later beat Anaheim to run his record to 7–2.
Less than a week later, Jon was in the hospital, and baseball fans were in shock. Jon had been diagnosed with anaplastic large cell lymphoma, albeit a treatable form of the disease. The cancer was discovered during an exam for a sore back caused by a minor fender-bender. Jon had been losing weight and experiencing night sweats. Doctors noticed his enlarged lymph nodes.
Jon underwent treatment and was declared cancer-free in December. He stayed busy fishing, hunting and biking at home in Washington. The chemotherapy caused him to lose hair in spots, so he shaved his head completely.
MAKING HIS MARK
Jon rejoined the team in the spring of 2007 and embarked on a plan to get himself back into pitching shape—hopefully by the end of the year. He logged time with two farm teams as he built up his velocity and regained command of his pitches. One of the places he visited was Greenville, South Carolina. There he met a nursing student named Farrah Johnson, who became his girlfriend.
Jon experienced some setbacks but nothing major. When he experienced pain in his forearm, he was instructed to stop throwing his cutter. The problem disappeared. Pitching coach John Farrell, who was charged with getting Jon ready, made a couple of adjustments, shortening the lefty's windup and having him stand more upright in the stretch. These changes improved Jon's control, but his velocity yo-yoed up and down. He stuck with Farrell's suggestions and eventually he got his fastball back into the 90s.
Jon heard from his teammates while he was away. Manager Terry Francona sent him regular text messages to keep his spirits up. "You beat cancer," Beckett told him. "This should be easy."
On July 23, after 17 starts in the minors, Jon was back on the mound for Boston. He beat the Cleveland Indians 6–2 in an emotion-packed return. He threw 96 pitches in six innings, allowing a pair of runs on five hits and three walks. Jon fanned six. The Red Sox put up a four-spot before he took the mound, enabling him to relax a bit against one of the American League's most potent lineups.
On August 14, Jon made his first start since his return in Fenway Park. He was treated to a standing ovation, and then quickly found himself is a tense battle with Scott Kazmir and the Tampa Bay Devil Rays. Trailing 1–0 in the eighth, the Red Sox pulled out a victory with a homer by fellow cancer survivor Mike Lowell and hits by Jason Varitek and Coco Crisp. Eric Gagne struck out the side for the save.
Jon went back to Portland at the end of August, won a game, and then was recalled in time to be eligible for the postseason roster. He finished the year at 4–0 for the Red Sox. Jon was on the club and in the bullpen for the ALDS but did not see any action against the Angels. Against the Indians in the Championship Series, he got rocked in his first appearance, giving up two runs (including a homer) in less than an inning's work. In Game 4, Jon redeemed himself with three scoreless innings of relief work. The Red Sox won the series and the pennant.
Jon's status heading into the World Series was uncertain. The Colorado Rockies were on fire, so Francona had to prepare for a slugfest. It did not turn out that way, as Boston took the first three games without taxing its bullpen. Francona handed Jon the ball in Game 4. Although he had not won since the first week in September, he was fresh and raring to go. The first batter, Kaz Matsui, hit a little pop-up in front of the mound that Jon gloved himself. With the tying run on second in the third inning, he reared back and blew away Matt Holliday, Colorado's best hitter.
Jon mowed down the Rockies until he was relieved with two out in the sixth. He allowed three hits, three walks and struck out five while keeping Colorado off the scoreboard. Jon was credited with the clinching victory, capping off a storybook season and one of the more memorable comebacks in recent history.
The Red Sox started the 2008 campaign as the favorites in the AL East. On paper, they were an improved club from their championship year. Jon was back in the rotation, Jacob Ellsbury gave the team depth in the outfield, and Sean Casey came aboard as the DH.
On May 19, Jon made headlines once again when he no-hit the Royals. He walked two and struck out seven, and was aided by a diving catch in center from Ellsbury. Otherwise, he went through the Kansas City order with ease. After walking the leadoff hitter in the ninth, he induced groundouts from Tony Pena Jr. and David DeJesus. Jon struck out Alberto Callaspo for the final out. The 7–0 no-no was also Jon's first complete game as a major leaguer.
It took Jon 130 pitches to finish off the Royals. One of the reasons Boston drafted him was because he projected as an innings-eater. Two seasons earlier, few in the organization would have believed that he could still be this kind of pitcher. He proved he could ... and so much more.
JON THE PITCHER
Jon made it to the majors on a combination of talent and deception. He delivers his pitches from a three-quarters arm slot. So like many tall lefties, he has a motion that makes his mid-90s fastball extremely hard to hit. He throws a four-seamer and cutter, as well as a slider, curve and changeup.
Jon has occasional bouts of wildness, which can get him in trouble. Fortunately, he can strike out hitters from the stretch, which often gets him out of trouble. Jon also has a great pickoff move, which helps him keep runners close at first.
Jon is mentally tough and also has a consistent between-starts routine. Former pitcher turned psychologist Bob Tewksbury helped him develop his discipline. This helps him survive deep into games if he has to. Jon has been compared to fellow lefties Mark Mulder and Mark Langston at similar stages in their careers.
EXTRA
# Jon was honored as a 2005 Eastern League All-Star at mid-season and again at season's end.
# Jon's first start for the Red Sox was delayed nearly five hours by rain.
# Jon combined with Jonathan Papelbon to shut out the Kansas City Royals in July of 2006. It marked the first time since 1990 that two Boston rookies combined for a shutout, and the first time since Ross Baumgarten and Randy Scarbery of the Chicago White Sox one-hit the California Angels in 1979 that rookies combined on a one-hitter.
# Jon was the first Boston rookie to start a one-hitter since Billy Rohr in 1967.
# Jon kept a diary for Baseball America in 2006.
# In 2006 and 2007, Jon had no-decisions in half of his 26 starts. His 11–2 record during that time was the best in team history through 26 starts.
# Jon made his first relief appearance for Boston on the final day of the 2007 season.
# Jon was the Boston pitcher the Minnesota Twins asked for when they shopped Johan Santana after the 2007 season.
# Jason Varitek caught Jon's 2008 no-hitter. It was the fourth of the catcher's career, which tied Varitek with Hall of Famer Ray Schalk.
# Jon was suspended five days for his part in a bench-clearing brawl with the Tampa Bay Rays in June of 2008.
# John was given the 2007 Tony Conigliaro Award by Boston sportswriters.
Read more
Latest headlines