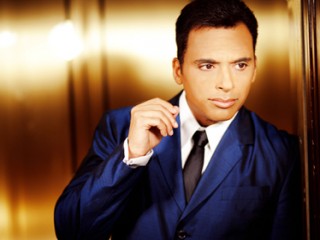 Jon Secada biography
Date of birth : 1962-10-04
Date of death : -
Birthplace : Havana, Cuba
Nationality : American
Category : Arts and Entertainment
Last modified : 2012-01-30
Credited as : Singer-songwriter, Actor, Grammy Award winner
Jon Secada (born Juan Francisco Secada Martínez) is a Cuban-American singer and songwriter. Secada was born in Havana, Cuba, and raised in Hialeah, Florida. He has won two Grammy Awards and sold 20 million albums since his English-language debut album in 1992. His music fuses funk, soul, pop and Latin percussion. Secada also has worked as a songwriter for Gloria Estefan, Jennifer Lopez, Ricky Martin, Mandy Moore and other performers.
"I guess you could call my music world pop," cross-cultural crooner Jon Secada told the New York Times in a 1994 interview on the eve of his second LP release, Heart, Soul and a Voice. The Afro-Cuban Secada has been dubbed a young Julio Iglesias by the press, and his self-titled first album, recorded in both English and Spanish, has sold more than six million copies. In 1993 the Spanish version, Otro Dia Mas Sin Verte, won a Grammy Award for best Latin pop album. Its English counterpart crowded the airwaves with Top 40 singles; "Just Another Day," "Do You Believe in Us," and "Angel" went gold and platinum in many countries including Venezuela, Germany, and South Africa.
Secada's largely female audience has embraced the smooth bilingual melodies that play off Secada's smoldering good looks, while record company executives swooned at his instant commercial success. As Jose Behar, president of Secada's label, EMI Latin, told Billboard, "In Miami you could have music buyers who would tune into Radio Ritmo (WRTO) and then to Power 96 (WPOW) and would have a hard time not hearing Jon Secada."
In the spring of 1993 Secada wowed teenagers at a Disneyland "Grad Night," singing Spanish and English versions of his hit "Angel." Grad Night is Disneyland's yearly promotional stunt allowing more than 100,000 graduating high school seniors to cavort all night in the park testing rides and listening to the music of hit pop stars. For Latino and Anglo fans alike, Secada's multiethnic swinging equaled twice the cool. "I feel like I'm a perfect example of the American Dream," Secada told Entertainment Weekly, happy about his endorsement from the Disney corporation and his newfound fame among the younger set.
Some critics find Secada too perfect, however, comparing him to inflatable pop icons like Vanilla Ice, a rap artist from the same label that turned out to be more show than substance. Even style-minded People magazine called Secada's first album "mindless pop." His label may have promoted his sex-symbol image, yet it was manager Emilio Estefan, husband of pop superstar Gloria Estefan, who hired a former fashion model as Secada's full-time image consultant. With her help, Secada honed his appearance; Calvin Klein and Versace silk shirts soon counterbalanced his wobbly cowboy boots and transparent dental braces.
"Yet to dismiss him as another hunk with a heart is unfair," declared Gary Garcia of the New York Times. Secada's second album showed much more of his Afro-Cuban roots, echoing rhythm and blues and his early influence, Earth Wind and Fire. What Garcia noted as unique throughout all the pomp and pop is Secada's consistent yet "unrestrained emotionality." Garcia summarized his review of Heart, Soul, and a Voice by emphasizing that "Secada can take a line like 'I promise to love you as if your heart were my own' and deliver it with unabashed conviction."
Secada was born in Cuba in 1962 to a Cuban mother named Victoria and a black father, Jose. When he was eight years old he moved to Miami with his parents who began operating a chain of coffee shops. Secada's parents were always very supportive of his music career. Consequently, Secada grew up immersed in Miami's melting pot of R&B, disco, rock, and Latin, and was influenced by such mainstream stars as Elton John, Billy Joel, and Stevie Wonder. "I might be Hispanic, but I'm also black," Secada told John Lannert of Billboard, "and my influences and my roots lie in many places, just because of the diversity of growing up in Miami."
Despite all the cultural distractions, Secada was "the kid who always got his homework done," according to an interview in Entertainment Weekly with high school friend and songwriting partner Miguel Morejon. Secada's good study habits continued all the way through college and graduate school where he earned bachelor's and master's degrees in voice and jazz theory. After graduating from the prestigious jazz program at the University of Miami, Secada taught music at a local community college and was then hired to sing backup for Gloria Estefan.
When they met Secada in the mid 1980s, the Estefans were very much involved with the musical group Miami Sound Machine and the glitz of the Miami scene, which was boosted by television shows like Miami Vice. Secada was introduced to Emilio Estefan through mutual friends, and the singer adopted him as his manager and mentor. James Hunter of the Village Voice wrote, "The Estefan's were pop, pop, pop, no more worried about bubblegum charges than, say, KC and the Sunshine Band had been banging out their funkier Florida prefabrications during the 70's."
Emilio Estefan hired Secada as a songwriter for his company, and together they produced albums for Pia Zadora, Luis Miguel, and Don Johnson. Secada's big break, however, came in 1990 when Gloria Estefan invited him to tour with her, giving him a solo spot in the show. A recording deal with SBK soon followed.
Jon Secada, produced by Emilio Estefan, was released in May of 1992. Hunter described the LP as "recorded and mixed with the high resolution of sound that 80's pop showed with the look of the priciest commercial photography." The hit singles "Otro Dia" and "Angel" were originally released on this English version and topped Billboard's Latin charts for months. Six months later, Secada released Otro Dia Mas Sin Verte, the Spanish counterpart that remained at the top of the pop album charts for an additional six months.
Secada never actually planned to release the debut album in Spanish and thought of it originally as a fun experiment. "Three singles No. 1 and the first three in Spanish? Never in my wildest dreams," Secada mused in Billboard in 1993. "I mean it was an accident, an experiment to do this stuff in Spanish."
Secada's instantaneous success caused some critics to cry wolf, calling him a sell-out to his hits-oriented label. Yet Greg Sandow of Entertainment Weekly maintained that Secada "just does his music," the first release recorded with old friends from Miami, including Morejon, and unglossed by any corporate production from SBK. The Village Voice's Hunter captured both Secada's multicultural mutability and his apple-pie profit when he said, "You can hear him as ... a [rock band] Sonic Youth disciple, or a member of a Bulgarian women's choir, if you like you can also hear him while you shop for laundry detergent and blue jeans."
Although Secada's manager/producer Estefan has told some sources that the singer can handle just about any style, in a Billboard article he described the first release as a "demo, a way to find out what really was his sound." Despite the record company's dismissal of rumors of creating a personality cult, facts point to massive promotion and image molding.
SBK's distributor EMI spent more than two years marketing the album overseas, encouraging Secada to tour Europe and Asia, and in March of 1993, they held a press junket during which the singer conducted more than 80 interviews with press agents from over 22 countries. In addition, after Secada won the Grammy Award for best Latin album, former Whilhemina model Ingrid Casares was hired to give him a complete makeover. Casares told the New York Times that she "was not so much changing Jon's image as creating an image, an image that goes beyond the Cuban-Latino market."
Musically and culturally, Secada succeeded in furthering his range beyond the Latin market with his second album, Heart, Soul and a Voice, released in 1994. The album has a noticeably more R&B flavor than his first album and draws on Secada's personal musical influences, Earth, Wind and Fire, resulting in a more textured sound. "I'm proud to say that I'm ... Afro-Cuban American. I wanted to make a statement with my Afro-Cuban side."
In contrast to his first two albums, Secada purposely recorded Heart, Soul and a Voice to sound different from its Spanish version, Ti Se Vas (which means "If You Go"). Stylistically, he added hip-hop rhythm to the English version and strains of soul that counter his signature pop melodies. Writing for the New York Times, Garcia commented that "new songs like "Whipped," which hints at racial and economic repression, and "Fat Chance," about a woman who plays hard to get have a noticeably urban edge." The single, "If You Go," became an instant hit, the singer's voice swelling with devotion when he bolts out the song's crescendo, "If you go, say goodbye, there'll be something missing in my life / 'Cause you know that all I really want is you."
For Secada, the move to an R&B sound was a conscious decision to explore the black side of his cultural background. "Integrate, integrate," Secada told the New York Times, "its a life philosophy." Yet despite his claims of diversification, Secada's second release was still heartily embraced by the Miami Latin community. Mauricio Zeilic, a Cuban-born reporter for Miami's Spanish-language TV network, commented in Entertainment Weekly, "He's one of us ... he's humble. He hasn't forgotten his roots." The singer explained in Entertainment Weekly, "My heart hasn't changed, but my life has changed. I didn't know what to expect when I sold all those records.... You touch people's lives. I had no idea how much."
In May of 1994 Secada was planning on touching even more people's lives through the world of music video. His image consultant, Ingrid Casares, hired fashion photographer Matthew Rolston to shoot the glossy MTV video for "If You Go." "The man has sold six million albums and nobody knows who he is," Casares was quoted as saying in the New York Times. "After this video and the new album, he'll be huge."
In that same interview, however, Secada responded: "I feel blessed and I don't take anything for granted. The minute you have an ego, that's the moment you start getting into trouble." In several sources, Secada maintains that the most exciting thing that has ever happened to him was to be asked to contribute a song to Frank Sinatra's "Duets II."
In the spring of 1994 Secada was busy moving out of his two-bedroom apartment in Miami beach and into a new ocean-front home. He had plans to explore the possibilities of making a jazz album or a Spanish release with a big band. "And if nothing else happens in my career," Secada announced in Entertainment Weekly, "well, I can always go back to teaching."
In 1995, Secada starred on Broadway's hit musical Grease, where he acted in the lead role of "Danny Zuko". Broadway called upon Secada once again in 2003, where he played the Emcee role in Sam Mendes' acclaimed version of Cabaret. In the fall of 2004, Secada also starred as "Joseph" in Andrew Lloyd Webber and Tim Rice's theatrical hit Joseph and the Amazing Technicolor Dreamcoat.
On Nov 30, 2007 Secada participated in the Walt Disney World Christmas Day Parade which was taped inside the Magic Kingdom at Disney World Orlando, Florida.On June 3, 2011, the heavily Cuban-American community of Union City, New Jersey honored Secada with a star on the Walk of Fame at Celia Cruz Plaza.
Albums:
-Jon Secada (1992)
-Otro Día Más Sin Verte (1992)
-Heart, Soul & a Voice (1994)
-Si Te Vas (1994)
-Amor (1995)
-Secada [English] (1997)
-Secada [Spanish] (1997)
-Better Part of Me (2000)
-The Gift (2001)
-Amanecer (2002)
-Same Dream (2005)
-A Christmas Fiesta [English] (2007)
-Una Fiesta Navidena [Spanish] (2007)
-Expressions (2009)
-Classics [English] (2010)
-Clasicos [Spanish] (2010)
Read more
Latest headlines