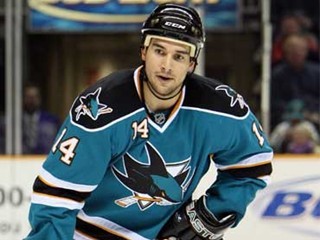 Jonathan Cheechoo biography
Date of birth : 1980-07-15
Date of death : -
Birthplace : Moose Factory, Ontario, Canada
Nationality : Canadian
Category : Sports
Last modified : 2010-07-29
Credited as : NHL Ice hockey player, San Jose Sharks,
Don't look now, but the Cheechoo train has pulled into the station. With soft hands and a hard nose for the net, San Jose Sharks winger Jonathan Cheechoo led the NHL back onto the ice in 2005-06 with one of history's most unexpected goal-scoring championships. A full-blooded member of the Cree Nation, Cheechoo has brought a whole new fan base to the league, and reminds people everywhere why they love hockey. This is his story…
GROWING UP
Jonathan Cheechoo
was born to Carol and Mervin Cheechoo on July 15, 1980 in Moose Factory in Ontario, Canada. The oldest of three kids, he had a sister, Kari, and a brother, Jordan.
Most everyone on Moose Factory—a remote 1,300-acre outpost located in the mouth of the Moose River, just south of the southern end of James Bay, roughly 550 miles north of Toronto—was related to Jonathan. Indeed, the Cheechoos are part of the Cree Nation, a tribe that has lived on the island for centuries. One out of ten residents share Jonathan's last name.
Jonathan played his youth hockey games in Moosonee, three miles across the water. The only way to make this trip in the summer is by boat. In winter, the locals use a snowmobile or light truck. In fall, when the ice is forming, and in spring, when it's breaking up, you don't get to Moose factory unless you own a helicopter. To travel to Moosonee from anywhere else you can find on a Canadian map requires a five-hour drive and a five-hour train ride.
In this isolated environment, Jonathan first started playing hockey at age three. His father would construct a small rink in the backyard, where he could practice his shooting and stickhandling. He took 500 shots a day—until the ice melted in the spring.
Another favorite activity was hunting. Jonathan and his dad would go after geese in the spring and moose in the fall. They also shot rabbits and partridge. It wasn't for the sport—it was for the meat. Fresh meat was expensive (and not all that fresh) in the store where the Cheechoos shopped.
Jonathan's father encouraged him to play up, promising his son if he worked harder than the older boys he would quickly surpass them. And sure enough, Jonathan did just that. Anyone who knew hockey could see that his combination of soft hands and tenacity around the net would take him far.
That was relative, of course. Jonathan actually hadn't been anywhere yet. He hadn't played in a true organized league, with coaching and travel. Still, like many young hockey stars in remote parts of Canada, Jonathan had to move away to improve.
The next level for Jonathan was Bantam. This would require him to play in Timmins, the nearest city to Moose Factory. Many Cree seek opportunities here; in fact, Jonathan's own parents had actually lived there as kids.
At 14, Jonathan was finally being tested against good teams and players. W year later, he joined a club in Kapuskasing, a mostly French-speaking community. The language barrier made being away from home seem even lonelier.
In 1996-97, Jonathan was old enough to play in B-level in the Midwestern Ontario Junior Hockey League. He suited up for the Kitchener Dutchmen and scored 35 goals in 43 games. Thanks to the tight quarters of his backyard rink, he had become an excellent grinder. He also displayed marvelous touch and a sharpshooter's eye.
ON THE RISE
After the season, eligible for the Ontario Hockey League draft, Jonathan was selected by Belleville Bulls. Mervin spoke to some knowledgeable hockey people who told him that the only thing that would hold his son back was his skating. Between the backyard rink and the limited competition he had faced as a child, Jonathan was not as evolved as he should have been.
Mervin appealed to Cree First Nations officials and to local businesses for funds to send Jonathan to hockey school that summer. They raised $10,000—more than enough for a crash course in Toronto. Jonathan returned a changed player, and began his junior hockey career in 1997-98. In 64 games, he registered 31 goals and 45 assists.
That spring, Jonathan was taken by the Sharks with the 29th overall pick. More than 100 friends and relatives made the trip to the Marine Midland Arena, and when his name was called they blew the roof off the place.
Not yet ready for the NHL, Jonathan returned to the Bulls and had another good year, scoring 35 times with 47 helpers. He was a monster in the playoffs, leading Belleville to the OHL finals. The Bulls were up 3-2 in the series but lost Game 6 when Jonathan was ejected for fighting. He returned in Game 7 to score five goals to give the team its first OHL championship.
In 1999-2000 Jonathan logged a third season with Belleville. He scored 45 goals and added 46 assists. In three years with the club, he netted 111 goals.
The Sharks moved Jonathan to their top minor-league affiliate in 2000-01, Kentucky of the American Hockey League. There he worked on his skating, which was still a bit of a jumble. The coaching staff streamlined his stride and eliminated some wasted energy, and it showed immediate results. Jonathan scored 32 goals and had 34 assists in 75 games.
That spring, the Cheechoos decided to move south to the mining city of Sudbury. Mervin found a better-paying job, while Carol could take classes at a local college and Jonathan's siblings could get a better education. To this day, they return to Moose Factory, along with Jonathan, each summer to reconnect with their friends and family.
Jonathan returned to the minors in 2001-02—this time with San Jose's new AHL affiliate, the Cleveland Barons. An ankle injury and concussion limited him to 53 games, but he still recorded 21 goals and 25 assists. After the season, Stephane Matteau left the Sharks, creating a vacancy at right wing.
Jonathan was now ready to contribute at the NHL level. He made the Sharks out of camp in 2002-03, though he played sparingly at first. Soon after his first NHL goal—a game-winner against the Nashville Predators—the team sent him back to Cleveland for a month for some fine tuning. He returned to finish with nine goals and seven assists in 66 NHL games.
All was not well in San Jose, however. The Sharks missed the playoffs for the first time in five years, and fired coach Darryl Sutter and GM Dean Lombardi after the season. They were replaced by coach Ron Wilson and GM Doug Wilson. Jonathan had no idea what to expect from his first NHL experience, but the turmoil at the team's top level caught him by surprise. He was relieved when the new coach quickly took charge, and gave him an off-season condition to trim some of his baby fat and further strengthen his skating.
Jonathan made the San Jose roster for good in 2003-04. He spent much of the year on a line with two of the team's oldest players, Mike Ricci and Scott Thornton, and learned a ton from the veterans. Jonathan was selected to play in the Young Stars game during All-Star Weekend, and performed masterfully against the NHL's other young guns. Three times, he gave Anaheim rookie Joffrey Lupul perfect setups, and collected four assists for his troubles, as he was also involved in a Raffi Torres goal. The Western Conference won easily, 7-3.
Jonathan ended the season with a very respectable 28 goals, including—significantly—nine game-winners. His most memorable lamp-lighter was actually a game-tying tally against the Stars in a late-season contest. Dallas held a 3-0 lead with six minutes left and the Sharks rallied for a miraculous comeback. He also scored the goal that made it 3-2 a minute earlier.
The nose for the net Jonathan had displayed as a junior was starting to manifest itself at the pro level. The Sharks finished the year second in the Western Conference with 43 victories and 104 points—up from 14th place the year before. They beat the Phoenix Cyotesin the first round, then opened a 3-2 lead on the Colorado Avalanche. Jonathan authored the team's prettiest goal of the season, threading the puck between his legs and into the net past a shocked Tommy Salo. The Avs crawled back into the series, including a 2-1 OT victory in Game 6. In the decider, Colorado scored first and held on fora 1-0 win, sending Jonathan and his teammates home in disappointing fashion.
After a year without hockey, the Sharks set their sights on maintaining their winning form. Jonathan started the 2005-06 campaign slowly, but that changed with a stunning trade on November 30th when San Jose aquired Joe Thornton.
MAKING HIS MARK
Jonathan was paired with Thonrton, and the two clicked immediately. Suddenly both players became scoring machines. In a March 25th game against the Minnesota Wild, Jonathan scored the first and last goals in a 5-1 victory. They were his 44th and 45th of the season, giving him the San Jose franchise record. In an April game against the Coyotes, he scored twice, 44 seconds apart, to reach and then surpass 50 goals. Jonathan finished the season with 56—edging Jaromir Jagr for the NHL lead—and added 37 assists.
Jonathan may still play in relative obscurity, but hockey fans got to know him from his late-night highlights in '05-06. Even in his three-second goal-scoring clips on ESPN and other highlight shows, there is no mistaking the sheer joy he experiences from putting the puck in the net. After every goal Jonathan scores, he smiles like it was the first of his career. It is a much-needed reminder of what hockey means to fans nationwide. Hopefully, Jonathan Cheechoo will never lose that.
JONATHAN THE PLAYER
It's uncanny. Jonathan is always around the puck. This has been true since his youth hockey days. Jonathan instinctively skates toward areas that produce the best scoring opportunities. These patches of ice are manned by some of the NHL's most dangerous players, but with grit and brains—plus the tightened interference rules in 2005-06— Jonathan is able to find plenty of room to operate.
Jonathan has the knack of raising his game and sharpening his senses when his team needs a goal the most. His flare for netting game-tying and game-winning goals is remarkable for a young player. He is absolutely fearless and seems impervious to pressure. Once thought of us a valuable role player, Jonathan has emerged as a star the Sharks can build around.
Read more
Latest headlines