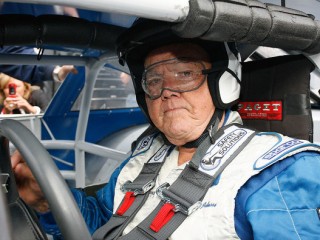 Junior Johnson biography
Date of birth : 1931-06-28
Date of death : -
Birthplace : Ingle Hollow, North Carolina, U.S.
Nationality : American
Category : Sports
Last modified : 2010-07-27
Credited as : NASCAR driver and racer, Daytona auto racer, Daytona 500 winner
Richard Petty
is The King.
Dale Earnhardt
is The Intimidator. What does that leave for
Junior Johnson
, the Paul Bunyan of his sport? Tom Wolfe once called him the
"Last American Hero"
. And that was before Junior remade racing as a team owner and entrepreneur. In a sport that has evolved faster than a restart at Daytona, he bridged the gap between NASCAR's Stone Age and its Modern Era. Some say he was that bridge. Junior is certainly a unique figure in auto racing.
Watching Junior run a race was like no other experience in sports. While other drivers were content to finish in the Top 10, gobble up championship points, and collect victories when things broke their way, Junior liked to race from the front of the pack. And if he didn't win a race, well, he felt like a loser. The result was 50 victories and more crashes, blown engines—and good times—than anyone can (or cares to) remember.
Robert Glenn Johnson, Jr.
was born June 28, 1931 in Ingle Hollow, North Carolina. Known as
Junior
, he was the son of Lara Belle Money and Robert Glenn Johnson, Sr. The family lived in Wilkes County, in the western part of the state.
The Johnsons were a farming family, and Junior spent a lot of his time sweating behind a plow. Even after the Great Depression passed, money was often hard to come by. Running a still operation was a way to make ends meet in Wilkes County—which some called the "Moonshine Capital of the World." Junior, meanwhile, was fascinated by automobiles and had a natural talent for handling them at high speed, so running that moonshine—and outrunning local law enforcement—was a natural vocation for him beginning in his teen years.
Among the moves Junior is credited with inventing is the "Bootleg Turn," where a driver slams on his brakes, twirls his car 180 degrees and blasts off past his stunned pursuers in the opposite direction. When Junior encountered nighttime police roadblocks, he employed flashing lights and sirens that tricked officers into letting him pass. By his 20th birthday, Junior was a legend among moonshiners.
In the mid-1950s, NASCAR had gained enough traction in the South to offer gifted wheelmen like Junior an appealing option to playing cat-and-mouse with the law. At the urging of his older brother, Fred, Junior ran in a handful of local events in 1953 and 1954. The following year, he entered 36 Grand National events. Junior found that the high-banked dirt tracks of the circuit played to the driving talents he had developed in the mountains and foothills. On May 7, 1955, at Hickory Speedway, Junior drove an Oldsmobile to his first top-tier NASCAR victory.
Junior would maintain his grip on dirt-track competition for a solid decade, even as NASCAR moved toward paved venues and superspeedways. His ability to work the grooves in the tight turns was something to behold. Of his first 16 wins, 15 came on the loose stuff.
The sport that Junior joined was a far cry from the sophistication of today's Sprint Cup. However, there were hints of things to come. In 1955, Carl Kiekhaefer, a wealthy and demanding outboard motor dealer, assembled what was essentially the first NASCAR "team." Kiekhaefer's white jumpsuited stable of drivers included Tim Flock, who notched 18 wins that year. The '55 season also saw the opening of Darlington Raceway, which would become one of auto racing's iconic venues.
The 1955 Grand National points race boiled down to a battle between Flock and racing patriarch Lee Petty, with Buck Baker also in the mix. Flock and Baker ultimately outpointed Petty, who finished with six victories nonetheless. Just behind Petty's half-dozen wins were two drivers tied with five— Jim Paschal and Junior.
Junior wound up sixth in the final standings, finishing half of his starts in the Top 10. NASCAR's Rookie of the Year Award was still two seasons away, but had it existed in 1955, Junior would have been a no-brainer pick.
Great things were expected of Junior in 1956. Perhaps he was pressing during the big race in Daytona, the precursor to the Daytona 500. The famous four-mile course was partially paved and partially run on the sand. Junior wowed the crowd by roaring into the turns, taking his #55 Pontiac right to the edge, spinning out on two occasions before recovering. Finally, he lost control and had no choice but to grab the wheel and hang on as the car tumbled in the North Turn. He squeezed out the window of his smoking vehicle, which came to rest on its side.
A bad start to 1956 only got worse. Junior finished back in the pack week after week, logging just one Top 5 finish. Prior to entering his 14th event of the season, Junior was nabbed by federal agents carrying wood to his father's still in Ronda, North Carolina. Well known locally, the small moonshine operation was hardly a major business, leading some to believe the timing of the raid was payback for Junior having outwitted the law for all those years. When the gavel came down, Junior was staring at a two-year sentence in the federal prison in Chillicothe, Ohio.
Fortunately, Junior was released from Chillicothe in 1958 after serving less than 12 months of his sentence. Three decades later, president Ronald Reagan would issue a full pardon. Junior, of course, was hardly the only NASCAR wheelman who had heard a jail cell clank shut from the wrong side.
By the time Junior was ready to race again, more than half the Grand National season was left. Junior made the most of it with six victories—just one less than champion Lee Petty achieved in nearly twice the starts. Junior's first win came in May at a "homecoming" at the Wilkes County 160. Many friends and family members had tears in their eyes as they watched Junior edge Jack Smith by six seconds. The track was just a few miles from the spot where agents had slapped handcuffs on Junior two years earlier.
Junior eventually racked up enough points to finish eighth in the 1958 standings. He also won the final race of the season at Lakewood Speedway in Atlanta. He barely edged Fireball Roberts to take the checkered flag.
The buzz heading into the 1959 season surrounded the new superspeedway and 500-mile race at Daytona. The high-banked track would enable cars to max out their speedometers. There were already tracks that separated the men from the boys, but as one driver put it, Daytona International Speedway was the track that would "separate the brave from the weak after the boys are gone." Junior finished the race in 14th place.
In March, Junior took his first checkered flag of the season at a 100-mile race in Wilson, North Carolina. The event was run in a cloud of smoke from the smoldering grandstand, which had caught fire an hour before start time. No fans were injured, and few left. They simply stood along the side of the track, proving that NASCAR crowds in the 1950s were as fearless as the drivers.
At the Hickory Speedway in May, Junior provided some pre-race thrills when he rolled his Ford during a practice run. He and his crew patched up his car and got it running again in time to make the start. He drove to victory, a whopping two laps ahead of runner-up Joe Weatherly. In all, Junior won five races in 1959 and finished among the Top 5 in half of his 28 starts. That was good for 11th place in the points standing.
When the 1960 Daytona 500 started, no fewer than 68 cars roared into action, creating the world's most harrowing, high-speed traffic jam. Needless to say, this was Junior's time to shine. Yet when Speedweek had begun, the steely-nerved driver was nowhere to be found. He had not planned on entering a car. In fact, Junior only agreed to compete after a local dog track owner paid mechanic Ray Fox to throw together a 1959 Chevy a week before the race. Junior was not impressed with his ride—the 1960 Pontiacs had been outperforming the 1960 Chevrolets, and his Chevy was a year old.
Junior changed his mind after making an amazing discovery in practice. At the high speeds achieved on the new Daytona track, he could keep up with the more powerful Pontiacs by tucking into the wake of air they left behind. Junior tested this theory in one of the qualifying races, finishing fifth. He had stumbled upon the strategy of drafting—something that would have been unimaginable to drivers just a year or two earlier. He wisely kept this secret to himself.
Junior qualified ninth for Daytona and tucked in behind the Pontiacs in the early stages of the race. When they pitted, he pitted. Fireball Roberts, the favorite when the day began, bowed out after 51 laps with a bad engine. He was among the lucky drivers—no fewer than 21 crashed or exploded on the day. The 1959 Daytona 500 had been clean, with nary a single caution. Not the 1960 race; so many teams would leave Daytona without usable cars that the next two Grand National races had to be cancelled!
Junior, meanwhile, stayed with the remaining Pontiacs, experimenting with drafting and passing. He actually led the race for 45 laps in the middle stages. He nearly ended up in Lake Lloyd on lap 126 when he had to swerve down off the backstretch to avoid Tommy Herbert, whose car disintegrated when it hit a gate opening. On lap 135, the Pettys took over—first young Richard and then his dad. With 30 laps to go, Bobby Johns, steering a Pontiac set up by Smokey Yunick, blew past Lee Petty and into the lead, with Junior drafting behind him.
Junior was fast enough to stay with Johns, but not to pass him. He would need a little luck, and Mother Nature supplied it. On lap 191, a crosswind gust caught Johns's car and popped out the rear window, sending him spinning into the infield. He rejoined the race but never came within 20 seconds of Junior, who streaked across the finish line. To this day, Junior still can't believe he won.
The victory changed the way many NASCAR fans viewed Junior. They had considered him a dirt-track artist who lacked the talent to win the big races, a dinosaur in the emerging modern era of stock car racing. Now they had to rethink that position.
Junior won two more major Grand National events in 1960—at Charlotte and Darlington—and finished seventh overall in the point standings. Not surprisingly, he decided to stick with Fox, who knew his way around a Chevy, perhaps better than anyone in NASCAR.
Junior's elevated status didn't help him much in August of 1961, at the Western North Carolina 500. He was leading the field after 258 laps when the race was called off because of poor surface conditions. The fans were irate. They refused to leave the track—and refused to allow the drivers to leave. Indeed, they held the cream of the NASCAR crop "hostage" for more than four hours. Pop Eargle, a super-sized member of Bud Moore's pit crew, finally brought the mob to its senses by clocking one of its leaders with a two-by-four. Junior was credited with a win, one of seven that he scored that season. He finished sixth in the standings.
Junior competed in just 23 races in 1962, winning once and having a second victory taken away at Southern 500. Several hours after taking the checkered flag, he was informed that Larry Frank had actually finished in front of him. NASCAR officials realized that they had miscounted laps.
Junior bounced back in 1963, winning seven races, including the National 400 and International 200. He might have added the World 600 to this list were it not for a fan who hurled a soda pop bottle through his windshield. At the time, Junior was leading the field by two laps. His most rewarding victory in '63 came in March in Hillsboro, when Jayne Mansfield presented him with the winner's trophy.
Junior's #3 Chevrolet was the fastest car on the circuit in 1963, but he piled up 21 DNFs in 33 starts. After the season, Junior huddled with Fox, and the two decided to start driving Dodges. Not all of the blame belonged to Chevrolet, however. By this time, Junior was well known as NASCAR's "go or blow" king. He pushed his car to the limit in every race. In this regard, over the course of his career, Junior posted two eye-opening statistics. He finished in the top three 91 times in 313 races, but also failed to finish 165 times. Unlike most NASCAR drivers, if Junior didn't win a race, he felt like he had lost it.
The switch to Dodge appeared to pay immediate dividends, as Junior won one of the 100-mile qualifiers at Daytona in February of 1964. He competed in 29 Grand National events that season, notching three victories and finishing among the leaders a dozen times. His other two wins came on quarter-mile tracks, proving again he could win the small ones as well as the big ones.
The NASCAR schedule bloated to more than 60 races in 1964, with Richard Petty, Ned Jarrett and David Pearson competing in virtually all of them. They took the 1–2–3 spots in the standings, while Junior came in 14th.
Unfortunately, Junior's 1964 season was tinged with sadness, as was the entire racing world's. During the World 600, Junior and Ned Jarrett got into a wreck. Fireball Roberts, trying to avoid them, spun out and hit a gate opening. His car flipped and the gas tank tore open. Roberts was hanging upside down, his car engulfed in flames. Jarrett was able to cut him loose and drag him out, but Roberts died of his burns. The following season fuel cells would replace traditional gas tanks, but it was too late for Roberts, one of NASCAR's most beloved stars.
The 1965 campaign began with controversy, as NASCAR outlawed Chrysler's Hemi engine. The manufacturer responded by pulling out of stock car racing in protest. This, in turn, opened the door for Ford. Junior won one of the Daytona qualifiers in a Holly Farms Ford, which turned out to be the first of an amazing 42 straight Grand National victories for the car company.
Junior enjoyed arguably his finest year in 1965. He would lead a total of 30 of the 36 races he entered, winning 13 of them. Some basic stats tell the story of Junior's dominance in '65. He completed 7,144 laps and was in the lead for 56 percent of them. The only thing that kept him from obliterating a bushelful of NASCAR records were 19 DNFs. The most memorable came early in the year, when Junior opened a huge lead early in the Daytona 500 before he crashed.
Late in the season, at his hometown track, Junior won the Wilkes 400. It was his 50th career victory—and, as it turned out, his last. Of those wins, 39 had come on short tracks or dirt tracks. Eleven were on major speedways. By this point, Junior was actually thinking about retiring as a driver and becoming an owner.
Junior was still fascinated by the role played by aerodynamics and, being an inveterate tinkerer, he actually designed a car in 1965 with a sloped front, raised back, and lower roof and windshield profile. It broke a bunch of NASCAR rules, but it was allowed to race at the Dixie 400 in Atlanta, with Fred Lorenzen behind the wheel. The yellow Holly Farms Ford was actually leading the race after 139 laps when Lorenzen crashed. Fellow drivers derided the car as "Junior's Joke."
The biggest development in Junior's unforgettable season proved to be an article in the March issue of Esquire by Tom Wolfe, entitled "Great Balls of Fire" and later retitled "The Last American Hero." The story brought the grit and color of NASCAR to an entirely new audience and made Junior something of a household name. In 1973, Jeff Bridges starred as Junior in the movie The Last American Hero. Junior served as a technical advisor on the film.
In 1966, Junior hung up the goggles after competing in seven events and established his own racing team. Fans were surprised. Coming off a great season, he had already won three poles, so the decision was hardly performance-related. Also, Junior set out on this new course in the face of accepted stock-car wisdom—that great drivers did not make great owners.
TJunior, however, was about to change the game. What he brought to his new vocation was an intimate knowledge of every inch of an automobile, not just from a driver's standpoint, but from a mechanic's, too.
In the cat-and-mouse game between team owners and NASCAR inspectors, this would prove decisive. Although Junior's cars were occasionally flagged for oversized engines and gas tanks, usually he found ways to stretch the rulebook just beyond the limit without getting caught. When drivers slipped behind the wheel of a Junior Johnson car, they knew immediately they stood a good chance of taking the checkered flag.
Junior was also crafty when it came to picking his drivers. He built his cars to run in front, just as he always had. Needless to say, he looked for men who knew what it meant to push an automobile to its limits without fear of the consequences. The driver who best suited this profile—and most reminded Junior of himself—was LeeRoy Yarbrough, of whom it was said you couldn't fit all of his courage in a dump truck. In 1969, Yarbrough drove Junior's car to victory in the Daytona 500, World 600 and Southern 500—achieving NASCAR's first Triple Crown.
Junior found that drivers in their early 30s were best suited to represent his team, and the numbers bear him out. Besides LeeRoy, Junior's wheelmen in his three decades as an owner included Cale Yarborough, Darrell Waltrip, Terry Labonte, and Bill Elliott. Johnson drivers won 119 races.
In the 10 seasons covering 1976 to 1985, Junior's cars won six driving championships, with Yarborough and Waltrip winning three apiece. From 1976 to 1978, his organization pulled off an unprecedented three straight owner-driver championships. From 1971 to 1974, Junior also managed a Chevrolet team owned by Richard Howard, adding 21 more victories to his NASCAR résumé.
Not surprisingly, Junior's greatest success as an owner came on the short tracks, particularly Bristol, where he won one of his last races in 1965. It was said that negotiating the tight turns and 36-degree banking at the half-mile track was like flying fighter jets in a high school gymnasium. Well, the Johnson team felt right at home in these surroundings. Between 1971 and 1984, they won 19 of the 26 races at Bristol. Waltrip won seven in a row during one stretch, tying him for the longest one-track streak in history.
INASCAR fans may argue endlessly what Junior's greatest contribution to stock car racing has been. What they can all agree on is that he boosted the sport into its modern era on a visit to Winston-Salem in December 1970. Junior was looking for a team sponsor and knew that R.J. Reynolds had spare marketing dollars for 1971. The government had banned cigarette advertising on television, and Junior thought if Winston backed his cars, it would put the company's brand in front of millions of NASCAR fans, many of whom were big smokers. He did such a good sell job that, by the end of the meeting, Reynolds was ready to call Bill France to talk about sponsoring the entire Grand National division. The Winston Cup was born, ushering in a new era of prosperity for NASCAR.
In the mid 1990s, Junior's four-decade string of success finally ran out. Suddenly, the victories were few and far between. He sold his team to Bret Bodine and retired to his farm in Hamptonville at the age of 65. A couple of years later, Sports Illustrated named him the greatest driver of NASCAR's first half-century.
In 2009, Junior was announced as one of five inaugural inductees into the NASCAR Hall of Fame, along with Petty and Earnhardt, and Bill France Jr. and Sr. Each in his own way laid an important part of NASCAR's rock-solid foundation, but only Junior could claim he did so as a driver, owner and business visionary.
Read more
Latest headlines