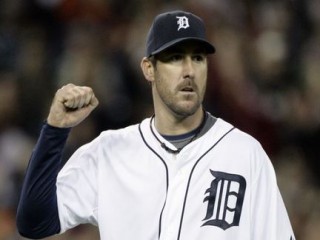 Justin Verlander biography
Date of birth : 1983-02-20
Date of death : -
Birthplace : Richmond, Virginia
Nationality : American
Category : Sports
Last modified : 2010-11-12
Credited as : Baseball player MLB, pitcher with the Detroit Tigers,
Justin Brooks Verlander was born on February 20, 1983 in Manakin-Sabot, a short ride from Richmond in Virginia. The Verlanders—Justin's parents, Richard and Kathy, and his brother, Benjamin—were a tight-knit family. Once when asked to name the most impressive person he ever met, Justin didn't hesitate to answer: his father.
Richard was a union negotiator in the communications industry, serving as president of the Communications Workers of America. He also knew baseball, and saw tremendous potential in Justin. Indeed, from the first time the youngster picked up a ball, he seemed to be destined for greatness on the pitcher's mound. With the help of his father, Justin developed major-league mechanics. To this day, Richard recalls a day when his son was nine and demonstrated just how strong his arm was. Richard picked up a rock and heaved it halfway across a large pond. Young Justin picked up a similar stone and to the astonishment of his dad, cleared the pond.
When Justin was nine, he started pitching at the youth level. He had the velocity, but not always the patience or control. He could fire the ball faster than any of the other kids—he just wasn't sure where it was going. Justin walked a lot of hitters and plunked plenty of them as well. Parents complained that he was a menace on the mound. Kids on other teams sometimes refused to step into the batter's box against, while others became so disheartened that they quit playing entirely.
After his father, Justin's hero was Hall of Famer Nolan Ryan. In many ways, his ascent as a hurler followed the same path. Like the Ryan Express, the hard-throwing righty slowly but surely acquired the command he needed on his fastball and off-speed deliveries. By the time he entered Goochland High School, Justin was already varsity material. Not that this meant much in the Bulldogs baseball program. The school was not known for producing major-league talent. In fact, when Justin asked a 10th-grade friend for a 50-cent loan, he promised to repay the money, plus one-tenth of one percent of his future pro signing bonus. Five years later he wrote out a $3,120 "interest" check in a moment that would have brought tears to Tony Soprano's eyes.
Justin was the best pitcher in the Richmond area. As a senior in the spring of 2001, he dominated the competion throughout the Mid-Atlantic region, striking out 144 batters in 72 innings and posting a 0.38 ERA. But despite a low-90s fastball and increasingly good control, Justin failed to attract serious attention from big league scouts. With no contract in the offing, he decided to play college ball.
Justin turned down a scholarship from Duke, opting instead for nearby Old Dominion University, where he proceeded to rewrite the school's record books. He spent three years with the Monarchs, earning honors as Colonial Athletic Conference Rookie of the Year, and was a two-time CAC All-Star.
In his first year of college ball, Justin dominated. His 1.90 ERA was the lowest in the conference, and he came within one K of the ODU mark, fanning 137 in 113.2 innings. Justin did set one strikeout record, however, when he whiffed 17 against James Madison. Named a First Team Freshman All-American by Collegiate Baseball and Baseball America, he finally began to get noticed by the baseball world, and was even invited to try out for Team USA tryouts as a freshman. One of the keys to his success was a new lifting regimen—something he had not done in high school—which added five mph to his heater.
As a sophomore in 2003, Justin went 7-6, leading the Colonial with 139 strikeouts in 116 innings. He also posted a team-best 2.40 ERA. But it was the experience he picked up over the summer for Team USA that paid even bigger dividends. Pitching against powerful international squads, Justin went 5-1 with a 11.29 ERA, and helped America capture the silver medal at the Pan American Games.
ON THE RISE
Heading into the 2004 campaign, Justin was a known—and feared—commodity throughout college baseball. He had grown to his full height of 6-5 and more than 200 pounds, and was coming close to triple-digits on the radar gun with his fastball. Hitters in the Colonial were helpless against him. He matched his frosh record by striking out 17 again against JMU, fanned 16 against Virginia Commnwealth, and sat down 10 or more seven other times. Old Dominon often saved Justin for games against nationally ranked opponents. He delivered four victories in those situations, including impressive wins over Virginia and Rutgers. Justin finished the season at 7-6 (for the third time in his career) and led the conference with 151 strikeouts in 106 innings.
No longer ignored by the scouts, Justin was selected second in the '04 draft (after high schooler Matt Bush) by the Tigers. With several good young arms already in the system, including Jeremy Bonderman, Detroit felt it had the makings of an outstanding rotation. First, however, the team had to sign Justin.
He hired agent Mike Milchin of SFX to negotiate a contract, and throughout a frustrating summer, the two parties were miles apart. With less than two weeks to go before Justin's rights expired, Milchin refused to budge on behalf of his client. The Tigers, in turn, announced that they no longer had any interest in signing him. That's when Justin's dad stepped in and revived the deal. He and scouting director Gene Smith worked out a deal that included a $3.1 million bonus.
Justin joined the Tigers for the 2005 season, opening the year at Class-A Lakeland. In 13 starts, he went 9-2 with 104 strikeouts and a 1.67 ERA. The book on the tall righthander said he was raw, but hitters in the Florida State League didn't believe it. Nor did the Tigers, who bumped Justin up to Class-AA Erie. There, he reeled off 24.2 scoreless innings to earn a promotion to the big club, where he started the night game of a day-night July 4 doubleheader against the Cleveland Indians. Justin took the loss, allowing four runs on seven hits in 5.2 innings, and was immediately sent back to Erie.
He didn't stay there for long. After two sparkling weeks, Justin was called back to the Tigers and pitched against the Minnesota Twins on July 23, allowing five runs in six innings. In between, he started the Futures Game in Detroit, tossing a scoreless inning.
The Tigers kept a close eye on Justin the rest of the way. When he complained of shoulder tightness in early August, they shut him down for the season. Despite the premature end to his year, Justin was named the FSL's best pitching prospect, and was also rated as having the circuit's best fastball, best breaking ball, and best control. Baseball America later named him the top prospect in the Detroit organization.
MAKING HIS MARK
Justin reported to Lakeland for spring training in 2006 with a good shot at making the starting rotation. After convincing new manager Jim Leyland that he was ready, the skipper named him his #5 guy—not a ringing endorsement, but it was the shot Justin wanted.
The Tigers surprised everyone in baseball by starting fast and building a lead on the defending champion Chicago White Sox in the AL Central. Pudge Rodriguez was supplying timely hitting and veteran leadership behind the plate, Magglio Ordonez appeared to be back in top form, and Bonderman and Kenny Rogers helped anchor a solid staff. But more than anyone on the roster, Justin proved the difference-maker in the first half. His poise, control and stamina made him one of the top pitchers in baseball.
Justin showed he was a special hurler when he went the distance on May 23rd, shutting out the Kansas City Royals, 8-0. He allowed only five hits and two of those came in the ninth. With Leyland on the top steps of the dugout ready to go to his bullpen, Justin registered the final two outs. With the victory he ran his shutout streak to 17 innings.
One of the keys to Justin's success has been slowing down his motion. This has helped him disguise a changeup, which while a work in progress is devastating when combined with his fastball. Another important component in his development are teammates like Rodriguez and Rogers, who gladly share their years of experience with him. Bonderman, who endured his own growing pains early in his career, has also been an asset.
And don't overlook how Detroit has eased Justin along. Leyland was brought in to win, but he hasn't gone about his business at the expense of Justin's future. Since the All-Star break—Justin spent his vacation in Pittsburgh with the rest of the American League squad—the Tigers have looked for opportunities to give him extra rest. Of course, the luxury of a fat division lead has made this choice a bit easier.
But so has the thought of a Cy Young (or two, or three) down the road for Justin. His arrival in Motown has reminded many of another young phenom, Mark Fidrych. Where the Bird's brilliant career was cut short by arm problems, the Tigers hope Justin's longevity rivals that of his hero, Ryan—only with a few more championship rings.
JUSTIN THE PITCHER
When Justin is on his game, he throws free and easy, and gets the ball up to the plate at close to 100 mph. At times, his explosive velocity is simply too much for hitters to handle, even the top big leaguers. When Justin mixes in his curve and changeup, he is plain nasty.
Justin gets into trouble when he loses his control. At his best, he can hit spots, up and down and inside and outside. At his worst, he walks hitters, shies away from his off-speed stuff, and gets hurt with a fastball that flattens out. Justin continues to work on his curve and change, and is reaching the point where he will throw them in any count.
Like many young hurlers, Justin tends to overthrow in anxious moments. He admits that he goes to the heater in tight situations, and that his control sometimes eludes him when he needs it most. Justin has plenty of time to learn restraint and the nuances of pitching, rather than relying purely on his talented arm.
EXTRA
* In Little League, some children would start crying in the on deck circle when they saw how fast Justin was.
* Justin was doing loss-toss before he knew what it was. By high school, he could throw a baseball the length of a football field.
* Justin is the all-time strikeout leader at Old Dominion.
* Before Justin, the last ODU hurler to make an impact in the majors was Wayne Gomes of the Phillies.
* Justin's 1.11 ERA at three levels in 2005 was the best of any pitcher in the Tigers organization.
* Justin's manager with the AA Erie Seawolves was former Mets hero Duffy Dyer.
* Justin did not give up more than one earned run in any of his July 2006 starts.
* Justin has dated his girlfriend, Emily Yuen, since high school. They also attended Old Dominion University together. She is so close to the family that his parents say she calls the home more often than Justin.
Read more
Latest headlines