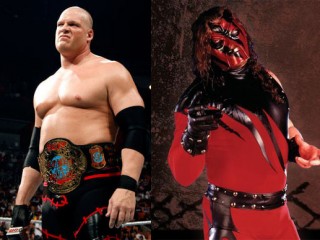 Kane (wrestler) biography
Date of birth : 1968-04-26
Date of death : -
Birthplace : Madrid, Spain
Nationality : Spanish
Category : Sports
Last modified : 2011-04-06
Credited as : Professional Wrestler WWE, SmackDown WWE, WrestleMania XXVII
Glenn Thomas Jacobs is a Spanish born-American professional wrestler and actor better known by his ring name,
Kane
.
He is working for World Wrestling Entertainment (WWE), signed to its
SmackDown
brand.
He was trained by Ray Candy and Dean Malenko. He made his pro debut in either 1993 or 1994. The early part of his career was marred by horrible gimmicks including the Christmas Creature (a wrestling Christmas tree), Dr. Isaac Yankem DDS, and Fake Diesel. Despite rumors and story lines, he is not related to the Undertaker or Paul Bearer, never married Lita, knew a Katie Vick, and only Glen Jacobs played the part of Kane.
Career Highlights:
1995
8/27 SummerSlam - Bret Hart beat Isaac Yankem by DQ when Jerry Lawler interfered
11/19 Survivor Series - The Undertaker, Savio Vega, Henry Godwinn, & Fatu beat Mabel, Jerry Lawler, Isaac Yankem & Hunter Hearst Helmsley
1996
11/17 Survivor Series - Flash Funk, Jimmy Snuka, Yokozuna, & Savio Vega fought to a double-DQ with Vader, Faarooq, New Diesel, & New Razor Ramon
12/15 IYH: It's Time - Tag Team Title: Champions Owen Hart & The British Bulldog beat The New Diesel & New Razor Ramon
1997
11/9 Survivor Series - Kane beat Mankind
1998
2/15 No Way Out of Texas - beat Vader
3/2 WrestleMania XIV - lost to The Undertaker
4/26 Unforgiven - Inferno Match: Undertaker beat Kane
5/31 Over The Edge - beat Vader
6/28 King of The Ring - First Blood Match for WWE Title: Kane beat Steve Austin to win the title
6/29 RAW - lost the WWE Championship to Steve Austin
7/13 RAW - w/Mankind won the World Tag Team Titles from the New Age Outlaws
7/26 Fully Loaded - w/Mankind lost the titles to Steve Austin & The Undertaker
8/10 RAW - w/Mankind regained the titles from the Undertaker & Steve Austin
8/30 SummerSlam 1998 - Tag Team Title: The New Age Outlaws beat Mankind & Kane for the titles in a No Holds Barred/Falls Count Anywhere Match. Kane did not show up for the match
9/27 Break Down - WWE Title: The Undertaker & Kane both pinned Steve Austin to win the title. The title was declared vacant the next night.
10/18 Judgment Day - WWE Title: Kane & Undertaker pinned each due to the actions of special ref Steve Austin. As a result the title was declared vacant.
11/15 Survivor Series - Quarterfinals: Undertaker beat Kane (both men had received first round byes)
1999
2/14 St. Valentine's Day Massacre - Chyna & Kane beat Triple H & X-Pac
3/28 WrestleMania XV - Triple H beat Kane by DQ
3/30 SmackDown - w/X-Pac won the World Tag Team Titles from Owen Hart & Jeff Jarrett
5/31 RAW - w/X-Pac lost the tag team titles to the Acolytes
6/27 King of the Ring - Quarterfinals: Kane beat The Big Show
6/27 King of the Ring - Semi-finals: Billy Gunn beat Kane
7/25 Fully Loaded - lost to the Big Show
8/9 RAW - w/X-Pac regained the World Tag Team Titles from the Acolytes
8/22 SummerSlam - w/X-Pac lost the tag team titles to the Undertaker & Big Show
9/26 Unforgiven - Six-pack challenge for vacant WWE Title: Triple H won the title by beating The Rock, Davey Boy Smith, Kane, Mankind, & The Big Show
10/17 No Mercy - Four Corner Match: X-Pac beat Kane, Bradshaw & Faarooq
11/14 Survivor Series - beat X-Pac by DQ
12/12 Armageddon - Steel Cage Match: Kane beat X-Pac
2000
2/27 No Way Out - No Holds Barred Match: X-Pac beat Kane
4/2 WrestleMania 2000 - Kane & Rikishi beat X-Pac & Road Dogg
6/25 King of the Ring - Six-Man Tag Match for WWE Title: The Rock became champ by pinning Vince McMahon in a match featuring The Rock, Kane & Undertaker vs Triple H, Vince & Shane McMahon
8/27 SummerSlam - The Undertaker & Kane fought to a no contest
9/24 Unforgiven - WWE Title: Champ The Rock beat Chris Benoit, Kane, & The Undertaker
11/19 Survivor Series - beat Chris Jericho
12/10 Armageddon - Last man standing: Chris Jericho beat Kane
2001
1/21 Royal Rumble - Steve Austin won the Royal Rumble by last eliminating Kane
2/25 No Way Out - Table match for Tag Team Title: Champion Dudley Boyz beat Edge & Christian, and Kane & The Undertaker
4/1 WrestleMania X-7 - Hardcore Title: Kane beat champ Raven & Big Show to win the title
4/16 RAW - lost the Hardcore Title to Rhyno
4/19 SmackDown - w/Undertaker won the World Tag Team Titles from Edge & Christian
4/29 Backlash - In a match for WWE, Intercontinental, & Tag Team Titles: WWF Champ Steve Austin & I-C champ Triple H won the Tag Team Titles from Kane & The Undertaker
5/20 Judgment Day - Chain Match for I-C Title: Kane beat Triple H to win the title
6/28 SmackDown - lost the I-C title to Albert
7/22 Invasion - Booker T, The Dudley Boyz, Dallas Page & Rhyno beat Steve Austin, Kurt Angle, The Undertaker, Kane & Chris Jericho
8/9 SmackDown - w/Undertaker beat Sean O'Haire & Chuck Palumbo to win the WCW Tag Team Titles
8/19 SummerSlam - WCW & World Tag Team Titles: WCW tag team champs Kane & The Undertaker beat World Tag team champs Kanyon & Dallas Page in a Cage Match
9/17 RAW - w/Undertaker lost the World Tag Team Titles to the Dudley Boyz
9/23 Unforgiven - WCW Tag Team Title: Champs Kane & The Undertaker beat Kronik
9/27 SmackDown - w/Undertaker lost the WCW tag team Titles to Booker T & Test
10/21 No Mercy - lost to Test
11/18 Survivor Series - Elimination Match for End of WCW or WWE: The Rock, Chris Jericho, The Undertaker, Big Show & Kane beat Steve Austin, Kurt Angle, Shane McMahon, Booker T & Rob Van Dam
12/9 Vengeance - World Tag Team Titles: Champs The Dudley Boyz beat The Big Show & Kane
2002
3/17 WrestleMania X8 - lost to Kurt Angle
9/22 Unforgiven - Kane, Booker T, Goldust & Buh Buh Ray Dudley beat Test, Christian, Lance Storm & William Regal
9/23 RAW - w/The Hurricane won the World Tag Team Titles from Christian & Lance Storm
9/30 RAW - beat Chris Jericho to win the Intercontinental Championship
10/14 RAW - w/The Hurricane lost the World Tag Team Titles to Christian & Chris Jericho
10/20 No Mercy - World Heavyweight & I-C Title Unification Match: World Champ Triple H beat I-C Champ Kane
11/17 Survivor Series - Elimination Chamber for the World Heavyweight Championship: Shawn Michaels beat champ Triple H, Booker T, Rob Van Dam, Chris Jericho & Kane to win the title
12/15 Armageddon - lost to Batista
2003
2/23 No Way Out - w/Rob Van Dam lost to World Tag Team Champions Lance Storm & William Regal
3/31 RAW - w/Rob Van Dam beat World Tag Team Champions Lance Storm & Chief Morley and The Dudley Boyz to win the titles
6/15 Bad Blood - w/Rob Van Dam lost the World Tag Team Titles to Rene Dupree & Sylvan Grenier
6/23 RAW - Mask vs Title: lost to Triple H and was forced to remove his mask
8/24 SummerSlam - beat Rob Van Dam
9/21 Unforgiven - Last Man Standing: Kane beat Shane McMahon
11/16 Survivor Series - Ambulance Match: Kane beat Shane McMahon
12/14 Armageddon - World Heavyweight Title: Triple H beat champion Goldberg and Kane to win the title
2004
3/14 WrestleMania XX - lost to the Undertaker
4/18 Backlash - lost to Edge
6/13 Bad Blood - World Heavyweight Title: Champ Chris Benoit beat Kane
7/11 Vengeance - No DQ: Kane beat Matt Hardy
8/15 SummerSlam - Winner marries Lita: Kane beat Matt Hardy
9/12 Unforgiven - No DQ: Shawn Michaels beat Kane
10/19 Taboo Tuesday - Steel Chain Match: Gene Snitsky beat Kane
2005
1/9 New Year's Revolution - beat Gene Snitsky
4/3 WrestleMania 21 - Money in the Bank Ladder Match: Edge beat Chris Benoit, Kane, Shelton Benjamin, Chris Jericho & Christian
5/1 Backlash - beat Viscera
6/26 Vengeance - beat Edge
11/1 Taboo Tuesday - World Tag Team Title: The Big Show and Kane beat Lance Cade and Trevor Murdoch to win the titles
11/27 Survivor Series - Team SmackDown (Batista, Randy Orton, JBL, Rey Mysterio Jr, & Lashley) beat Team RAW (Shawn Michaels, Kane, The Big Show, Carlito, & Chris Masters)
12/18 Armageddon - Non-title Match: World Tag Team Champions Kane & The Big Show beat WWE Tag Team Champions Rey Mysterio & Batista
2006
1/8 New Year's Revolution - Elimination Chamber for WWE Title: Champions John Cena beat Shawn Michaels, Kane, Carlito, Kurt Angle, and Chris Masters
4/2 WrestleMania 22 - World Tag Team Championship: Champs Kane & The Big Show beat Carlito & Chris Masters
4/3 RAW - w/The Big Show lost the World Tag Team Titles to The Spirit Squad (Kenny/Mikey)
4/30 Backlash - Kane & The Big Show fought to a no contest
•5/19 - See No Evil is released
6/25 Vengeance - 1996 Kane beat 2006 Kane
9/17 Unforgiven - Kane and Umaga fought to a double count out
10/9 RAW - Loser Leaves RAW: Umaga beat Kane
11/5 Taboo Tuesday - lost to Umaga
11/26 Survivor Series - John Cena, Lashley, Kane, Rob Van Dam, and Sabu beat Big Show, Finlay, Test, MVP, and Umaga
12/17 Armageddon - Inferno Match: Kane beat MVP
2007
2/18 No Way Out - beat King Booker
4/1 WrestleMania 23 - lost to the Great Khali
6/2 SNME - Kane, Eugene, & Doink beat Viscera, Umaga, & Kevin Thorn
6/3 One Night Stand - lost a Stretcher Match to Mark Henry
7/22 Great American Bash - World Heavyweight Champion The Great Khali beat Batista and Kane
8/18 SNME - w/Batista beat The Great Khali & Finlay
8/26 SummerSlam - beat Finlay
10/28 Cyber Sunday - beat U.S. Champion MVP by count out
11/18 Survivor Series - Triple H, Jeff Hardy, Rey Mysterio, & Kane beat Umaga, Finlay, Big Daddy V, MVP, & Kennedy
12/16 Armageddon - w/CM Punk lost to Mark Henry & Big Daddy V
2008
3/30 WrestleMania XXIV - won the ECW Championship from Chavo Guerrero
4/27 Backlash - beat Chavo Guerrero
5/18 Judgment Day - w/CM Punk lost to WWE Tag Team Champions The Miz & John Morrison
6/29 Night of Champions - Mark Henry beat ECW Champion Kane and The Big Show to win the title
8/2 SNME - w/JBL, Ted DiBiase, & Cody Rhodes beat John Cena, Batista, & Cryme Time
9/7 Unforgiven - World Heavyweight Championship Scramble Match: Chris Jericho (subbing for champion CM Punk) beat Batista, Rey Mysterio, Kane, and Batista
10/5 No Mercy - lost to Rey Mysterio by DQ in a match where Rey's mask was on the line
10/26 Cyber Sunday - lost to Rey Mysterio in a No Holds Barred Match
11/23 Survivor Series - Shawn Michaels, Cryme Tyme, Rey Mysterio, & The Great Khali beat JBL, MVP, Kane, The Miz, & John Morrison
2009
2/15 No Way Out - Edge beat World Champion John Cena, Kane, Rey Mysterio, Chris Jericho, & Mike Knox in an Elimination Chamber Match to win the title
4/5 25th Anniversary of WrestleMania – Money in the Bank Ladder Match: CM Punk beat Christian, Kofi Kingston, Kane, Mark Henry, Finlay, Shelton Benjamin, and MVP
4/26 Backlash - beat CM Punk
8/23 SummerSlam - beat The Great Khali
9/13 Breaking Point - beat The Great Khali in a Singapore Cane Match
10/25 Bragging Rights - Team SmackDown (Chris Jericho, Kane, Matt Hardy, Finlay, R-Truth, David Hart Smith, & Tyson Kidd) beat Team RAW (Triple H, Shawn Michaels, Big Show, Kofi Kingston, Cody Rhodes, Jack Swagger, & Mark Henry)
2010
2/21 Elimination Chamber - lost to Intercontinental Champion Drew McIntyre
3/28 WrestleMania XXVI - Money in the Bank Ladder Match: Jack Swagger beat Christian, Kane, Shelton Benjamin, Dolph Ziggler, Matt Hardy, Evan Bourne, Drew McIntyre, MVP, & Kofi Kingston
7/18 Money in the Bank - Kane beat Kofi Kingston, Dolph Ziggler, Christian, Cody Rhodes, Matt Hardy, Drew McIntyre, and The Big Show in a Money in the Bank Match
7/18 Money in the Bank - won the World Heavyweight Championship from Rey Mysterio after cashing in the Money in the Bank title shot
8/15 SummerSlam - beat Rey Mysterio
9/19 Night of Champions - beat The Undertaker in a No Holds Barred Match
10/3 Hell in a Cell - beat The Undertaker in a Hell in a Cell Match
10/24 Bragging Rights - beat The Undertaker in a Buried Alive Match
11/21 Survivor Series - fought Edge to a draw
12/19 TLC: Tables, Ladders, & Chairs - Edge beat World Heavyweight Champion Kane, Rey Mysterio, & Alberto Del Rio to win the title
2011
2/20 Elimination Chamber - World Heavyweight Champion Edge beat Rey Mysterio, Kane, Big Show, Wade Barrett, & Drew McIntyre in an Elimination Chamber Match
4/3 WrestleMania XXVII - Big Show, Kane, Santino Marella, & Kofi Kingston beat Wade Barrett, Ezekiel Jackson, Heath Slater, & Justin Gabriel
Read more
Kane (wrestler) Picture Gallery
Latest headlines