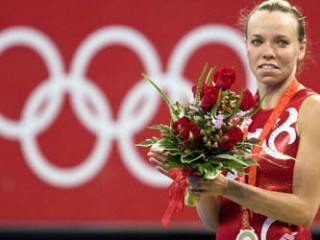 Karen Cockburn biography
Date of birth : 1980-11-02
Date of death : -
Birthplace : Toronto, Ontario, Canada
Nationality : Canada
Category : Sports
Last modified : 2010-07-08
Credited as : Trampolist, ,
Karen Cockburn
, born October 2, 1980 in Toronto, Ontario, Canada is a Canadian trampolinist.
Watching
Karen Cockburn
perform her silver medal-winning routine at the 2004 Athens Summer Olympic Games, few would have guessed that fear is the high-flying trampolinist's constant companion as she performs her complicated twists and somersaults more than six metres above the audience --- and the judges.
Cockburn is deathly afraid of heights, yet a steely will enables her to conquer this fear and perform the difficult routines that have made her one of the best trampolinists in the world. Her coach, Dave Ross, believes that his protégé's determination to succeed is what sets her apart from other athletes.
"The real extra gear for her is the competitiveness, a determination to do well on meet day, and knowing it's coming, she gets to where she wants to be," Ross told Randy Starkman of the Toronto Star. "She has a singleness of purpose or mental focus that goes beyond what most people have in her will to win."
Born in Toronto, Cockburn participated in diving and gymnastics before joining Ross's Skyriders Trampoline Place in suburban Richmond Hill at the age of 11. At first, she viewed trampolining as a way to improve her aerial sense in the other sports.
But she soon found that she enjoyed the sport. "That was like the main thing," she told Starkman. "When my parents made me choose one sport, I chose [trampoline] because I liked it more."
As she got older and began trying to master more difficult skills, though, her fear increased. "When you're younger, you're not really scared," she said. "When you get to be about 15, you start thinking about it more because you're older and doing bigger tricks."
At 14, Cockburn was good enough to join the Canadian national trampoline team, and she won her first Canadian individual championship in 1995. Still, when she entered international meets, she found that she was an unknown in a sport dominated by Europeans.
"It took a long time to finally get noticed by the judges," she told Starkman. "I was always being underscored."
She suffered a setback in 1995, when she stepped on the ball while on the trampoline and suffered a serious knee injury that required reconstructive surgery and sidelined her for the entire 1996 season. Even when she got back into action, she wore a knee brace for several years.
During this time, Cockburn gradually began to establish her credentials and move up through the ranks. In 1999, for example, she finished seventh at the World Championships and posted top-10 finishes at several World Cup meets. These performances meant that judges and fans began to sit up and take notice, and she was considered a medal threat at the 2000 Sydney Summer Olympic Games, the first time trampoline was included as an Olympic event.
At the time, many people viewed the sport as a novelty, like beach volleyball, and questioned whether it deserved to be in the Olympics. "People made a lot of jokes about it or thought that we trained in our backyards on those round trampolines," Cockburn told Rob Longley of the Toronto Sun. "I tried to explain to them that we train on professional trampolines and that we go 18 to 20 feet in the air and do multiple twists and triple somersaults."
Cockburn entered the Olympic competition ranked fourth on the World Cup tour, and when she managed to soar to a bronze medal, she made believers of many skeptics. "[Her performance] spoke to the people who raised eyebrows at her before she went to Sydney, skeptical that trampoline was really an Olympic sport," wrote Longley.
The achievement became even sweeter when Cockburn's boyfriend, Mathieu Turgeon, scored a major upset to win a matching bronze medal in the men's trampoline event. The two had trained together at the Skyriders Club for years, and Cockburn said she found watching Turgeon as nerve-racking as preparing for her own event.
"We've been friends since 12 years of age, and we've been training together forever," she told Dave Barnes of the Vancouver Province. "Over time, things evolved and brought us together. You're always scared [a romance] will mess up your friendship. You don't want to ruin an amazing thing like that, but it didn't. It seems to be even better."
Cockburn was just 19 when she won her medal and still had many goals before her. She achieved one of these in 2003 when she won the world individual trampoline championship in Hanover, Germany. She managed this feat despite suffering another knee injury that had interrupted her training in the months before the event.
In the meantime, Cockburn had enrolled at York University, where she was studying business administration. As the 2004 Olympics drew nearer, however, she decided that she wanted to improve on her bronze-medal performance in Sydney, so she set aside her studies to focus on training.
Going into the 2004 Olympic competition as the reigning world champion, Cockburn was touted as a strong medal favourite. She found the weight of expectations stressful, especially when several other highly regarded Canadian athletes failed to make the podium in their events, sparking much hand-wringing in the Canadian media.
"When you're in a place where you're expected to win a medal, because you have the results, you feel the pressure, of course," she told reporters at a news conference after the event. "And then you put more on yourself."
Cockburn was so nervous that when she climbed on to the trampoline for the final round of competition, she downgraded the difficulty of her routine. "My legs were really shaky. I was really nervous," she said. "When you're like that, you can't hit a hard routine."
The decision proved to be a wise one. During her routine, Cockburn travelled slightly, losing precious marks for landing some of her jumps outside the square in the middle of the trampoline. When she finished, the judges awarded her a score of 39.2, the highest marks to that point in the competition. But four more athletes were yet to come, and the Canadian was far from certain that her score would hold up for a medal of any colour.
"When I saw 39.2, I knew it wasn't enough to win," she said. "I'm usually scoring over 40 when I'm on top of the podium."
When the next two competitors experienced difficulties, however, Cockburn realized that she would finish with at least a bronze medal. "When I knew I [locked up] third, I was like, 'Well, I tied my results from the last Olympics, so I can't complain,'" she said. "And then I saw [Anna Dogonadze of Germany] win, and she deserved it. She did a great routine."
With one competitor to go, Cockburn stood in second place. And that's where she ended up when the final marks were computed.
Cockburn's gutsy performance was embraced by sportswriters, who were looking for some good news out of an Olympics that had proved disappointing for the Canadian team. "What Canadians got ... yesterday evening in Athens was a rare bit of Canadian mythology: the big-league performance in a small-time Olympic event, by an athlete who stared down the circumstances and simply produced in spite of them," wrote Mark Spector of The National Post.
Those who know Cockburn, however, weren't surprised that she came through in the clutch, for they are aware of what it has taken for her to become one of the world's best trampolinists. "She is more fearful than most people," Ross told Starkman. "Knowing that, it's kind of phenomenal that she's gotten as far as she has on the trampoline ... Karen has a fear of new skills, but she just chips away at it slowly ... It takes longer to teach her things. She takes small steps. But it doesn't really matter how long it takes to learn something; it matters how well you can do it. The thing about Karen is that once she gets a trick down, she stops worrying about it."
Comparing Cockburn to a "silent warrior," Ross said that "she makes up her own mind of what she wants to accomplish and she won't tell anyone --- not even her coach --- what her goal is. But she just tenaciously, step by step, works towards it."
Now that the 2004 Olympics are over, Cockburn plans to resume her university studies --- and continue competing. The trampoline isn't as hard on the body as other sports, and she believes that she has a long career ahead of her.
Cockburn knows that she won't be showered with the kind of lucrative sponsorships offered to those who win medals in more high-profile sports. "[Trampoline] is like the circus," she told Mike Ulmer of the Toronto Sun after the Sydney Olympics. "People can love the circus, but they don't follow it around from town to town."
And that's fine with her. After all, Cockburn is in the sport because she enjoys it. "I always loved doing trampoline," she told Jerome Watt of the Richmond Hill Liberal. "That's what I loved doing best. I like to compete. I just like the nerves and the adrenaline rush."
PERSONAL INFORMATION
Daughter of Colin (a baker) and Patricia (a furniture manufacturer employee) Cockburn. Education: Educated at York University, business administration.
CAREER
Joined Canadian national trampoline team at age 14; since then, has been Canadian champion eight times; finished fifth in individual trampoline at 1998 world championships and seventh in 1999; won bronze medal, individual trampoline, 2000 Sydney Summer Olympic Games; won Canada Cup trampoline championship, 2002 and 2003; won three bronze medals in 2003 World Cup meets; won gold medal, World Championships, 2003; won silver medal, individual trampoline, 2004 Athens Summer Olympic Games.
Read more
Latest headlines