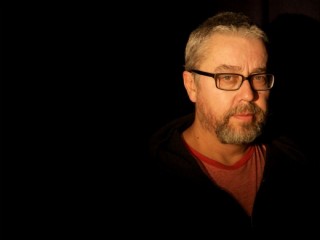 Karl Wallinger biography
Date of birth : 1957-10-19
Date of death : -
Birthplace : Prestatyn, Wales
Nationality : Welsh
Category : Arts and Entertainment
Last modified : 2012-03-07
Credited as : Singer-songwriter, Record producer, Multi-instrumentalist
Karl Edmond De Vere Wallinger is a Welsh musician, songwriter and record producer. He is best known for leading the band World Party and for his mid-1980s stint in The Waterboys. He also wrote the song 'She's the One', which went on to be a hit single for Robbie Williams. Wallinger is a multi-instrumentalist, enabling him to demo and record the bulk of World Party material as a one-man band.
Critic David Hiltbrand, writing for People, referred to English rock band World Party as "essentially a platform for ... Karl Wallinger," and the history of the group bears out that claim. Indeed, Wallinger has managed to put together three successful albums and forge a band identity of sorts all by himself. He has had the occasional help of studio musicians and invited a guest producer to join him on 1993's Bang!, but he alone can take credit for World Party's burgeoning popularity.
Born in Prestatyn, northern Wales, on October 19, 1957, Wallinger was the youngest in a middle-class family of six. They lived on the modest means afforded by Wallinger's father's architectural work for the British government. Wallinger was obsessed with music as a child, particularly with the then-reigning lords of rock, the Beatles. In a June, 1990, Rolling Stone interview, he told Jeff Giles how, at the age of nine, he tried to recreate the Beatles' revolutionary album Sgt. Pepper's Lonely Hearts Club Band sound for sound, explaining, "I used to wander around trying to make all those sounds with my mouth. I found that if I waved the album cover in front of my face, it made my voice sound like it was double tracked. And I've got a gap between my teeth, so I could get a really great distorted guitar sound." This revelation also hinted at Wallinger's early interest in and ear for the subtleties of studio recording, which he described to Tony Scherman in Musician: "I've always been in love with the studio.... The sound, the mystique of the sound, was always totally enthralling. Way before I was 10, I took over the family tape recorder. I'm still accused of breaking it.... Then we had a little cassette radio which I even recorded on, I bought a mike and put it in the side, sounded terrible but what the hell, it was the only thing I had." He ultimately progressed from there to the 32-track studio in which he records World Party albums.
Wallinger also enjoyed a more formal musical education, starting with piano lessons at the age of nine. A year later, he began on the oboe, playing so well that he eventually sat in with a few orchestras. He also had professional vocal training for a time and often sang with choirs. His musical skill in general and aptitude for the oboe in particular won him a musical scholarship to Charterhouse, an upper-class school with a 300-year history that Scherman referred to as "hallowed." After this education it was expected that Wallinger would attend college and become a classical musician; he resisted, however, later telling Scherman, "I didn't want to teach oboe, I didn't want to join an orchestra and I didn't want to form my own wind quintet. I wanted to rock!"
Wallinger gave rock his first serious try when he was still a teenager, playing local gigs in a band called Pax with Nigel Twist and Dave Sharp, who would later form The Alarm. After school, at age 19, he relocated to London and worked briefly as a royalties clerk at ATV/Northern Songs, a company that published music; the firm promoted him to songwriter within three months, but Wallinger's skills were not yet mature enough to win him success. During occasional stints on unemployment, he took a job as musical director for a West End production of The Rocky Horror Picture Show.
Needing to be in the eye of the storm, however, Wallinger put aside such occupations in order to immerse himself in London's late-1970s underground rock scene. His first recording experience was fruitless, as he told Rolling Stone' s David Wild in 1987, remembering, "I ended up being discovered by some sort of alcoholic old producer. When he took me to the studio the first time, we got in about nine in the morning, and around eleven, he said, 'Right--time to go down to the pub.'" But Wallinger did manage some useful studio experience with a series of bands, including the opportunity to record an independent-label single with a group called Invisible Body Club.
Wallinger had his first taste of musical mastery with the Waterboys, an English band that eventually became known for a Gaelic-folk-rock sound. Wallinger joined the group in April, 1983, after responding to an ad for a guitarist in Sounds magazine; he convinced Mike Scott, the band's creative and business leader, that he needed a keyboardist as well as a guitarist. The Waterboys were an up-and-coming band when Wallinger joined them, and their reputation expanded considerably with him on board. The 1984 album A Pagan Place did well with reviewers and buyers but was greatly eclipsed by 1985's This Is the Sea, which peaked at Number 37 on the English pop charts. Although Scott had largely defined the band in 1983, by 1985 the Waterboys' sound bore Wallinger's distinctive mark as well; in fact, he had gradually maneuvered Scott into a more collaborative working arrangement.
During the Waterboys' rise to fame, Wallinger was also recording songs on 16-track equipment in his London apartment. Ultimately, he found these efforts more compelling than the work he was doing with Scott's band; he told Wild, "It was just sort of frustrating.... On the one hand, I was enjoying doing this stuff with Mike. On the other hand, I knew I had some songs that should get out. At first, I thought of my solo work as running alongside the Waterboys'. But that was impractical; it turns out to be a full-time job." With the support of Nigel Grainge, co-founder of the Ensign label, for which the Waterboys recorded, Wallinger was able to take a stab at a solo career. While still with the Waterboys, he had played some of his homegrown cuts for Grainge, impressing him particularly with a song called "Ship of Fools." Grainge told Musician' s Scherman, "I could see he was already a fully realized artist.... Karl could have gone solo much earlier."
Late in 1985, Wallinger left the Waterboys. He had already secured a contract with Ensign and a home studio in the English countryside that would allow him to record 16 tracks of virtually self-made music. He began recording in December. Those sessions yielded World Party's first album, Private Revolution. The disc fared fairly well, holding the Number 56 spot on the British charts for four weeks and winning Wallinger some media attention. "Ship of Fools," the song that had sold Grainge, was particularly popular on American radio as the lead single from the album.
Certain mainstays of Wallinger's solo reputation were established immediately, including heavy critical attention to his dependence on 1960s and 1970s influences. Right off the bat, he was compared to a slew of earlier musicians, sometimes with hints of derision, but usually quite favorably; not surprisingly, the Beatles were acknowledged as his greatest inspiration, but critics also cited the Rolling Stones, the Beach Boys, and Bob Dylan. When Scherman suggested that the Beatles and Stones echoes appear in World Party's sound "as a sort of sales hook," Wallinger responded, "I'm not going to purge my music of all signs of the Beatles, just to allay some critic's suspicions."
Wallinger's one-man band technique for recording Private Revolution laid the second foundation of his reputation; in 1987, he defined World Party for Rolling Stone' s Wild as "me and whoever's playing with me at any given time. But when I'm playing with people--then all of us playing really are World Party." Although he took a six-member World Party on a short English tour in 1987, much of the music on Private Revolution, and later on Goodbye Jumbo, were the result of Wallinger's musicianship alone. In 1988 he bought a 32-track London studio called Seaview Cottage that allowed him to play guitar, piano, keyboards, and drums himself as he recorded tracks for Goodbye Jumbo, which was released in 1990.
Beginning that year, though, Wallinger allowed other professionals into his studio. He hired Mike Winder to back him up technically and tackle housekeeping duties at Seaview Cottage. When Wallinger went on a promotional tour for Goodbye Jumbo, World Party included Dave Catlin-Birch on bass and guitar and Chris Sharrock on drums; Wallinger would later invite these two to record tracks for his next album, Bang! In probably his most fully collaborative move, he would ask noted producer Steve Lillywhite to go over the production of Bang! with him; Lillywhite would share production credit with Wallinger for five cuts on the album.
In the meantime, Goodbye Jumbo had expanded the reputation that Private Revolution had created. The album hit Number 36 in the U.K. and stayed on the charts twice as long as Private Revolution had. Listeners seemed especially taken by "Way Down Now" and "Put the Message in the Box," which several critics also deemed the album's greatest strengths. Don McLeese gave Jumbo a four-star review in Rolling Stone, maintaining, "As it moves from fevered desperation to a romantic, almost dreamy utopianism, Goodbye Jumbo displays an ambition as broad as the emotional range of its music." Even where McLeese was critical, compliments emerged. "World Party can't sustain such intensity (what party could?)," the music scribe averred, "but Wallinger's multi-instrumental textures suggest the freshness of first-take inspiration, and his reedy vocals bristle with immediacy." Scherman called Goodbye Jumbo "easily one of 1990's best records."
When Bang! was released three years later, a number of reviewers noted the evolution that had occurred in World Party, Rolling Stone' s David Sprague noticing "a new-found urgency." Musician' s Scherman, comparing Bang! to the previous album, remarked, " Goodbye Jumbo' s rainbows and bright new days, its cherubs-blowing-trumpets aura, are gone. The new album ... is richer, a welter of guitars, keyboards, layered rhythm tracks." Wallinger accounted for the generally less optimistic feel of Bang! in graphic terms, stating, "There's a point where you question things so much, it leads to auto-destruct. That's what the album's about: bang!--like an earthquake in your head." Asked to comment on the personal experiences that contributed to the new World Party mood, Wallinger stated simply, "They're not things I'd like to talk about." This was typical as he has, over the years, carefully kept his personal life out of the media glare.
The popularity of Bang! marked a new phase in Wallinger's career; Scherman reported in the spring of 1993, "His days are speeding up now, filling with video shoots and meetings." Wallinger even ventured that he was beginning to enjoy working with a band and was looking forward to the live performances. His label sent him to the United States in March, where he spent a month giving promotional interviews and making personal appearances. By May, "Is It Like Today?" the lilting first single from Bang!, had reached the Number Five spot on Billboard' s Modern Rock Tracks chart, where it hovered for about a month. At the time, Wallinger, who would soon tour stateside with World Party in support of 10,000 Maniacs, couldn't predict what he would do next, though he did speculate that audiences might see video work come out of his studio at some point in the future.
In 2008, after almost 18 years in the making, the album Big Blue Ball was released, co-produced with Peter Gabriel and Stephen Hague. The album collects songs written and recorded during the summers of 1991, 1992 and 1995 by several artists from different countries. Among them are the French duo, Deep Forest, and the Irish singer, Sinéad O'Connor.
Read more
Karl Wallinger Picture Gallery
Latest headlines