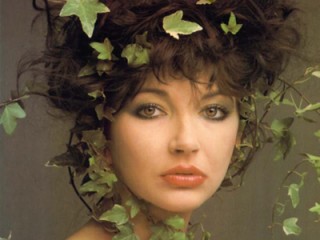 Kate Bush biography
Date of birth : -
Date of death : 1958-07-30
Birthplace : Bexleyheath, Kent, England
Nationality : British
Category : Arts and Entertainment
Last modified : 2010-07-30
Credited as : Singer songwriter, musician, won a BRIT Award for Best British Female Solo Artist
Kate Bush
, born 30 July 1958 is an English singer, songwriter, musician and record producer. Her eclectic musical style and idiosyncratic lyrics have made her one of England's most successful solo female performers of the past 30 years. Bush was signed by EMI at the age of 16 after being recommended by Pink Floyd's David Gilmour. In 1978, at age 19, her début song 'Wuthering Heights' topped the UK charts for four weeks and made her the first woman to have a UK number one with a self-written song.
EARLY LIFE
Bush was born in Bexleyheath, Kent, to English physician Dr. Robert Bush and his Irish wife Hannah. She was raised in their farmhouse in East Wickham, on the border of Kent and London, with her older brothers, John and Paddy. Bush came from an artistic background; her mother was a former Irish folk dancer, her father was an accomplished pianist, her brother Paddy worked as a musical instrument maker, and John was a poet and photographer. Both brothers were involved in the local folk music scene. Her family's musical influence inspired the young Kate to teach herself to play the piano at age 11. She soon began writing her own tunes and eventually added lyrics to them. At school, she was encouraged to take violin lessons, but the piano was her passion.
In the mid-1970s, while she was attending St. Joseph's Convent Grammar school in Abbey Wood, London, David Gilmour of Pink Floyd was given a demo tape of Bush's songs by Ricky Hopper, a mutual friend of Gilmour and the Bush family. Impressed with what he heard, Gilmour helped her get a more professional sounding demo tape recorded that would be more saleable to the record companies. The tape was produced by Gilmour's friend Andrew Powell, who would go on to produce Bush's first two albums. At the age of 16, Bush was signed up by EMI after being recommended by Gilmour. For the first two years of her contract, Bush spent more time on schoolwork than making an album. She left school after doing her mock A-levels and ten GCE O-Level qualifications. In 2005, Bush stated in an interview with Mark Radcliffe on BBC Radio 2 that she believed EMI signed her up before she was ready to make an album so that no other record company could offer her a contract. After the contract signing, EMI forwarded her a sizable advance which she used to enroll in interpretive dance classes taught by Lindsay Kemp, who was also a former teacher of David Bowie.
Bush also wrote and made demos of close to 200 songs, a few of which today can be found on bootleg recordings and are known as the "Phoenix Recordings". From March to August 1977, she fronted the KT Bush Band at public houses around London - specifically at the 'Rose of Lee' public house (now 'Dirty South') in Lewisham. The other three band members were Del Palmer (bass), Brian Bath (guitar) and Vic King (drums). She began recording her first album in August 1977, although two tracks had been recorded during the summer of 1975.
Her first album, "The Kick Inside", was released in 1978 and featured songs she had written during the previous several years, including her début single, the high-pitched and ethereal 'Wuthering Heights' which topped the UK and Australian charts and became an international hit. Bush became the first woman to reach number one in the UK charts with a self-penned song. EMI originally wanted the more rock-oriented track 'James and the Cold Gun' to be her début song, but Bush insisted that it should be 'Wuthering Heights'. Even by this early stage of her career, she had gained a reputation as being determined to have a say in decisions affecting her work. The album was released when she was 19 years old, but some of the songs had been written when she was as young as 13. Two of the demos she recorded with Gilmour were included on the album: 'The Saxophone Song' and 'The Man with the Child in His Eyes'.
Bush's cinematic and literary influences, two qualities considered her trademarks, were most obvious in 'Wuthering Heights'. The song was not initially inspired by Emily Brontë's novel, but by a television adaptation, although she did read the novel later to, in her own words, 'get the research right.' She makes reference to Gurdjieff in 'Them Heavy People' and acknowledges David Gilmour's support in 'Strange Phenomena', while the title song is based on the "Ballad of Lizie Wan", the story of a girl who kills herself after being impregnated by her brother. The album is also rather open about sexual matters, particularly on the erotic 'Feel It' and 'L'Amour Looks Something Like You'. A second single, 'The Man with the Child in His Eyes', was released to another warm reception, reaching #6 on the UK charts. It also made it onto the American Hot 100 Billboard Charts where it reached #85 in early 1979, but it was Bush's only single to do so for nearly another seven years. She did, however, perform the song along with 'Them Heavy People' (another track from the album) on NBC's "Saturday Night Live" on December 9, 1978. 'The Man with the Child in His Eyes' went on to win her an Ivor Novello Award in 1979 for 'Outstanding British Lyric'.
As part of her preparation for entering the studio, Bush toured pubs with the KT Bush Band. However, for the album she was persuaded to use established session musicians, some of whom she would retain even after she had brought her bandmates back on board. On "The Kick Inside", her brother Paddy Bush played the harmonica and mandolin, unlike on later albums where he would play more exotic instruments such as the balalaika and didgeridoo. Stuart Elliot played some of the drums and would become her main percussionist on subsequent albums, along with session drummer Charlie Morgan, who later went on to work regularly with Elton John. Preston Heyman was credited with some subsequent studio work but mostly performed on Bush's live tour of 1979.
EMI capitalised on Bush's appearance by promoting the album with a poster of her in a tight pink top that emphasised her breasts. In an interview with "NME" magazine in 1982, Bush criticised the marketing technique, stating, 'People weren't even generally aware that I wrote my own songs or played the piano. The media just promoted me as a female body. It's like I've had to prove that I'm an artist in a female body.' In late 1978, EMI persuaded Bush to quickly record a follow-up album, "Lionheart", to take advantage of the success of "The Kick Inside". Bush has often expressed dissatisfaction with "Lionheart", feeling that she needed more time to get it right. The album was rushed out of the studio in Nice on the French Riviera, making this her only album to be wholly recorded outside the UK. The album was produced by Andrew Powell, assisted by Bush. While it has its share of hits, most notably 'Wow', it did not receive the same reception as her first album, reaching number six in the UK album charts.
The album takes its title from the track 'Oh, England, My Lionheart', in which a pilot whose plane has been shot down contemplates his homeland as he hurtles to his death. It is a song that Bush has disparaged in later years despite it being a firm favourite with many listeners. Literary references include J. M. Barrie's "Peter Pan" in 'In Search of Peter Pan' and "Arsenic and Old Lace" in the song 'Coffee Homeground', which was originally inspired by a peculiar taxi driver who drove Bush once. Film references include 'Hammer Horror', inspired by the Hammer Film studio, known for their gothic horror films. The song 'Wow' references the British television show "The Sweeney", a popular police drama. "Lionheart" is the first record on which her then-boyfriend Del Palmer worked as a bassist. Palmer went on to play bass or to engineer and record every album since.
Bush was displeased with being rushed into making the second album. To have control over work, she set up her own publishing company, Kate Bush Music, and her own management company, Novercia. The board of directors of these companies were herself and members of her family. Following the album's release, she was required by EMI to undertake heavy promotional work and an exhausting tour, the only one of her career. The tour, named the 'Tour of Life', began in April 1979 and lasted six weeks. Typical of her determination to have control, she was involved in every aspect of the show's production, choreography, set design, and staff recruitment. During the tour, Bush became the first singer to use a wireless headset radio microphone on stage, which allowed her to incorporate extensive dance routines into her live shows.
However, Bush disliked the exposure and the celebrity lifestyle associated with promotional work, given that her main priority was making music. As she moved into producing her own work, Bush began a slow and steady withdrawal from public life. It was at this stage of her career that she developed her perfectionist approach, in which she spent long periods of time in the studio, only meeting the press when albums were released. Bush would disappear for up to four years while honing new material, which led to rumours in the press concerning her health or appearance. In the past, stories of weight gain or mental instability have been disproved by Bush's periodic reappearance.
Released in September 1980, "Never for Ever" saw Bush's second foray into production, co-producing with Jon Kelly. Her first time as a producer was on her "Live On Stage" EP, released after her tour the previous year. The first two albums had resulted in a definitive sound evident in every track, with orchestral arrangements supporting the live band sound. The range of styles on "Never for Ever" is much more diverse, veering from the straightforward rocker 'The Wedding List' to the wistful waltz of hit single 'Army Dreamers'. "Never for Ever" was the first Kate Bush album to be composed on synthesizers and drum machines, in particular the Fairlight CMI, to which she was introduced when providing backing vocals on Peter Gabriel's third album in early 1980. It was her first record to reach the top position in the UK album charts, also making her the first female Briton ever to achieve that status. The top-selling single from the album was 'Babooshka', which reached number five in the UK singles chart.
Bush's literary and cinematic influences were present once more. 'The Infant Kiss' was inspired by the 1961 film "The Innocents", starring Deborah Kerr and Michael Redgrave, which in turn had been inspired by Henry James's novella "The Turn of the Screw". 'The Wedding List' drew from François Truffaut's 1967 film "The Bride Wore Black". "Never for Ever" is the only album by Bush not to share a title with one of its own tracks. In November 1980, she released the Christmas single 'December Will Be Magic Again', which reached number 29 in the UK charts. The song was not part of the "Never for Ever" album. September 1982 saw the release of "The Dreaming", the first album Bush produced totally by herself. With her new-found freedom, she experimented with production techniques, creating an album that features a diverse blend of musical styles and is known for its near-exhaustive usage of the Fairlight CMI.
"The Dreaming" received a mixed critical reception in the UK at first. Many were baffled by the dense soundscapes she had created, and some critics accused the album of being over-produced. In a 1993 interview with "Q" magazine, referring to "The Dreaming", Bush stated, 'That was my 'She's gone mad' album.' Ironically, the album was hailed as a 'masterpiece' and a 'musical "tour-de-force" by critics in America, and the album became her first to enter the US charts, albeit only reaching number 157. Despite singles from the album faring relatively badly in the UK charts, the album was a commercial success, peaking at number three in the UK album chart.
'Sat in Your Lap' was the first single from the album to be released. It pre-dated the album by nearly a year and peaked at #11 in the UK. The following singles fared much worse. 'The Dreaming', the album's title track featuring the talents of Rolf Harris and Percy Edwards, stalled at number 48, while the third single, 'There Goes a Tenner', failed to chart at all, despite promotion from EMI and Bush.
Bush was in her early twenties when making the album and tended to look outside her own personal experience for sources of inspiration. She drew on old crime films for the track 'There Goes A Tenner', a documentary about the war in Vietnam for 'Pull Out The Pin', and the plight of Indigenous Australians for 'The Dreaming'. 'Houdini' is about the magician's death, and 'Get Out Of My House' was inspired by Stanley Kubrick's film of Stephen King's novel "The Shining". The album does contain a few introspective songs. The lead single, 'Sat In Your Lap', examines feelings of self-doubt versus burning self-confidence and the search for a balance between the two. 'Leave It Open' speaks of the need to acknowledge and express the darker sides of one's personality within the greater context of maintaining an open mind.
Considered by many reviewers to be her masterpiece, 1985's "Hounds of Love" is no less experimental than previous albums from a production standpoint. Because of the high cost of hiring studio space for her previous album, she built a private studio near her home, where she could work at her own pace.
In August 1985, the "New Musical Express" featured Bush in a 'Where Are They Now' article. Two days later, on "The Wogan Show", the single 'Running Up That Hill' was played for the first time. The single, and indeed the album, were showcases of a newfound talent for producing. "Hounds of Love" ultimately topped the charts in the UK, knocking Madonna's 'Like a Virgin' from the number one position.
The album is split into two sides. The first side, 'Hounds of Love', contains five 'accessible' pop songs (each examing a particular type of love), including the four singles 'Running Up That Hill', 'Cloudbusting', 'Hounds of Love', and 'The Big Sky'. 'Running Up That Hill' re-introduced Bush to American listeners and received considerable airplay at the time of its release. It expanded her small, but loyal, American fan base and climbed to #30 on the Billboard Hot 100 in November of 1985. The second side of the album, 'The Ninth Wave', takes its name from a poem by Tennyson. Each of its tracks conveys the story of a woman who is lost at sea and facing the threat of drowning.
At the 1986 BRIT Awards, the album earned her nominations for 'Best Female Solo Artist', 'Best Album', 'Best Single', and 'Best Producer'; however, she failed to win any of the awards. In the same year, Bush and Peter Gabriel had a UK top ten hit with 'Don't Give Up', and EMI released her 'greatest hits' album, "The Whole Story", for which she recorded the single 'Experiment IV' and provided new vocals to 'Wuthering Heights'. This proved to be enough to win her 'Best Female Solo Artist' at the 1987 BRIT Awards.
The increasingly personal tone of her writing continued on 1989's "The Sensual World", with songs about unexpressed and unrequited love ('Love and Anger' and 'Never Be Mine', respectively), the pressures on modern relationships ('Between a Man and a Woman'), and self-doubt and how it interfaces with parental comfort ('The Fog'). One of the quirkiest tracks on the album, touched by Bush's black humour, is 'Heads We're Dancing', about a woman who dances all night with a charming stranger only to find out in the morning that he is Adolf Hitler.
The title track, 'The Sensual World', drew its inspiration from James Joyce's novel "Ulysses". Bush realised that the text from Molly Bloom's Soliloquy fitted the music she had created. When the Joyce estate refused to release the text, Bush wrote original lyrics that echo the original passage, as Molly steps from the pages of the book and revels in the real world. The song also alludes to William Blake's poem 'And did those feet in ancient time' with the line 'And my arrows of desire rewrite the speech.'
The album contains extensive analogue overdubbing, as evidenced by a noticeable lack of clarity to the recording. The songs 'Deeper Understanding', 'Never Be Mine', and 'Rocket's Tail' all feature backing vocals by the Bulgarian vocal ensemble the Trio Bulgarka. "The Sensual World" went on to become her biggest-selling album in the US, receiving an RIAA Gold certification, four years after its release for 500,000 copies sold. In the United Kingdom album charts, it reached the number two position.
The song 'This Woman's Work', originally from the soundtrack to the movie "She's Having a Baby" (1988), was re-edited for this album. On 27 November, 2005. It was featured in the British TV drama "Walk Away and I Stumble". The broadcast led to the song reaching the number eight position on the UK download chart. The song has also been used in a long-running UK television advert for the National Society for the Prevention of Cruelty to Children, broadcast in 2005-2006, as well as to promote the opening episode of the 2007-2008 season of the American television series "CSI: Crime Scene Investigation".
In 1991, Bush released a cover of Elton John's "Rocket Man". Her reggae-inflected version reached number 12 in the UK Gallup chart and number 11 in the US Billboard "modern rock tracks" chart. The CD single featured Bush's take on "Candle in the Wind" as a bonus track.
"The Red Shoes" was released in November 1993. The album takes its title from the film by Michael Powell and Emeric Pressburger; the story of the film (the same as the fairy tale by Hans Christian Andersen that inspired it) concerns a dancer, possessed by her art, who cannot shake off the eponymous shoes and find peace. The album sold more than three million copies worldwide.
The initial plan had been to take the songs out on the road, and so Bush deliberately aimed for a live-band feel, with less of the studio trickery that had typified her last three albums and that would be difficult to recreate on stage. The result alienated some of her fan base, who enjoyed the intricacy of her earlier compositions, but others found a new complexity in the lyrics and the emotions they expressed. The stories and character pieces of her earlier work are replaced by a set of songs that are almost like a diary.
This was a troubled time for Bush. She had suffered a series of bereavements, including the loss of her favoured guitarist Alan Murphy, and, most painfully, her mother Hannah. Many of the people she lost are honoured in the ballad 'Moments Of Pleasure', including Michael Powell, with whom she had discussed working shortly before his death. Her long-term romantic relationship with Del Palmer had also broken down, although the pair continued to work together.
Most notably, "The Red Shoes" features more high-profile cameo appearances than her previous efforts. Composer and conductor Michael Kamen contributed a score for 'Moments of Pleasure', which considerably heightened the impact of Bush's vocal and piano rendition. Comedian Lenny Henry provided guest vocals on 'Why Should I Love You?', a track that also features significant contributions from Prince. 'And So Is Love' features guitar work by Eric Clapton. Gary Brooker (from the band Procol Harum), Trevor Whittaker and Jeff Beck also donated their talents to the recording.
That same year, the film "The Line, the Cross & the Curve", written and directed by Bush, and starring Bush and English actress Miranda Richardson, used six of the songs on the album: 'Rubberband Girl', 'And So Is Love', 'The Red Shoes', 'Moments of Pleasure', 'Eat The Music', and 'Lily'.
For the first time since 'Wuthering Heights' in 1978, Bush released two different videos to accompany a single. The European video for 'Rubberband Girl' was lifted from "The Line, the Cross and the Curve", while Bush recorded a separate video for the single's American release. The American video depicts her as a 'rock-chick', with big sunglasses, a leather jacket, and big hair blown by wind machines. The video is intercut with clips from "The Line, the Cross and the Curve".
The album gave her her highest position to date in the US, reaching number 28 in the album charts, although the only song from the album to make the US singles chart was 'Rubberband Girl' which peaked at number 88 in January of 1994. The single fared better in Europe, breaking the top 20 in the UK and Ireland. The album reached number two in the UK.
After the release of "The Red Shoes" in 1993, Bush dropped out of the public eye for many years, although her name occasionally cropped up in the media, with rumours of a new album release. The press often viewed her as an eccentric recluse, sometimes drawing a comparison with Miss Havisham from Charles Dickens's "Great Expectations". In reality, she was trying to give her young son a normal childhood, away from the world of show business. In 1998, Bush gave birth to Albert, known as 'Bertie', fathered by her guitarist and now-husband Danny McIntosh. She did not release the news of his birth to the press, and it was over two years before the story broke. On the few occasions she has spoken to the press since, she has made it clear that motherhood has made her extremely happy. After living for many years in a large and secluded Victorian house on Court Road, between Mottingham and Eltham in her native southeast London, the couple and their son presently have two homes; one a £2.5 million house in Salcombe in the South Hams on the Devon coast and one a mansion on an island on the Kennet and Avon canal at Sulhamstead in West Berkshire.
Bush's eighth studio album, "Aerial", was released on double CD and vinyl on 7 November 2005 in the UK, and 8 November 2005 in the US. The anticipation leading up to the album's release was immense, with press articles devoted to Bush being printed months before the album's release. The first single from the album was 'King of the Mountain'. The song, which makes references to Elvis Presley and the film "Citizen Kane", is a contemplation on the excesses of fame. The track was played for the first time on BBC Radio 2 on 21 September 2005 and was made available for download on 27 September 2005.
"Aerial" is one of Bush's most critically acclaimed albums. Musically, the album is an ambitious and multi-layered work, incorporating elements of folk, Renaissance, classical, reggae, and samba into an adventurous pop style.
As on "Hounds of Love" (1985), the double album is split into two sections. The first disc, subtitled "A Sea of Honey", features a set of unrelated themed songs, including the first single 'King of the Mountain'; 'Bertie', a Renaissance-style ode to her son; and 'Joanni', based on the story of Joan of Arc. In the song '?', Bush sings the number to its 137th decimal place, although for an unknown reason, she omits the 79th to 100th decimal places. The piano and vocal piece 'A Coral Room', which deals with the loss of Bush's mother and the passage of time, was hailed by sections of the British media as 'stunning' in its simplicity, 'profoundly moving', and the 'one of the most beautiful' pieces Bush has ever recorded. The second disc, subtitled "A Sky of Honey", features thematically related songs linked by the presence of bird song. The album's cover art, which seems to show a mountain range at sunset over a sea, is in fact a waveform that represents birdsong. All the pieces in this suite refer or allude to air or sky in their lyrical content. 'A Sky of Honey' features Rolf Harris playing the didgeridoo on one track, as he did on the 1982 single 'The Dreaming', and providing vocals on the track 'The Painter's Link'. Other artists making guest appearances on the album include Peter Erskine, Eberhard Weber, Lol Creme, and Procol Harum's Gary Brooker. Two tracks feature string arrangements by the late Michael Kamen, performed by the London Metropolitan Orchestra.
In an August 2006 UK interview, Big Boi claimed that collaborators on his solo LP would include Kate Bush, who emailed him after she had completed her 2005 comeback album to invite him to 'camp out' at her home in Britain while they worked on tracks together. In a recent interview with the L.A. Times, OutKast confirmed that '10 The Hard Way' was still going to come out, but said they would keep it 'under wraps' until the album's release, still possibly two years away.
On 17 October 2005, 'King of the Mountain' entered the UK Downloads Chart at number six, and by 30 October 2005, it became her third highest charting single ever in the UK, peaking at number four on the full chart. On 13 November 2005, "Aerial" entered the UK Albums Chart at number three, selling more than 90,000 copies in its first week of release. In the US is entered at #48 with over 23,000 copies sold. Within five months of its release, the album had sold more than 1.1 million copies worldwide. Bush herself carried out relatively little publicity for the album, only conducting a handful of magazine and radio interviews. "Aerial" earned Bush two nominations at the 2006 BRIT Awards, for 'Best British Female Solo Artist' and 'Best British Album'.
In an interview with "Weekend Australian", published in December 2005, Bush stated that "Aerial" was not meant to be her last work, and that she wished to continue writing and recording music. On 13 March 2006, EMI re-released all Bush's previous albums, including her greatest hits album "The Whole Story", on compact disc with cardboard cases made to look like the original vinyl pressings.
In 2006, viewers of BBC Two television's "The Culture Show" voted Bush one of the UK's top ten 'Living Icons'.
In 2007, it was reported that Bush had met Placebo after they had recorded a cover of 'Running up that Hill' and told them she liked their version. She sent what was described as a 'very amusing' good luck message to BBC Radio 2 disk jockey Mark Radcliffe after his show moved to a new time slot and also wrote the foreword for the David Bowie Special Edition of Mojo Magazine.
Also in 2007, Bush's 1991 cover of the Elton John song 'Rocket Man' was voted the greatest cover ever by readers of The Observer newspaper.
Musical style
It has been difficult to define the musical genre of Bush's work because there are few other artists like her. She is often compared to female singer/songwriters such as Joni Mitchell and Björk, but this comparison is derived from those artists' uniqueness rather than the similarity of their music. Her music has also been eclectic, utilising various styles of music even within the same album. Her songs have spanned across genres as diverse as rock, pop, alternative, jazz, folk, ska, samba, and New Wave. Even in her earliest works where the piano was a primary instrument, Bush wove together many diverse influences, melding classical music, rock, and a wide range of ethnic and folk sources, and this has continued throughout her career.
In an interview with "Melody Maker" magazine in 1977, she revealed that male artists had more influence on her work than females, stating, 'Every female you see at a piano is either Lynsey De Paul, Carole King. And most male music-not all of it but the good stuff-really lays it on you. It really puts you against the wall and that's what I like to do. I'd like my music to intrude. Not many females succeed with that.'
The experimental nature of her music has led it to be described as a later, more technological, and more accessible manifestation of the British progressive rock movement that gave rise to the bands Genesis, Yes, King Crimson, and Pink Floyd. Like artists in the prog rock genre, Bush rejects the classic American style of making pop music, which was adopted by most UK pop artists. Influenced by the vocal style of the singer Bryan Ferry, Bush sings with an overtly English accent, and her lyrics tend to be more unusual and less clichéd than American-style pop lyrics. The musical instruments used in her songs and the way instruments are played commonly differs from the American norm.
More than one reviewer has used the term 'surreal' to describe much of her music. Many of her songs have a melodramatic emotional and musical surrealism that defies easy categorization. It has been observed that even the more joyous pieces are often tinged with traces of melancholy, and even the most sorrowful pieces have elements of vitality struggling against all that would oppress them.
Bush is not afraid to tackle sensitive and taboo subjects. 'The Kick Inside' is about an incestuous pregnancy and a resulting suicide, 'Kashka From Baghdad' is a song about a gay male couple, 'The Infant Kiss' is a song about a haunted, unstable woman's almost pedophiliac infatuation with a young boy in her care (inspired by Jack Clayton's 1961 film, "The Innocents", which had been based on Henry James' famous novella, 'The Turn of the Screw'), and 'Breathing' explores the results of nuclear fallout from the perspective of an unborn child in the womb. Her lyrics have referenced a wide array of subject matter, often relatively obscure, such as Wilhelm Reich in 'Cloudbusting' and G. I. Gurdjieff in 'Them Heavy People', while 'Deeper Understanding', from "The Sensual World", portrays a person who stays indoors, obsessively talking to a computer and shunning human contact.
Comedy is also a big influence on her and is a significant component of her work. She has cited Woody Allen, "Monty Python", "Fawlty Towers", and "The Young Ones" as particular favourites. Horror movies are another interest of Bush's and have influenced the gothic nature of several of her songs. Such examples are 'Get Out Of My House', inspired by Stanley Kubrick's "The Shining" and 'Hounds of Love', inspired by the 1957 horror movie "Night Of The Demon". Her songs have occasionally combined comedy and horror to form dark humour, such as dancing with Hitler in the song 'Heads We're Dancing', and the upbeat 'The Wedding List', a song inspired by François Truffaut's 1967 film of Cornell Woolrich's "The Bride Wore Black", about the death of a groom and the bride's subsequent revenge against the killer.
Bush's only tour took place in early 1979 (3 April - 13 May), after which she gave only the occasional live performance. Several reasons have been suggested why she abandoned touring, among them her reputed need to be in total control of the final product, which is incompatible with live stage performance, a rumour of a crippling fear of flying, and the suggestion that the death of 21-year-old Bill Duffield severely affected her. Duffield, her lighting director, was killed in an accident during her 2 April concert at Poole Arts Centre. Bush held a benefit concert on 12 May, with Peter Gabriel and Steve Harley at London's Hammersmith Odeon for his family. Bill would be honoured in two later songs: 'Blow Away' on "Never for Ever" and 'Moments of Pleasure' on "The Red Shoes". Bush explained in a BBC Radio 2 interview with Mark Radcliffe that she actually enjoyed the tour but was consumed with producing her subsequent records, being more involved with the recording process than most artists.
During the same period as her tour, she made numerous television appearances around the world, including "Top of the Pops" in the United Kingdom, "Bio's Bahnhof" in Germany, and "Saturday Night Live" in the United States (with Paul Shaffer on piano).
In March 1987, Bush sang 'Running Up That Hill' at The Secret Policeman's Third Ball, with David Gilmour on guitar. In January 2002, Bush appeared with David Gilmour singing 'Comfortably Numb' at the Royal Festival Hall in London, England.
Video projects
Bush was one of the first musicians to use the burgeoning music video industry, creating videos for many of her singles, and even some album tracks that were not issued as singles. EMI has released a few collections of her videos, including "Live at Hammersmith Odeon", "The Single File", "Hair of the Hound", "The Whole Story", and "The Sensual World".
Bush appeared in many innovative music videos, designed to accompany her singles releases. Among the best known are those for 'Running Up That Hill', 'Babooshka', 'Breathing', 'Wuthering Heights', 'The Man with the Child in His Eyes', which was the 55th video played on the first day of MTV, and 'Cloudbusting' featuring actor Donald Sutherland, who made time during the filming of another project to take part in the video.
In 1993, she directed and starred in the short film, "The Line, the Cross & the Curve", a musical co-starring Miranda Richardson featuring music from Bush's album "The Red Shoes" which was inspired by the classic movie of the same name. It was released in 1994 to limited screenings. In recent interviews, Bush has said that she considers it a failure, and stated in 2001 'I'm very pleased with four minutes of it, but I'm very disappointed with the rest.'
In 1994, Bush provided the music used in series of psychedelic-themed television commercials for the soft drink Fruitopia that appeared in the United States. The same company aired the ads in the United Kingdom, but the British version featured Elizabeth Fraser of the Cocteau Twins instead of Bush.
As of October 2007, none of Kate Bush's music videos have been released to DVD in either North America or Europe, although several had been released on LaserDisc. By comparison, several video collections were released on VHS, most notably "The Single File", which contained videos predating the "Hounds of Love" album, "Hounds of Love", containing videos concerning that album and "The Whole Story", a career video overview released with the late-1980s compilation album of the same title. In late 2006, a DVD documentary entitled "Kate Bush Under Review" was released by Sexy Intellectual, which included archival interviews with Bush, along with interviews with a selection of music historians and journalists (including Phil Sutcliffe, Nigel Williamson, and Morris Pert. The DVD also includes clips from several of Bush's music videos.
Movie projects
In 1990, Bush starred in the black comedy film "Les Dogs", produced by "The Comic Strip" for BBC television. Beginning in 1982 on the UK's Channel 4, "The Comic Strip Presents ..." offered a series of comedy films featuring comedians including Rik Mayall, Dawn French, Jennifer Saunders, Adrian Edmondson, Nigel Planer and Robbie Coltrane. The movies were usually written and produced by Peter Richardson, who often also acted. In "Les Dogs", aired on 8 March 1990, Bush plays the bride Angela at a wedding set in a post-apocalyptic version of Britain. While Bush's is a silent presence in a wedding dress throughout most of the film, she does have several lines of dialogue with Peter Richardson in two dream sequences. In another "Comic Strip Presents" film, "GLC", she produced the theme song 'Ken' which includes a vocal performance by Bush. She also produced all the incidental music, which is synthesizer based.
In 1985, Bush contributed a darkly melancholic version of the Ary Barroso song, 'Brazil', to the soundtrack of the Terry Gilliam film Brazil. The track was scored and arranged by Michael Kamen. In 1986, she wrote and recorded 'Be Kind To My Mistakes' for the Nicolas Roeg film, "Castaway". Subsequently, in 1990, a remixed version was included in an album of B-sides in her box set, 'This Woman's Work'. In 1988, the song, 'This Woman's Work', featured in the John Hughes film, "She's Having A Baby", a year before a re-edited version appeared on Bush's album, "The Sensual World".
In 1999, Bush wrote and recorded a song for the Disney film, "Dinosaur", but because of complications the track was ultimately not included on the soundtrack. According to the winter 1999 issue of "HomeGround", a Kate Bush fanzine, it was scrapped when Disney asked Bush to rewrite the song and Bush refused.
Impact
COLLABORATIONS
A wide diversity of respected artists have worked with Bush on some of her more recent albums ranging from the rock guitarists Eric Clapton, Jeff Beck, David Gilmour and Ian Bairnson, bassists Mick Karn (ex-Japan) and John Giblin (ex-Simple Minds and bass player for Elkie Brooks), jazz/rock drummer Stuart Elliot, jazz bassist Eberhard Weber, violinist Nigel Kennedy, classical guitarist John Williams, folk artists The Trio Bulgarka, Gary Brooker, Prince as well as numerous Irish traditional/folk musicians such as various members of Planxty. Bush provided vocals on two of Peter Gabriel's albums, most notably on the hits 'Games Without Frontiers' and the duet 'Don't Give Up'. He also appeared on her 1979 television special, where they sang a duet of Roy Harper's 'Another Day'. Harper is another frequent collaborator, appearing on her song 'Breathing' and she on his albums "HQ", "Once" and "The Unknown Soldier".
She provided backing vocals for the title track of the Big Country album "The Seer" in 1986. She has also sang on the Midge Ure song 'Sister and Brother' from his 1988 album "Answers to Nothing", Go West's 1987 single 'The King is Dead' and in 1996, the song 'My Computer' from the Prince album "Emancipation". In 1987, she sang a verse on the charity single 'Let It Be' by Ferry Aid. She also sang a line on the charity single 'Spirit of the Forest' by Spirit of the Forest in 1989. In 1995, Bush covered George Gershwin's 'The Man I Love' for the tribute album "The Glory of Gershwin." In 1996, Bush contributed a version of 'Mná na hÉireann' (Irish for Women of Ireland) for the Anglo-Irish folk-rock compilation project, "Common Ground: The Voices of Modern Irish Music". Bush had to sing the song in Irish, which she learned to do phonetically.
The British dance act Utah Saints sampled a line from 'Cloudbusting' for their 1992 hit single, 'Something Good'. In 2003, the song was sampled again by Ayla Presents Yel for their track 'Sun is Coming Out'. Loopzone sampled 'Night Scented Stock' in 1990 for their song 'Les Enfants Du Paradis.' Axel Willner, a.k.a. The Field, sampled three tracks from "Hounds of Love" on his 2007 debut album, "From Here We Go Sublime"; 'Over the Ice' samples 'Under Ice,' 'The Deal' samples 'Running Up That Hill (A Deal with God),' and 'The Little Heart Beats So Fast' samples 'Hounds of Love.' The German techno producer Superpitcher sampled 'Ariel' on his track 'Tonite,' which appeared on the Kompakt label's 2006 compilation "Total 7" alongside The Field's 'Over the Ice.' House and soul producer Maurice Fulton sampled a piano figure from 'Waking the Witch' (from "Hounds of Love") on 'Feeling the Color Blue,' the lead track from his 2000 album "Life Is Water For Gerbadaisies When They Are Dancing" (credited to Maurice Fulton Presents: Boof). English techno producer Aphex Twin sampled the violin intro from the 12-inch version of 'Experiment IV' on his track '4,' from 1996's "Richard D. James" LP. James's 1997 single 'Come to Daddy' featured a promo clip by video auteur Chris Cunningham that bore many similarities to Bush's video for 'Experiment IV.'
Inspiration for other artists
In the 1980s and 1990s it became almost standard for individualistic female singer-songwriters to be compared to Bush by the media. She has been noted as an influence on artists as diverse as Tori Amos, Antony and the Johnsons, Lily Allen, Björk, Coldplay, Goldfrapp, PJ Harvey, Darren Hayes, Sarah McLachlan, Sinéad O'Connor Bloc Party, OutKast, KT Tunstall, Katie Melua and Muse.
Paula Cole, accepting the 'Best New Artist' Grammy in 1996, named Bush as an influence. Ariel Pink wrote a tribute song for Kate titled 'For Kate I Wait' on the album "The Doldrums". George Michael chose 'Army Dreamers' for his celebrity playlist on the iTunes website. The trip-hop artist Tricky has said about Bush 'I don't believe in God, but if I did, her music would be my bible'. Even the iconoclastic punk rocker John Lydon, better known as Johnny Rotten of the Sex Pistols, has declared her work to be 'fucking brilliant' and has labelled her 'a true original.' Suede front-man Brett Anderson has stated that 'Wuthering Heights' was the first single he ever bought and mentioned 'And Dream of Sheep' in Suede's song 'These are the Sad Songs'.
Marc Almond chose 'Moments of Pleasure' as one of his 10 favourite songs on Radio 2 in June 2007, saying that the song had a profound influence on him when he was combating drug addiction in New York in the 90s.
Outside music, Bush has been an inspiration to several fashion designers, most notably Hussein Chalayan. In November 2006, the singer Rufus Wainwright named Bush as one of his top ten gay icons.
Many artists around the world have recorded cover versions of Bush songs, including Charlotte Church, China Drum, Maxwell, The Futureheads (who had a UK top ten hit with a cover of 'Hounds of Love'), Angra, Placebo, Patrick Wolf, Pat Benatar, Within Temptation, Hayley Westenra, Natalie Cole and The Decemberists. Tori Amos has covered 'Running Up That Hill' and 'And Dream Of Sheep' in live performances. Mirah has covered 'Cloudbusting' in live performances. 'And Dream Of Sheep' has also been covered live by Happy Rhodes. Coldplay have said their track 'Speed of Sound' was originally an attempt to re-create 'Running Up That Hill'.
SELECTED DISCOGRAPHY
Studio albums
"The Kick Inside" (1978)
"Lionheart" (1978)
"Never for Ever" (1980)
"The Dreaming" (1982)
"Hounds of Love" (1985)
"The Sensual World" (1989)
"The Red Shoes" (1993)
"Aerial" (2005)
Compilations
"The Whole Story" (1986)
"This Woman's Work" (1990) Box-set
Other projects
"The Single File" (1983)
"The Whole Story" (1986)
"This Woman's Work" (1990)
"Live at the Hammersmith Odeon" (1994)
Read more
Latest headlines