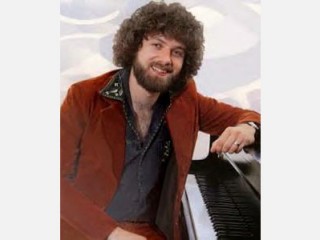 Keith Green biography
Date of birth : 1953-10-21
Date of death : 1982-07-28
Birthplace : New York
Nationality : American
Category : Arts and Entertainment
Last modified : 2011-02-09
Credited as : Gospel and Christian Singer, songwriter, Your Love Broke Through
Keith Gordon Green was an American gospel singer, songwriter, musician, and Contemporary Christian Music artist originally from Sheepshead Bay, New York. Green is best known for his strong devotion to evangelical Christianity and his unwavering efforts to stir others to the same. Notable songs written by Green and/or his wife, Melody Green, include "Your Love Broke Through", "You Put This Love In My Heart," and "Asleep In The Light".
Early life
Keith Gordon Green
took to music at a young age, beginning with the ukulele at age three, the guitar at five, and the piano at seven years of age. His talents were noted by a major newspaper by the time he was only eight years old. Following a performance of Arthur Laurents' The Time of the Cuckoo, a local review by the Los Angeles Times wrote that "roguish-looking, eight-year-old Keith Green gave a winning [character] portrayal" as "the little Italian street urchin, Mauro"; another review commented that he "stole the show". The show was Keith's first appearance in live theater, which was held in Chatsworth, California, in September 1962. According to the LA Times, Keith had already "done a number of television commercials and...made a TV pilot."
At ten years old, Green went on to play "Kurt von Trapp" in a major production of The Sound of Music at the Valley Music Theater in Woodland Hills, California, part of the San Fernando Valley. At age eleven in February 1965, with forty original songs already under his belt, Green signed a five-year contract with Decca Records (with his father, Harvey Green [1924-1999], as business manager). The television game show "I've Got a Secret!" made an exception to his age of 11 and hosted him on the show with his secret, 'I just signed a 5-year contract as a rock 'n roll singer' and ending his segment with a live performnce of 'We'll Do a Lot of Things Together'. The first song released on disc was The Way I Used to Be in May 1965 (produced by Gary Usher), which he had earlier composed and published before signing on with Decca. Upon publication of this song, Green became the youngest person ever to sign with the American Society of Composers, Authors and Publishers (ASCAP).
Decca Records planned to make Green a teen idol, regularly getting the young pre-teenager featured in fanzines like Teen Scene and on popular television shows like The Jack Benny Show and Steve Allen's show. When Green was twelve, Time magazine referred to him as "a prepubescent dreamboat". His dreams of stardom were shattered, however, when Donny Osmond stole his short-lived spotlight and Keith's newfound stardom was quickly forgotten by the public.
Keith had a Jewish background, but he grew up reading the New Testament. He called it "an odd combination" that left him open minded, but deeply unsatisfied. His journey led him to drugs, South Asian mysticism, and "free love". After experiencing what Green described as a "bad trip", he abandoned drug use and became bitter towards philosophy and theology in general. Green would later state, however, that in the midst of his skepticism, he felt that God "broke through [his] calloused heart" and he became a born-again Christian. Soon afterward, Keith's then live-in girlfriend Melody Steiner also converted to Christianity, and the pair married on Christmas day 1973. It was during this time that the newlyweds became involved with the Vineyard Christian Fellowship in Southern California.
Ministry
In 1975, the Greens began an outreach program in the suburbs of Los Angeles, California, in the San Fernando Valley. Purchasing the home next door to their own and renting an additional five in the same neighborhood, Keith and Melody provided housing and care for prostitutes, drug addicts, and the homeless; much to the consternation of their more conservative neighbors. In 1977, this outreach was officially named Last Days Ministries.
Keith Green's initial tone of ministry was largely influenced by Leonard Ravenhill, who pointed Keith to Charles Finney, a nineteenth century revivalist preacher who preached the law of God to provoke condemnation in his hearers. Keith eventually repented himself of this kind of approach, demonstrated in his concerts through angry exhortations to his listeners to repent, and every notion of himself being a prophet above that of an ordinary Christian called to encourage the family of God into deeper devotion to Christ. This translation is clearly heard in his music beginning with Songs for the Shepherd in 1982, an album that seemed more focused on the love, mercy and grace of God rather than the wrath of His displeasure.
Recording
Green was signed to Contemporary Christian music label Sparrow Records in 1976 and worked on the album Firewind (1976) with Christian artists The 2nd Chapter of Acts, Terry Talbot, John Talbot, and Barry McGuire. His first solo project, For Him Who Has Ears to Hear, was released in 1977 and his second solo release, No Compromise, followed in 1978.
In 1979, after negotiating a release from his contract with Sparrow, Green surprised many in the music industry by refusing to charge money for concerts or albums. Keith and Melody mortgaged their home to privately finance Green's next album, So You Wanna Go Back To Egypt. The album, which featured a guest appearance by Bob Dylan, was offered through mail-order and at concerts for a price determined by the purchaser. As of May 1982, Green had shipped out more than 200,000 units of his album – 61,000 for free. Subsequent albums included The Keith Green Collection (1981) and Songs For The Shepherd (1982).
Last Days Ministries
In 1978, Last Days Ministries began publishing the Last Days Newsletter. Originally printed on a few pages of loose paper, it grew in content to eventually become a "small, colorful magazine", and was renamed in mid-1985 as Last Days Magazine. The magazine featured articles by Keith and Melody as well as contemporary Christian authors David Wilkerson, Leonard Ravenhill, and Winkie Pratney, all of whom lived in the area. The publication also later included the reprinted works of classic Christian authors such as Charles Finney, John Wesley, and William Booth and his wife Catherine. Due to the popularity of the magazine and its articles amongst born-again Christians, most of the articles were reprinted as tracts. At the peak of its popularity, the Last Days Magazine was sent out to over 300,000 people worldwide.
In 1979, the ministry relocated from the San Fernando Valley to a 40 acre plot of land in Garden Valley, Texas, a crossroads community about nine miles (14 km) west of Lindale, Texas. Within a few years, Last Days purchased additional land, bringing the total to .
Plane crash - an Icon dies
Keith Green died on July 28 1982, when the Cessna 414 leased by Last Days Ministries crashed barely after takeoff from the private airstrip located on LDM property. In order to give visiting friends an aerial tour of the LDM property and the surrounding area, the small plane carried eleven passengers and the pilot, Don Burmeister. Green and two of his children, three year old Josiah, and two year old Bethany, were on board the plane, along with visiting missionaries John and Dede Smalley and their six children. All on-board the seven-seat aircraft were killed.
Among several causes, the NTSB determined that the crash was largely due to overload. The pilot, who was an experienced U.S. Marine Corps pilot, should have refused to take five more passengers than there were seats on the plane. With eleven passengers on-board, the aircraft was considerably overloaded at nearly 450 pounds (202 kg) overweight. Thunderstorm activity in the area also left suspicions of windshear as a contributing factor.
Keith, Josiah, and Bethany Green are interred at Garden Valley Cemetery behind the Garden Valley Baptist Church, less than a half-mile from Last Days Ministries property. He was survived by his wife and two daughters, the youngest of whom was born after Green's death.
Legacy
Two full albums of original Green songs were released posthumously: The Prodigal Son (1983) and Jesus Commands Us to Go! (1984). Another release, I Only Want to See You There (1983) contained mostly previously released material. A complete volume of his work, The Ministry Years, was released in 1987 and 1988, including a few more previously unreleased songs.
The final, unreleased Christian song known to have been recorded by Keith was Born Again, which was finally released seventeen years later in 1999 on the First Love compilation video and CD. Both feature a two-song tribute to Keith by other Christian artists.
A prolific personal journalist, Green's writings were published as excerpts in the books A Cry In The Wilderness (Sparrow, 1993), If You Love the Lord (Harvest House, 2000), and Make My Life a Prayer (Harvest House, 2001).
In 1992, several artists joined together to re-record many of Green's best-known songs for a tribute album called No Compromise: Remembering the Music of Keith Green under the Sparrow Records label. Artists contributing to the recording include Petra, Charlie Peacock, PFR, Susan Ashton, Margaret Becker, Michael Card, GLAD, Rich Mullins, Steven Curtis Chapman and Russ Taff.
In 2001, BEC Records released a second, more modern, tribute record Start Right Here: Remembering the Life of Keith Green. Produced by Derri Daugherty, the album included performances by new contemporary Christian artists MxPx, Joy Electric, Starflyer 59, among others.
At the twentieth anniversary of Keith's death, Sparrow Records released yet another tribute album, Your Love Broke Through: The Worship Songs of Keith Green. The 2002 album contains re-recordings by Rebecca St. James, Michelle Tumes, Chris Tomlin, Twila Paris, Darlene Zschech, Jason Upton, Martin Smith, Charlie Hall, Joanne Hogg, Matt Redman, Paul Oakley, and Sarah Sadler. The album contains contemporary Christian and mainstream artist Michael W. Smith's version of the song There Is One, an unfinished work by Keith Green. Composition of the song was completed by Smith, along with British songwriter and Christian music artist Martin Smith.
The LDM property was sold in 1996 and is now occupied by Teen Mania Ministries. Teen Mania has dedicated one of its dormitories, Green Hall, in memory of Keith. Melody Green continues to operate Last Days Ministries from Oceanside, California, and is a well-known speaker and author. With David Hazard she authored a biography of Keith, No Compromise: The Life Story of Keith Green (Harvest House Publishers, 1989; revised and expanded in 2000; also on the Compact Disc version of The Ministry Years, Volume Two album).
Honors
On November 27, 2001, Keith Green was inducted into the Gospel Music Hall of Fame.
On April 3, 2006, Green was honored with the ASCAP Crescendo Award at the 28th annual ASCAP Christian Music Awards presentation dinner. His widow, Melody Green, was present to receive the award for her late husband.
Read more
Latest headlines