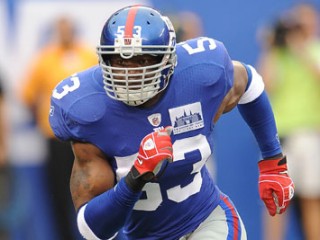 Keith J. Bulluck biography
Date of birth : 1977-04-04
Date of death : -
Birthplace : Suffern, New York
Nationality : American
Category : Sports
Last modified : 2010-09-22
Credited as : Football player NFL, linebacker for the New York Giants, Pro Bowl/NFL Draft player
Keith J. Bulluck is an American Football linebacker for the
New York Giants
of the National Football League. He was drafted 30th overall by the Tennessee Titans in the 2000 NFL Draft. He played college football at Syracuse.
* Originally a 1st round (30th pick overall) draft choice by the Tennessee Titans in 2000…Signed by the Giants as a free agent on July 26, 2010.
GIANTS NOTES
* Bulluck had at least 109 tackles in each of his last eight seasons with the Titans and led Tennessee in tackles six of those seasons ((2002-06, '08).
* Bulluck's 1,265 tackles is the third-highest total in Houston Oilers/Tennessee Titans franchise history, behind only Gregg Bingham (1,970) and Robert Brazile (1,281).
* In 2003, was a member of the AFC Pro Bowl team and an Associated Press All-Pro.
* Started 127 consecutive games before he was forced from the lineup after suffering a knee injury on Dec. 20, 2009 vs. Miami.
CAREER HIGHLIGHTS
* Has played in 157 regular season games with 130 starts and in 7 postseason games with 6 starts…Has career regular season totals of 1,265 tackles (836 solo), 18.0 sacks for 119.5 yards in losses, 19 interceptions, 14 forced fumbles and 12 fumble recoveries…Bulluck has 6 career touchdowns…Has played in 7 postseason games with 6 starts and has 56 tackles (46 solo).
* In 2009, started all 14 games in which he played…Finished 2nd on the Titans with 118 tackles (his 8th consecutive season with at least 100 tackles) and 8 passes defensed and tied for 2nd on the team with 3 interceptions…Led or tied for the team lead in tackles 5 times…Named AFC Defensive Player of the Week after tying for the team lead with 10 tackles, including a stop for loss, while collecting 2 interceptions and 3 passes defensed vs. St. Louis (12/13)…had 5 tackles before suffering a torn left anterior cruciate ligament the following week vs. Miami (12/20)…Had his 127 consecutive game start streak end by missing the San Diego game (12/25) with an injury…The 127 consecutive starts ranks 3rd in franchise history among linebackers…Placed on injured reserve 12/30.
* In 2008, Bulluck started all 16 games and registered a team-best 120 tackles…Finished 2nd on the squad with eight tackles for losses…Led or tied for the team lead in tackles 5 times… Voted a team captain by his teammates…Named AFC Special Teams Player of the Week after blocking a Kyle Larson punt and recovering the loose ball for a touchdown to give the Titans' a 24-7 lead with 14:05 remaining in the fourth quarter vs. Cincinnati (9/14)…Made his 100th consecutive start at outside linebacker and collected 7 tackles vs. Houston (9/21).
* In 2007, all 16 games and led the Titans with 5 interceptions…Tied for 3rd on the team with 109 tackles (75 solo) and collected his 1,000 career tackle vs. Houston (12/2)…Voted a team captain for the 2007 season by his teammates...Named AFC Defensive Player of the Week after registering 6 tackles and a career-high 3 interceptions (all off Drew Brees) in a 31-14 Monday night victory vs. New Orleans (9/24). Collected his 1st interception by stepping in front of a pass intended for Lance Moore on third-and-14 in the 2nd quarter. Picked off a pass intended for Marques Colston with a diving interception and returned it 35 yards to the Saints' 8-yard line in the 4th quarter. Captured his 3rd interception of the game by picking off a pass intended for Terrance Copper in the 4th quarter.
* In 2006, started every game and led Tennessee with 161 tackles…Became the 3rd player in franchise history to lead team in tackles for 5 consecutive seasons, joining linebackers Gregg Bingham (1974-81) and Al Smith (1990-94)…Led team or tied for team lead in tackles in 8 games…Also totaled 2.5 sacks, 1 interception, 3 tackles for loss, 9 passes defensed, 2 forced fumbles and 1 fumble recovery…Scored touchdown on fumble recovery (took a lateral from Randy Starks and ran the final 16 yards to the end zone) at Philadelphia (11/19), bringing his career touchdown total to 5…Made a diving, 1-handed grab of a Peyton Manning passvs. Indianapolis (12/3). Totaled 12 tackles, 1 tackle for loss and 2 passes defensed in game.
* In 2005, started all 16 games at right outside linebacker and led team with 150 tackles and tied career high with 5 sacks..Added 2 interceptions, 10 tackles for losses, 1 forced fumble, 1 fumble recovery and 8 passes defensed… Led team or tied for team lead in tackles in 10 games…Posed 15 tackles, a sack and a pass deflection at Houston (10/9)…Twice sacked David Carr vs. Houston (12/11).
* In 2004, started all 16 games at right outside linebacker and led team with a career-high tying 171 tackles…Named Sports Illustrated All-Pro…Also had 5 sacks, 12 passes defensed and 2 interceptions, 8 tackles for losses, 1 forced fumble and 1 fumble recovery for touchdown (1/2 vs. Det.)…Became franchise's 1st player since Gregg Bingham (1979-81) to record 170 or more tackles in three consecutive seasons…Had 14 tackles, including a sack of Daunte Culpepper, and eclipsed 500 for his career at Minnesota (10/24)…Sacked Joey Harrington in 1st quarter, forcing and recovering a fumble he returned 39 yards for a touchdown vs. Detroit (1/2).
* In 2003, started 18 regular season and postseason games at right outside linebacker, earning All-Pro and Pro Bowl honors after leading team in tackles with 171…Had double-digit tackle totals 8 times and led team in tackles 6 times…Also collected 3 sacks, 2 interceptions, 8 tackles for losses, 5 passes defensed, a team-high 5 forced fumbles and 2 fumble recoveries…Played a major role in helping defense finish 1st in NFL against the run, preventing 7 running backs who rushed for more than 1,000 yards from gaining 100 yards during the regular season...Set a career- high with 19 tackles at Pittsburgh (9/28)…His tackle total was most by Titans player since Joe Bowden's 19 stops on Sept. 6, 1998…Totaled a team-high 18 tackles in 2 postseason games while helping limit NFL leading rusher Jamal Lewis to season-low 35 yards on 14 carries in win over Baltimore (1/3).
* In 2002, started all 16 games at right outside linebacker and led the club with 180 tackles – the most by any player with the franchise since 1986…Added 15 quarterback pressures, 10 tackles for loss, 1 interception, 3 passes defensed, 1 sack, 3 forced fumbles and 2 fumble recoveries…Named All-Pro by Sports Illustrated, 1st-team All-Pro by Football Digest, 2nd-team All-Pro by Associated Press and All-AFC by Pro Football Weekly…Led or tied for team high in tackles in 12 out of 16 regular season games…Led team with 11 tackles in AFC Divisional Playoff win vs. Pittsburgh (1/11).
* In 2001, played in 15 games with 3 starts…Saw action as a nickel linebacker and posted 64 tackles, 2 interceptions, 1 sack, 5 passes defensed, 8 special teams tackles and 2 special teams fumble recoveries…Posted 1st career sack against Rich Gannon at Oakland (12/22).
* As a rookie in 2000, played in 16 games with 1 start…Made 1st NFL start in a 4-linebcker package vs. the Giants (10/1)…Recorded 1st career interception vs. Dallas quarterback Anthony Wright and returned it 8 yards for 1st career touchdown (12/25).
COLLEGE
* Played strong safety, outside linebacker and middle linebacker at Syracuse.
* Started 3 seasons and recorded 375 tackles (7th-most in school history), 6 sacks, 3 interceptions, 3 forced fumbles and 6 fumble recoveries during his Syracuse career.
* Named 1st-team All-Big East and received the Bill Horr Award as Syracuse's most valuable player as a senior in 1999.
* Led the conference with a career-high 138 tackles as a senior.
* Earned 2nd-team All-Big East honors with team-leading 104 tackles as a junior.
* Redshirted as a true freshman in 1995.
* Graduated with a degree in psychology from Syracuse.
OFF FIELD ACTIVITY:
* In an effort to give back to the community and extend his hand to children with backgrounds similar to his, in May 2003 he started Keith Bulluck Believe and Achieve Foundation, Inc. (www.believeandachieve.org), which works with Middle Tennessee and New York foster care groups. He has raised money for the foundation through various fundraising efforts, including the inaugural Wine and Roses Wine Tasting Event and Silent Auction in 2006. He formerly hosted the Keith Bulluck NFL Celebrity Ballers Classic basketball game for 3 years. Through the foundation, Bulluck donated tickets for every Titans home game, threw Halloween and Christmas parties, and donated backpacks and school supplies to Nashville-area foster children. Bulluck also annually gave away Thanksgiving turkeys to foster families. The foundation partnered with a software certification company to train students in computer applications. Bulluck's goal is to raise foster care and adoption awareness and help children with whom he can relate succeed in accomplishing their dreams.
* In 2007, Bulluck was named Titans Walter Payton Community Man of the Year for his extensive charitable endeavors, particularly his efforts in foster care awareness. It marked the second consecutive season he received the award that is given annually to the player that best demonstrates outstanding balance in their lives between civic and professional responsibilities. Bulluck was selected by a vote from his teammates, Titans staff, members of the news media and local non-profit and community executives.
* Bulluck was honored in May 2006 as a National Spokesperson for Foster Care Awareness Month (www.fostercaremonth.org).
* During the 2006 and 2007 offseasons, Bulluck took advantage of a league program that allows players to seek continuing education. In 2007, he enrolled in a workshop at the Stanford Graduate School of Business that was designed to broaden a player's understanding of how to evaluate business opportunities in general and in the sports industry specifically. In 2006, he was one of 35 current or former NFL players to enroll in a Harvard Business School program that emphasized entrepreneurial opportunities and business management skills over the course of 2 highly-intensive, 3-day sessions.
* Participated in Titans Hometown Huddle and Titans Caravan as well as area hospital and school visits.
* Named 2004 Honorary Chairman of Foster Care Awareness in hometown of Rockland County, N.Y.
* In 2004, was recognized as co-Professional Male Athlete of the Year by The Tennessee Sports Hall of Fame, sharing honor with teammate Steve McNair.
PERSONAL
* Has 2 daughters, Keira and Kenzi.
* Bulluck is the product of an inspirational background. He was taken in at the age of 12 by Linda Welch, a single, white mother living outside of New York. The stay, which was supposed to last 3 weeks to help out his mother, turned into 6 years, and Welch and her family provided the support he needed to excel at Clarkstown (New City, N.Y.) High School and earn a scholarship to Syracuse University.
* At Clarkstown High, Bulluck was named 1st-team All County, 1st-team All-State, Blue-Chip All-American, and both Prep Football Report and Super Prep All-Northeast.
* All-County basketball selection as a junior.
* During the 2009 offseason, Bulluck was honored at his former high school, Clarkstown North in New City, N.Y. His No. 1 jersey was retired and he was recognized for his contributions to the school, on and off the field.
* Born
Keith J. Bulluck
on April 4, 1977 in Suffern, N.Y.
Read more
Latest headlines