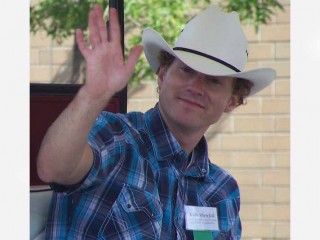 Keith Shewfelt biography
Date of birth : 1982-05-06
Date of death : -
Birthplace : Calgary, Alberta, Canada
Nationality : Canadian
Category : Sports
Last modified : 2010-06-21
Credited as : Olympic gymnast, first Canadian gold of the 2004 Olympics,
Kyle Keith Shewfelt
(born May 6, 1982 in Calgary, Alberta) is a Canadian gymnast. His gold medal in the men's floor exercise competition at the 2004 Athens Olympics was the first medal ever by a Canadian in an artistic gymnastics event and was the first Canadian gold of the 2004 Olympics. He also has a vault named after him.
Pint-sized gymnast Kyle Shewfelt was standing tall in August 2004 as he savoured the gold medal that he had just won at the Athens Summer Olympic Games. As the first-ever Canadian Olympic medallist in men's artistic gymnastics, the five-foot-four dynamo was aware that he had just made history.
"This is a historic moment, and I'm so happy to be the one who could make this history," Shewfelt told reporters after his gold-medal-winning performance in the floor exercise. "I was a kid when I started gymnastics and I had a dream. I did an interview and said, 'I want to go to the Olympics and I want to win.' Today, it happened. I hope this is an inspiration for the whole nation. Anything is possible."
Shewfelt's Olympic dream had taken shape 16 years earlier when he started turning cartwheels in the living room of his Calgary home. "I always had lots of energy," the gymnast told Neil Stevens of Canadian Press. "I would be cartwheeling and flipping around on the couch when I was five or six years old. One day, my mom said 'Kyle, let's get you into a gymnastics club."
Nola Shewfelt enrolled her son at the Altadore Gymnastics Club when he was six years old, and he has trained there ever since. "When I first took gymnastics, I learned a back handspring and I was hooked," Shewfelt told Eric Francis of the Calgary Sun. "I was doing back handsprings across the lawn, and I couldn't get enough time in the gym."
The youngster's enthusiasm and natural ability attracted the attention of coach and former gymnast Kelly Manjak, who had been on the lookout for developing talent. "Someone told me: 'There's a boy here you might want to look at,'" Manjak told George Johnson of the Calgary Herald. "So I went over, and he was just flying across the floor. Doing handstands and cartwheels."
Impressed by what he saw, Manjak became the youngster's coach, initiating a partnership that would last for the next 16 years and culminate in Shewfelt's 2004 Olympic victory. Over the years, the two became friends, and Shewfelt was best man at Manjak's wedding.
"[Manjak] is like a father to me," Shewfelt told Francis. "I spend so much time with him. I love him just as much as my family. Kelly is my rock."
"They have a very special relationship," Shewfelt's mother, Nola, told Johnson. "Kyle's had chances to change coaches over the years and refused. They've had their ups and downs, their disagreements, their fights. But whenever Kyle was mad and you'd mention maybe a change, Kyle would say, 'No! That is not an option.' And I think that's because Kyle knew that he and Kelly could get to where they both wanted to be."
Just as important, however, was Shewfelt's dedication to realizing his Olympic dream. His brother, Scott, remembers him sequestering himself in his room for hours, watching tapes of the world's top gymnasts in action so that he could figure out their techniques.
Shewfelt won his first local meet in 1988, and he soon began competing in --- and winning --- regional, national and then international competitions. As his potential became more and more obvious, he started training five hours a day, a regimen that left little time for other interests. In fact, he ended up taking his high school courses by correspondence so that he could concentrate on gymnastics.
This meant that he missed out on the normal teenage social life, but he didn't feel the loss. "It doesn't seem to me to be that big a sacrifice," he told Stevens. "It's fun. It's what I want to do."
Because of the 18th-place finish of the Canadian men's gymnastics team at the 1999 world championships, the Canadian Olympic Association had ruled that only one male gymnast would represent Canada at the 2000 Olympic Games in Sydney, Australia. By late 1999, Alexander Jeltkov of Montreal had won this assignment, as he was the only gymnast who had met the COA's rigorous standard for inclusion on the country's team. To be considered, Canadian athletes in all sports were required to achieve a top-16 world ranking.
But Gymnastics Canada worked out a compromise with the COA. A second male gymnast could go --- if he could earn the privilege by finishing in the top 16 in World Cup rankings. With just four World Cup meets to go before the Olympic tournament, this was a tall order, and officials of Gymnastics Canada started looking around for someone who could rise to the challenge.
When men's program director Hardy Fink suggested Shewfelt, who was just 17 at the time, Wilf Wedmann, president of Gymnastics Canada, was skeptical. Wedmann told Stevens that he said to Fink, "Oh, come on. [Shewfelt] wasn't even selected for our world championship or Pan American Games teams. How's he going to go head to head with the best in the world in each competition and absolutely stick the performance each time?"
Still, Fink stuck to his guns, and Shewfelt was recruited to give it a shot. He told Stevens: "I think they thought of me because I'm a pretty consistent performer on the floor and in vaulting."
Over the following months, Shewfelt competed in Montreux, Switzerland, where he finished seventh in the floor exercise. Then he went on to a meet in Germany, where he placed seventh again, and he won the bronze medal at a tournament in Glasgow. He turned 18 in May 2000, and in June, he was in Ljublijana, Slovenia, for the last of the four meets. There, he finished fourth.
These results were good enough to catapult him to an eighth-place ranking in World Cup standings for the floor exercise and to meet the COA's standard with ease. The unheralded gymnast would make the trip to the Sydney Olympics.
In the event, he finished 12th in the floor exercise. Though it wasn't the result he had hoped for, it was a respectable showing for an 18-year-old first-time Olympian --- and it served notice that a rising star had burst onto the scene.
Though Shewfelt was eligible to compete at the 2001 world championships, he chose not to go. Instead, he elected to stay at home --- out of the limelight --- to train and develop his routines. "I wanted to increase my difficulty in the other events," he told Fred Collins of the Calgary Herald.
By 2002, he was back in international competition, posting results that showed that he was a force to be reckoned with. At the Commonwealth Games in Manchester, England, he won gold medals in the floor exercise and vault, and he also won gold in floor at a World Cup meet in Scotland. In 2003, his results were even better. He won bronze medals in floor and vault at the world championships and scored two first-place finishes in the floor at World Cup tournaments.
He suffered a setback in March 2004, however, when he injured his foot at a World Cup competition and was forced to withdraw from the floor final. "I landed kind of funny and did something to my foot," he told Canadian Sports News. "Overnight, it swelled up, and I was advised by doctors not to compete until I get an MRI. So my plan is to get back to Calgary as fast as possible."
The injury turned out to be a bone bruise on his ankle, and it kept him out of competition for the next four months. Fortunately, he was able to return in time for the Olympic trials in July.
All the while, Shewfelt's sights were firmly set on the 2004 Athens Olympics. This time, he wouldn't enter the Games as an unknown. In fact, Sports Illustrated picked him to win the gold medal in the floor exercise --- and he was also considered a medal threat in the vault.
Shewfelt claimed to be unfazed by the expectations that had been placed on his shoulders. "Why would I?" he asked George Johnson of the Ottawa Citizen. "No one can want it for me more than I want it for myself. I've always pointed at something: this year, it's the Olympics, last year, it was the worlds, the year before that, the Commonwealth Games. I work better homing in on something.
"The way I look at Athens is this: it's just another competition, but it's the biggest competition of my life --- if that makes sense ... I envision in my head winning a medal, being on the podium, and hugging Kelly for all that he's done for me and all we've been through together."
On August 22, 2004, Shewfelt's vision became reality. Performing fifth of eight competitors in the floor exercise, he delivered a near-flawless routine, then stuck his final all-important landing. "Before my dismount, I told myself what I've been telling myself all week," he told Francis. "Put everything you have into this landing --- it's the only one that matters ... I think I actually yelled when I stuck my dismount because there was so much that went into this. Not so much worrying, but anticipation and anxiousness and expectation."
His routine was scored at 9.87, giving him the highest marks of the competition to that point. But three competitors remained, including American Paul Hamm, the all-round champion who was expected to challenge for an individual medal. When Hamm's routine didn't live up to expectations, Shewfelt knew that he had fulfilled his dream.
"I felt so proud to be a Canadian," he told reporters after his victory. "I've imagined being in this position from age six when I started."
Later, Shewfelt found out that he had won by the narrowest of margins. Initially, his score had been tied with that of Romanian Marian Dragalescu, who finished with the silver medal. The Canadian came out on top when a tiebreaking protocol eliminated the lowest judging scores and recalculated the marks of the two competitors.
Shewfelt didn't have much time to savour his victory, however. The next day, he was scheduled to compete in the vault. Though he wasn't a medal favourite in this event, he was a strong contender and he performed well. In a strange twist, he missed the bronze medal by a hair, when it was awarded to Dragalescu, the gymnast Shewfelt had bumped out of the gold-medal position the day before.
This turn of events sparked howls of protest from Canadian officials, however. They said that Dragalescu had made a number of obvious errors that should have resulted in mandatory deductions to the score for his second vault. Had these deductions been made, the score he had received would have been impossible. "This is the worst case of fluctuating judging we've ever seen," Canadian gymnastics team coach Tony Smith told Francis.
Though Canadian officials filed a protest, which has not yet been settled, Shewfelt refused to be drawn into the controversy over judging. "I don't pay attention to it," he told Jim Morris of Canadian Press. "If I paid attention to that stuff, I would be awake all night. All I can control is my performance."
Shewfelt's future in competitive gymnastics is uncertain. After the Olympics, Manjak planned to move to Ontario to coach women's gymnastics along with his wife. For Shewfelt, who acknowledges that he's a creature of habit, the change will be unsettling.
"I'm someone who enjoys routine," he told Johnson. "I've lived in the same house all my life. I've had the same girlfriend for a long time. I've had the same coach for a long time. I figure, if things are good, why change? I like order. So this is definitely upsetting."
Shewfelt plans to compete in the next world championships, then make a decision about whether to continue in the sport until the 2008 Olympics in Beijing. When his competitive career is over, however, he has another goal: to join Cirque du Soleil.
No matter what course he follows, however, he plans to continue tumbling, for this is what he loves to do. "You'd have to be a gymnast to understand why we do it," he told Stevens. "It's all about the feeling of exhilaration in making the perfect landing or turn."
AWARDS
Junior Athlete of the Year, Alberta Sports and Recreation Foundation, 2003.
CAREER
Won first gymnastics meet, 1988; qualified to compete at Sydney Olympic Games, 2000, by achieving a top-16 world ranking; finished 12th in floor exercise at Sydney Summer Olympic Games, 2000; won gold medals in floor and vault, Manchester Commonwealth Games, 2002; named to world all-star gymnastics team, TJ Maxx International Gymnastics Challenge, 2002; won gold medal, as well as various other medals, in World Cup competitions, 2002; won bronze medals in floor and vault, world gymnastic championships, 2003; won two gold medals in floor exercise in World Cup competitions, 2003; won gold medal, floor exercise, Athens Summer Olympic Games, 2004, becoming first Canadian to win a medal in men's artistic gymnastics.
Read more
Latest headlines