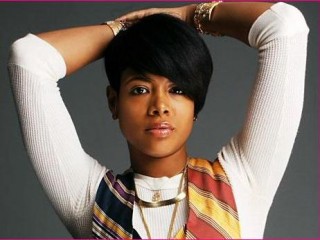 Kelis biography
Date of birth : 1971-08-21
Date of death : -
Birthplace : New York City,U.S.
Nationality : American
Category : Arts and Entertainment
Last modified : 2011-12-06
Credited as : Singer, "Not in Love" single, Nas
Kelis Rogers is an American musical artist. She is a BRIT Award, Q Award and NME Award winner and has been nominated for two Grammy Awards. She has had nine top 10 singles on the UK Singles Chart.
"I don't deal well with authority, and I don't like being predictable," Kelis told Entertainment Weekly in December of 2003. So far the bold singer has remained a woman of her word--churning out one sexy, catchy and traffic-stopping hit after another--and doing it her way. But whether it's her untamed locks, suggestive lyrics, or her hybrid musical style, there's one thing Kelis was determined to do from the beginning: get people's attention.
Born on August 21, 1980, in Harlem, New York's epicenter for jazz and the arts, Kelis (pronounced Kuh-leese) Rogers had an early interest in music, thanks to encouragement from both parents. From the age of four, Kelis was performing in nightclubs across the country with her jazz saxophonist father, Kenneth G. Rogers, who played with artists like Dizzy Gillespie and Nancy Wilson. At her mother's urging, Kelis began studying classical violin at age two (she continued her studies for 14 years) and picked up the saxophone as a teenager. She also followed in her three older sister's footsteps and sang with the Girls Choir of Harlem. Her signature fashion style developed out of the colorful, custom-made outfits her designer mother sewed for the Rogers girls to wear to school.
At the age of 14 Kelis enrolled in LaGuardia High School for Music & Art and Performing Arts, where she studied drama and theater. There she formed an R&B trio called BLU (Black Ladies United), which caught the attention of hip-hop producer Goldfinghaz, who introduced Kelis to the Wu Tang Clan's RZA. In 1997 she sang backup on "Fairytalz" for RZA's side project, Gravediggaz. At 16, by now arguing constantly with her parents, Kelis ventured out on her own. It was harder than she'd imagined. "Things weren't as easy as I thought they'd be," she told the New Zealand Herald in April of 2000. "It was a real struggle at first and I was far too busy trying to figure out how to feed myself to even think about music." To make ends meet, she tended bar and worked in clothing stores. "I didn't want to work a 9-to-5 job," Kelis told Entertainment Weekly. "I was like, 'What can I do? Well, I guess I should do what I've been doing all my life and just get paid for it." Her hard work paid paid off, however, and in 1998, she signed a recording deal with Virgin Records.
After high school, Kelis beefed up her resume, working with a throng of A-list rappers and R&B artists. In 1999 she made a cameo on Ol' Dirty Bastard's "Got Your Money." In 2001 she sang the hook on Busta Rhymes's "What It Is" and appeared on R&B singer Usher's album 8701. It was during this time that she became friends with an artist who would prove profitable to both her career and her personal life: Pharrell Williams, half of the Grammy-winning production team, the Neptunes. Williams not only wrote and produced Kelis's debut album, Kaleidoscope, but introduced her to rapper Nas, to whom she became engaged in 2003.
Kelis made jaws drop in 1999 with "Caught Out There," the catchy, brazen single produced and written by the Neptunes from her debut album. In it she berates a cheating boyfriend, screaming, "I hate you so much right now!" Kelis was unfazed by possible repercussions or negative interpretations of the song. "I'm not a man-hater. Just because I'm singing about one man's infidelity, it doesn't mean I hate all men," Kelis told the New Zealand Herald.
Kaleidoscope generated three top 40 hits: "Caught Out There," "Good Stuff," and "Get Along With You." Kelis, who named the album for her constantly changing life and musical styles, appeared on the album cover wearing only body paint, with her wild locks tinted vibrant colors. While headlining her own 25-city tour to support the album in 2000, she showcased its fusion of soul, rock, R&B and hip-hop, covering Nirvana's "Smells Like Teen Spirit," and Lionel Richie's "Hello," which was accompanied only by a piano. The following year was even busier. Kelis opened for Lenny Kravitz and Britney Spears, appeared on Moby's Area One Tour, and supported U2 on the European leg of their Elevation Tour.
Kelis's relationship with Virgin Records soon turned sour--they claimed that after the album's poor overseas sales she refused to record new material for an American release. As a result, the company never released her sophomore effort, Wanderland, in the United States. The album featured a duet with No Doubt singer Gwen Stefani and rock group Korn's Fieldy on bass. But the song "Popular Thug" was salvaged and rerecorded for the Neptunes' 2003 project, a compilation titled The Neptunes Present ... Clones.
After splitting from Virgin, Kelis immediately went to work on songs for her next release, fronting most of the money for studio time herself. With the Neptunes' help, she signed with Arista Records under their Star Trak imprint. With production help from Andre 3000, Raphael Shadiq, and the Neptunes, she released Tasty in 2003. The album spawned a huge hit single for Kelis, "Milkshake," which went to number three on the Billboard Hot 100 chart. Kelis told the Ottawa Citizen in January of 2004, "A milkshake is the thing that makes women feel special. It's what gives us our confidence and what makes us exciting." She explained to Entertainment Weekly" in December of 2003 that "[the] song is fun and silly and not to be taken too seriously. But on the flip side, I can be as powerful, interesting, and smart as I wanna be and still be enticing and sexy."
The song's scintillating video (featuring a cameo by fiancé Nas) and suggestive lyrics made it a regular feature on MTV's TRL and earned Kelis an appearance on Saturday Night Live. Spurred by the single, Tasty hit number seven on the top R&B/Hip-Hop albums charts and went to 27 on the Billboard top 200 album charts. Fiancé Nas also sings a duet with her on the uber-sexy track, "In Public," in which Kelis playfully suggests they "make a video" together. That same year, Kelis sang on Enrique Iglesias' s "Not In Love" and starred in the video.
Sexy lyrics and PG-17 videos aside, Kelis tries to stay close to her roots. She has a tattoo on her wrist that says "God's musical messenger" in Latin. "Religion's an important part of my life," the sexy singer told the New Zealand Herald in April of 2000. "My dad used to be a minister so I was always at church when I was younger. I definitely see my voice as a gift from God." Still, Kelis has yet to relinquish herself of her desire to stir things up and turn heads. "People either hate me or love me. But I dig that because I provoke emotion--and that's great too," Kelis told Billboard in November of 2003.
"Not in Love", Kelis's collaboration with Enrique Iglesias from his 2003 seventh studio album, 7, was released as a single the following year, reaching number five in the UK. Although the single failed to chart on the U.S. Billboard Hot 100, it topped the U.S. Hot Dance Club Play chart.
During this time, she collaborated with Björk on a remix of the first single from Medúlla, "Oceania", which appeared as a B-side to the Björk album's second single, "Who Is It". With the success of Tasty, Kelis went on tour as the opening act for fellow Jive artist Britney Spears's The Onyx Hotel Tour in 2004.
Kelis's fourth studio album, Kelis Was Here, was released in August 2006, and debuted and peaked at number ten on the Billboard 200. Despite its top ten debut, the album has sold only 157,000 copies in the United States as of October 2007, according to Nielsen SoundScan.Kelis collaborated with Busta Rhymes and will.i.am on the track "I Love My Bitch", the second single from Rhymes's 2006 seventh studio album, The Big Bang. This was the second time Kelis has teamed up with Rhymes, the first being his 2001 song "What It Is". Kelis is also featured on the soundtrack to the 2005 film Just Like Heaven with a cover version of The Pretenders' 1979 classic "Brass in Pocket", as well as on the soundtrack to the 2006 dance film Step Up with a song called "80's Joint".
After Kelis left the Zomba label, the label released a fourteen-track greatest hits album entitled The Hits (previously due to be titled Good Stuff – The Best of Kelis) in March 2008 in the United Kingdom. The album does not contain any previously unreleased songs, although Ol' Dirty Bastard's "Got Your Money", N.E.R.D's "Truth or Dare", and Richard X's "Finest Dreams" appear on the album, which is unusual for a hits collection album as she was a featured, not headlining artist on these tracks. The Hits includes every charted Kelis single to that date with the exception of "Blindfold Me" (featuring Nas).
The first single from Flesh Tone, "Acapella" (produced by David Guetta), debuted in the top five on the UK Singles Chart and reached number one on the U.S. Hot Dance Club Songs and the UK Dance Chart. Flesh Tone was released in May 2010 in Europe and Asia, and in July in the U.S., where it debuted at number forty-eight on the Billboard 200 and number five on the Dance/Electronic Albums. The second single, "4th of July (Fireworks)",was accompanied by a video co-directed by Kelis herself (with John "Rankin" Waddell and Nicole Ehrlich), and became a club hit in America and Britain. Subsequent singles "Scream" and "Brave" made less chart impact.
During mid 2010, Kelis embarked on her first U.S. tour, titled All Hearts with Robyn, a mid a selection of club, festival and solo dates that continued through 2011–these included Glastonbury, The Big Chill, Good Vibrations and Lovebox. Kelis appears on the Mark Ronson-produced track "The Man Who Stole a Leopard" from the 2010 Duran Duran release All You Need Is Now.
Kelis collaborated with Scottish producer Calvin Harris on the song "Bounce", the lead single from Harris' upcoming third studio album.The song was released in June 2011 in the United Kingdom and debuted at number two on the UK Singles Chart.
Kelis married rapper Nasir Jones in January 2005. In April 2009 she filed for divorce, citing "irreconcilable differences". She was seven months pregnant at the time. On July 22, 2009, Kelis gave birth to a baby boy named Knight. The birth was announced by Nas via an online video.On July 23, a judge in New York City ordered Nas to pay Kelis $55,000 per month in child and spousal support. The couple's divorce was finalized May 29, 2010.
Discography:
- Kaleidoscope (1999)
-Wanderland (2001)
-Tasty (2003)
-Kelis Was Here (2006)
-Flesh Tone (2010)
Read more
Latest headlines