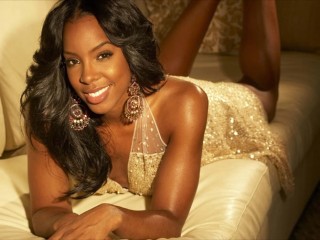 Kelly Rowland biography
Date of birth : 1981-02-11
Date of death : -
Birthplace : Atlanta, Georgia, U.S.
Nationality : American
Category : Arts and Entertainment
Last modified : 2011-10-27
Credited as : Singer, Destiny's Child, The X Factor
Kelendria Trene "Kelly" Rowland is an American recording artist, actress, dancer, songwriter and model who rose to fame as one of the founding members of the American girl group Destiny's Child.
She has sold around forty million albums and twenty million singles with the group, and more than four million solo albums and eighteen million solo/featured singles. In total she has sold 82 million records worldwide.
Rowland quickly became close to cousin Beyonce Knowles, an equally talented singer. When she was old enough to start auditioning, Rowland was teamed up Beyonce, LaTavia Robertson and LeToya Luckett. Manager Matthew Knowles, Beyonce's father, groomed the quartet and encouraged them to work on their style. Following a performance on Star Search in 1992, Destiny's Child was born.
In 1997, once the girls had matured and neared completion of high school, their self-titled album was released. Thanks to "No, No, No," a multi-platinum single that featured a remix by Wyclef Jean, Destiny's Child became an instant success story.
Barely getting time to relax between tours and other public appearances, the youthful quartet released The Writing's on the Wall in 1999. Three top 10 hits came from the album: "Jumpin', Jumpin'," "Say My Name" and "Bills, Bills, Bills." Recent estimates put sales for the CD at nine million, making Destiny's Child one of the best-selling female groups of late.
"Independent Women Part I," off the Charlie's Angels soundtrack, created even more buzz -- if that's possible -- and DC continued to break records as the single reached the largest audience ever in the history of recorded radio airplay.
The 2001 Grammy Awards came along and Destiny's Child received five nominations. Unfortunately, there was bad news around the DC camp as LeToya and LaTavia abruptly departed from the group. Showing great resilience, Kelly and Beyonce quickly found a capable replacement, Michelle Williams and Farrah Franklin. However, Franklin left the group after only five months, thus making DC a trio. When the Grammy show came along, all was well and the new trio won awards for Best R&B Song and Best R&B Performance by a Duo or Group for "Say My Name."
The third Destiny's Child album, Survivor, followed in spring, 2001. Tracks like "Bootylicious" shook the music scene and DC took home another Grammy in February 2002. Billboard, American Music and the Soul Train awards all recognized the group for their feats as well.
Later that year, while Destiny's Child was completing their third album Survivor, Rowland appeared on the remix of Avant's single "Separated" which reached the top spot of the Billboard Hot R&B/Hip-Hop Singles & Tracks chart. Survivor, which channeled the turmoil the band underwent, spawned its lead single of the same name, which was a response to the experience. The song went on to win a Grammy Award for Best R&B Performance by a Duo or Group with Vocals.
Still with Destiny's Child, Rowland teamed up with rapper Nelly in 2002 to record the chorus and bridge vocals on the track "Dilemma" for his album Nellyville. Released as the album's second single, the song rose to one of the most successful singles of the year, topping many charts worldwide, and saw Rowland establishing herself as a solo artist, winning her a Grammy for Best Rap/Sung Collaboration and a Billboard Award the following year.
Originally due in early 2003, the success of the collaboration caused the label to advance the release date of her debut solo album, Simply Deep, which Rowland rushed within three weeks to get done. The album has a mixture of alternative-R&B and rock music.
Featuring production contribution by Mark J. Feist, Big Bert, Rich Harrison, and singers Brandy and Solange Knowles providing background vocals, the album took Rowland's solo work further into an alternative music mixture, which Rowland described as a "weird fusion a little bit of Sade and a little bit of rock." Released stateside in October 2002 and internationally in 2003, Simply Deep peaked at number twelve on the Billboard 200 in the US, where it was eventually certified gold by the RIAA for more than 600,000 copies sold.
After a three-year journey that involved concentration on individual solo projects, Rowland rejoined Beyoncé Knowles and Michelle Williams for Destiny's Child's fourth studio album Destiny Fulfilled, released in November 2004. The album hit number two on the Billboard 200, and spawned "Lose My Breath", "Soldier", "Girl", and "Cater 2 U" as notable mainstream records.
In support of the album, Destiny's Child embarked on the 2005 Destiny Fulfilled ... And Lovin' It world tour, which started in April and ran through September. On the Barcelona, Spain visit, the group announced their disbandment after the end of their final North American leg. In October 2005, the group released a compilation album, entitled #1's, including all of Destiny's Child's number-one hits and most of their well-known songs. The greatest hits collection also includes three new tracks, including their final single "Stand Up for Love". Destiny's Child was honored with a star on the Hollywood Walk of Fame in March 2006. According to Time Magazine, they were recognized as the world's best-selling female group of all time.
That same year, Rowland was featured on American rapper Trina's hit single "Here We Go", the lead single of the Glamorest Life album (2005). The song peaked at #17 on the Billboard Hot 100, successfully becoming another top twenty entry in Finland, New Zealand, the United States, and the United Kingdom with the collaboration.
Rowland's second solo album, Ms. Kelly, was released in June 2007. Not as successful as its predecessor, the album produced the hit singles "Like This" and "Work". Originally entitled My Story, the album's first version was actually scheduled for a June 2006 release, but the singer, her management and Columbia Records decided to shelve the album last minute to re-work a version with a different vibe as the singer considered the final tracklisting "too full of midtempos and ballads."
In 2008, a reissued version of the album, branded Ms. Kelly Deluxe, received a release. Its lead single is the previously unreleased Bobby Womack cover "Daylight", a collaboration with Travie McCoy (of alternative rap group Gym Class Heroes) that reached the top twenty of the UK Singles Chart.By April 2008, Ms. Kelly had managed to sell just over 1.2 million copies worldwide.Also in 2008, Rowland recorded a single with French singer Nâdiya, an uptempo urban pop track entitled "No Future in the Past", for which a video was shot in Miami, Florida during July 2008.
In February 2009, a duet with Italian singer Tiziano Ferro, entitled "Breathe Gentle", was released as a single and reached the top ten of the Italian Singles Chart and the Dutch Singles Chart.
Also, in early 2009, Rowland ended her professional relationship with both manager Mathew Knowles and former label Columbia Records to explore other ventures.Her first step was the house collaboration "When Love Takes Over", the lead single of French DJ David Guetta's 2009 studio album One Love, for which Rowland contributed vocals on three tracks.
The song was released in April 2009 and saw major international success, peaking at number-one in several countries around the globe.The same year, it was announced that Rowland had drafted Jeff Rabhan as her new manager.
In 2010, Rowland signed up to record the MTN theme song for the 2010 FIFA World Cup in South African, "Everywhere You Go", featuring an all-star supergroup of international artists called Rhythm of Africa United.
The U.S. version of Here I Am was released in July 2011. Here I Am debuted on the US Billboard 200 at number three and number one on the Top R&B/Hip-Hop Albums with 77,000 copies sold. To date it is Rowland's highest debuting and charting album in the United States. As of October 2011, the album has sold 178,391 copies in the US. Rowland picked "Lay It on Me" as the next single in the US and "Down for Whatever" as the next international single. The International version of Here I Am will be released on November 28, 2011 in the UK.
Work on Rowland's fourth album reportedly began in August 2011. Rico Love, writer of "Motivation" and several other singles, remarked in an interview with Rap-Up.com, "While she's on tour, I'm gonna be writing records for her new album. We can kinda roll that out and drop her new single in late spring. Excited about that."
Rowland branched out into acting with a guest stint on the sitcom The Hughleys in 2002, before appearing in other UPN shows such as Eve and Girlfriends in the years of 2003 and 2006 respectively.In 2004, Rowland made her big screen debut in the slasher film Freddy vs. Jason, a crossover film directed by Ronny Yu. Cast as one of the female leads, she portrayed Kia Waterson, the frank best friend of lead character Lori Campbell, played by Monica Keena.
Released to generally mixed reviews from critics, the movie topped the U.S. box office, gaining $36.4 million on its first weekend. Budgeted at $25 million, the film became a financial success, resulting in a worldwide box office total of $114.3 million.
The following year, Rowland returned to the big screen, this time for a lead role in the romantic comedy The Seat Filler, starring opposite Duane Martin and Shemar Moore. Executive produced by Will Smith and Jada Pinkett Smith, the film hit theaters in the summer of 2005 and debuted at number eighteen at the box office top twenty.
It eventually earned a total domestic gross ticket sales of $10.2 million. In the film, for which she recorded two songs, Rowland played a pop star who falls for an awards-show seat filler in which she mistakes for a high-profile entertainment attorney.Released to a limited number of festivals only, the film went straight to DVD in 2006.
In October 2007, Rowland auditioned for the role of Louise, Carrie Bradshaw's assistant, in the 2008 film adaptation of HBO's comedy series Sex and the City. The part eventually went to Jennifer Hudson. In fall 2007, Rowland appeared as a choirmaster on the NBC reality show Clash of the Choirs. Rowland was among superstars like Michael Bolton, Patti LaBelle, Nick Lachey, and Blake Shelton. Rowland's choir finished fifth in the competition.
In 2009, she was cast to host Bravo's reality competition series The Fashion Show alongside Isaac Mizrahi. The series premiered on May 7, 2009.
On 30 May 2011, Rowland was confirmed as a judge for the eighth series of British television show The X Factor.
Rowland and the Knowles family founded the Survivor Foundation, a charitable entity set up to provide transitional housing for 2005 Hurricane Katrina victims and storm evacuees in the Houston, Texas area. The Survivor Foundation extended the philanthropic mission of the Knowles-Rowland Center for Youth, a multi-purpose community outreach facility in downtown Houston. Also in 2005, Rowland and Knowles lent their voices to a collaboration with Kitten K. Sera, entitled "All That I'm Lookin for." The song appeared on The Katrina CD album, whose proceeds went to the Recording Artists for Hope organization.
In 2006, Rowland joined other artists such as Pink and Avril Lavigne in ads for so-called empowerment tags for the ALDO Fights AIDS campaign, which went on sale exclusively at ALDO stores and benefited the YouthAIDS initiative. In 2007, Rowland, along with stars such as Jessica Simpson and the cast of Grey's Anatomy autographed pink Goody Ouchless brushes that were made available for auction on eBay, with all proceeds going to Breast Cancer Awareness.
In 2008, Rowland officially became ambassador for MTV's Staying Alive Foundation, which aims to reduce discrimination against HIV and AIDS victims. She has since visited projects in Tanzania and Kenya to promote the charity, and underwent a HIV and AIDS test in Africa to raise awareness of the deadly diseases. In March 2009, she spearheaded a bone marrow drive. As reported, Rowland also is readying a new charity called I Heart My Girlfriends, which will serve as an interactive support system for teenage girls.
In 2009, Rowland connected with Serve.MTV.com, MTV's platform to connect young people with local volunteerism opportunities, for a series of on-air PSAs.
Read more
Kelly Rowland Picture Gallery
Latest headlines