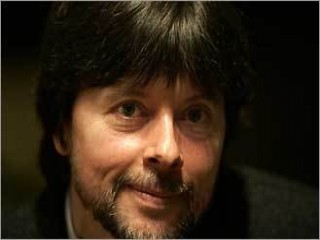 Ken Burns biography
Date of birth : 1953-07-29
Date of death : -
Birthplace : Brooklyn, New York City, U.S.
Nationality : American
Category : Arts and Entertainment
Last modified : 2022-07-29
Credited as : Filmmaker, documentary, The Civil War series
As a prolific documentary filmmaker, Ken Burns explored topics large and small in American history. In such miniseries as The Civil War (1990) and Baseball (1994), he did not seek to answer a specific historical question, but instead explored the times through personal stories.
Burns was born July 29, 1953 in Brooklyn, New York, the older of two sons born to Robert Kyle and Lyla Smith (nee Tupper) Burns. At the time of his son's birth, Robert Burns was a graduate student studying cultural anthropology at Columbia University. The family moved frequently when Burns was a child. As an infant, he lived in St Veran, France, and Baltimore, Maryland. When his father got a teaching position at the University of Delaware, Burns spent several years in Newark, Delaware. At the age of ten, the family moved to Ann Arbor, Michigan, where his father taught at the University of Michigan. His mother died of cancer while they were living in Michigan, an event that left Burns more sensitive.
Burns shared his father's love of photography, and was also passionate about baseball and the movies, especially those by director John Ford. With a camera purchased for him by his father, Burns made a documentary film as a high school project. After graduating from high school in 1971, Burns entered Hampshire College, in Amherst, Massachusetts.

He intended to follow in Ford's footsteps and become a film director. At Hampshire, Burns studied still photography with Jerome Liebling and Elaine Mayes, as well as film. He took only one history class. For his senior directing project, Burns made a documentary about a historical subject in Sturbridge Village, Massachusetts. He graduated from Hampshire with a B.A. in film studies and design in 1975.
After graduation, Burns and two colleagues formed their own production company, Florentine Films, in New York City. He did free-lance work and produced short documentaries to cover expenses while contemplating his own future documentaries. Burns often worked with his younger brother Ric, and his future wife, Amy Stechler. He moved his headquarters from New York City to New Hampshire in 1978. Burns and Stechler were married on July 10, 1982, and later had two daughters, Sarah and Lily.
Burns released his first project with Florentine in 1981, after four years of work. The film was a documentary entitled Brooklyn Bridge, about the world's first steel-wire vehicular suspension bridge. The 60-minute piece covered the bridge and its construction from 1869 to 1883. After its appearance at a number of film festivals, Brooklyn Bridge was shown on Public Broadcasting System (PBS) in 1982. Many of Burns' documentaries would air on this public television station.
Burns next attempted several very different documentary topics simultaneously. The first to be released was The Shakers: Hands to Work, Hearts to God (1984). This film explored the religious beliefs of an unusual nineteenth century sect, which is better known today for its furniture than its creed. Burns also produced a four-hour documentary on the American symbol of freedom, The Statute of Liberty (1985). The film did not limit itself to the statue's history or recent restoration, but used the symbol as a launching pad to discuss the American idea of liberty. The Statue of Liberty aired on PBS in 1985.
On the suggestion of a professor at Louisiana State University, Burns made the 90-minute Huey Long (1985) about the autocratic governor of Louisiana from 1928 until 1935. Burns served as the film's producer, director, and primary cameraman. His wife edited Huey Long while historian Geoffrey C. Ward wrote it. Ward would later work on many of Burns' projects. Huey Long appeared on PBS in 1986, and won numerous awards. The New Republic's Ken Bode wrote "Huey Long is a masterful combination of oral and video history, using still photography from Huey's early years, newsreel and private film, and mini-commentaries from critics and supporters. This is not a docudrama. Huey Long plays himself, and everything you see actually happened. Yet the film is so skillfully crafted that apprehension creeps through the audience as the inevitable assassination approaches."
While working on his most ambitious project, The Civil War (1990), Burns completed two smaller documentaries, Thomas Hart Benton (1988) and The Congress (1988). But it was The Civil War that propelled him into the national spotlight. Burns had begun work on the project as early as 1985. He wanted to cover the conflict from all sides. Burns told Majorie Rosen of People Weekly, "I realized the power that the Civil War still exerted over us. If we look at the history of a country the way we would an individual, then the Civil War is the traumatic event of our childhood. I was compelled to find out what it was all about." Though other filmmakers and historians told him he was taking on too much, Burns spent five and a half years pursuing his goal. Eventually, the 11-hour documentary was produced for $3.5 million with grants from the National Endowment for the Arts and the General Motors Corporation.
The Civil War aired on PBS on five consecutive nights in 1990—125 years after the conflict ended. It was the highest-rated series ever presented on PBS, with 14 million viewers each night. Approximately 39 million people saw at least one episode. Burns was able to make people from this remote time seem understandable to modern viewers. He employed photographs and quotations from real journals and historical readings. Many prominent actors read roles. Burns shot 16,000 old photographs from some 160 archives, though he used only 3,000 in the final version. He also edited 150 hours of film and 500 hours of sound. Gary Edgerton, in the Journal of Popular Film and Television wrote, "The effect of this collage of techniques is to create the illusion that the viewer is being transported back in time, literally finding an emotional connection with the people and events of America's past."
Many praised what Burns had accomplished with The Civil War. Historian Shelby Foote told Richard Zoglin of Time, "People who see the series will have a much better understanding of what made this country what it is." General Motors agreed to underwrite much of Burns' work through the year 2000. Despite his success, the work took its toll on his personal life. Amy Burns told Rosen of People Weekly, "There were some points where he got so worn down, I didn't know how he could have gone on. If it wasn't for his willfulness, it would have been much harder." Burns and his wife separated after The Civil War was finished, and his brother also left to work on his own.
Though The Civil War had left Burns drained, he kept his goals focused. Turning down many offers to go to Hollywood, Burns chose to stay with PBS and enjoy the freedom it offered to him. Burns told John Milus of The New York Times, "I find myself unable to go forward in documentary except in something joyous. And so, we are doing a history of baseball. And there I will take pleasure in exposing the activities of men playing on the field rather than dying on it."
Burns' documentary on baseball was not the first to be released. In 1992, PBS aired his documentary on the development of radio, Empire of the Air: The Men Who Made Radio. This film was harder to produce because radio is not visual, though Burns made it interesting. He portrayed radio as a medium in which creativity and commerce are joined. However, Burns thought American history was better explored through baseball. He explained to Steve McClellan of Broadcasting and Cable, "I felt the Civil War was this sort of defining epic moment, like the American 'Iliad.' But if you really wanted to know over the whole arc of American history who we were, there was no better metaphor, or past to follow, than the story of baseball."
Burns spent four and a half years putting together his documentary on the history of baseball. Baseball (1994) was 20 hours long and aired over nine nights. It was produced on a larger budget than The Civil War, approximately $7 million, and was primarily underwritten by General Motors. Narrated by television anchorman, John Chancellor, Baseball featured about 4,000 stills, culled from 250 picture collections. Burns used the sport as a filter through which to explore social history, labor history, race relations, and the ideas of immigration and assimilation in the United States. Ironically, the documentary aired during a season when professional baseball was shut down by a strike.
After Baseball, Burns focused on smaller projects. Though he was involved with an eight-part, 12-hour-long documentary, The West (1996), Burns served only as co-producer and executive director. Long-time collaborator Stephen Ives did much of the day-to-day work on the project. Ives told Michelle Y. Green of Broadcasting & Cable, "If the Civil War was an adolescent, violent episode in our national experience, the West was our coming into maturity, and so I was intrigued by it. The story had traditionally been told through stereotypes; then it was turned on its ear as a catalogue of conquests. The truth is infinitely more compelling." Like other Burns-related projects, The West focused on personal stories to illustrate sweeping historical points. However, because of the scope of the topic, the history of the American West, the film was not as tightly drawn.
Burns also produced a documentary on an American West-related project himself, 1997's Lewis & Clark. The four hour-long piece traced the explorers' 1804-06 journey into the Pacific Northwest. In 1999, Burns produced two documentaries. One was on architect Frank Lloyd Wright, while the other explored the lives of early feminists Elizabeth Cady Stanton and Susan B. Anthony. Entitled Not for Ourselves Alone: The Story of Elizabeth Cady Stanton and Susan B. Anthony, Burns told the story of the origins of the women's movement. He was inspired to make this documentary by his daughters.
Read more
Latest headlines