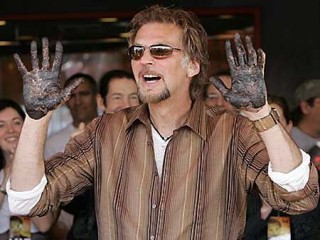 Kenny Loggins biography
Date of birth : 1948-01-07
Date of death : -
Birthplace : Washington, U.S.
Nationality : American
Category : Arts and Entertainment
Last modified : 2011-12-09
Credited as : singer-songwriter, duo Loggins and Messina, soft rock music
Kenneth Clark "Kenny" Loggins is an American singer and songwriter known best for soft rock music beginning during the 1970s. Originally a part of the duo Loggins and Messina, he became a solo artist and has written songs for other artists.
Michael Jackson may be the king of pop but the media often crown Kenny Loggins the king of the movie soundtrack. It would be difficult to remember the Tom Cruise smash hit Top Gun without humming "Danger Zone" at the same time. The truth is that Loggins's movie music career accounts for a small portion of his pop-rock past. Beginning with a $100 per week job writing music for others, and peaking with platinum albums and Grammy Awards, Loggins continues to write and perform music that people like to hum.
Loggins was born January 7, 1948, in Everett, Washington. His love of music became evident when he began playing the guitar at age twelve. His father was a salesman so the family also lived in Seattle and Detroit before moving to California. He grew up in California and learned to appreciate the outdoors. Loggins knew by the time he was in high school that he wanted a career in music. He even had trouble studying for final exams in his senior year because he was busy writing the song "House at Pooh Corner." Twenty-eight years later, Return to Pooh Corner--a children's album--became one of his best-selling records.
When Loggins was attending Pasadena City College, he was a member of a folk group. He later joined a rock group called Gator Creek. Gator Creek did some recording for Mercury, but Loggins later joined another band called Second Helping. By 1969, when Loggins was 21, he quit Second Helping to take a steady job in Los Angeles, writing music for a publishing company called Milk Money. Milk money was all he earned at $100 a week, but the job proved to be a launching pad for his very successful career. While working as a writer, he toured with members of the Electric Prunes, and then met the Nitty Gritty Dirt Band. Later a family friend, who was an employee of Columbia, thought that Loggins might be good enough to record a solo album. That friend, Don Ellis, introduced Loggins to Jim Messina. Loggins pop-rock career success began after that introduction.
Jim Messina was a guitarist for the band Poco and then the band Buffalo Springfield. He never intended to become a part of a musical duo; he just wanted to produce a few acts for Columbia. He liked the songs Loggins wrote for the Nitty Gritty Dirt Band, and in 1971, decided to take on Loggins as his first project. After Loggins signed for Columbia, Messina began working with him on a new album. The two decided that the songs sounded best when they played together, and they decided to record the album as a duo. Reluctantly, "Loggins and Messina" was born.
Their first album in 1972 was appropriately called Kenny Loggins with Jim Messina Sittin' In--what Messina assumed he was doing. They didn't break up until 1976, seven albums later. Three of the albums went platinum, the other four were gold. The duo produced several hits. The first album went platinum with hits like "Danny's Song" and "Vahevala." The platinum follow-up album, Loggins and Messina, (no more "sittin' in"), yielded the song "Your Mama Don't Dance," which reached number four on the pop charts. "Thinking of You" reached the top 20. The next album, Full Sail, also went platinum in 1973. The next four albums went gold, but were discouraging. After they broke up in 1976, two more albums were released, a greatest hits, called Best of Friends, and a live album, called Finale.
Loggins did not wait long to release his first solo effort, Celebrate Me Home. The album sold over a million copies in 1977, as did the follow-up album Nightwatch. The popular song from Nightwatch was "Whenever I Call You Friend," sung with Stevie Nicks. That song reached number five on the pop charts and sealed Loggins's reputation for being optimistic, even cheerful, in his songwriting. Keep the Fire went platinum in 1979 and included a favorite sports anthem, "This Is It." In 1981, Loggins won a Grammy Award for Best Pop Vocal for "This Is It." Loggins had already won his first Grammy in 1980 for cowriting the Song of the Year, "What a Fool Believes," with the Doobie Brothers.
In 1985, Loggins tried his hand at producing his own album, Vox Humana. Ralph Novak of People commented, "Loggins is as polished as they come in the pop-rock business, with a precision and versatility that save him from ever being bad." Loggins's wife at the time, Eva Ein, helped to write some of the songs on the album. Vox Humana sold poorly and Loggins waited three years before releasing Back to Avalon in 1988. A Rolling Stone writer noted, "Back to Avalon is so bland that it makes one ... nostalgic for Jim Messina." David Hiltbrand of People commented, "Loggins still wields an enormously limber and rangy voice."
Loggins's next album, Leap of Faith, was released in 1991. About this time, Loggins music had shifted from Pop-Rock to New Age to Adult Contemporary. A Stereo Review critic remarked, "[W]ith little more than his positive, spiritual attitude and supple falsetto to lead the way, it may take a leap of faith, indeed, for his audience, New Age or otherwise, to follow." Leap of Faith was a very personal album for Loggins, with songs about his children and about his divorce with wife Eva. It also contained a song about the planet, "Conviction of the Heart," which marked the beginning of Loggins's public concern for the environment.
Loggins followed Leap of Faith with a live album called Outside: From the Redwoods. David Thigpen of Entertainment Weekly remarked, "On this live album, Loggins' smart acoustic guitar work revitalizes 'Angry Eyes' and many of his other old hits." That album yielded a concert video tape with the same name that the Public Broadcast Station (PBS) showed in 1993. Loggins was not new to television. The previous year he had a TV special called This Island Earth for the Disney Channel. That special earned him a Cable Ace Award and two Emmy awards for Outstanding Original Song ("This Island Earth") and Outstanding Achievement in Writing. In 1994 Loggins released Return to Pooh Corner with a concert video tape that included interview segments. Loggins explained to Billboard why he made the children's record. He said, "I wanted to create an atmosphere for bedtime that was also listenable to me as a dad." A Publishers Weekly reviewer called the album "pretty."
Loggins started making songs for movie soundtracks in the early 1980s. The first, "I'm Alright," was for the movie Caddyshack, and Loggins said, "This one was strictly for fun." "I'm Alright" made it to number seven on the pop charts. Next came songs for the Footloose soundtrack: "I'm Free (Heaven Help the Man)," which made it to the top 30, and "Footloose," which topped the pop chart in 1984. "Forever" from Vox Humana was written for a short film called Access All Areas. His next big movie hit was "Danger Zone" from Top Gun. "Danger Zone" made it to number two in 1986. The movie Over the Top, with Sylvester Stallone, yielded the top twenty hit "Meet Me Halfway." "Nobody's Fool" from the movie Caddyshack II reached the top ten in 1988. In 1996, Loggins earned rave reviews, an Oscar nomination, and a live appearance on the Academy Award show for his song "For the First Time" from the One Fine Day soundtrack. Billboard hinted, "Hopefully, this is the prelude to a new Loggins album."
In March of 1997 Loggins released Yesterday, Today, Tomorrow--The Greatest Hits of Kenny Loggins. Along with all of Loggins's chart topping hits, there was a new song on the album called "The Rest of Your Life." In the liner notes, Loggins wrote, "This song is a centerpiece from the upcoming album The Unimaginable Life. I consider this project to be the most ambitious, artistic undertaking of my career." Ambitious it is. Loggins and his second wife Julia wrote a book called The Unimaginable Life and the album The Unimaginable Life, is "a soundtrack for the book," to quote Loggins's words. Both tell the story of the couple's relationship. The book and the album were released simultaneously in July of 1997. Loggins was paid a hefty sum, "in the mid-six figures," by Avon Books said Judy Quinn of Publishers Weekly.
Loggins recorded the album at his home studio in Santa Barbara, California so he could be with his wife and four children. He is well known for his environmental efforts and applauds the environmental groups who try to make a difference. Loggins lectures informally on the joy of spiritual growth and relationships. One line from "The Rest of Your Life" is "Oh I believe there's a god watching over me." He must believe that someone up there likes him, but his success proves that he also appeals to many down here. Loggins continues to inspire a large audience and he created enough music to please them all.
During 2005, Loggins and Messina performed a successful nationwide tour that resulted in the CD and DVD Loggins and Messina Sittin' In Again. Their first tour since 1976, it was 2 hours in length and included an acoustic set in the middle of the show. Complete with a set change that turned the stage into an old gas station setting, the show had a large IMAG video screen that showed old footage of the band, as well as tribute footage of recently deceased former L&M bandmate John Clark.
In 2011 Loggins did a short tour in South East Asia including Manila, Philippines and Singapore. Loggins performed Friday, June 3, 2011 at the Arcada Theater in St Charles, IL. He stopped by the Eddie and Jobo Show in Chicago to talk about his music, his personal life and what kind of show you can expect from him.
Selective Works:
-Albums; with Jim Messina; on Columbia Records Kenny Loggins with Jim Messina Sittin' In (includes "Danny's Song" and "Vahevala"), 1972.
-Loggins and Messina (includes "Your Mama Don't Dance" and "Thinking of You"), 1972.
-Full Sail, 1973.
-On Stage (Live), 1974.
-Mother Lode, 1974.
-So Fine, 1975.
-Native Sons, 1976.
-Best of Friends (Collection), 1977.
-Finale (Live), 1977.
-Solo albums; on Columbia Records, except where noted Celebrate Me Home, 1977.
-Nightwatch (includes "Whenever I Call You Friend"), 1978.
-Keep the Fire (includes "This Is It"), 1979.
-Kenny Loggins Alive (Live), 1980.
-High Adventure, 1982.
-Vox Humana (includes "Forever"), 1985.
-Back to Avalon, 1988.
-Leap of Faith (includes "Conviction of the Heart"), 1991.
-Outside: From the Redwoods (includes "Angry Eyes"), 1993.
-Return to Pooh Corner, Sony Wonder, 1994.
-Yesterday, Today, Tomorrow-The Greatest Hits of Kenny Loggins, Sony, 1997.
-The Unimaginable Life (includes "The Rest of Your Life"), Sony, 1997.
-Soundtracks Caddyshack (includes "I'm Alright"), 1980.
-Footloose (includes "Footloose" and "I'm Free [Heaven Help the Man]"), 1984.
-Top Gun (includes "Danger Zone" and "Playing With the Boys"), CBS, 1986.
-Over the Top (includes "Meet Me Halfway"), 1987.
-Caddyshack II (includes "Nobody's Fool"), 1988.
-One Fine Day (includes "For the First Time"), 1996.
-Albums with the Nitty Gritty Dirt Band Make a Little Magic, 1980.
-Jealousy, 1981.
-Let's Go, 1982.
-Others Gator Creek, Mercury, 1970.
-(With Sanford & Townsend) Sanford & Townsend Band, 1976.
-(With Sanford & Townsend) Smoke from a Distant Fire, 1976.
-(With Phoebe Snow) Never Letting Go, 1977.
-(With Pages) Future Street, 1979.
-(With Max Gronenthal) Whistling in the Dark, 1979.
-(With Bill Champlin) Runaway, 1981.
-(With Michael McDonald) If That's What It Takes, 1982.
-(With Donna Summer) Donna Summer, 1982.
-(With Don Felder) Airborne, 1983.
-(With Graham Nash) Innocent Eyes, 1986.
-Child's Celebration of Song, 1992.
-(With the Winans) All Out, 1993.
-(With Benoit Freeman Project) Benoit Freeman Project, 1994.
Read more
Kenny Loggins Picture Gallery
Latest headlines