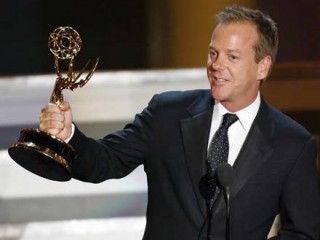 Kiefer Sutherland biography
Date of birth : 1966-12-21
Date of death : -
Birthplace : London, England
Nationality : Canadian
Category : Arts and Entertainment
Last modified : 2010-09-08
Credited as : Actor, movie director and producer, role in the drama series "24"
Kiefer Sutherland
, born 21 December 1966 in London, England is a Canadian actor, producer and director, best known for his portrayal of Jack Bauer on the Fox
thriller drama series 24.
He is an Emmy Award- and Golden Globe award-winner. He is the son of Canadian actors
Donald Sutherland
and
Shirley Douglas.
Sidelights
Kiefer Sutherland
, star of the critically acclaimed hit television series, 24, was, as the saying goes, to the manor born; he is the son of the renowned actor Donald Sutherland and actress Shirley Douglas (who is the daughter of Canada's first socialist premier). He broke into films with a small part in 1983's Max Dugan Returns and had, by the end of the decade, established himself as one of Hollywood's most promising young actors. His romance with and engagement to Julia Roberts, with whom he co-starred in 1990's Flatliners, insured that Sutherland would remain in the public eye. He has been a leading man with an edge, effortlessly moving from hero roles to villains and, after more than 50 films and television projects, Sutherland has found a plum role in the series the New York Times, as quoted in the Radio Times, calls, "one of the best shows--ever."
Born in London, England, in 1966, Sutherland was named after Italian director Lorenzo Sabatini, who used the nom de plume "Warren Kiefer." Sabatini had directed Sutherland's father in his first feature film, 1964's Castello dei Morti Vivi. Sutherland's mother, known primarily for her stage work, is the daughter of Tommy Douglas, widely credited with being the father of Canada's government-funded health care system. The Sutherlands moved to California as Donald's career took off after his breakthrough performance in the film M*A*S*H. Sutherland's parents split up 1971 and, in 1974, Shirley Douglas moved, with her two children, back to her native Bridgewater, Canada. Donald Sutherland would not play a large part in his son's life until much later. In a 1988 interview with Film Review, Sutherland revealed, "I never really lived with my father. But I would go to the movies and see him on screen, and that would make me feel closer to him. I admired his acting, and the sort of quiet, intense characters he'd play. Like in Klute or Ordinary People. But I didn't model myself after my dad, or try to emulate him in any conscious way."
Sutherland attended various private schools, including Catholic boarding school in Ottawa before dropping out at the age of 15. He moved first to Toronto, then relocated to New York where he studied acting. In a 1989 interview with Sky magazine, Kiefer described his education, "They say to you that the way to become a really good actor is to tell them everything about yourself, tell them all your fears and insecurities. Let everything out into the open and then let them hurt you with it. That kind of evil crap is really offensive. Ever since I left theatre school I've done my best to get away from all that sort of thing."
In 1983 his father helped to secure him a small part in Max Dugan Returns. This was followed by a part in 1984's The Bay Boy, set in Nova Scotia in the '30s, opposite Liv Ullman, which garnered attention for the fledgling actor. Of Sutherland's performance, Stanley Kauffmann wrote in the New Republic, "The best surprise, a very pleasant one, is the performance of the son, the Bay boy, by Kiefer Sutherland."
Sutherland soon relocated to Los Angeles, California, at the age of 18. Of his early years there, he told Andrew Duncan of the Radio Times, "I had a blast--more fun than anyone. There were a few too many parties, girls, and I drank a lot, but was never late for a day's work. I had a brief moment of drugs, but not really, because I couldn't handle them."
The year 1986 proved to be a banner time for Sutherland. In addition to roles in television movies, he took on the important role of the leader of a gang of bullies in Rob Reiner's acclaimed Stand By Me, adapted from a Stephen King story. A small role in 1986's At Close Range, starring Sean Penn and Christopher Walken, increased his visibility and laid the foundation for Sutherland's rapid ascent over the next few years. He played the hero in the 1986 television movie The Brotherhood of Justice, opposite a vigilante played by Keanu Reeves.
In 1987, he dusted off the bad-boy image developed in Stand By Me in his role as David, leader of a pack of vampires in The Lost Boys. This paired Sutherland with fellow actor Jason Patric. Chicago Sun-Times critic Roger Ebert wrote, "There's some good stuff in the movie, including a cast that's good right down the line and a willingness to have some fun with teenage culture in the Mass Murder Capital."
In 1987 Sutherland took a role in The Killing Time, playing a psychotic drifter. The film co-starred Camelia Kath, 12 years his senior. They soon became involved and, after living together, they were wed in 1988. While the marriage was short-lived, dissolving in 1990, it produced a daughter, Sarah Jude, who was born in 1988. Sutherland's friendship with co-star Patric was cited as one of the causes of the break up and Patric would later play a significant role in another of Sutherland's offscreen dramas.
The Lost Boys turned out to be a hit and Sutherland soon after landed a role in the much-anticipated 1988 film, Bright Lights, Big City, from the Jay McInerney novel, starring fellow Canadian Michael J. Fox. The film was described by critic Ebert as "a 'Lost Weekend' for the 1980s, a chronicle of wasted days and misplaced nights."
In 1988 Sutherland originated the role of poet-outlaw Doc Scurlock in Young Guns, with brat packers Emilio Estevez, Charlie Sheen, and Lou Diamond Phillips. It is a new twist on the Billy the Kid story. This film became a huge hit, further impressing Sutherland on the public consciousness. He reteamed with Phillips in 1989's Renegades, with Sutherland playing cop Buster McHenry. Continuing in the role of badge-wearer, he played FBI agent John Buckner in 1990's Flashback, opposite counterculture icon Dennis Hopper.
Kiefer seemed to have taken a misstep in 1990's World War II drama, Chicago Joe and the Showgirl. Based on a true story and set in wartime London, it starred Sutherland as G.I. Ricky Allen, who falls for a manipulative showgirl played by Emily Lloyd. The couple goes on a crime spree that results in Allen being hanged, the only American soldier hung in Britain for a wartime crime. Ebert, in a generous review of the film, wrote, "Kiefer Sutherland has been one of the busiest young actors in Hollywood, and he's versatile (in upcoming roles, he plays a student and a cowboy). Because he's prolific, there's a tendency to take him for granted, but he's good, all right...." The film did not perform well at the box office nor was it treated kindly by the critics but Sutherland quickly bounced back in, first, Young Guns II, reprising his role as Doc Scurlock, and then in the 1990 hit Flatliners. The latter film concerns a group of medical students who experiment with crossing the barrier between life and death, and returning to tell about it. Sutherland, as Nelson Wright, played the key role in an ensemble cast that included Julia Roberts, whose popularity was already well established. The two soon became involved and, for the duration of their relationship, were Hollywood's most-written-about couple and fodder for the tabloids. The couple announced their engagement, with the wedding set for June 14, 1991, but while Sutherland was reported to be consorting with exotic dancer called Raven, Roberts struck up a new relationship with former Sutherland chum, Patric. The breakup was very public and, for a while, Sutherland retreated to escape from the newshounds and paparazzi. In a 1997 interview with Us, Sutherland told Neil Turitz, "We broke up because we realized at the last moment, oh my God, this isn't what we should be doing. A lot of nasty things were said about both of us; but I couldn't really afford to pay much attention, because it was hard enough just breaking up.... I felt bad because something that was important to us at one time was trivialized and turned into such a circus."
After a self-imposed year-long hiatus, Sutherland went back to work, appearing in 1991's Article 99 as an independent-minded emergency room doctor opposite Ray Liotta (which drew the inevitable comparisons to his father's work in Robert Altman's M*A*S*H), and a role as an FBI agent in David Lynch's 1992 film Twin Peaks: Fire Walk with Me. He also appeared in the 1992 military courtroom drama A Few Good Men, along with Jack Nicholson, Kevin Bacon, Demi Moore, and Tom Cruise.
In 1993, Sutherland had the starring role in The Vanishing, a remake of the French-Belgian film of the same name. Both films were directed by George Sluizer, but the United States version changed the ending to satisfy presumed American tastes. While Sutherland escaped being singled out, Ebert savaged the film in his review, writing "The Vanishing is a textbook exercise in the trashing of a nearly perfect film, conducted oddly enough under the auspices of the man who directed it."
That same year, Sutherland tried his hand at directing, taken the helm of and acting in the television movie, Last Light, in which he played a convict on death row. He also appeared in 1993's The Three Musketeers in which he was reteamed with Sheen and Flatliners costar Oliver Platt. Sutherland also acted in and directed episodes of the television series Fallen Angels.
In 1994, Sutherland starred in The Cowboy Way along with Woody Harrelson, a 'fish out of water' tale about two cowboys in Manhattan. Sutherland, who had learned to ride horses during the making of Young Guns and had built a home on a 300-acre ranch in Whitefish, Montana, was introduced to the pleasures of the rodeo, which has become a continuing interest of his. In the late 1990s, Sutherland would win rodeos in Phoenix and Albuquerque, and earned first place in the U.S. Team Roping Championships.
Some of the notable appearances over the next few years include his role as a murderous rapist in John Schlesinger's Eye for an Eye and a part in Griffin Dunne's short film, Duke of Groove. In A Time To Kill, Sutherland reteamed with director Joel Schumacher, in a cast featuring Platt, Vanishing co-star Sandra Bullock, Kevin Spacey, and Samuel L. Jackson. Sutherland inhabited the role of Klan Leader Freddie Lee Cobb. This film reunited Sutherland with his father for the first time since Max Dugan Returns and marked the first time father and son would appear in the same scene together. That same year, Sutherland appeared with his mother in a stage production of Tennessee Williams's The Glass Menagerie at Toronto's Royal Alexandra Theatre. Sutherland also played a serial killer in 1996's low-budget thriller, Freeway, opposite a young Reese Witherspoon. Ebert, reviewing the film, wrote, "Sutherland, who has played great villains before, outdoes himself this time." Also in 1996, Sutherland went to the altar for the second time, marrying former model Kelly Winn. However, the couple separated in March of 1999 and were divorced in 2000.
In 1997 Sutherland tried his hand at directing his first feature, Truth or Consequences, N.M., starring Vincent Gallo. Sutherland also appeared in the film, as the violent ex-con Curtis Freley, adding one more role to his collection of heavies.
In 1998 Kiefer took a role in Alex Proyas' sci-fi noir, Dark City, playing Dr. Daniel Schreber. Also that year, he performed in A Soldier's Sweetheart opposite Skeet Ulrich. He once again stepped behind the camera to direct 1999's Woman Wanted, in which he also played a role. The film is significant for two reasons: one, he reportedly asked that his name be taken off the credits due to disagreements over the final product and, two, his mother took a small role in the film.
Sutherland has kept busy into the new millennium, taking on the role of junky novelist William S. Burroughs in 2000's Beat, as well as 2001's Ring of Fire, Paradise Found, and I Fought the Law. In 2001, Sutherland took on the role of Jack Bauer in the critically acclaimed Fox television series 24. The series is told in real time with each episode representing one hour in a 24-hour mission. Once again, Sutherland assumed the role of a government agent and the series, debuting shortly after the terrorist attacks on the United States on September 11, 2001, struck a chord with both viewers and critics, as Sutherland's character confronts both personal and political crises. Sutherland told InStyle's Peter McQuaid, "Terrorism certainly is a reality in our life now. I could never express the degree to which I wish our show was not timely." The series gave Sutherland's career--which had lost some momentum after a rousing start--a huge boost and he was rewarded for his performance with a Golden Globe award for best actor in a leading role. At a peak moment in his career, Sutherland has had time to reflect on his good fortune, telling Andrew Duncan of the Radio Times, "I'm comfortable with my life, love my parents and my family. I can look back and say, 'It wasn't boring--and a lot of it makes me laugh.'"
PERSONAL INFORMATION
Born Kiefer William Frederick Dempsey George Rufus Sutherland, December 21, 1966, in London, England; son of Donald Sutherland (an actor) and Shirley Douglas (an actress); married Camelia Kath, 1987 (divorced, 1990); married Kelly Winn, June 29, 1996 (divorced, 2000); children: Sarah Jude (from first marriage).
AWARDS
Genie Award (Canada) for The Bay Boy, 1984; Golden Globe Award for best performance by an actor in a television series (drama), Hollywood Foreign Press Association, for 24, 2002.
CAREER
Actor in films, including: Max Dugan Returns, 1983; The Bay Boy, 1984; Stand By Me, 1986; Crazy Moon, 1986; At Close Range, 1986; The Lost Boys, 1987; The Killing Time, 1987; Bright Lights, Big City, 1988; Young Guns, 1988; Promised Land, 1988; 1969; 1988; Renegades, 1989; Flashback, 1990; Chicago Joe and the Showgirl, 1990; Young Guns II, 1990; Flatliners, 1990; The Nutcracker Prince, 1990; Article 99, 1992; Twin Peaks: Fire Walk With Me, 1992; A Few Good Men, 1992; The Vanishing, 1993; The Three Musketeers, 1993; The Cowboy Way, 1994; Teresa's Tattoo, 1994; Hourglass, 1995; Eye for an Eye, 1996; A Time to Kill, 1996; Freeway, 1996; The Last Days of Frankie the Fly, 1997; Truth or Consequences, N.M., 1997; Dark City, 1998; A Soldier's Sweetheart, 1998; Break Up, 1998; Ground Control, 1998; Woman Wanted, 1999; After Alice, 1999; Beat, 2000; Picking Up the Pieces, 2000; The Royal Way, 2000; The Right Temptation, 2000; To End All Wars, 2001; Ring of Fire, 2001; Paradise Found, 2001; I Fought The Law, 2001; Desert Saints, 2002; Behind the Red Door, 2002. Works as a film director include: Truth or Consequences, N.M., 1997; Woman Wanted, 1999.
Television series appearances include: Fallen Angels, 1993; 24, 2002--.
Television movie appearances include:
Trapped in Silence, 1986; Brotherhood of Justice, 1986; Last Light, 1993; Duke of Groove, 1995; Intimate Portrait: Lea Thompson, 1998. Works as a television director include: Last Light, 1993; Fallen Angels, 1993.
Read more
Latest headlines