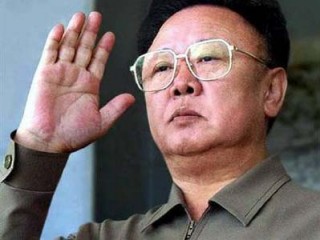 Kim Jong Il biography
Date of birth : 1941-02-16
Date of death : 2011-12-17
Birthplace : Vyatskoye, Soviet Union
Nationality : Korean
Category : Politics
Last modified : 2010-07-21
Credited as : Politician leader, President of North Korea, rules as a dictator
Kim Jong Il
, born February 16, 1941 in Russia is a Korean politician and current President of Republic of Korea(North Korea).
Kim Jong Il
was the eldest son of Kim Il-sung, the founder and leader of the Democratic People's Republic of Korea, and his heir apparent. After 1985 he began to take part in North Korean state activities and to acquire honorific titles. Kim Jong Il later became the leader of his country in the 1990s.
Kim Jong Il
(or
Kim Chong-il
) was the eldest son of North Korea's leader, Kim Il-sung, who founded the Democratic People's Republic of Korea (DPRK) in 1948. Kim Il-sung, while still in command, enjoyed his charisma as the "undisputed" leader of Communist North Korea. He had been general secretary of the Workers' Party of Korea (WPK) since 1946, and in 1980 his son Jong Il was made one of the party secretaries charged with the day-to-day operation of the Communist Party. Thus, the first Communist state with a father-son hereditary rule and political succession emerged in North Korea, which increasingly resembled ancient Korea's "Hermit Kingdom."
In order to solidify the position of Kim Il-sung, and also to legitimize the father-son political succession, the cult of personality--which was extended beyond Kim Il-sung to encompass his son Jong Il--was promoted. The North Koreans celebrate the birthday anniversaries of their leaders, perhaps a reflection of Confucian cultural legacy. Kim Il-sung's birthday anniversary has been a national holiday since 1972. Since 1976, the period from February 16, Kim Jong Il's birthday, to April 15, his father's birthday, was designated the "Loyalty Festival Period." When Kim Jong Il's place as the political leader was officially proclaimed during the Sixth WPK Congress in 1980, he became the undisputed de facto leader.
Early Years of the Heir
Kim Jong Il was born on February 16, 1941, in the Soviet Union as the first son of Kim Il-sung and his wife, Kim Jong-suk (who later died). Jong Il's childhood name was Yura (a Russian name). His brother, two years his junior, drowned at the age of two. Kim Jong II attended the Mangyongdae Revolutionary School, which was set up to educate the descendants of Kim Il-sung's comrades in arms during the anti-Japanese guerrilla years and to train future political leaders in North Korea. He briefly attended a primary school in Jilin, China, from 1950 to 1952 during the Korean War. He graduated from Namsan middle-high school in Pyongyang in 1958 and then attended the Air Academy in East Germany from 1960 to 1962. He subsequently transferred to Kim Il-sung University, where he graduated in 1963 with a major in political economy.
In 1964 Kim Jong Il began his career in the WPK Secretariat Organization and Guidance Department under the tutelage of his father and his uncle Kim Yong-ju, who was then in charge of the office. He rapidly climbed up the ladder of party hierarchy. In 1970 Kim Jong Il became director of the Culture and Art Department of the WPK Secretariat. In that capacity he was credited with having directed the production of five major operas, including The Flower Selling Maiden and The Song of Paradise.
Preparation for Succession
By 1973 Kim Jong Il organized and directed the Three Revolutions Team Movement as preparation for his quest to succeed his father in political office. The code word of "Party Center" began to appear in order to keep the identity of Kim Jong Il secret, so that his mystique could be enhanced and perpetuated. Kim junior also acquired such honorific titles as "beloved leader," "leading star," and "the sun of Communist future." His portraits appeared in public buildings and schools, together with his father's. He also initiated a series of "on-the-spot guidance" tours, a technique his father had used frequently as a means of control and inspection.
Advancing his claim for legitimacy, Kim Jong Il was credited with having authored a number of "immortal classics." The first was a treatise entitled "On the Juche Idea" in 1982 to mark his father's 70th birthday. (Juche is the application of nationalism and self-reliance to broad revolutionary principles.) Kim Jong Il published two additional treatises: "The Workers' Party of Korea is a Juche-type Revolutionary Party which Inherited the Glorious Tradition of the DIU (Down-with-Imperialism Union)" on October 17, 1982, and "Let Us Advance Under the Banner of Marxism-Leninism and the Juche Idea" on May 3, 1983. DIU, allegedly formed by his father in 1926 at the age of 14, was claimed by Kim Jong Il to have been "a fresh start of the Korean Communist movement and the Korean revolution." By stating that he wrote the second essay on the occasion of the 165th birthday of Karl Marx and the centenary of his death, Kim Jong Il promoted himself to the ranks of Communism's founding fathers. This hidden agenda item is clearly shown in the introductory statement issued by the promoter of his publications, Pyongyang's Foreign Languages Publishing House, which read:
The dear leader Comrade Kim Jong Il is working denying himself sleep and rest to inherit and complete brilliantly the revolutionary cause of Juche started by the great leader Comrade Kim Il-sung. He is the outstanding thinker and theoretician who has fully mastered the great leader's revolutionary ideas; he is the sagacious leader of our Party and people who is possessed of brilliant wisdom, unusual insight and refined art of leadership; and he is the real leader of the people who has unboundedly lofty virtues.
China played a role in helping promote Kim Jong Il's claim for legitimacy. In June of 19 83 Kim Jong Il paid an unofficial, ten-day visit to China, which was followed by an invitation for a second official visit in 1985. The Soviet Union reportedly also extended an invitation for an official visit by Kim Jong Il. These invitations were belated gestures by North Korea's allies to recognize the father-son political succession scheme while still officially disavowing a hereditary system in Communist politics.
Although Kim Jong Il's family life is shrouded in mystery, he is believed to have had two children as of the early 1980s. (This information was inadvertently revealed by Kim Il-sung to a visiting dignitary, the chairman of Japan's Socialist Party, when he told the latter that he had two grandchildren.) Kim Jong Il was to have ascended to the North Korean Presidency after the death of his father, Kim Il-sung, on July 8, 1994. This would have marked the first hereditary transfer of power in a Marxist, communist state. Two months after his father's death, Kim Jong Il still had not been announced as the head of state and had not been seen in public. Rumored reasons for this included a struggle for political control and the observance of a mourning period by Kim. In October of 1997 he was named as the chief of the Workers' Party of Korea, a major step forward in his bid to claim full leadership of the county. He was promoted to "Dear Leader," then named "Great Leader " in late 1997, making him North Korea's boss and general secretary of the ruling party. It seemed that with the new titles, Kim was beginning to solidify his power. In 1998, Kim was reappointed as chairman of the Central Defense Committee, essentially the highest post in the country. Though the country's true leader, Kim was not given the title of president as it was permanently reserved for his father by constitutional amendment in 1998.
Kim Jong Il attracted global attention in September 1998 when North Korea fired a test missile over Japan. This test and others being planned were of particular concern to countries in the area as well as the United States because of North Korea's work with nuclear weapons.
Kim made a secret visit to China from May 29-31, 2000. All that was said about the meetings was that the two sides reached an important consensus on bilateral and regional issues of common concern. From June 13-15, 2000, Kim met with South Korean ruler Kim Dae Jung; this was the first summit meeting between leaders of the two countries, which had been bitter rivals for 50 years. The two men signed an agreement in which they vowed to seek peace and reunification. They also agreed to allow visits between family members who had been separated by the two nations' border and to resolve other humanitarian issues.
On October 23, 2000, Kim hosted the history-making visit by United States Secretary of State Madeleine Albright. She was there to lay the groundwork for a possible visit by United States President Clinton. Albright was the first United States secretary of state to visit North Korea. But in December of that year, President Clinton announced he was declining to visit North Korea because there was not enough time left in his administration to conclude an agreement on curbing North Korea's development and export of ballistic missiles.
Following a period of relatively relaxed tensions between the West and North Korea, North Korea launched a surprise attack in June 2002 in South Korean naval vessels that left fatalities on both sides. But North Korea quickly offered apologies for the incident and re-established diplomatic relations with Seoul and Tokyo. Work subsequently began on reconnecting railways across the border separating North and South Korea. Japanese Prime Minister Junichiro Koizumi became the first prime minister from his country to visit Pyongyang. There was also increasing evidence that North Korea was beginning to reform its disintegrating economy.
But in November 2002, international relations were again shaken when Kim admitted to the US that his country was developing weapons of mass destruction. Suspicions that North Korea was attempting to build nuclear weapons had arisen back in 1994, prompting U.S. President Bill Clinton in 1997 to offer billions of dollars worth of energy assistance to Kim's government in return for a halt to nuclear weapons development.
In 2002, at the same time that U.S. President George W. Bush was threatening military action against Iraq, the U.S. president was indicating that force was not an option with North Korea. Washington's only other option seemed to be economic sanctions, possibly including a withdrawal of the Clinton administration's commitment to supply North Korea with 500,000 tons of fuel oil and construct two nuclear reactors. In addition, the Bush administration was expected to request that other countries make any assistance to North Korea conditional on elimination of its nuclear weapons program. Such a policy would, however, pose a conflict with South Korean leader Kim Dae-jung's own policy of offering unconditional aid to the North in hopes of obtaining concession later on.
By 2004, questions continued about how much power Kim really had in North Korea. Though he was re-elected chairman of the National Defense Committee in September 2003, the North Korean economy was faltering, with many North Koreans facing food shortages, a steady stream of refugees and defectors was leaving the country, and there were symbolic changes to Kim's public images. Kim also faced struggles on the international front. His recently improved relationship with Japan, was faltering, and polls indicated that Japanese citizens were ready to consider economic sanctions against North Korea. South Korea had its own economic problems and the country could not offer as much aid to North Korea as in previous years. Kim, however, remained committed to developing and stockpiling nuclear weapons and other weapons of mass destruction.
In 2005 and 2006, Kim escalated his nuclear provocations. North Korea formally announced in February of 2005 that it possessed nuclear weapons, then agreed to resume six-party talks with the United States, South Korea, Japan, Russia and China, which had begun in 2003. That September, North Korea agreed to a vague accord with the other five nations, pledging to dismantle its nuclear weapons in exchange for aid from the United States and its allies in Asia. But North Korea did not disarm, and the talks stalled. In July of 2006, North Korea test-fired several missiles, including its long-range Taepodong-2, defying repeated warnings from several nations not to do so. The test of the long-range missile was a failure, but also a provocation. (Later that month, Kim married Kim Ok, his 42-year-old former secretary.) In October, North Korea announced that it had detonated a nuclear weapon underground as a test, and South Korea detected an explosion in North Korea that appeared to confirm this. The detonation altered the balance of power in the region. The United Nations Security Council responded by unanimously voting for sanctions against North Korea: bans on selling it military and nuclear technology and luxury goods (which Kim often gives to top officials to retain their loyalty). A new round of the six-nation talks ended in failure in December of 2006. Though Kim risked international isolation, he seemed committed to his vision of a nuclear North Korea.
October 2007: Kim hosted South Korean President Roh Moo Hyun for a three-day summit in Pyongyang, North Korea. This was the first summit between South and North Korea in seven years.
October 4, 2007: Kim and South Korean leader Roh Moo Hyun signed a joint declaration that proposed formally ending the Korean War. North and South Korea agreed to an armistice in 1953, but no formal peace treaty was ever signed and the two technically remain at war. The joint declaration signed by Roh and Kim proposed holding international discussions to draft and sign such a peace treaty.
August 4, 2009: Kim Jong-Il met with former U.S. president Bill Clinton to arrange the release of American journalists Laura Ling and Euna Lee. The women were arrested in March while reporting from the border between North Korea and China. In June, they were sentenced to 12 years of hard labor on charges of entering the country illegally to conduct a smear campaign.
July 12, 2009: A South Korean news network reported that Kim was suffering from life-threatening pancreatic cancer.
Read more
Latest headlines