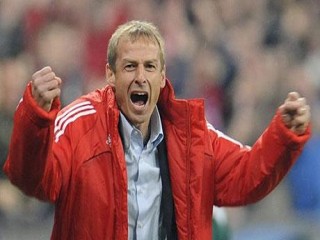 Klinsmann Jürgen biography
Date of birth : 1964-07-30
Date of death : -
Birthplace : Göppingen, West Germany
Nationality : German
Category : Sports
Last modified : 2010-05-05
Credited as : Football manager, Bayern Munich footballer, World Cup
Jürgen Klinsmann (born 30 July 1964 in Göppingen) is a German football manager and former football player, who played for several prominent clubs in Europe and was part of the West German team that won the 1990 FIFA World Cup and the German one that won the 1996 UEFA European Championship. He was one of West Germany's/Germany's premier strikers during the 90s.
He managed the German national team to a third-place finish in the 2006 World Cup.
On 12 July 2006, Klinsmann officially announced that he would step down as Germany's coach after two years in charge and be replaced by assistant coach Joachim Löw. He took over as coach of Bayern Munich in July 2008, when Ottmar Hitzfeld stepped down to take over as the head coach of the Swiss National Team. He was fired from this position on 27 April 2009 despite winning five of his last seven matches.
He started his
professional career
at the age of seventeen at Stuttgarter Kickers, which at the time was a second division club. In 1984 he joined the more prestigious Stuttgart club VfB Stuttgart, a perennial first division member. He helped them to the 1989 UEFA Cup Final where they were beaten by a Diego Maradona inspired Napoli, although he did manage to score a goal in the second leg of the final.
Besides playing for German clubs VfB Stuttgart and Bayern Munich, Klinsmann played abroad for Internazionale, AS Monaco, Tottenham Hotspur and Sampdoria. At Bayern he managed to win the UEFA Cup in 1996, having been a runner up in the same tournament seven years earlier with Stuttgart. He again scored in the final, just as he did in 1989.
The first time he arrived at Tottenham he was not popular in England, partly because he played in the 1990 Germany team that knocked England out of the World Cup, and partly because of his reputation as a diver. After his Tottenham debut, when he poked fun at himself by diving across the pitch to celebrate his first goal, he became much more popular. One Guardian journalist, who had written an article called "Why I Hate Jürgen Klinsmann", wrote another two months later called "Why I Love Jürgen Klinsmann". Klinsmann went on to win the 1995 Football Writers' Association Footballer of the Year.
During his second stint at Tottenham, Klinsmann's goals saved the club from relegation, particularly the four goals he scored in a 6 - 2 win at Wimbledon F.C. He decided to retire from playing professional football in the summer of 1998 after the World Cup but is still a fans favorite at White Hart Lane. He relocated to California and under the pseudonym Jay Goppingen, Klinsmann made a comeback as a player in 2003 for Orange County Blue Star in the American Premier Development League. The 39-year-old was able to score five goals in eight appearances, helping his team to reach the playoffs. The name is taken from the town of Göppingen, where Klinsmann was born.
Klinsmann had a fruitful international career, seeing his first West Germany duty in 1987 and ultimately collecting 108 caps, a tally second only to that of Lothar Matthäus. Klinsmann scored 47 goals for West Germany/Germany in top-level international matches, sharing the all-time third place with Rudi Völler, and only surpassed by Gerd Müller's record of 68 goals for the national team and by Miroslav Klose's 48 goals.
He participated in the 1988 Summer Olympics, winning a bronze medal; the 1988, 1992 and 1996 European Championships, reaching the final in 1992 and becoming champion in 1996. Klinsmann was the first player ever to score in three different UEFA European Championships. He did it at the 1988, 1992, and 1996 tournaments. Three other players – Vladimir Smicer, Thierry Henry, and Nuno Gomes – have equalled this record since.
He was also an important part of the West German team at the World Cup finals of 1990 (in which he scored three goals), 1994 (five goals), and 1998 (three goals), winning the World Cup in 1990. He was the first player ever to score at least three goals in each of three World Cups, later joined by Ronaldo of Brazil. He still remains second all-time in World Cup goals scored by a German with 11.
Coaching career
Upon retiring from active play, Klinsmann started his commercial career. He became the vice-president of a sports marketing consultancy based in the United States and was involved in Major League Soccer as part of the Los Angeles Galaxy team.
German national team
On 26 July 2004, he returned to Germany as the new coach of the national team, succeeding former teammate and strike partner Rudi Völler. Klinsmann subsequently embarked on an aggressive program to revamp the management of the team. Bringing fellow German striker Oliver Bierhoff on board helped diffuse public relations duties of the previous combined post away from the actual coaching aspect of the position. Furthermore, he created a youth movement to breathe life into an aging squad on the heels of a disastrous showing at Euro 2004. In the run up to the 2006 World Cup, Klinsmann attracted criticism from German fans and the media following poor results, such as the 4-1 loss to Italy. A particular subject of criticism was that Klinsmann commuted to Germany from the United States, which was the target of a campaign by the "Bild" tabloid. It should be noted that Klinsmann had previously eliminated some privileges Bild traditionally had with the national team, such as receiving the team lineup the day before a match, and 24/7 exclusive access to the team. His largely offensive tactics have irritated some, who complain that he ignores defensive football. He announced a squad of young players for the 2006 World Cup, basing his selection policy on performance, not reputation.
During the 2005 Confederations Cup, he regularly rotated his goalkeepers regardless of their performances, which drew the ire of Bayern Munich's Oliver Kahn. On 7 April 2006, Klinsmann finally decided to relegate Kahn to the bench and designated Arsenal's Jens Lehmann as his first choice goalkeeper. This choice followed Lehmann's performances in the 2006 Champions League in which his Arsenal team bowed out in the final against Barcelona.
2006 World Cup
In the 2006 World Cup, the performances of Klinsmann's team silenced his critics. The team recorded three straight wins against Costa Rica, Poland and Ecuador in the first round, earning Germany first place in Group A. The first game of the knock out stage was a 2-0 victory over Sweden, and in the quarter-finals, Klinsmann's team defeated Argentina, winning 4-2 on penalties. The teams drew 1-1 after 120 minutes after an equalising goal from Miroslav Klose in the 80th minute.
In the semi-final on 4 July, Germany lost a close match with Italy 2-0 after goals in the final minutes of extra time from Fabio Grosso and Alessandro Del Piero. After the match, Klinsmann praised the performance of his young team. They beat Portugal 3-1 in the third place play-off, where he played Kahn instead of Jens Lehmann. The victory triggered a massive Berlin parade the following day where Klinsmann and the team were honoured by the public.
Afterward, Franz Beckenbauer, previously a strident critic of Klinsmann's, declared his desire to see Klinsmann continue as coach. There was also widespread public support for Klinsmann due to his team's spirit and attacking style of play. The team's strong performance is thought by some to have renewed national pride and restored Germany's reputation as a top footballing nation. Due to his success coaching the national team, Klinsmann was awarded the Bundesverdienstkreuz. He was even referred to as "Kaiser", a term meaning "emperor" in German, usually reserved for German footballing greats, e.g. Franz Beckenbauer.
Resignation as national coach
Despite the highly acclaimed performance at the World Cup and the praise earned, Klinsmann declined to renew his contract, informing the DFB of his decision on 11 July 2006. The decision was officially announced by the DFB on the 12 July 2006. Klinsmann's assistant Joachim Löw was appointed as the new head trainer at the same press conference. Klinsmann said "My big wish is to go back to my family, to go back to leading a normal life with them ... After two years of putting in a lot of energy, I feel I lack the power and the strength to continue in the same way".
Post-Germany
After leaving the Germany job, Klinsmann was linked with many coaching roles. He was linked repeatedly with the vacant United States national team coaching job after the decision not to renew the contract of Bruce Arena after the 2006 World Cup. However, Klinsmann could not come to an agreement with the U.S. Soccer Federation over control of the national team structure, and the job eventually went to Bob Bradley.
In April 2007, the English newspaper The Sun reported that Roman Abramovich wanted Klinsmann to coach his team Chelsea. Klinsmann reportedly rejected the offer. Klinsmann was also linked with managerial roles with Tottenham Hotspur and Los Angeles Galaxy, but the jobs went to Juande Ramos and Ruud Gullit respectively. Klinsmann was also linked to the Liverpool job as speculation mounted over Rafael Benítez's future. Tom Hicks admitted in a statement that Liverpool 'sounded out' Klinsmann about the job at Anfield if Rafael Benitez was to leave for either Real Madrid or Internazionale. Franz Beckenbauer claimed that Klinsmann would be "ideal" as the new coach of the England national team after Steve McClaren was sacked in November 2007, prior to the eventual appointment of the Englishman's replacement, Fabio Capello.
Bayern Munich
In July 2008 Klinsmann took over as coach of Bayern Munich, succeeding Ottmar Hitzfeld. This was Klinsmann's first managerial position at club level. Expected to introduce changes into training and style of play, Klinsmann was allowed to appoint several new staff member such as assistants Martin Vasquez and Nick Theslof, goalkeeping coach Walter Junghans, fitness coaches Oliver Schmidtlein, Thomas Wilhelmi, Marcelo Martins, and Darcy Norman, and sports psychologist Philipp Laux. However, Klinsmann struggled to produce the expected results. Following quarter-final eliminations from the DFB Cup and Champions League, Klinsmann came under much criticism from the media. On 27 April 2009, after a 1-0 home defeat by FC Schalke 04, the team's fifth in the second round, Klinsmann was sacked as the management considered the qualification for the next year's Champions League endangered.
Read more
Latest headlines