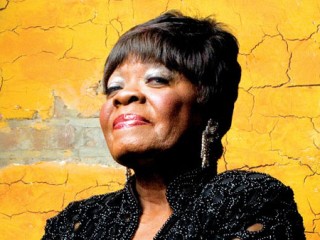 Koko Taylor biography
Date of birth : 1928-09-28
Date of death : 2009-06-03
Birthplace : Shelby County, Tennessee, U.S.
Nationality : American
Category : Famous Figures
Last modified : 2012-02-20
Credited as : Blues musician, Queen of the Blues, Grammy Award winner
Koko Taylor sometimes spelled KoKo Taylor was an American Chicago blues musician, popularly known as the "Queen of the Blues." She was known primarily for her rough, powerful vocals and traditional blues stylings.
In 1963 Koko Taylor was discovered by renowned bluesman Willie Dixon in a Chicago nightclub. Decades later, as a Grammy Award winner and the undisputed holder of the "Queen of the Blues" title, Taylor has achieved legendary status. An accomplished vocalist known for her hard-driving style, she is one of but a handful of women to receive widespread recognition in the male-dominated blues profession. The key to her success, Taylor admitted in an interview with Contemporary Musicians, is her adherence to traditional style. "I'm about the only woman out there singing the old, traditional Mississippi blues," she said. "Guys like the Howlin' Wolf and Muddy Waters ... this is where I got my inspiration from. This is where I got my courage and strength. I would think that's what caused me to be where I am today."
Born Cora Walton in 1935, Taylor grew up on a cotton sharecropper's farm near Memphis, Tennessee. The youngest of six children, she was raised by her father following her mother's death in 1939. "He would make everybody in the household work," she told the Chicago Tribune. "When we weren't in the fields working, we would cut wood for our cooking stove and we'd pick up our kindling. I didn't get a chance to go to school a lot," she continued, "so I didn't get a big education or college degree. What I know, I taught myself."
Taylor's musical self-education came from two sources: the gospel music she sang in her church choir and the blues she heard on celebrated bluesman B. B. King's radio show. "He used to play blues records by Bessie Smith, Ma Rainey, Sonny Boy Williamson, Muddy Waters, and Mathis James 'Jimmy' Reed," she told the Chicago Tribune. "The first blues record I ever heard was 'Me and My Memphis Blues,' by Memphis Minnie. I was 12 or 13, and just loved it."
Weekdays, while they picked and chopped cotton, Taylor and her family would sing their own blues. "So what it amounted to," she explained to Contemporary Musicians, "was we would sing gospel on Sunday and blues on Monday. That's the way I was raised up."
When she was 18, Taylor met her soon-to-be husband, Robert "Pops" Taylor, a trucker who hauled cotton. "Sometimes I would go in the truck to make extra money picking cotton," she told the Chicago Tribune. "He would buy me bologna sandwiches. The next thing I knew, I ended up being his girlfriend." When Pops went to work in a Chicago slaughterhouse, Taylor married him and went along. "I figured going to Chicago would be like going to heaven," she recalled.
Cleaning houses in Chicago's wealthy northern suburbs by day, Taylor took advantage of the city's vibrant South Side blues scene by night, frequenting clubs where prominent bluesmen like Howlin' Wolf, Buddy Guy, and Junior Wells were regular acts. "All of the guys got to know me," she told Contemporary Musicians. "My husband let all of them know that I was little Koko--you know, my family named me 'little Koko' because I always loved chocolate. He told them that I loved to sing the blues." It wasn't long before Taylor was invited to accompany them. "The first time I got on stage," she revealed in the Chicago Tribune, "I did a tune by Brook Benton called 'Make Me Feel Good, Kiddio.' Tina Turner had a song out called 'I Idolize You.' I would sing these [two] over and over because they were the only ones I knew."
It was during one of these sessions that Willie Dixon first heard Taylor perform. Following a set with the Howlin' Wolf band, as she recounted in the Contemporary Musicians interview, "Dixon came down and said, 'My God, I never heard a woman sing the blues like you sing the blues.'" Inspired by Taylor's gusto, Dixon wrote three songs for her-- "Don't Mess with the Messer," "Which Came First, the Egg or the Hen?" and "Wang Dang Doodle"--and introduced her to Chess Records, where she signed her first contract. In 1964 "Wang Dang Doodle" was released. An immediate hit, it sold a million copies. "I didn't know if that was good or bad because I was just happy to be singing," Taylor told the Washington New Observer. "Now, today if I sold a million copies, I'd be saying something."
The popularity of "Wang Dang Doodle" provided the boost that Taylor's performing career needed. Bookings from local clubs increased, and she was developing a following. Encouraged by her success, Taylor quit her day job, organized her Blues Machine band, and hit the road with husband Pops as manager.
While her performing schedule grew, Taylor began to write her own songs. Her first, "What Kind of Man Is This?," was written with Pops in mind. "Because--going back in time--that's how I felt," she told Contemporary Musicians. "He was like a great big bundle of joy." By the 1990s Taylor had become a proficient songwriter, penning many of the tunes that would become her standards. One, "Jump for Joy"--featured on the 1990 album of the same title--was conceived while Taylor was on tour in Japan. "It was five minutes before time for me to go upstage," she said. "I'm backstage and all the guys are calling me up and everything and all of these youngsters are saying: 'Koko, Koko, Koko, we gonna jump for joy!' Oh, man, that sounded like a song to me." Following the concert, Taylor returned to her hotel and wrote the lyrics: "It makes no difference if you're big or small / Take off your shoes and leave them at the door / If you ain't too drunk, you'll get 'em when you go."
After Taylor was with Chess Records for nine years, the company folded. The singer was without a contract until 1974, when she signed with Alligator Records. A small studio at that time, Alligator became a major blues label as Taylor's popularity increased.
In 1988 Taylor's career was interrupted by personal tragedy: her muse and longtime companion Pops Taylor died as the result of injuries sustained in a car accident. "A lot of people wonder what keeps me going," Taylor told Contemporary Musicians. "It's for the love that I have for my music. This is my first priority: just to stay out here and sing the blues, make people happy with my music all over the world."
In the years following Pops's death, Taylor did not relax her ambitious pace. In addition to maintaining a rigorous performing schedule of 200 concerts per year, she made her film debut in director David Lynch's Wild at Heart in 1990. That was followed in 1993 by Force of Nature, which earned another Grammy nomination.To the singer, however, the highlight of the year was "Koko Taylor Day," March 3, 1993, declared by Chicago Mayor Richard M. Daley at which time he presented her with a "Legend of the Year" award.
For the next seven years, Taylor took time off from recording, but continued her national tours. She also remarried in 1996 to tavern owner Hays Harris. She was named Chicagoan of the Year in 1998 and was inducted into the Blues Foundation's Blues Hall of Fame in 1999. Taylor opened her own blues club that year, now used only for private functions, in the Rush Street area, called Koko Taylor's Chicago Blues. Taylor went back to recording with Royal Blue, released in 2000. The songs include four Taylor originals and an assist from guest B.B. King joining Taylor with "Blues Hotel."
Early in 2000 while performing at the club, Taylor fainted and later underwent successful angioplasty to unclog her heart arteries. She stopped performing for a time but returned to recording with Alligator Records. The subject of a Public Broadcasting System (PBS) documentary, she has appeared on television several times.
Taylor's efforts have not gone without recognition. In addition to popular acclaim, her work has received rave reviews and honors. Of the 12 albums she had recorded by the early 1990s, seven were nominated for Grammy Awards. (Blues Explosion, recorded with then-up-and-coming bluesman Stevie Ray Vaughan, was the recipient of a Grammy in 1984.) Taylor has also received the prestigious W.C. Handy Award several times.
Taylor's enthusiasm, she noted in Michigan's Ann Arbor News, is sustained by the renewed popularity of the blues. The audience for the blues has grown, she said, due to the success of white musicians like the late Vaughan. "A lot of people thought the blues was an ancient kind of history. Today, there are audiences everywhere I go." When asked what venues she favors, Taylor told Contemporary Musicians, "Wherever my fans are having a good time, 'jumping for joy,' pitching a 'wang dang doodle,' is my favorite place to work."
Taylor's voice is full, vibrant, and powerful. Onstage she is a compelling personality. Offstage, she is a cheerful woman who delights in making people happy with her music. She is compared to the big blues shouters like Bessie Smith and Big Mama Thornton. Whether live or on records, that rough, raw talent with its blustery swagger still marks the undisputed Queen of the Blues.
In 2008, the Internal Revenue Service said that Taylor owed $400,000 in back taxes, penalties and interest. Her tax problems concerned 1998, 2000 and 2001; for those years combined, her adjusted gross income was $949,000.
Taylor died on June 3, 2009, after complications from surgery for gastrointestinal bleeding on May 19, 2009. Her final performance was at the Blues Music Awards, on May 7, 2009.
Discography:
-Love You Like a Woman (Charly Records) - November 30, 1968
-Koko Taylor (MCA/Chess) - 1969
-Basic Soul (Chess Records) - 1972
-South Side Lady (Evidence Records) - 1973
-I Got What It Takes (Alligator)
-Southside Baby (Black and Blue Records) - 1975
-The Earthshaker (Alligator) - 1978
-From The Heart Of A Woman (Alligator) - 1981
-Queen of the Blues (Alligator) - 1985
-An Audience with Koko Taylor (Alligator) - 1987
-Live from Chicago (Alligator) - 1987
-"Wang Dang Doodle" (Huub Records) - 1991
-Jump for Joy (Alligator) - 1992
-Force of Nature (Alligator) - 1993
-Royal Blue (Alligator) - 2000
-Deluxe Edition (Alligator) - 2002
-Old School (Alligator) - 2007
Read more
Latest headlines