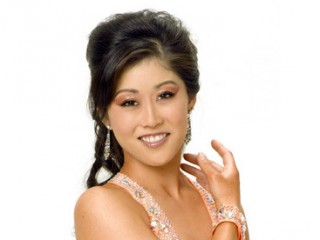 Kristine Tsuya Yamaguchi biography
Date of birth : 1971-07-12
Date of death : -
Birthplace : Hayward, California, United States
Nationality : American-Japanese
Category : Sports
Last modified : 2010-09-10
Credited as : Olympic ice skater, gold medalist,
She is a wisp of a woman at five feet and 93 pounds. Skater
Kristi Yamaguchi
, according to Sports Illustrated's E. M. Swift, "lands her jumps so softly it seems as if she is skating in her slippers." Tiny as she may be, however, Yamaguchi is one of sport's giants. In 1992, she won what many consider the biggest prize of the Winter Olympics in Albertville, France---the gold medal in women's figure skating. She put on a spectacular, near-flawless performance that evoked memories of her sport's greats---Peggy Fleming, Dorothy Hamill, and Katarina Witt. "She has character. She has guts," Witt, the 1984 and 1988 gold medal winner, told Newsday. "You have to have guts to win the Olympics."
The Olympic win capped off a marvelous year for Yamaguchi. In March of 1991, before she turned 20, she won the world championship in Munich, Germany. In January of 1992, she took the U.S. National title in Orlando, Florida. Then came Albertville. "I'm a little surprised everything happened to me so fast," Yamaguchi told the Detroit Free Press soon after the Olympics. "I've dreamed of it ever since I was a little girl and first put a pair of skates on. To think that it came true....Wow!"
Although Yamaguchi was born and raised in California, fans and reporters frequently assume she is a native of Japan. "Not long ago, a photographer said to me, 'You speak nice English,"' Yamaguchi told the Miami Herald. "I said, 'I should. I'm a fourth-generation Japanese-American. I don't even speak Japanese except for a few words."
Jim Yamaguchi, Kristi's father, is a dentist. Carole Yamaguchi, her mother, is a medical secretary. Both were among the 120,000 Japanese-Americans who spent time in internment camps during World War II because the U.S. government feared they might assist the Japanese war effort. Jim Yamaguchi was four when his family was taken from its California ranch and sent to a relocation camp in Arizona. For three years, he lived behind a fence. Carole Yamaguchi was born in a Colorado camp, even while her father, George Doi, was stationed in Europe with the U.S. Army.
"My grandfather [Doi] didn't talk much about World War II, but he let me know how proud he was to see me make it as an Asian-American representing the United States," Yamaguchi told the Chicago Tribune in 1992. "My parents let us know how fortunate we are now. Otherwise, they really don't look back on [internment] too much. It was just a time of a lot of fear in the country."
Kristi was born with a foot deformity---both feet pointed inward---that her mother later said may have contributed to her skating prowess. Until she was a bit over one year old, she wore tiny plaster casts on her feet. Inside each cast was a metal bar that forced her feet into the correct position. "She learned how to walk in those casts," Carole Yamaguchi told the San Jose Mercury News. Then, until she was about five, Kristi wore corrective shoes. "It was in part because of that that I wanted her to get involved in things involving her legs and feet, like dancing and skating," her mother explained in the Mercury News. "That, and the fact that she really liked skating."
Kristi fell in love with the sport when she was four, watching American Dorothy Hamill win a gold medal in the 1976 Olympics. "She's part of the reason why I'm in the sport right now," Yamaguchi told the St. Paul Pioneer Press. "I had my Dorothy doll and I took it with me everywhere." Sixteen years after watching Hamill for the first time, Yamaguchi recalled the event for the Mercury News: "I loved the music and the pink costumes and the way they seemed to float around on the ice like little dolls. It's all I ever wanted to be."
Carole Yamaguchi took her daughter for her first skating lesson at the Southland Mall in Hayward, California, in 1975, when Kristi was six. The tiny girl took to it immediately. "When I look back on it, I worked incredibly hard for a little kid," Kristi told the Mercury News. "I would not get off the ice until I did some particular move right or until I did something a certain number of times. From the time I was six, I kept bugging my mom, 'Let's go skating, let's go skating."'
Lessons were six days a week, starting at five a.m. and---from the time Kristi was 11---lasting five hours. After school, Kristi took dance lessons or learned how to skate with a partner. Kristi had a private tutor until her junior year in high school. Then she attended school half a day and earned the rest of her credit through independent study. She never went out with friends on Friday nights, because she had to be up so early on Saturday to practice. She never dated. She didn't go to high school football games. Kristi's mother served as the young skater's manager, chauffeur, travel agent, music consultant, press spokeswoman, and liaison with coaches and teachers. "It wasn't like I pushed her or her father pushed her," Carole Yamaguchi told the Mercury News. "Kristi was the one who wanted to do this."
In 1982, when Kristi was 11, her coach, Jim Hulick, paired her with 13-year-old Rudy Galindo. (Galindo later changed the spelling of his first name to Rudi to match Kristi). They were a fitting match: both were small and not exceptionally strong. But both exhibited technical excellence and a flair on the ice. "We were both little jumpers," Yamaguchi told USA Today. "From the beginning, we always seemed in synch."
The two young skaters worked together every day. By 1986, they won a bronze medal at the World Junior Figure Skating Championship. The next year, they won the gold medal in the same competition. In January of 1988, Yamaguchi and Galindo competed against adult skaters for the first time. They finished fifth at the national championships in Denver. One year later, when Yamaguchi was 17 and Galindo 20, they won the national championships in Baltimore. A month after that they finished fifth at the world championships in Paris, and the consensus of experts was that they would be a formidable pair at the 1992 Olympics.
In 1989, however, Hulick, who had coached the pair for seven years, died of cancer. "That took something out of the partnership," Galindo told the Los Angeles Times. "Jim was very much part of the glue holding us together." Yamaguchi and Galindo continued to work together, but there was another hindrance. Yamaguchi's singles coach for over a decade, Christy Kjarsgaard Ness, married and moved to Edmonton, Alberta. Yamaguchi, who planned to pursue a career in both singles and pairs skating, soon followed. That forced Californian Galindo to train much of the year in Canada, a development he did not like.
In March of 1990, soon after the pair won their second straight national title and again placed fifth in the world championships, Yamaguchi decided to end the partnership. "I started as a single skater and did pairs just for fun," she told the Detroit Free Press. "It was clear to me that if I was going to make great improvements in one or the other, I had to drop one. It's just really too tough trying to do both."
Splitting with Galindo allowed Yamaguchi to focus on singles. She moved to Canada full time to train with Ness. "Since Kristi quit pairs," Ness told the Los Angeles Times, "she has taken up off-ice training daily and it's helped. At the major championships, she no longer has to juggle schedules or...eliminate some practices because she has to compete."
Yamaguchi also continued to refine her style. She cannot perform the gymnastic feats of a few others: unlike Japan's Midori Ito and American Tonya Harding, Yamaguchi cannot land the tough three-and-one-half-revolution triple Axel. But her grace and choreography have become the best in the sport. And no one tops her in pure skating ability. "Kristi's very much a complete skater now," Ness told Newsday in 1992. "The triple Axel doesn't make a program, and it doesn't make a skater. People forget she's doing seven triple jumps out there; they just start watching her skate, and she does everything so well, they forget how much she's doing."
The first indication that Yamaguchi could make it as a solo skater came at the 1989 U.S. Nationals in Baltimore. With Galindo, she won the pairs competition. And in ladies singles, the 17-year-old finished first in the free-skating portion of the competition and second overall, behind Jill Trenary. That marked the first of three straight years she would finish second in the nationals: to Trenary in 1989 and 1990, and to Harding in 1991. "I began to worry that there was this plateau I just couldn't reach," Yamaguchi told the Mercury News. "I didn't always want to be second best. I wanted to be the champion. But I always seemed to make a little mistake that kept me from the top."
Soon after that, her career got a boost when compulsory figures were dropped from most competitions. Compulsory figures are the technical elements requiring a skater to trace figures on the ice and spend endless hours in practice. Eliminating them helped the artistic skaters, such as Yamaguchi. After the 1991 U.S. Nationals, Yamaguchi also changed her program. The new long routine, done to the Spanish tune "Malaguena," was technically demanding, including seven triple jumps (although no triple Axels). The opener, a triple Lutz-triple toe loop combination is the most difficult performed by any woman. "She's in charge of her own skating now," said Coach Ness in the Mercury News in 1991. "She's matured a lot in this past year."
The new routine worked to near perfection at the 1991 World Championships in Munich, Germany. And Yamaguchi broke through her string of second-place finishes to capture the world title, defeating Trenary, 1989 world champion Ito, and European champion Surya Bonaly of France. In doing so, Yamaguchi even garnered her first perfect 6.0 mark for artistic impression.
Yamaguchi's stardom made her a hero to many Asian-Americans. Even before the Olympics she had been honored by the San Francisco Asian Chamber of Commerce, the National Chinese Women's Business Association, the Pan Asian National Chamber of Commerce, the Japanese-American Citizens League, and the Taiwanese-American Citizens League.
The win at the Worlds helped establish Yamaguchi---along with Ito---as a favorite for the 1992 Olympic medal. She enhanced her standing in January of 1992 by winning her first U.S. title in competition at Orlando, Florida. According to Swift, Yamaguchi "fashioned one of the most complete figure skating performances ever seen on American ice, one of grace, athleticism and style. Not only did Yamaguchi put a gulf between herself and the rest of the U.S. women, but she also would have whipped the cream of American male skaters had she been entered in that [competition.]" Swift described Yamaguchi's routine as "five different triple jumps, a dazzling assortment of spins, a nifty Russian split, natural grace and the ability to feel the music while skating---a seemingly lost art. It is a potent arsenal."
Still, there were critics. Randy Harvey of the Los Angeles Times wrote: "She enters the Olympics as the favorite in the spotlight event. But she is no Katarina Witt or Dorothy Hamill or Peggy Fleming. She does not have the kind of command they held over an audience---and the judges. While those champions forever seemed in control, Yamaguchi always appears one tenuous step away from a critical error."
However, Yamaguchi's Olympic short program, skated to the tune of "Madame Butterfly," was flawless. It contained five triple jumps, plus various spins and a Russian split. Both Ito and Harding slipped during their short performance---which counts for one-third of the final grade---placing Yamaguchi solidly in first. "The thing that sets her apart is that she's very mentally strong," Canada's Kurt Browning, who practices each day with Yamaguchi in Edmonton, told USA Today.
Two nights later, moments before her all-important long program, Yamaguchi met her idol, Hamill, who told her to relax. Yamaguchi followed the advice and skated away with a gold medal of her own. Nobody else came close. Swift proclaimed that "Yamaguchi calmly nailed her opening triple-triple combination, her ponytail a blur, then assuredly turned the ice into her stage....Yamaguchi's program, which was superbly choreographed by Sandra Bezic, had the crowd spellbound until more than halfway through, when she fell---groan!---on a relatively easy triple loop. Her confidence shaken, Yamaguchi then turned a planned triple Salchow into a double. But she pulled herself together, landed the difficult triple Lutz and finished well."
Her scores---five 5.7s and four 5.8s for technical merit; one 5.8 and eight 5.9s for artistic impression---left the other skaters little chance to overcome her lead. "Consistency is what separates Kristi from the others," men's silver medalist Paul Wylie told the Detroit Free Press. "I don't think she's had a bad performance in her life. She's so calm under pressure. It would have shocked me to see her anywhere but first."
The only remaining question after the Olympics was whether Yamaguchi would go professional or keep practicing for the 1994 Winter Games in Lillehammer, Norway. Two-time Olympic champion Witt noted in a Detroit Free Press article: "I think it would be a good decision for her to stay. It's only two years away, and Kristi would have a great chance. She's a beautiful skater and she takes her confidence with her onto the ice." For her part, Yamaguchi said she needed time to decide. But, she told the San Jose Mercury News, "When I'm skating, I just feel like I can express myself. I feel free."
In 1998, Mervyn's California signed Yamaguchi to be the chain's lead spokesperson and appear in a series of TV and print commercials. The store's partnership with her began in 1997 with the launch of her Dreamwear line of clothing for girls. With the new contract, her line was expanded to athletic wear.
Yamaguchi's book Always Dream (1998) described her early fascination with the sport of ice skating, the grueling pre-dawn practice sessions, and the thrill of competition. In 2000, she married professional hockey player Bret Hedican.
PERSONAL INFORMATION
Born Kristi Tsuya Yamaguchi, July 12, 1971, in Hayward, CA; daughter of Jim (a dentist) and Carole (a medical secretary; maiden name, Doi) Yamaguchi. Married Bret Hedican (hockey player), 2000. Education: Graduated from Mission San Jose High School, Fremont, CA, 1989. Attended classes at University of Alberta, Edmonton, Alberta.
AWARDS
With partner Rudi Galindo: first place, pairs division, World Junior Figure Skating Championships, 1987, and U.S. Figure Skating Championships, 1989 and 1990. As a solo skater: first place, women's singles World Figure Skating Championship, 1991, U.S. Figure Skating Championships, 1992, and Winter Olympics, 1992.
CAREER
Amateur figure skater since 1982, competing in both singles and pairs events in numerous national and international competitions, including the 1992 Winter Olympics in Albertville, France.
Read more
Latest headlines