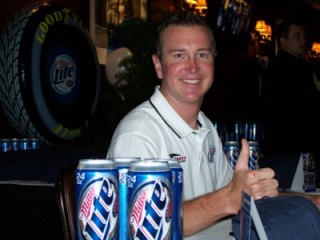 Kurt Busch biography
Date of birth : 1978-08-04
Date of death : -
Birthplace : Las Vegas, Nevada, U.S.
Nationality : American
Category : Sports
Last modified : 2010-07-27
Credited as : NASCAR driver and racer, ,
Complexity is not one of the qualities stock-car racing fans look for in a champion driver. But that's what they got in 2004, when baby-faced Kurt Busch won NASCAR's season series by the narrowest margin in history. A smart, studious third-generation racer who received his big break before he had a handle on his emotions, he did his maturing like he does everything else: Fast. They always said Kurt would be willing to drive the wheels off his car to win, and in the final race of his championship season, he did just that—literally!
GROWING UP
Kurt Busch
was born on August 4, 1978, in Las Vegas, Nevada. His father, Tom, was a mechanic and tool dealer from the Chicago area. Tom's father had raced on dirt ovals throughout the Midwest in the post-war years, and he followed in his dad's footsteps. Tom and Kurt's mom, Gaye, moved to Las Vegas in 1972. he continued to race in Nevada, Utah and Arizona. Tom won several NASCAR-sanctioned late-model events and a couple of regional titles, and then switched to dwarf cars when NASCAR started handicapping him.
By the age of six, Kurt was accompanying his father to the track. He especially liked the pre-race and post-race strategy and analysis, which he soaked up eagerly and efficiently. Kurt eventually learned at his Daddy's knee how to tweak chassis, size up tracks, deal with officials, and even how to schmooze sponsors.
Kurt also picked up enough to handle a beat-up go-kart pretty well around the neighborhood cul-de-sac. He would race his dad on the unwieldy machine, as they competed against the clock. Within two weeks, he was beating Tom.
Kurt possessed a rare passion for everything he did, had a steel-trap mind, and was a natural athlete with particularly sharp reflexes. Baseball was his favorite team sport. He also took a liking to shooting when he was old enough to handle a gun. Not surprisingly, Kurt became an adept golfer, too.
What Kurt lacked was patience. Living in Las Vegas, a town where people went from nobodies to superstars seemingly overnight, he was not a big fan of paying dues. In auto racing, unfortunatley, that's what you have to do sometimes. Even so, Kurt's ability to consistently out-drive his competition accelerated him climb toward the top of his sport faster than anyone anticipated.
Though underage, Kurt readied himself to go against adult track rats in Dwarf competition. Tom doctored the necessary paperwork, and Kurt sped to victory in just his second race, at the Las Vegas Speedway Park.
From there, the father-son team hit the road, competing at western tracks from Southern California to Utah. In 1994, Kurt's first full year as a driver, he won 10 consecutive races at 10 different tracks. That convinced Tom that the 16-year-old was ready to move up again. The elder Busch eventually sold the family'sdwarf equipment and purchased a powerful car for the Legends Series, which Kurt began driving in 1996 when he turned 18.
Kurt was also an excellent student in the classroom. After graduating near the top of his class at Durango High School, he enrolled at the University of Arizona. A whiz at math and physics, Kurt went to college hoping to get a degree in Pharmacy. Gaye had been a longtime arthritis sufferer, and Kurt could think of no better focus for his energy than finding a cure for this disease. Providing, of course, that racing didn't work out.
To continue his motorsports career, Kurt needed more cash, so he eventually took a job with the city of Las Vegas, helping to construct new water mains in the country's fastest-growing city. Between his job and his studies, he began to see some interesting opportunities in microbiology and actually planned to move into that field. To this day, he believes he'd be making six figures in that business had he stuck with college.
ON THE RISE
In 1997, Kurt joined the Featherlite Southwest, a NASCAR-sanctioned stock car tour. College soon took a backseat to his racing career.
Craig Keough, who owned a chain of nurseries, sponsored Kurt, which relieved some of the cash pressure he felt. (Still, he kept his water works job through 1999.) During the three seasons he raced in the Featherlite series, Kurt won seven events. A great competitor, he almost always had a decent shot at grabbing the checkered flag, despite the fact he rarely had the best car. Often, however, he blew his chance by making his move too soon.
As impetuous as he was talented, Kurt was starting to recognize that he still had a lot to learn. He knew that developing patience was the key. Even so, at his impatient best he was head and shoulders above the other drivers at the Featherlite level. This became clear when he captured the series championship in '99.
During a race at Sears Point that season, NASCAR owner Jack Roush and his truck team manager, Max Jones, happened to catch Kurt's act on television. Roush was smitten with the young champion. As luck would have it, an opening would soon be created when Craftsman Series driver Mike Bliss decided to get out of the category. Roush and Jones decided to fill this vacancy with what they called a "Gong Show" approach. They would look over as many as 100 young drivers, narrow that field down to a handful, and have them audition for the part in head-to-head to competition.
Kurt made the final cut and was invited with five others to the Toledo Speedway. He received permission to take a short leave from his job as water works supervisor and showed up at the Ohio track ready to rock. With Roush and Jones looking on, the drivers were asked to demonstrate their skills both in and out of truck. In a round of high-pressure tests, Kurt and the others not only had to drive their butts off, they had to prove that they could communicate with their pit crews, and even show how they would deal with the press. Kurt won the competition and was hired to drive truck # 99 the following season.
One of the things Roush and Jones noticed about Kurt were his eyes. He had an animal hunger, a relentless desire for victory. Not a measured, focused Derek Jeter-Michael Jordan kind of drive. More like psychotic a Ty Cobb-Lawrence Taylor drive. Given that Kurt was pushing a couple of tons of heavy machinery in front of him, many in NASCAR found it unsettling that someone so young had risen so high.
Then again, Kurt had the kind of God-given ability that even the casual fan could spot from the grandstand. He knew when to slow down, when to jog right or left, and when to stomp on the gas. Kurt's main problem was recognizing that the vehicle he was operating actually had limits, and that he had to drive within those limits or risk injury to himself and others. Drivers like this may move up the ladder quickly, but they don't make many friends along the way.
Despite a legion of doubters, Kurt was magnificent in his Craftsman rookie year. He won four races in 2000 and finished second in the standings. It was somewhat nerve-wracking in the early going, as Kurt kept spinning out during racing. Seven times he lost control of his vehicle, but each time he managed to avoid a wreck. The eighth time was the charm—he got creamed. This proved to be a blessing, however, as Kurt finally was locked in on what his truck could and could not do. From then on, it was smooth sailing.
Off the track, the first year of Craftsman required a lot of adjusting. Although Kurt had been sponsored in the past, he had never had to deal with Fortune 500 sponsors. And having never driven as part of a high-profile shop, he was often perplexed by team dynamics. Kurt was doing well in races, but there was a lot of grumbling between starts. Roush, who saw a lot of himself in the rookie, placated egos and smoothed over the rough spots as best he could. Pretty soon, everyone got the message: the kid stays in the picture.
Although Kurt probably could have used another year of seasoning at this level, Roush played a hunch and promoted the 22-year-old to his Winston Cup team in August of 2000. His first race at the apex of NASCAR competition was at the MBNA.com 400. Kurt qualified 10th and finished 18th. Two weeks later, he posted his best showing, a 13th-place finish at the UAW/GM Quality 500. In all, he made seven Winston Cup starts in 2000 and finished with $311,000 in earnings.
The idea that Roush would hand over a full-time ride to a driver so wet behind the years met with mixed reaction in Winston Cup circles. To some, it was just a weird experiment. To those who knew Roush, however, it made perfect sense. Friends suspected he had always wanted to have a father-son relationship with a talented driver. To Kurt, the fact that he had gone from the dusty tracks of the Southwest to a Winston Cup ride in less than two years seemed completely natural.
As had been the case in Kurt's Craftsman debut, Winston Cup officials cringed at the thought of someone so young and impetuous behind the wheel of a Roush car. But few knew Kurt's dedication to excellence. His '00 crew chief, Jeff Hammond, was amazed when he saw Kurt out on the track one morning with a bubble level and protractor, measuring the transition from the curves to the straightaways. He might have been young, but no one was more serious about success in his sport.
The 2001 season found Kurt paired with Ben Leslie, a fast-rising young crew chief. The thinking that these two strong-minded individuals would click was a calculated risk. It worked, to a dregee. Kurt finished with a #27 ranking, was the runner-up Rookie of the Year, and racked up more than $2 million in winnings. He won the pole at the Southern 500, finished third at the Talladega 500 and fifth at the Brickyard 400. Still, by season's end, Roush felt that an older hand was definitely needed.
Heading into the 2002 season, the owner decided to pair his young star with veteran mechanic Jimmy Fennig. He had worked with all-time greats Bobby Allison and Mark Martin, but he had never experienced a talent as pure and raw as Kurt. Roush's instinct turned out to be right-on. Fennig was the same age as Kurt's dad and had a similar demeanor. The communication was instant, and the results soon followed.
The first win—and in many respects, the signature moment—of Kurt's career came at Bristol, when he traded paint with old hand Jimmy Spencer to take the 2002 Food City 500. As Kurt accepted the winner's trophy, the unthinkable happened: 100,000-plus fans booed him. He smiled and waved, but it hurt him deeply that he was not accepted by the huge crowd.
Kurt put this disappointment behind him and concentrated on the rest of the season. By the end of the year, he and his crew had come together nicely. After inching their way into the Top 12 at the end of the summer, they won three of the final five Winston Cup events—the Old Dominion 500, NAPA 500 and Ford 400—to finish third in the standings.
Despite Kurt's great finish and gaudy stats, the consensus at Roush Racing was that he still had some growing up to do. Kurt felt in his heart that he should win every race. He became difficult when the breaks did not go his way. Of greatest concern to the organization was his penchant for going public with complaints. And even when Kurt kept it in the family, the words he chose were often harsh and accusatory, not constructive. Team owners like their drivers to be leaders, and Kurt wasn't even close.
These concerns lingered in the off-season, but Roush did not act one them. NASCAR had instituted numerous tech changes, and new body templates had been ordered for 2003, so the focus was on the cars. Kurt's maturity became even less of an issue when he and teammate Matt Kenseth got off to terrific starts in '03. Kurt began the year like a ball of fire, challenging for victory in about half his starts and taking the checkered flag at Bristol again for his fifth career victory. Kenseth was having a championship-caliber season, too.
Kurt slowed down but did win three more races—the Auto Club 500, Sirius 500, and Sharpie 500—to finish 11th in the standings. No one expected him to improve on his #3 ranking from the year before, but dropping out of the Top 10 was lower than most had hoped for, and a far cry from where Kurt thought he could be. The frustration mounted as the year wore on and the victories stopped coming. His youth was showing, his temper was flaring, and it seemed only a matter of time before something went wrong.
That something finally happened in August, at Michigan International Speedway. Kurt, who had been feuding with Spencer since he beat him at Bristol two seasons earlier, admitted on his radio show that he had tried to flatten the beloved veteran's fender. After the race, Kurt went over to Spencer's garage to give him a piece of his mind. Instead, Kurt got a piece of Spencer's fist—right in the kisser. Consensus along pit row was that the kid deserved it. This incident, along with Kurt's race tape, was enough to land him on probation for the rest of the year.
The Roush people tried their best to be patient with Kurt. They had always recognized the downside of accelerating a young driver's development—he would have to grow up in the spotlight. But Kurt didn't seem to be maturing at all. The Spencer incident was one thing, but at a race in Atlanta, Kurt chewed out his crew over the radio with thousands of fans listening in. Afraid that one of his outbursts would permanently damage his career, Kurt's main sponsor—Newell-Rubbermaid—along with Roush and Kurt's crew members urged him to see a stress-management specialist after the '03 season. Kurt agreed and completed a program in the off-season.
With Nextel as NASCAR's new main sponsor in 2004, the format of the season changed. The first 26 races would establish a Top 10 group. Those drives would then vie for the championship in a "shootout" comprising the season's final 10 races. It would be known as the "Chase for the Nextel Cup."
The format change had come about partly as a result of the 2003 Winston Cup points race. Kurt's teammate Kenseth had grabbed the points lead in the spring and never let it go, taking some of the thrill out of the season. Kurt was not crazy about the new format. Had these rules been in place in 2002, he would have finished out of the running because his late-season charge would not have counted as Chase points.
The fact that Kurt finished 11th in '03 no doubt also played a part in his thinking. After a 16th-the place finish at the Daytona 500, he raced consistently and never fell out of the Top 10 in '04. He scored high finishes in three of his next four events, and then won the Food City 500 for the third time. By mid-summer, he was a lock to make the Nextel Chase field.
This was a kinder, gentler—more grown-up—Kurt. He was masking his emotions when they reached the boiling point and choosing his words more carefully when he did speak to the press. When he communicated with his crew, even when he was angry, he spoke in measured tones and no longer issued sharp-tongued criticism.
Kurt had always been a proponent of learning from his mistakes, and he continued to do so in '04. Unlike earlier in his career, however, he was now publicly admitting them. Kurt was developing into a team player, a young leader—all the things Roush imagined he would be someday.
Ironically, "Busch II" was even less popular with the fans! Accusing Kurt of being a phony, they were no longer sure who the guy was. They may have booed him for insulting other drivers and chewing out his pit crew, but at least he was saying something interesting. Now he was saying nothing. Kurt seemed more corporate than his own corporate sponsors sometimes. There were no more malapropisms, no more good-old-boy chatter. Although he had long since given up thoughts of being a pharmacy student, the once-fiery Kurt now had all the sex appeal of a light-blue-jacketed pharmacist.
The criticism leveled at Kurt was understandable, but also unfair. What the fans were forgetting was the measured consistency that is constantly preached to Roush Racing drivers. It was what turned Kenseth into the Winston Cup champion the year before, and it was now doing wonders for Kurt.
From a racing standpoint, the change in Kurt was obvious. Whereas in past seasons he would try to win every race, regardless of how well his car was running, he now took measure of his vehicle, analyzed the opportunities, and concentrated on finishing as well as possible. Boring? Yes. Effective? Absolutely.
Kurt grabbed an early advantage in the shootout stage of the schedule, winning the Sylvania 300 in New Hampshire. Next, he turned in a fifth-place finish at Talladega. Another fifth, followed by a sixth, fourth and fifth, boosted Kurt to the top of the standings after six races. Kurt and his crew worked together beautifully. They limited their errors to minor ones and cleaned up any messes—including a couple of hairy spinouts—as quickly and efficiently as possible.
The Chase for the Nextel Cup would have been a cakewalk for Kurt were it not for a blown engine in Atlanta with four races to go. This resulted in a 42nd-place finish, which left little margin for error the rest of the way. Jeff Gordon was right behind Kurt, and Jimmie Johnson got hot and won four races to make a late charge.
Going into the final race, the Ford 400 at the Miami-Homestead Speedway, Gordon and Johnson were within striking distance of Kurt. Mark Martin and Dale Earnhardt, Jr. were also in the mix. Kurt responded to this challenge by winning the pole, sending a message that anyone who wanted the championship would have to take it from him.
Obviously, if Kurt could finish ahead of his pursuers in Miami, the math was moot. But this would not be an easy day.
Kurt blew out to an early lead, and then drifted back after four laps, content to let others battle it out for first while keeping tabs on Gordon and Johnson. The plan was working well until Kurt sensed an irregularity with his right front tire on Lap 93, almost as if it were losing air. An unscheduled pit stop would put his championship in jeopardy, but he had always had a good feel for minor problems, and he wasn't about to start ignoring his instincts. Kurt made his way toward the pits, confident that there was enough racing left that day to make up the time he would lose.
Then the unthinkable happened. As Kurt veered toward the access road, his wheel literally came off. It was like a bad dream and bad cliche rolled into one.
Despite initial appearances, however, all was not lost. As luck would have it, Kurt's tire rolled back onto the track, bringing out the caution flag. This meant, assuming his crew worked fast enough, he would be able to rejoin the race without going down a lap.
Getting to his crew was no easy trick. Kurt barely missed the water barrier, fighting his vehicle like mad. He finally managed to swerve it into the pits on three wheels. Kurt got patched up and back out before losing a lap. It was the most nerve-jangling pit stop of his career. Kurt was still in the running but would have to work his was forward from 28th place. Had this turn of events been written into a movie script, any self-respecting racing fan would have walked out of theater.
But the best was yet to come. Kurt began his charge with Ryan Newman and Tony Stewart setting a torrid pace at the front. Moving up through the pack, he came upon Johnson, who was running just in front of Gordon. They tried to shake Kurt, but could not. Neither driver could afford to simply finish ahead of Kurt—in order to win the Nextel Cup, they had to finish way ahead of him.
The mathematicians in the stands were having a field day. The jockeying was such that, at one time or another during the race's second half, the Nextel champ could have been Kurt, Johnson or Gordon.
With five laps to go, Kurt was running seventh. That meant Gordon could win the championship if he took the checkered flag. It also meant that Johnson could finish second and win the title. Things got even more interesting when Newman suffered a cut tire and Stewart dropped back with fuel problems. Kurt made a couple of key passes, and then a late caution extended the race by four laps.
Incredibly, Kurt's Roush Racing teammate, Greg Biffle, grabbed the lead on the restart and beat Johnson and Gordon to the finish line. Kurt's fifth-place finish left him with just enough to hang on to the championship.
During the final couple of laps, Kurt experienced a wave of emotion. He felt sick to stomach, he felt all alone, he felt great to be part of a winning team, he felt giddy—and at no time was he even sure he was going to win the title. When he crossed the line and was told he was officially NASCAR's third-youngest champion, he cut loose in joyous celebration. His dad and Roush beamed like a couple of first-time fathers.
Kurt won three races again in 2005—the fourth straight year he had won three or more events. He also logged nine Top 5 finishes, three fewer than the year before. After a lackluster showing in the Chase for the Cup, Kurt finished the season as NASCAR's 10th-ranked driver.
Contributing to this drop was the fact that Roush Racing suspended him for the last two races. Kurt was charged with reckless driving by Maricopa County police, who also claimed he was drunk. When they could not produce a test result supporting this claim, that charge was cropped. But the damage was done.
Kurt had already decided to leave Roush Racing and drive for Penske Racing South in 2006. He would replace legend Rusty Wallace, who was retiring. The team change did not pay immediate dividends. Aside from a lone victory at his beloved Bristol track, Kurt failed to take the checkered flag that season. He did win a career-high six poles, but they did not translate into victories. He finished 16th at the end of the season. Kurt had better results in seven starts in the Nationwide Series. He won two races, in Texas and at Watkins Glen.
Kurt's luck changed in 2007. He won two races—the August events at Pocono and Michigan—and drove consistently, especially after Pat Tryson became his crew chief during the summer. Kurt earned a berth in the Chase for the Cup and finished seventh overall.
Kurt's 2008 season was marred by an incident with Tony Stewart. During practice for the Budweiser Shootout in February, Stewart caused Kurt to slam into the wall, and then blocked his path to the garage. Kurt responded by ramming Stewart's car repeatedly until he moved. Later, the two reportedly came to blows during a meeting with NASCAR officials. The bad blood had been brewing since the middle of the 2007 season, when Kurt gave Stewart the finger after they had wrecked. Kurt was fined $100,000 and put on probation.
Stat-wise it was not a great year for Kurt, who celebrated his 30th birthday in August. He notched his lone victory in a rain-shortened race in late June at New Hampshire and did not qualify for the Chase. He ended the year ranked #18.
Kurt showed that he had learned a thing or two about racing during the 2009 Daytona 500 when he survived a huge pile-up and worked his way back into contention. His crew repaired the damage one pit stop at a time, and he managed a remarkable 10th-place finish. His first win of the year came a few weeks later at the Kobalt Tools 500 in Atlanta. Kurt scored one of the more impressive victories in recent memory when he led the race for 235 laps and opened up a 10-second lead before holding off Gordon and Carl Edwards in the final laps.
After the race, fans got to see Kurt being Kurt. He plucked the checkered flag off the flag stands and dangled it out the window of his #2 car as he toured the oval in reverse. This celebration was a variation of the Polish Victory Lap invented in the 1990s by Alan Kulwicki.
The NASCAR marketing machine can handle just about anything, but it may find it especially challenging to transform Kurt into a popular champion with its core fans. He lacks the down-home charm of other drivers, and although his high-intensity approach to racing is appealing, his high-brow demeanor and screw-you sense of humor are not. But whether the fans love him, hate him—or just wish he would be someone else—Kurt certainly looks like he is here to stay.
KURT THE DRIVER
In the sometimes cartoonish world of NASCAR personalities, Kurt has succeeded in cultivating a "bad guy" image. Mainstream fans find his behavior difficult to fathom at times, and he seems to engage in feuds with his fellow drivers almost for fun. He is hardly Mr. Popularity around the track.
That being said, when he gets his anger issues under control, Kurt's other qualities combine to make him a terrific driver. He is often described as cerebral, but what fans tend to overlook is that he has an unusually good feel for his car. Kurt can sense a slight vibration or hear a tiny noise and know almost immediately whether its a minor problem, major problem, or a potentially catastrophic one. This might make another driver overly cautious, but it gives Kurt the confidence to be uninhibited behind the wheel.
Yet far from being a know-it-all, Kurt continues to sponge up advice and information as fast as it comes. Indeed, he is not one to enjoy a mystery. If he doesn't understand how something works—or why it works the way it does—he studies it obsessively until he knows it backwards and forwards. If there is a technique or strategy that eludes him, he practices it until it is mastered. And when he makes a mistake, he analyzes it from every angle until he is satisfied he will never make it again. These are not recent developments. Kurt has been this way since his teen years.
Read more
Latest headlines