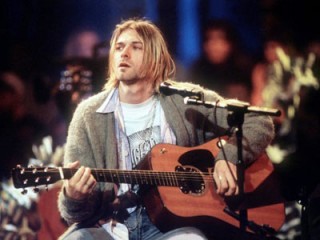 Kurt Cobain biography
Date of birth : 1967-02-20
Date of death : 1994-04-05
Birthplace : Aberdeen, Washington
Nationality : American
Category : Famous Figures
Last modified : 2010-10-04
Credited as : Singer songwriter, member of rock 'n roll band Nirvana,
Born February 20, 1967, in Aberdeen, Washington; committed suicide, April 5, 1994, in Seattle, Washington. Singer and songwriter. In 1991, the rock and roll band Nirvana exploded into the world of American popular music with a fury unseen for many years. Nirvana electrified a stagnant hit parade with anthems chronicling the angst and disaffection felt by youngsters throughout the nation. As the leader of this monumentally successful band, Kurt Cobain became the spokesman for a generation. It was a role that the shy, sensitive songwriter accepted with reluctance. And it was, in the end, more than Cobain could handle.
Kurt Cobain was born in Hoquiam, Washington, the first child of Donald and Wendy Cobain. When Kurt was six months old the Cobains moved to nearby Aberdeen, a hard-scrabble logging community that had been in decline since serving as a brothel town during the whaling days of the mid-nineteenth century. Early on, Cobain displayed a flair for artistic activities and was an outgoing, intelligent boy. His parents' divorce in 1975, however, resulted in a bitter custody dispute that caused Kurt to be shuffled from the homes of both of his parents, as well as those of several relatives.
Cobain sought refuge from his shattered family life by delving into music and visual arts. His teachers at Aberdeen High School spoke with high regard for Cobain's artistic efforts. Bob Hunter, an Aberdeen High art teacher who taught Cobain for three years, called his pupil "one of the pre-eminent people that I hold in high esteem as artists." Given guitar lessons as a gift from his mother, Cobain was also growing enchanted with rock music as a forum for expressing the anger that was welling within him. In later interviews, Cobain frequently expressed distaste for his hometown and its mentality, which he considered "macho" and unconducive to creative endeavors.
Cobain dropped out of high school to pursue music, a decision that resulted in expulsion from his mother's house. Cobain bounced from home to home, crashing on the couches of friends and even sleeping beneath an Aberdeen bridge. It was during this period that the brooding guitarist met Krist Novaselic, a bass player and fellow Aberdeen outcast. Together they formed a succession of bands, choosing names such as Skid Row and Fecal Matter before settling on Nirvana in 1987. The fledgling band moved to Seattle, as much to escape Aberdeen as to be nearer to those who would better appreciate scruffy and loud musicians. After a couple of years and several drummers, Kurt and Krist recorded the songs that eventually became Nirvana's first album, Bleach.
Bleach, recorded for the tidy sum of $606.17, was released in June of 1989 by Sub Pop Records, Seattle's trend-setting independent label. Bleach featured a noisy, dissonant batch of songs that included "About a Girl," which hinted at the melodic sensibilities Cobain possessed. After a slow start, Bleach began to gain in sales when respected underground rock groups such as Sonic Youth praised it in fanzines across the nation. In the meantime, Cobain and Novaselic, along with new drummer Dave Grohl, began to record songs that would form the nucleus of their next album. As word of the power of these songs circulated within the music community, a bidding war erupted among record companies interested in signing Nirvana. When the dust settled, Nirvana had signed to DGC Records.
The leap from "indie" label to "major" label can be a political gesture within the close-knit and independence-craving world of alternative rock and roll. Nirvana's ascension up the corporate ladder clearly gave Cobain---who was steeped in the independent music world's tradition of hostility towards establishment institutions---some pause. In a 1992 interview with Rolling Stone, Cobain remarked, "I should be living out the old punk-rock threat and denying everything commercial." In reality, no independent band who had later signed with a major label had ever enjoyed the success of the chart-topping acts most commonly associated with the larger companies.
The release of Nirvana's Nevermind in the Fall of 1991, however, changed all that. Bolstered by incessant broadcast on MTV of the video for Nevermind's hit single, "Smells Like Teen Spirit," Nevermind catapulted to the top of the popular music chart, displacing Michael Jackson in the number-one slot. Nevermind featured such anthems such as "In Bloom" and "Come As You Are" that wedded Cobain's angst and anger to catchy and dynamic pop songs. It was the first record sporting the "alternative rock" stamp ever to reach number-one and altered forever the marginal status of that amorphous category. Nirvana's hometown of Seattle was besieged with record company executives looking to sign "the next Nirvana." Nirvana's so-called fashion style, which consisted of Salvation Army flannel shirts and torn jeans, was dubbed the "grunge look" and was quickly emulated by top designers.
The enormity of Nevermind spawned the kind of cultural revolution unseen in the world of rock since the Beatles. Fans dressed like Nirvana and interviewers questioned the band about the sociological implications of songs like "Polly" and "Lithium." Nirvana's tour in support of the album sold out arenas around the world. They became the first alternative band to capture the attention of those firmly outside the isolated, somewhat separatist world of alternative rock and roll. For Cobain, however, the sensational success of Nirvana did not come without a price. A true believer in the independence mythology of alternative rock, Cobain blanched at the rock star trappings he was expected to assume. He was troubled by the frivolity of his new and different role and concerned that the masses of fans did not take seriously the messages in his songs. Cobain was an outspoken advocate for the rights of women and homosexuals, and was distressed to discover that many of his band's new fans were exactly the type of people who had harassed him for his nonconformity back in Aberdeen. Adding to this distress were anecdotes such as the one in which Cobain's anti-macho song, "Territorial Pissings" was used as pep music at a high school football game.
Cobain was also suffering from the resurgence of a mysterious stomach ailment that plagued the slight singer his whole life. Aggravated by his guttural singing style, the malady worsened as the stresses of stardom increased. Cobain was also known to have experimented with drugs---an effort, as he described it, to "medicate myself."
On February 24, 1992, Cobain married Courtney Love, the outspoken leader of the feminist punk-rock band Hole. The union would prove to be loving but tumultuous. Frances Bean Cobain was born on August 18, and was by all accounts the light of her father's life. The youngster was soon wrapped up in controversy when an article appeared in Vanity Fair alleging that Love had used heroin while pregnant with Frances. Subsequent to the media frenzy that surrounded that accusation, the Cobains were permitted to see their daughter only with supervision for the first month of her life. Love has denied having used drugs once she discovered she was pregnant.
In the meantime, Nirvana was still atop the musical world. They headlined England's prestigious Reading Festival and a collection of obscure early songs called Incesticide was released to the delight of fans eager for more Cobain-penned material. A biography of the band was published as well. In Come As You Are: The Story of Nirvana, Rolling Stone contributing editor Michael Azerrad chronicled the mercurial history of America's newest sensation, paying particular attention to the turbulent life of its songwriter and singer. As Cobain's family life settled down and the hullabaloo over Nevermind was finally beginning to subside, Cobain began writing the songs that would form the bulk of Nirvana's next album. The band hired alternative rock guru Steve Albini to record the album, a decision that conveyed Cobain's continued association with the aesthetics of underground music.
The resulting album was titled In Utero, but its release was delayed as rumors swirled that DGC was unwilling to put out an album that it considered aggressively non-commercial. The controversy reached fever pitch when it landed in Newsweek and Cobain penned a letter insisting that the band was unwilling to let DGC dictate the sound of Nirvana's recordings. Consensus was finally reached and In Utero was in stores by late 1993. As with previous Nirvana records, Cobain designed the artwork. In keeping with Nirvana's knack for engendering controversy, a collage of model human fetuses on the CD's back cover initially kept the album off of Wal-Mart and K Mart shelves. Despite this blow, the album debuted at number one, on the strength of two hit singles, "Heart-Shaped Box" and "All Apologies." And eventually, the two major store chains lifted their bans, presumably with profits in mind.
Nirvana embarked on its first major tour in almost two years in support of In Utero. Fans were once again astonished at the on-stage power of Nirvana and would be hard-pressed to guess that the band's leader was in increasing physical and mental agony. Cobain's stomach woes had returned with a vengeance. And much to the chagrin of his family and friends, so had his drug problems. On March 5, 1994, Cobain was found unconscious in his Rome hotel room, having passed out after ingesting some 50 tranquilizers and washing them down with champagne. While Cobain's management company denied that this was a suicide attempt, it soon became clear that all was not well.
Cobain returned to Seattle to recuperate from that experience and to regain the lost voice which had forced Nirvana to cancel 23 shows on its European tour. Solace eluded Cobain once again, however. On March 18, Love summoned the police, who discovered Cobain locked in a room with a .38 revolver, threatening to kill himself. The police confiscated four guns and a bottle of various pills. It was not Cobain's first brush with the authorities. In addition to a youthful arrest for vandalism, Cobain had spent several hours in jail the previous summer for a domestic dispute that resulted in the confiscation of three guns.
Though several attempts at psychological and drug treatment were made, Cobain proved resistant to the efforts of others to help him shake the depression and addictions that haunted him. On April 8, 1994, Cobain's body was discovered, pierced by a single shotgun blast, a note beside him, penned in red. The news of Cobain's suicide shattered music fans the world over. From the many interviews and profiles of his life, fans were aware of his unhappiness. In fact, it was his ability to articulate in his music the fear and anger felt by so many disaffected young people that had made him their hero. Kurt Cobain's suicide, however, tragically removed this unlikely spokesman from the role he never truly embraced. Sources: New York Times, April 9, 1994; April 17, 1994; April 24, 1994.
Read more
Latest headlines