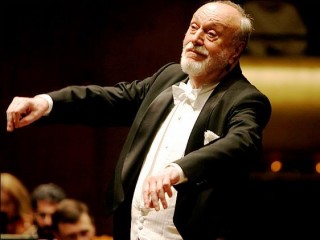 Kurt Masur biography
Date of birth : 1927-01-18
Date of death : -
Birthplace : Brieh, Germany (now Poland)
Nationality : German
Category : Famous Figures
Last modified : 2011-09-08
Credited as : conductor, Romantic music, Leipzig's Gewandhaus Orchestra
Kurt Masur, the former conductor of Leipzig's Gewandhaus Orchestra and reluctant East German revolutionary leader, now conducts the New York Philharmonic Orchestra. An internationally-acclaimed conductor, Masur added the London Philharmonic to his roster of duties in the year 2000.
Born in the German city of Brieg (now in Poland) on January 18, 1927, Kurt Masur's father was an engineer. He taught himself to play the piano at the age of seven. His formal training took place at the Breslau Music School from 1942 until 1944, and the Leipzig Hochshule fur Musik from 1946 until 1948. In addition to the piano, Masur studied cello, composition, and conducting. At his father's insistence, he was also trained as an electrician. Masur never made use of this training. "I loved only music," he told the San Francisco Chronicle in 1990. "Really, for me, there was nothing else I could do."
Masur began conducting in opera houses in the late 1940s. He served as Kapellmeister of the Erfurt and the Leipzig opera theaters in the early to mid 1950s. In 1955, he became conductor of the Dresden Philharmonic, where he served as chief conductor from 1967 until 1972. He was the general director of music at the Mecklenburg State Theater of Schwerin in 1958. He also served as senior director of music, alongside director Walter Felsenstein, at Berlin's Komishe Oper.
In 1970, Masur became the director, or Kapellmeister, of the Leipzig Gewandhaus Orchestra, a post he held until he retired in 1996. The orchestra, now over 250 years old, prides itself on its history and tradition. Older Gewandhaus players train its musicians. Instruments, scores, even interpretations have been passed down through the years. Previous Gewandhaus Kapellmeisters have included Felix Mendelssohn, Johannes Brahms, Gustav Mahler, Richard Strauss, Wilhelm Furtwaengler, and Bruno Walter.
Masur has felt a particular connection with Felix Mendelssohn, who also conducted the Gewandhaus Orchestra and founded the conservatory in Leipzig over 150 years ago. Mendelssohn's works were not performed in Germany during the Nazi regime because of his father's Jewish ancestry—even though he and his father had been Christians. In 1993, to celebrate the 250th anniversary of the Gewandhaus Orchestra, Masur led the group on a twelve-day tour. Masur secured money from Japanese donors and helped to restore the house Mendelssohn had lived and died in and turned it into a museum. The conductor has performed Mendelssohn's entire works in Leipzig. In October 1999, Masur told the Jerusalem Post, "After the Second World War, a lot of musicians came to Leipzig and tried to rebuild his image. I did it all my life because for me he was a very special human being. I was always fascinated by this kind of commitment about how much he cared for the people of his time. And so I fought for his recognition. It was not easy as many believe that Bach should be the city's foremost musical son. But they complement each other well."
Masur made his U.S. debut as a guest conductor for the Cleveland Orchestra. That same year, he led the Gewandhaus Orchestra on its first-ever U.S. tour. He also served as a professor at the Leipzig Academy of Music for several years, beginning in 1975. Although Masur had many opportunities to leave East Germany and conduct elsewhere, he did not want to leave the Gewandhaus. Masur told the San Fransico Chronicle in 1990, "This orchestra is what kept me here. I felt I had to keep it alive at the highest possible level. And although I know some felt they had to leave to express their artistry, I discovered that I could reach my highest artistic level here. For me, it would not have been a solution to leave." His loyalty to the Gewandhaus should not, however, be misconstrued. Masur was never a Communist Party member. In 1964, he turned down an offer to work directly for the East German government as the director of East Berlin's Komische Oper. The job came with a house, a car and assorted other perks. Masur asserted his belief that subsidized art is not necessarily good art, and oftentimes is art as a manufactured product. By making this decision, he earned the respect of many East German citizens.
Masur's relationship with former East German leader Eric Honecker caused suspicion among some. However, Masur insists that he remained true to himself and his values. In fact, he did not know Honecker well. Their relationship was based on two requests: first and foremost, Masur asked Honecker to construct a new building for the Gewandhaus. The second was a 1983 request to remove a ban on East German artists traveling to the United States. Both request were granted. When Honecker was forced to resign, Masur sent him a letter wishing him good health and thanking him for constructing the new Gewandhaus building. Masur publicly maintained that Honecker was a human being and should be treated as respectfully as any other, adding that power does strange things to people.
If there was ever any doubt about Masur's political affiliations, he dispelled it in the fall of 1989, when he served as an instrument of peace in Leipzig. The city had been the home base of the opposition movement since 1988. On October 2, 1989, Masur said in an interview on West German television that he was ashamed of the violence of the East German government directed against anti-government demonstrators in Leipzig. The next day, a resolution was written and signed by members of the Gewandhaus Orchestra protesting the use of force by East German police. The resolution seemed to have no effect. Four days later, police staged another violent attack on East German marchers.
On October 7th, Soviet president Mikhail Gorbachev ended a trip to mark the 40th anniversary of East German statehood. Revolution seemed to follow in his wake. On October 9, 1989, the city of Leipzig was filled with armored carsand flanked by riot police. It looked like an armed camp. Masur, aligning with the opposition group, met with Reverend Peter Zimmerman, a minister and opposition activist, Bernd Lutz Lange, a local cabaret performer, and three local party officials: Roland Woetzel, Jochem Pommert and Kurt Mayer. Their purpose was to try to stop more violence from occurring at an event planned for that evening. Masur was nominated by the group to read and record an appeal to be played over the city's loudspeakers. The tape was played at 5:30 p.m. from the loudspeakers in the center of town. The text was also read in four churches where demonstrators had gathered, as well as over the police and security radios. The group asked for peaceful discussion: "We all need a free exchange of opinions about the continuation of socialism in our country. Therefore, we promise all citizens that we will use our full power and authority to ensure that this dialogue will occur, not only in the Leipzig area but with our national government."
The march occurred without violence, and the police defied orders from Berlin to stop the march. Masur was thoughtful of his orchestra as well, calling off the pressing of a recording of the Gewandhaus Orchestra playing Beethoven's "Eroica." He felt that the mastering and pressing of an album should not occur in an atmosphere of fear. It would not be done well if all attention could not be focused on the project. He believed that energy would be better focused on political discussion. In the days following, Masur opened the Gewandhaus to public discussion. Appeals to the government were written and signed. German unification took place on October 3, 1990. Masur was mentioned as a possible candidate for the presidency, but he insisted he was a conductor, not a politician. The Berlin Wall fell that November.
In 1995, Masur was given the Commander's Cross of the Order of Merits from the Federal Republic of Germany. Two years later, he told the Sun-Sentinel in Ft. Lauderdale, Florida: "I became involved in politics because, for me, working in concerts involved a human message. At that moment, someone was needed to do something. The citizens were so brave, so strong. I couldn't stand aside. I was one of the persons better known. They thought musicians could be trusted."
Masur became the first democratically-chosen music director of the New York Philharmonic Orchestra in 1991. Having served as a guest conductor for the orchestra 22 times in the preceding ten years, he was well known to many of the orchestra's members. Masur began with the 1992-93 season. He was expected to conduct a minimum of 14 subscription weeks, including four weeks of touring. Educational activities, recording, and performances for television, park concerts, chamber music, and miscellaneous other projects were to round out his schedule. Masur also conducted some of the New York Philharmonic's Young People's Concerts, just as Leonard Bernstein had done.
New York Philharmonic double bassist Jon Deak, a member of the committee that was charged with selecting a new director, told the Washington Post in 1990, "(Masur is)
obviously a guy with great integrity and humanity; that's why he got involved in the movement for freedom in his country. He's a toughie, a man who knows what he wants and goes after it. It's plain that the orchestra did not look for someone who was easy, someone who would not bother us; musical excellence was the prime consideration."
Masur's reputation is based on his skill as an interpreter of the standard repertory. He likes new music, however. Contrary to tradition, Masur hates to be addressed as "maestro," wears a bolo tie, and does not use a baton. He disappointed those who thought he would be a typical "Kapellmeister." Masur does not want to be limited to the routine of playing only the classic repertory. He insists on including new music that he deems to be of "masterpiece" quality. Masur held true to his reputation as an excellent orchestra-builder and helped to restore the New York Philharmonic to its previous stature as a world-class orchestra.
In 1996, Masur retired from the Gewandhaus. That December, he was named that orchestra's first-ever "conductor laureate." That same year, the National Arts Club awarded Masur with the Gold Medal of Honor for Music. The following year, the government of France awarded him with the title "commander of the Legion of Honor" and the city of New York named him "city cultural ambassador." The Polish government honored the conductor in 1999 with the Commander Cross of Merit.
In 1998, the New York Philharmonic extended Masur's contract as music director to the year 2002. As a provision in the contract, he would be instrumental in picking his successor. Masur was surprised and upset by the idea that the board was, in effect, forcing him to retire. The board chairman, Paul Guenther denied plans to oust Masur. He told Newsday that if Masur decided to stay beyond the 2001-02 season, a new contract would be negotiated. Previously, Masur had been under an "evergreen contract," which was renewed every year to take effect for the next three years. His salary under the 1998 contract was reported as $1.3 million per year.
Masur will assume the role of principal conductor with the London Philharmonic effective with the 2000-01 season. In London, he will be involved with the Youth Orchestra, and has expressed a desire to increase working relationships between the London Philharmonic and leading music colleges. He is also hoping to broaden the reach of the orchestra in London with programs like "rush-hour concerts" which were successful in New York.
Read more
Latest headlines