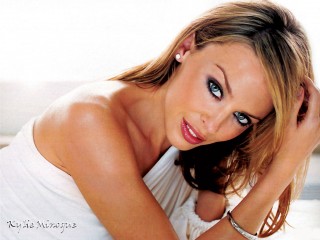 Kylie Minogue biography
Date of birth : 1968-05-28
Date of death : -
Birthplace : Melbourne, Australia
Nationality : Australian
Category : Arts and Entertainment
Last modified : 2010-05-13
Credited as : Pop rock singer, Body Language, Spinning Around
Although she's only managed a few hits in the U.S. since her arrival as a singer in 1987, Kylie Minogue is both Australia and Europe's biggest selling female pop singer over that period and a pop culture icon in those areas. Her image on the cover of magazines is guaranteed to produce extra sales. But a singing career was never what Minogue had in mind for herself.
Minogue was born on May 28, 1968, in Melbourne. In 1979, she began her acting career in the Australian TV drama series Skyways, eventually gaining a starring role in a children's series, The Henderson Kids, before achieving national fame in the five-days-a-week soap opera Neighbours. Around the time Minogue joined, Neighbours also started airing in the U.K.
A major celebrity on the basis of her Neighbours popularity, Minogue had agreed to give a charity performance in the company of other personalities, choosing to sing Little Eva's "Loco-Motion. Someone hit on the idea of submitting a tape of the performance to local record company, Mushroom, who didn't think much of the demo, but saw the potential in releasing a single by the extremely popular young TV star. In their wildest dreams no one imagined a national number one record with the recorded version of "Loco-Motion" (July 1987).
At that time, Mushroom Records had formed a business relationship with London hit factory Stock Aitken and Waterman (Dead or Alive, Mel and Kim, Samantha Fox, Bananarama, Rick Astley) who also saw potential in working with the popular actress, but she wasn't a priority. In fact, when Minogue turned up at their London studios they had forgotten she was coming and quickly wrote her a song while she waited. The result, "I Should Be So Lucky," gave Minogue the second of her six Australian number one singles and the first of her five English number ones. Now she became a priority for Stock Aitken and Waterman. As was their way, Stock Aitken and Waterman wrote and produced her records and they controlled her video image. Their re-recorded "Loco-Motion" put Minogue in the Top Ten in the U.S. In Australia, the U.K., and Europe, Minogue was scoring hit after hit and quickly left Neighbours to meet the demand on her.
If she was ever just along for the ride, Minogue took her first step towards control over her career with her 1990 single "Better the Devil You Know," not letting Stock Aitken and Waterman see the video she was making for the song until it was completed. SAW insisted on casting her in a girl-next-door mode, while Minogue opted for a saucier Madonna-like image. It ensured her continued success and reputation as a celebrity beyond the pop charts. With her fourth album, Let's Go to It (1991), the singer also insisted on lyrical input.
Kylie Minogue ended up leaving Stock Aitken and Waterman and recorded two albums, Kylie Minogue and Impossible Princess, with London dance label Deconstruction. A romantic relationship with INXS singer Michael Hutchence had encouraged her to experiment musically. While the backbone of both albums was the Brothers in Rhythm team Minogue was keen to work with a variety of people. One unlikely collaboration saw a duet with Nick Cave, especially written by Cave for his Murder Ballads album. "Where the Wild Flowers Grow" featured a nude Minogue floating dead in the water for its video.
While Impossible Princess represented another major career turning point in Australia -- Minogue's transition to a concert performer -- in Europe the album was not considered a success. In 2000, she was encouraged by the Pet Shop Boys to switch to their label, Parlophone, and she re-emerged as the pop princess of old with the critical hit Light Years. The single "Spinning Around," went number one in both England and Australia. Her reign in music continued in 2001. Minogue issued Fever in October on the heels of the successful single "Can't Get You Out of My Head." Such hype around the song allowed it to become an global smash, earning Minogue two Brit Awards in February 2002 for "Best International Female" and "Best International Album" for Fever. Shortly thereafter, Fever was released in the U.S. on Capitol, landing Minogue her biggest U.S. hit with "Can't Get You Out of My Head" in nearly fifteen years. Spots on MTV's TRL and Saturday Night Live proved her power. Body Language appeared in 2004.
Body Language
achieved first week sales of 43,000 in the U.S., and declined significantly in the second week. The Wall Street Journal described Minogue as "an international superstar who seems perpetually unable to conquer the U.S. market". Minogue commented that she had told her American record company that she was not willing to invest the time needed to establish herself in the U.S. and that she would rather enhance the success she had already achieved in other parts of the world, an attitude endorsed by Billboard analyst Geoff Mayfield as a "business decision... If I were her accountant, I couldn't blame her for making that call". Minogue later commented that she was not concerned by her limited success in the U.S. and was more frustrated by assumptions that she considered her career incomplete without it.
Minogue played a guest role in the season finale of the comedy series Kath & Kim, in which she referenced her earlier role as Charlene in Neighbours, during a wedding sequence. The episode was the Australian Broadcasting Corporation's highest rating program of the year.
She released her second official greatest hits album in November 2004, entitled Ultimate Kylie, along with her music videos on a DVD compilation of the same title. The album introduced her singles "I Believe in You", co-written with Jake Shears and Babydaddy from the Scissor Sisters, and "Giving You Up". "I Believe in You" reached the U.S. Hot Dance Club Play top three, and Minogue was nominated for a Grammy Award for the fourth consecutive year when the song was nominated in the category of "Best Dance Recording".
Early in 2005, Kylie : The Exhibition opened in Melbourne. The free exhibition featured costumes and photographs spanning Minogue's career and went on to tour Australian capital cities receiving over 300,000 visitors, and was exhibited at the Victoria and Albert Museum in London in February 2007. Minogue commenced her Showgirl: The Greatest Hits Tour, and after performing in Europe, travelled to Melbourne, where she was diagnosed with breast cancer.
Minogue's breast cancer diagnosis in 2005 led to the postponement of the remainder of her Showgirl – The Greatest Hits Tour and her withdrawal from the Glastonbury Festival. Her hospitalisation and treatment in Melbourne resulted in a brief but intense period of media coverage, particularly in Australia, where the Prime Minister John Howard issued a statement supporting Minogue. As media and fans began to congregate outside the Minogue residence in Melbourne, the Victorian Premier Steve Bracks warned the international media that any disruption of the Minogue family's rights under Australian privacy laws would not be tolerated. His comments became part of a wider criticism of the media's overall reaction, with particular criticism directed towards paparazzi. Minogue underwent surgery on 21 May 2005 at Cabrini Hospital in Malvern, and commenced chemotherapy treatment soon after.
On 8 July, 2005, she made her first public appearance after her surgery, when she visited a children's cancer ward at Melbourne's Royal Children's Hospital. She returned to France where she completed her chemotherapy treatment at the Institut Gustave-Roussy in Villejuif, near Paris. In December 2005, Minogue released a digital-only single, "Over the Rainbow", a live recording from her Showgirl tour. Her children's book, The Showgirl Princess, written during her period of convalescence, was published in October 2006, and her perfume, "Darling", was launched in November. On her return to Australia for her concert tour, she discussed her illness, and said that her chemotherapy treatment had been like "experiencing a nuclear bomb". While appearing on The Ellen DeGeneres Show in 2008, Minogue said that her cancer had originally been misdiagnosed. She commented, "Because someone is in a white coat and using big medical instruments doesn't necessarily mean they're right", but she later spoke of her respect for the medical profession.
In November 2006, Minogue resumed her Showgirl: The Homecoming Tour with a performance in Sydney. She had told journalists before the concert that she would be highly emotional, and she cried before dedicating the song "Especially for You" to her father, a survivor of prostate cancer. Her dance routines had been reworked to accommodate her medical condition, and slower costume changes and longer breaks were introduced between sections of the show to conserve her strength. The media reported that Minogue performed energetically, with the Sydney Morning Herald describing the show as an "extravaganza" and "nothing less than a triumph".The following night, Minogue was joined by Bono, who was in Australia as part of U2's Vertigo tour, for the duet "Kids", but Minogue was forced to cancel a subsequent planned appearance at U2's show, because of exhaustion. Minogue's shows throughout Australia continued to draw positive reviews, and after spending Christmas with her family, she resumed the European leg of her tour with six sold-out shows in Wembley Arena, before taking her tour to Manchester for a further six shows.
In February 2007, Minogue and Olivier Martinez announced that they had ended their relationship, but remained on friendly terms. Minogue was reported to have been "saddened by false media accusations of Martinez's disloyalty". She defended Martinez, and acknowledged the support he had given during her treatment for breast cancer, commenting "He was always there, helping with the practical stuff and being protective. He was incredible. He didn't hesitate in canceling work and putting projects on hold so he could be with me. He's the most honorable man I have ever met."
Minogue released X, her tenth studio album and much-discussed "comeback" album, in November 2007. The electro-styled album included contributions from Guy Chambers, Cathy Dennis, Bloodshy & Avant and Calvin Harris. For the overarching visual look of X, including the music video for first single "2 Hearts", Minogue and William Baker developed a combination of the style of Kabuki theatre and the aesthetics originating from London danceclubs including BoomBox. The album received some criticism for the triviality of its subject matter in light of Minogue's experiences with breast cancer; she responded by explaining the personal nature of some of the album's songs, and said "My conclusion is that if I'd done an album of personal songs it'd be seen as 'Impossible Princess 2' and be equally critiqued". Rolling Stone's reviewer described Minogue as "pop divadom's party planner in chief", and said of her breast cancer, "thankfully, the experience hasn't made her music discernibly deeper". Minogue later said, "In retrospect we could definitely have bettered it the album, I'll say that straight up. Given the time we had, it is what it is. I had a lot of fun doing it."
Minogue in 2009.
X and "2 Hearts" entered at number one on the Australian albums and singles charts respectively. In the UK, X initially attracted lukewarm sales, although its commercial performance eventually improved, and Minogue won a Brit Award for "International solo female". X was released in the U.S. in April 2008, and debuted outside the top 100 on the albums chart despite some promotion. Minogue called the U.S. market "notoriously difficult ... You have so many denominations with radio. To know where I fit within that market is sometimes difficult". X was nominated for the 2009 Grammy Award for Best Electronic/Dance Album, Minogue's fifth Grammy Award nomination.
In December 2007, Minogue participated in the Nobel Peace Prize Concert in Oslo, Norway, and later performed in the final of the UK talent show The X Factor with the eventual winner, Leon Jackson, whose mentor was Dannii Minogue. From May 2008, Minogue promoted X with a European tour, KylieX2008, which is her most expensive tour to date with production costs of £10 million. Although she described the rehearsals as "grim" and the set list went through several overhauls, the tour was generally acclaimed and sold well.
Minogue was featured in White Diamond, a documentary filmed during 2006 and 2007 as she resumed her Showgirl Homecoming Tour. She appeared in The Kylie Show, which featured highly stylised set-piece song performances from Minogue as well as comedy sketches with Mathew Horne, Dannii Minogue, Jason Donovan and Simon Cowell. She co-starred in the 2007 Doctor Who Christmas special episode, "Voyage of the Damned", as Astrid Peth, a waitress on a spaceship Titanic. The episode aired on 25 December 2007, with 13.31 million viewers, the show's highest viewing figures since 1979.
It was announced in late December 2007 that Minogue was to be among those honoured in Queen Elizabeth II's 2008 New Years Honours list, with an OBE for services to music. Minogue commented "I am almost as surprised as I am honoured. I feel deeply touched to be acknowledged by the UK, my adopted home, in this way." She received the OBE officially from The Prince of Wales in July 2008. In May, 2008 Minogue was awarded the French Ordre des Arts et des Lettres, France's highest cultural honour. Culture Minister Christine Albanel described Minogue as a "midas of the international music scene who turns everything she touches into gold", and saluted her for publicly discussing her breast cancer. In July, Minogue was named the UK's "Best Loved Celebrity" by a tabloid newspaper, who commented that she "won the hearts of the nation as she bravely battled breast cancer", and won the "Best International Female Solo Artist" award at the 2008 BRIT Awards.
In late September 2008 Minogue made her Middle East debut as the headline act at the opening of Atlantis, The Palm, an exclusive hotel resort in Dubai, and from November, she continued with her KylieX2008 tour, taking the show to cities across South America, Asia and Australia. The tour visited 21 countries, and was considered a success, with ticket sales estimated at $70,000,000. She hosted the 2009 BRIT Awards on 18 February 2009 with James Corden and Mathew Horne.
In September and October 2009 Minogue embarked on the For You, For Me Tour, her first North American concert tour, which included shows in the U.S. and Canada. She was also featured in the Bollywood film, Blue, performing an A.R. Rahman song, and has confirmed that she is working on her eleventh studio album, commenting that it will be an album of dance and pop music. On 13 September 2009 Minogue performed "Super Trouper" and "When All Is Said and Done" with Benny Andersson at the ABBA tribute concert "Thank You for the Music... a Celebration of the Music of ABBA" at London's Hyde Park, her only live performance in the UK in 2009. On December 14, 2009 Minogue released a download-only concert album entitled Kylie: Live in New York globally, the album was recorded at New York's Hammerstein Ballroom and contains 25 live version songs.
In mid-2009, Minogue confirmed that she was working on her eleventh studio album commenting that it will be an album of dance and pop music. Confirmed producers and songwriters working with Minogue on the album have been Nerina Pallot and Andy Chatterley, Xenomania, Calvin Harris, Jake Shears and Babydaddy of Scissor Sisters, Richard Stannard, Lucas Secon, Greg Kurstin, Stuart Price, Tim Rice-Oxley, Fraser T Smith and RedOne, who has produced music for Lady Gaga, Little Boots and Sugababes amongst others. The only track to be heard from the sessions so far is "Better than Today", written by Nerina Pallot and Andy Chatterley, which Minogue performed on her 2009 For You, for Me Tour. Minogue referred to it as "a song that will feature on my next album". The United States is expected to be a priority this time around, after rave reviews for her debut American tour.On 20 April 2010, Minogue revealed on her site and her Twitter page, that her album will be called Aphrodite and will be released worldwide on 5 July 2010. She also revealed that the lead single will be called "All the Lovers" and will be released a week before the album on 28 June 2010. A 30 second snippet of the single was released along with the album cover art. Also, on 3 June 2010 she will be hosting the inaugural AmfAR "Inspiration Gala" at the New York Public Library honouring Jean Paul Gaultier for his lifelong contribution to men's fashion and the fight against AIDS.
Without anything approaching Madonna's musical strength, like Madonna Minogue has ensured her survival with imaginative videos and by keeping fans guessing and intrigued with consistent changes of personal image. She has also appeared in a number of movies over the years. 1999's Cut with Molly Ringwald was her eighth film appearance.
Kylie Minogue discography
- Kylie (1988)
- Enjoy Yourself (1989)
- Rhythm Of Love (1990)
- Lets Get To It (1991)
- Kylie Minogue (1994)
- Impossible Princess (1997)
- Light Years (2000)
- Fever (2001)
- Body Language (2003)
- X (2007)
- Aphrodite (2010)
Representative Albums:
"Greatest Hits", "Greatest Hits 87-97", "Body Language"
Representative Songs:
"Can't Get You Out of My Head", "Confide in Me", "Spinning Around"
Read more
Latest headlines