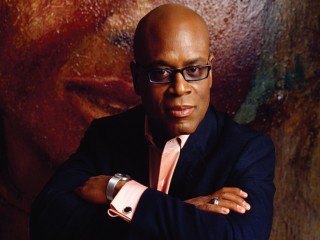 L.A. Reid biography
Date of birth : 1956-06-07
Date of death : -
Birthplace : Cincinnati, Ohio, U.S.
Nationality : American
Category : Arts and Entertainment
Last modified : 2012-01-16
Credited as : Record Executive, co-founder of LaFace Records, CEO of Epic Records
Antonio "L.A." Reid is a US record executive, songwriter, and record producer. Best known as the co-founder of LaFace Records, he is responsible for signing and helping bring Mariah Carey, Pink, Justin Bieber, Rihanna, Kanye West, Avril Lavigne, Toni Braxton, TLC, Usher, Ciara, OutKast, and Dido to multi-platinum album sales.He has won three Grammy Awards.
He is the President and chief executive of Hitco Music Publishing, based in Atlanta and was the chairman and chief executive officer of Island Def Jam Music Group until 2011, when he signed up to appear as a judge on the 2011 U.S. version of The X Factor. He is currently the Chairman and CEO of Epic Records.
When Antonio "L.A." Reid was appointed president of Arista Records in 2000, he joined the ranks of the most powerful executives in the music industry. He came to the job with a wealth of varied qualifications. Reid's gems of experience included his membership in a chart-topping R&B group, his years spent as a songwriter/producer, and his executive role at LaFace Records. As president of Arista, Reid would work with artists, songwriters, producers, and executives. His experience working in all these areas himself made him an ideal candidate to lead Arista into the 21st century.
Antonio Reid, who later became known by his nickname, "L.A.," was born and raised in Cincinnati, Ohio, a town with a vital music scene. As a teenager, Reid waited outside the King Records building for the bus to his karate class. To pass the time, he told the Cincinnati Enquirer, "I would go stand in front of the place and just stare at it. James Brown was there, and I was drawn to him and the music he created." His mother, Emma Reid, worked to support her four children. "When I started getting into music," Reid recalled in the Cincinnati Enquirer, "my mother supported me and was helping me buy instruments." The drums appealed to Reid most and, while a student at Hughes High School, he joined several bands. Then-Pittsburgh Pirates player Dave Parker put up the money for one of Reid's groups to record several songs. By the time he was 18, Reid had songs playing on two local radio stations, WCIN and WEBN.
After this successful introduction to the local music scene, Reid founded a group called Essence. However, after substitutions among band members, the name was also changed. "We called the group the Deele," Reid explained to the Cincinnati Enquirer, "because it implied that we were gonna get a record deal." The newly transformed and deal-hungry group included vocalist Carlos "Satin" Green, Stanley Burke, Darnell "Dee" Bristol, and Kevin Roberson. Kenny "Babyface" Edmonds, a left-handed guitar player hailing from Indianapolis, Indiana, had also joined the Deele. Reid and Babyface developed a rapport. "We liked each other's company, we admired each other's taste.... We forged an amazing relationship that lasted many years," Reid told the Cincinnati Enquirer. Reid and Babyface found that their respect for each other's varying tastes made for a successful musical collaboration. While Babyface's musical interests leaned toward the melodic side, Reid's ideas stemmed from his interest in rhythm.
The group's name lived up to its intent, and after a production deal with the group Midnight Star, the Deele signed with Midnight Star's label, Solar. Working with Reggie and Vincent Calloway of Midnight Star was an excellent learning experience for Reid. He and Babyface watched as the Calloway brothers left their own group to write and produce hits songs for Gladys Knight and others. Reid told the Cincinnati Enquirer, "Reggie kind of taught me the importance of making sure that every song you record is the absolute best song that you can find and has the absolute best performance by the artist." Reid carried this essential lesson into every aspect of his growing career.
The Deele's first album, Street Beat, scored a hit song in 1983. The song, "Body Talk" reached number three on R&B charts and was featured on the first episode of the hit television series, Miami Vice. The album produced two more top ten R&B hits, but the group's second album, Material Thangz, proved a disappointment, producing only one hit single. Deele released one more album, Eyes of a Stranger, in 1987 before disbanding.
Following the Calloway brothers' leads, Reid and Babyface, after moving to Los Angeles in 1985, began making a name for themselves as songwriters and producers. They started out working with other Solar artists like the Whispers, Shalimar, and Pebbles, who would later become Reid's first wife. Reid and Babyface were soon known as R&B's next big thing, and began producing hits for such 1980s megastars as Sheena Easton, Bobby Brown, Paula Abdul, Boyz II Men, Whitney Houston, and many others.
But, as they watched their songs fly up the charts, Reid and Babyface were not making as much money as they felt their work deserved. "We wanted equity participation," Reid explained to the Cincinnati Enquirer, "and you can't have an equity participation if you're work-for-hire. And as producers we were work-for-hire." The only way to attain financial participation in the hits they produced, Reid realized, was to start their own record label. In a joint venture with Arista, Reid and Babyface founded LaFace Records in 1989. Based in Atlanta, the label's name was derived from its founders' nicknames, "L.A." and "Babyface."
As partners in their own record company, Reid and Babyface continued to find strength in their differences. Babyface focused much of his attention on his development as a songwriter, producer, and singer. Reid, however, preferred to take a more behind-the-scenes approach to the music business. While the two conferred regularly about company business, it was Reid who assumed the title of president and CEO. Reid told the Cincinnati Enquirer, "for the most part, he [Babyface] pursues his career, and I retired to the boring job of being a record company executive." Reid found that he was well suited for his "boring job," discovering a true passion for discovering, launching, and supporting other artists. "In my career I've always kind of been the guy behind the guy," he told the Cincinnati Enquirer.
For Reid, the most important quality in a prospective LaFace artist was star-potential. Although the world is full of immensely talented singers, discovering an artist with star power can be as challenging as finding the needle in the proverbial haystack. Add to that the difficulty that star quality is nearly undefinable. "I don't know what it is," Reid told the Cincinnati Enquirer. "It's something that I feel when I meet an artist, when I watch an artist." Though he may not be able to define it, Reid has proven over and over his ability to recognize a star when he sees one. Some of the artists who have benefitted from Reid's passion for catapulting artists into the stratosphere are Toni Braxton, TLC, Usher, and Pink.
In 1995 Reid's career was flourishing, but his personal life was not as stable. His marriage to singer Pebbles crumbled around him. A week before their sixth anniversary, the couple filed for divorce. Both Reid and Pebbles preferred to keep this a private matter, refusing to comment to the press. Even though the marriage failed, the union did result in the birth of Reid's first child, Antonio, Jr. Reid would later have three more children, Ashley, Aaron, and Arianna.
The year 2000 brought Reid both personal and career success. That year, he wed his fiancée, Erica, and was named president of Arista Records, replacing Clive Davis. At age 42, Reid now ranked among the highest African-American executives in the industry. However, as rumors spread and ugly headlines dominated music news, this accomplishment proved bittersweet.
Although Clive Davis founded Arista in 1975, the company now fell under the umbrella of the Bertelmann Music Group (BMG). The German-based company's retirement policy traditionally required employees to retire at age 60. Davis, who by 2000 had surpassed the set retirement age by seven years, had been--though resistant to the idea of retirement--discussing possible replacement plans for some time. In 1999 when Reid was initially proposed as his successor, Davis, perceiving the idea as an attempt to depose him, rejected the suggestion. When rumors of BMG's plans to replace Davis spread, several artists, including Whitney Houston, rallied around Davis, voicing their support. Former Billboard editor Nelson George told Black Enterprise, "It's no question that Davis is not leaving of his free will, BMG wanted a younger executive who could run the label well into the 21st century."
Reid, who expressed nothing but admiration for Davis, admitted that the situation was more strained that he had originally hoped. At first, he told Billboard, "we discussed Clive and I working together; the initial thought was I'd be running the label with Clive as chairman, but it didn't work out that way." Reid and Davis, who had known each other for 12 years, did not discuss Reid's new position for, as Reid told Billboard, "obvious reasons." Though their relationship was strained for some time, by 2003, both men seemed to be content. Reid described his relationship with Davis as "incredible" to Ebony magazine.
Reid's new position at Arista did not mean a break from LaFace Records. BMG purchased fifty percent of the label, which was already half-owned by Arista. LaFace, with Reid still at its helm, then became an imprint under Arista and retained all of its artists. Reid's former partner, Babyface, commenced plans for another joint-venture with Arista. Both Reid and Babyface looked forward to future opportunities to work together.
After the rumor-laden dust settled, Reid went to work planning the future of Arista Records. When Billboard asked him to describe his vision for the company, Reid replied, "Just look up, baby." Reid felt his role was not only to maintain what Davis worked so hard to build, but introduce new artists and music genres to the industry. "When we look back five years from now," Reid said on the Arista website, "we'll be able to see how we've evolved. We will see a new Arista." Among Reid's plans for Arista's evolution was to build upon the label's success in the Latin market and expand into new areas. Reid also planned for the record company to re-enter the country music market, to, as he told Billboard, "make some noise in Nashville." Finally, Reid intended to spread his own passion for discovering new talent throughout the entire company.
By 2003, even Reid's most vocal critics were silenced by the enormous success he had experienced since taking control of Arista. He discovered teen sensation Avril Lavigne, whose debut album went multiplatinum, and had countless other success stories. The rap duo Outkast bloomed with his support, and Dido and Pink, two alternative artists Reid championed, went on to stellar success. "I know what I want," Reid told Town & Country writer Heather Caldwell. "That's my number one skill." But, he acknowledged, the success of the label involved more than just himself. "I deal with smart executives and talented artists. And everybody has to feel that we're in it together, or it doesn't work."
Reid resides in New York City with his wife Erica, a former elementary school teacher, and their two young children, Addison and Arianna. Several members of the music world have commented on the importance of Reid's appointment for African Americans in the music industry. Derrick Thompson, BMG Music Publishing vice president, explained to Black Enterprise, "White executives make decisions regarding black music all the time. However, it's easy for blacks to be pigeonholed in the industry into only black music positions." Even though African-American artists have made significant contributions to American music, there have been very few opportunities for blacks to take on an executive role. Reid, however, is one musician who avoided being pigeonholed and has risen to executive heights.
Reid has also played a role in the recent successes of artists such as Amerie, Kanye West, Rihanna (alongside Jay-Z), Bon Jovi, and most recently teenage pop phenomenon Justin Bieber. In the last few years, L.A. Reid has also been responsible for the recent high profile signings of major Pop music artists such as Janet Jackson (who left the company after her 2008 album, Discipline), Utada (who also left the company in 2010), as well as former Bad Boy rapper Shyne to the record company. However, in 2006, Reid's label dropped Lady Gaga after three months of signing her. This would eventually be the inspiration of Gaga's Marry The Night video. Reid stepped down as CEO and Chairman of Def Jam in March 2011.
Reid became a judge on the U.S. version of the British singing competition The X Factor, alongside its creator and former American Idol judge Simon Cowell, 80s pop star Paula Abdul and former Pussycat Dolls singer Nicole Scherzinger (previously Cheryl Cole).
Read more
Latest headlines