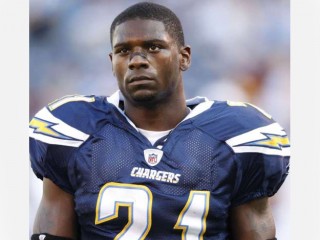 LaDainian Tomlinson biography
Date of birth : 1979-06-23
Date of death : -
Birthplace : Rosebud, Texas, U.S.
Nationality : American
Category : Sports
Last modified : 2010-08-20
Credited as : Football player NFL, running back for the New York Jets, Super Bowl/NFL Draft player
GROWING UP
LaDainian Tomlinson
was born on June 23, 1979 in Rosebud, Texas, near the towns of Waco and College Station. His parents, Loreane and Oliver, weren't exactly a perfect match. LaDainian's father was 15 years older than his wife, and had five other children, all out of wedlock. Tragedy seemed to shadow Oliver wherever he want. One of his sons lost his life in a street fight, another spent time in jail, and a granddaughter died at the age of six in a fire.
Oliver, who built mobile homes for a living, suffered a back injury in 1983 that eventually disabled him permanently. His inactivity placed a strain of the family, including his relationship with Loreane. The couple divorced in 1986, and Oliver dropped out of sight, as did his child support payments.
Loreane (who went by her maiden name, Chappell) was forced to raise LaDainian and his two younger siblings, LaVar and Londria, on her own. The family lived in Waco, where Loreane served as a pastor at the Greater Life Gospel Church. She relied heavily on her oldest son. In LaDainian, she instilled the values she held dear to her heart: faith, integrity and hard work. Mature beyond his years, he helped his mom in any way he could. This was a tremendous comfort to Loreane, who could always count on him to do as he was told.
LaDainian's fondest memory of his father was the love they shared for football. The two sat down most every Sunday in the fall and winter to watch their favorite team, the Dallas Cowboys. If Oliver had to leave the room for a minute or so, he knew he would get a full play-by-play when he returned. LaDainian had a computer chip for a brain when in came to the sport. By the age of three, he could recite to his dad in great detail any action he may have missed.
Football was such an important part of LaDainian's life that he slept with a pigskin every night. He got his first taste of organized football in the local Pop Warner league, and was an immediate star. LaVar, also a talented player, followed in his big brother's footsteps. Loreane made sure to never miss a game.
With an absentee dad, LaDainian looked outside the home for male role models. He found a perfect one when the Cowboys drafted Emmitt Smith in 1990. A fan of the Miami Hurricanes, LaDainian knew plenty about the record-setting back for the rival Florida Gators. Small of stature himself, he identified with Smith and his hard-nosed rushing style. In fact, the youngster soon developed an affinity for the physical aspect of football. Fast and quick, he was dynamite in the open field, but pounding out a tough run between the tackles was just as satisfying to him as a long sprint for a touchdown.
LaDainian entered Waco's University High School with thoughts of securing a full scholarship to one of Texas's powerhouse football programs. As a sophomore, he had a nice year at linebacker for coach Leroy Coleman, but saw no action at running back. The following season he was inserted in the backfield, as a fullback. Coleman's philosophy was known to everyone in his program: You had to earn the right to run the ball by blocking for an upper classman. A year ahead of LaDainian at University High was Lawrence Pullen, a big-time halfback with major college aspirations. Okay with his place in the pecking order, LaDainian spent the 1995 season knocking heads with linebackers as he opened running lanes for his teammate.
Heading into his senior campaign, LaDainian was eager to showcase his talents as University High's featured tailback. But when Loreane got a job with a real estate agency in Dallas, it seemed the opportunity would slip through his fingers. LaDainian begged his mom to let him stay in Waco with a friend, Jason Hughes, and his family. Leaving her son was the hardest decision Loreane ever faced. She relented when she realized how much playing at University High meant to LaDainian.
No one was happier about the decision than Coleman. In the season opener, he called LaDainian's number time and again, and the 195-pound senior responded with five touchdowns. By mid-season, having already surpassed 1,000 yards, LaDainian was the lead story for local writers and sportscasters. Football fans in Waco celebrated the most prolific runner the town had ever produced.
LaDainian got stronger as the season progressed. For the year, he amassed 2,554 yards and 39 touchdowns, and led University High to within a game of the state championship. At 12-2-1 , the school enjoyed its best year ever. LaDainian was named the district 25-4A Most Valuable Player and Super Centex Offensive Player of Year.
Despite his gaudy numbers, LaDainian wasn't high on many recruiting lists. Because he had carried the mail for only one season, few coaches took the time to scout him. His size was also viewed as a drawback. Most schools didn't feel LaDainian would develop into a dominant every-down back.
LaDainian hoped to raise his profile in high school all-star games. Instead he made a lifelong friend of another Lone Star standout suffering from a lack of exposure, quarterback Drew Brees out of Westlake High School in Austin. The two met after the 1996 regular season ended, and hit it off immediately. From that point on, they faithfully tracked each other's career.
Resigned to the fact that a full ride from a major college wouldn't come his way, LaDainian considered the options before him. Baylor, North Texas, UTEP, Kansas State and Texas Christian had all shown interest in him. In the end, TCU proved the most attractive choice. While the football program had fallen on hard times, the school's Fort Worth campus was less than an hour's drive from his mom's apartment in Dallas. LaDainian also liked head coach Pat Sullivan, who made him feel like family.
ON THE RISE
LaDainian's first college season was unremarkable, mostly because TCU was so unremarkable. In their first year in the Western Athletic Conference, the Horned Frogs had only one impact player, Basil Mitchell. The team's top runner, he got most of the carries, though Sullivan also worked LaDainian into the offense.
With a hopelessly porous defense, TCU's sole chance at a respectable season was to outscore opponents. The strategy rarely panned out. Though the Horned Frogs averaged more than 32 points a game, they finished at a dreadful 1-10. LaDainian was one of the few bright spots, rushing for 538 yards on 126 attempts. But he also fumbled several times in key situations, a problem he vowed to overcome by his sophomore campaign.
The predictable result of the 1997 season was the firing of Sullivan. In his place, TCU hired Dennis Franchione, a rising star in the college coaching ranks. Franchione favored an aggressive approach on both sides of the ball. His base defensive set was an unorthodox 4-2 scheme, while his offense employed a go-for-the-jugular option attack.
Franchione looked at his running backs as the strength of his team. Mitchell was a dual threat, with the ability to run the ball and catch it out of the backfield. LaDainian, meanwhile, was developing into a surprisingly powerful breakaway runner. Part of his development was attributed to Franchione's emphasis on strength training. The soph made the weight room his home away from home.
Franchione's biggest concern was finding someone to quarterback his offense. Going into the year, Jeff Dover and Derek Canine shared the inside track, but former receiver Patrick Batteaux wound up as the starting signal caller. While not much of a passer, his ability to read defenses on the fly was exactly what Franchione was looking for.
With the offense clicking, TCU got off to a great start. The defense, much maligned the year before, also picked it up, particularly sophomore end Aaron Schobel. Meanwhile, LaDainian continued to split time with Mitchell. The senior was the team's primary rusher in '98, but Franchione increased LaDainian's role as the season progressed.
Nicknamed "Northside," the sophomore opened the campaign at fullback, serving mostly as a lead blocker for Mitchell. LaDainian was certain he was being misused, and Franchione eventually agreed. In a mid-season matchup against Air Force, the coach gave the ball to LaDainian early and often. He responded with 99 yards, and the Horned Frogs lodged a 35-34 upset.
As LaDainian's confidence grew, so did his production. He finished the season with 717 yards and eight touchdowns, and was voted second team All-WAC. With Franchione pushing all the right buttons, TCU engineered one of the best turnarounds in college football. The Horned Frogs posted a 7-5 record, and then stunned USC in the Sun Bowl. The toast of Fort Worth, Franchione earned a seven-year contract extension for his efforts.
LaDainian spent much of the following spring in the weight room preparing for his junior campaign. With Mitchell graduated, he was now the club's top ball carrier. A Psychology major (with a minor in TV & Radio), LaDainian also devoted plenty of time to his classwork. Indeed, he took great pride in his reputation as a model student-athlete. LaDainian welcomed every chance to help out in the Waco community, and was regarded by everyone who knew him as a team player in every sense of the term.
But an incident in July of 1999 threatened to ruin everything he had worked for. Out with TCU hoops star Lee Nailon, the pair was arrested for marijuana possession. LaDainian professed his innocence, saying he was simply in the wrong place at the wrong time. When he was proven correct, the case was dropped.
In LaDainian's mind, however, the damage was done. While his coaches, teammates, family and friends stood by him, the media didn't. Writers and reporters who had never met him painted him as a thug football player. Stung by the criticism, LaDainian was angered even more by the lack of coverage his story received when he was cleared. There were no headlines trumpeting his innocence, and far too few apologies. LaDainian had learned a valuable lesson about the pitfalls of fame.
As the '99 season approached, Ladainian realized how dramatically expectations had risen for TCU. He welcomed the responsibility of being the team's featured weapon, though he was quick to credit his offensive line—which he affectionately called the "Big Uglies"—at every opportunity.
Early in the campaign, LaDainian showed just how dangerous he could be when the Horned Frogs created running lanes for him. In a win over Arkansas State, he erupted for 269 yards. Two weeks later, he bettered that total with 300 yards on 23 carries against San Jose State. Going into the season, two running backs, Alabama's Shaun Alexander and Wisconsin's Ron Dayne, were at the top of the draft lists of most NFL teams. Pro scouts now took a closer look at LaDainian.
He gave them an eyeful in November with a record-setting day in a blowout over Texas-El Paso. Despite a sore ankle, LaDainian ran for 406 yards and six touchdowns. The total broke the Division I-A mark held by Tony Sands, and in the process, LaDainian also became TCU's single-season rushing leader.
With their junior back leading the way, the Horned Frogs wound up at 8-4, the school's best record in 40 years, and faced #20 East Carolina in the Mobile Alabama bowl. In their second straight post-season appearance, TCU engineered another upset, defeating the Pirates 28-14. LaDainian spearheaded the charge with 124 yards and two TDs.
For the year, LaDainian topped the nation with 1,850 yards on the ground, and also scored 18 touchdowns. He briefly toyed with the idea of entering the NFL Draft, but when he learned that no team was likely to use a first-round pick on him, he thought better of it. Besides, Loreane wanted him to earn his college degree, and LaDainian couldn't stomach the notion of disappointing her.
By the spring, the Heisman Trophy talk began. The early favorites included four quarterbacks: Michael Vick of Virginia Tech, Eric Crouch of Nebraska, and Chris Weinke of Florida State, and LaDainian's old buddy, Drew Brees, Purdue's record-setting passer. LaDainian topped the list of running backs up for the award.
With its first bona fide Heisman candidate since Kenneth Davis in 1984, TCU pulled out all the stops. To fund its publicity campaign, the school raised nearly $100,000 in private donations. The Athletic Department produced a highlight reel of LaDainian's best runs, converted it to CD ROM and sent it to voters across the country. The Horned Frogs also launched a web site, www.ltfor2000.com.
Once again, LaDainian sequestered himself in the weight room during the off-season, where he worked to improve his speed, strength and agility. In high demand in the community, he also lent his support to a number of outreach programs, including Score A Goal In The Classroom and Campfire Boys and Girls.
To gain the attention of Heisman voters in 2000, LaDainian figured he needed to go over 2,000 yards for the season. For some runners, this plateau might have seemed like an impossible goal, but with TCU's mammoth offensive line it wasn't a stretch for LaDainian. The quintet of David Bobo, Michael Keathly, Jeff Millican, Victor Payne and Jeff Garner was among the biggest, strongest and most experienced groups in the nation. When LaDainian received the plaque for his '99 NCAA rushing title, he hung it in the O-line's meeting room. The gesture didn't go unnoticed.
Fortunately for Franchione, TCU's talent wasn't limited to the offensive side of the ball. Schobel entered the season as the school's all-time sack leader, while safety Reggie Hunt was one of the country's top kick returners. If everything broke right, the coach wondered whether the Horned Frogs might actually sneak into the BCS picture.
MAKING HIS MARK
The campaign started on a high note for LaDainian and TCU. In a win over Northwestern—a team that had corralled him in 1999—he piled up 243 yards. Three weeks later, LaDainian punished Hawaii with 294 yards and four touchdowns, as the Horned Frogs stayed perfect. By mid-season, he had become the school's all-time leading rusher. His production was all the more amazing given how opponents defended TCU. The Horned Frogs regularly saw eight-man fronts in an attempt to shut down LaDainian. Nobody could do it.
Successive victories over Tulsa and Rice propelled TCU to #9 in the nation. With 12 straight wins dating back to '99, the Horned Frogs boasted the country's longest undefeated streak. Unfortunately, the season unraveled with a loss at San Jose State. Out of the running for the BCS, the Horned Frogs rebounded to win their last three, and capture their second WAC title in a row. In his final home game, LaDainian saluted his hometown fans with another brilliant performance, going for 305 yards and three TDs. TCU concluded the campaign with a return to the Mobile Alabama Bowl, but fell to Southern Miss, 28-21. LaDainian earned MVP honors in the contest.
The senior ended the year with 2,158 yards rushing—the fourth best total in NCAA history. But when it came time for the Heisman balloting, he finished far behind FSU's Weinke, whose Seminoles were poised to win the national championship. But that didn't stop LaDainian from enjoying his Heisman experience. During a ceremony in Orlando, he led a standing ovation for Hameen Ali, the winner of the Disney Spirit Award. Two days later at the Downtown Athletic Club in New York, he traded stories with Heisman winners George Rogers, Mike Rozier and Rashaan Salaam.
For LaDainian, however, the most fulfilling part of the 2000 season may have been the effect it had on his relationship with his father. Though Oliver had mended fences with Loreane, he had not been a meaningful part of his son's life for years. At the urging of his mother, LaDainian cautiously re-introduced himself to his dad. Oliver attended several games during the year, and LaDainian felt uncharacteristically nervous before every one. This told him how badly he wanted to impress his father.
As the NFL draft approached, LaDainian's biggest hurdle was convincing talent evaluators he could handle the physical toll of being a feature back in the pros. While no one questioned his speed or quickness, his size and his ability to run in traffic were concerns. Eager to showcase his full range of talent, LaDainian helped himself with good showings in the college all-star games, and also at the NFL Combine in Indianapolis. Not only did he demonstrate his effectiveness as an inside runner, he wowed scouts with his receiving skills and work ethic.
Among the teams keeping an eye on LaDainian was San Diego. Owners of the top pick, the Chargers coveted Vick, but negotiations with the lefthander were going nowhere. Frustrated by the lack of progress, the team dealt the #1 selection to the Falcons. In return, San Diego got Atlanta's first-round pick (number five overall) and receiver Tim Dwight. On draft day, the Chargers waited anxiously, praying that the Browns and Cardinals would pass on LaDainian. When both teams did, San Diego celebrated its good fortune, and LaDainian promised to make Cleveland and Arizona pay for snubbing him. The Chargers, meanwhile, got lucky again in the second round, as Brees fell in their laps. LaDainian was delighted to be reunited with his old friend, who would learn the ropes from veteran Doug Flutie.
For a team that hadn't had a 1,000-yard rusher since Natrone Means in 1994, LaDainian was a perfect fit. Still, it took until August for the Chargers to sign him. His deal—six years at $38 million with bonuses—earned him the nickname "Big Money" from his teammates. That's not to say they weren't happy to have him in camp. The San Diego veterans put LaDainian through rookie hazing, and he gladly played along. He had to sing the TCU fight song in the cafeteria, and was stuck with a $10,000 dinner tab at a local steakhouse. LaDainian also took care of his family, buying new homes in Dallas for his mother and sister. In addition, he purchased a pair of vacant buildings, one for Loreane's real estate company, Eagle Lending, and the other for Londria's day-care center, Miracles and Blessings. For himself, he got an SUV and rented a condo in San Diego.
On the field, the rookie turned heads with his ability to pick up offensive coordinator Norv Turner's system. But despite LaDainian's rapid progress in training camp, Chargers head coach Mike Riley didn't expect him to have an immediate impact. Coming off a woeful 1-15 campaign, San Diego hoped their rookie would assume his spot in the starting lineup around mid-season.
LaDainian accelerated that time schedule by a couple of months, rushing for 113 yards in the season opener, a 30-3 drubbing of the Washington Redskins. The effort marked the first 100-yard game by a Charger since Jermaine Fazande in January of 2000. Two weeks later in Dallas, LaDainian experienced another thrilling moment when he stepped on the field against the Cowboys and Emmitt Smith. The rookie got the best of his boyhood idol, running for 90 yards in a 32-21 win.
San Diego made it three in a row with a 28-14 rout of the Cincinnati Bengals, as LaDainian topped the 100-yard plateau for the third time. After a two-game losing streak, the Chargers won twice more to push their record to 5-2. Everything was going right for the league's most surprising team. Flutie sparked the club with his fiery play at quarterback, linebacker Junior Seau led a rejuvenated defense, and LaDainian was simply running wild.
Unfortunately, the Chargers totally disintegrated over the campaign's final two months, dropping their last nine games. Turnovers killed the team, as opposing defenses learned to keep Flutie in the pocket, where he struggled to make things happen. When the final gun blew on the season, San Diego was 5-11.
LaDainian gained 1,236 yards on 339 carries, and scored 10 TDs. He also reeled in 59 passes for 367 yards. The first player in team history to eclipse 1,600 total yards, LaDainian was runner-up to Anthony Thomas in the voting for Offensive Rookie of Year. But most important, he showed he could handle the punishment of a 16-game schedule.
After the season, Riley took the heat for the team's collapse and was let go. In his place, the Chargers hired Mary Schottenheimer. The new coach liked what he saw in his team. The Chargers had a good defense, and Schottenheimer believed they also had the right mix of players to run his ball-control offense. Obviously, LaDainian figured prominently in his plans.
In fact, with Brees elevated to the starter at quarterback, there was even more pressure on the second-year back. If San Diego couldn't establish a running game, opponents would blitz them mercilessly. For the 2002 campaign, Schottenheimer promised to work LaDainian even harder.
The Chargers received a scare in the pre-season when he turned an ankle under a pile of tacklers. But LaDainian got himself ready for the opener and looked great, rushing for 116 yards in a blowout of the Bengals. San Diego won its next two, setting up a measuring-stick game against the New England Patriots. The Chargers proved they were up to the challenge with a 21-14 victory, as LaDainian stole the show. He tied a franchise mark with 217 yards rushing, including touchdown runs of 37 and 58 yards.
Like the previous season, however, the '02 campaign went south in November. Entering the month at 6-1, the team fell apart and lost seven of its last nine. Brees turned the ball over far too regularly, the defense crumbled, and the Chargers missed the playoffs for the seventh straight year.
Again, LaDainian was the team's best player. Named to the AFC Pro Bowl squad, he made Second Team All-Pro, and was voted San Diego's MVP. In all, he totalled 2,172 yards from scrimmage, including a franchise-record 1,683 yards on the ground, second in the AFC behind Priest Holmes. He tied the team record for receptions by a running back (79), while his 14 rushing TDs made him just the 11th player in NFL history to post back-to-back double-figure touchdown seasons. His biggest day of the year came in Denver, where he burned the Broncos for 220 yards and three scores, including a 76-yard romp in the first quarter.
Angered by his team's poor finish, Schottenheimer fiddled with his roster in the off-season. Seau, jettisoned to Miami, was the most notable departure, while starters Rodney Harrison, Orlando Ruff, and Curtis Conway were also shown the door. The biggest addition was free-agent David Boston. The Chargers figured he would be an excellent target for Brees, and a good compliment to LaDainian.
The signing of Boston, however, turned out to be one of several bad decisions made by the team in 2003. The mercurial receiver was a locker room distraction, one of many that gnawed at the Chargers. Schottenheimer, meanwhile, treated Brees like a yo-yo, yanking him again and again in favor of Flutie. On defense, San Diego searched for leaders to replace Seau and Harrison. The team didn't register its first win until the third Sunday in October, and won only three times after that. At 4-12, San Diego was one of the league's major disappointments.
LaDainian was one of the few Chargers who surpassed Schottenheimer's expectations. His first 100-yard game of the year was the lone bright spot in a 24-10 loss to the Baltimore Ravens. A month later, he was the star in San Diego's first victory, rushing for 200 yards and a TD in a 26-20 nail-biter in Cleveland. For LaDainian, beating the Browns on their home field was particularly satisfying.
In the club's next win, three weeks later in Minnesota, he was named the FedEx Ground NFL Player of Week with 207 yards from scrimmage and two touchdowns. In December, he caught two TD passes, including a 73-yarder, in San Diego's 14-7 win over the Detroit Lions. And on the season's final Sunday, he ran all over the Raiders, piling up a franchise-record 243 yards in a 21-14 win against Oakland.
LaDainian, who accounted for nearly half of San Diego's offensive output, produced one of the greatest seasons in the NFL history. His 2,370 yards from scrimmage were the second most ever (behind only Marshall Faulk, who totaled 2,429 yards in 1999). He also established a team record with 100 receptions, and his 17 TDs ranked second to Holmes.
Not that anyone really noticed LaDainian's amazing performance. In voting for the Pro Bowl, he did no better than an alternate. And newspapers were still spelling his name wrong.
Of course, LaDainian was used to running under the radar. While the Chargers rewarded him with a new deal worth $60 million—the largest contract for a running back in league history—he was hardly a household name. That didn't figure to change in 2004, as San Diego acquired Phillip Rivers in the first round after a blockbuster deal with the New York Giants. The idea was for Brees to keep the starting job warm until the NC State star was ready to step in.
But a strange thing happened on the way to another mediocre campaign. Schottenheimer got a gutty effort from his defense, Brees played like a Pro Bowler and rookie tight end Antonio Gates developed into a star. With LaDainian providing leadership on and off the field, the Chargers got off to a great start.
Quietly, San Diego racked up one win after another. A 43-17 romp over the Saints raised the club's record to 6-3. Two weeks later, LaDainian exploded for 164 yards and a score in a 23-17 win in Oakland. In December, with the AFC West crown up for grabs, the Chargers welcomed the Broncos to San Diego. LaDainian had another great day, rushing for 113 yards and two touchdowns. On defense, the Chargers defense picked off Jake Plummer four times to seal a 20-17 victory.
The win clinched San Diego's first winning season since 1995, and left the team two games up in the West with four to play. Victories over Tampa Bay and Cleveland guaranteed a spot for the Chargers in the playoffs, making their week 16 tilt with the Colts in Indy an intriguing matchup between two 11-3 clubs with an eye on the Super Bowl. San Diego jumped out to an early 17-3 lead, thanks in part to LaDainian, who was coming off three straight games of more than 100 yards. But the high-powered Colts rallied late to defeat the Chargers 34-31 in overtime.
The game featured several single-season records, as Peyton Manning broke Dan Marino's mark for touchdown passes, and Gates broke the mark for touchdown catches by a tight end. LaDainian also got in on the action, setting the mark for consecutive games with a rushing touchdown.
On the final Sunday of the regular season, Schottenheimer rested LaDainian and the rest of his first stringers in preparation for their playoff opener. The Chargers learned who their opponent would be later in the afternoon, as they drew the Jets. The teams had met earlier in the campaign, with New York pulling off a 34-28 win in San Diego.
Neither club was able to produce much offense in the first half. Schottenheimer was calling a conservative game on his sideline, while the Jets looked to establish their running attack. A touchdown pass apeice by Brees and Chad Pennington led to a 7-7 tie at the break. In the second half, New York appeared to take control of the contest, but the Chargers scored late to send the game into OT. Their drive was aided by a mind-boggling roughing the passer penalty against the Jets.
In the extra period, Schottenheimer got even more conservative, and New York celebrated when rookie kicker Nate Kaeding missed a chip shot. Minutes later the Jets walked away with a 20-17 victory. LaDainian finished with 133 yards of total offense, but failed to score a touchdown for the first time in 13 games.
Despite the disappoinment of the playoff loss, LaDainian had much to be proud of in '04. His 17 rushing touchdowns were the most in the NFL, and his 1,776 total yards from scrimmage were the league's fifth highest total.
Of course, he remains the key to San Diego's fortunes. With the Chargers facing a tough decision between Brees and Rivers, he is the guy defensive coordinators will continue to focus on whenever game-planning against San Diego. And even if some fans are still learning LaDainian's name and face, you can be sure that defenders leaguewide recognize him—or more accurately, the back of his jersey.
LADANIAN THE PLAYER
LaDainian is listed at 5-10 and more than 220 pounds, but his height is likely exaggerated. Don't let his size fool you, however. A weightlifting nut, LaDainian is pound-for-pound one of the league's strongest players. He does a lot of functional strength exercises, and works tirelessly on his balance. Add to this mix sprinter's speed, and he is definitely no fun to tackle.
LaDainian is a powerful runner who is as dangerous between the tackles as he is on the edges. Ironically, one of the questions about him coming out of TCU was his ability to pick up the tough yards inside. But LaDainian proved he's as rugged and durable as they come.
An extremely intelligent player, LaDainian sometimes makes running the ball look so easy that he doesn't get credit for his understanding of the sport. His instincts in the open field are scary-good, yet he is also a true student of the game. LaDainian knows how to put himself in position to break big runs, and then lets his natural skills take over.
LaDainian hasn't won a title in college or the pros, though it's not for a lack of trying. He is a tireless worker who inspires his teammates to follow his lead. Soft-spoken and humble, LaDainian is also extremely likable. If the Chargers ever surround him with enough talent, he'll carry them to the Super Bowl.
EXTRA
# LaDainian had a couple of brushes with greatness as a kid. Hall of Fame linebacker Mike Singletary once spoke at his school, and he was also nearly knocked over by Emmitt Smith at the star's football camp. The Dallas running back was in a hurry and didn't see the youngster in front of him.
# In 2000, LaDainian became only the third player in Division 1-A history to lead the nation in rushing in consecutive years, joining Iowa State's Troy Davis (1995-96) and Ricky Williams of Texas (1997-98). He racked up 5,263 rushing yards during his career at TCU, the sixth-highest total ever in D-1A.
# LaDainian gave the coaches at UTEP nightmares during his college career. In three games, he ran for 788 yards and 10 TDs.
# LaDainian followed in the footsteps of some famous TCU players, including Davey O'Brien (the school's only other Heisman winner), "Slingin'" Sammy Baugh, Jim "Rusk Rambler" Swink and Kenneth "Temple Tornado" Davis.
# In his pro debut, LaDainian carried the ball 36 times, third-best in Chargers history behind Marion Butts (39 in 1989) and Natrone Means (37 in 1998).
# With 1,603 yards from scrimmage in 2001, LaDainian broke the team record set by Lance Alworth in 1965.
# LaDainian rushed for more than 100 yards seven times in 2002, tying the team record set by Don Woods in 1974.
# In 2003, LaDainian received the JB Award for community service from James Brown, host of FOX's NFL pregame show.
# LaDainian has thrown two passes in the NFL career, completing both of them, including a 21-yard TD in 2003.
# No player other than LaDainian has ever rushed for 1,000 yards and caught 100 passes in the same season. Roger Craig was the standard bearer before him. In 1985, he ran for 1,050 yards and hauled in 92 passes.
# LaDainian has a tattoo of a lightning bolt on one of his calves. He got it to remind him of the day the Chargers drafted him. He has another of his mother on his left shoulder, which reads "My Inspiration - Loreane."
# San Diego's old-time powder blue uniform is LaDainian's favorite.
# LaDainian's hobbies include golf and video games.
# LaDainian and his wife, LaTorsha, live in a 10,000 square-foot home in Poway, California.
# LaDainian serves as a mentor for Tony Delgate, a student from University High School.
# LaDainian is a big Lakers fan. He often makes the two-hour drive to Los Angeles to watch the team at the Staples Center.
# LaDainian is into classic cars. He owns a restored 1964 cherry-red Chevy Impala.
# LaDainian is involved in a variety of charitable causes. He hosts the LaDainian Tomlinson Celebrity Golf Tournament, which supports the LT School is Cool Scholarship Fund and the I Am Foundation. He runs two football camps, one in March at San Diego's Hoover High School and another in Waco, Texas at Baylor University. His "21 Club" welcomes kids from San Diego youth groups and nonprofit organizations to Charger home games. Afterwards, he accompanies the group to a local restaurant for dinner and a night of entertainment. Each child who goes receives a goodie bag filled with school supplies, books and games.
*
March 16, 2010
-- The
New York Jets
have signed free agent running back LaDainian Tomlinson. The announcement was made by Jets General Manager Mike Tannenbaum.
Tomlinson (RB/5-10/221/TCU/Rosebud, TX), a five-time Pro Bowl selection, has rushed for 12,490 yards and 138 touchdowns on 2,880 carries during his career. He also has registered 530 receptions for 3,955 yards and 15 touchdowns and has completed eight-of-12 passes for 143 yards and seven touchdowns for a passer rating of 146.9. Tomlinson's 138 rushing touchdowns rank second all-time in NFL history behind Emmitt Smith (164), while his 153 total touchdowns (138 rushing and 15 receiving) rank third all-time, trailing Hall-of-Famers Jerry Rice (208) and Smith (175).
In 2009, Tomlinson rushed for 12 touchdowns and 730 yards on 223 carries and added 154 receiving yards on 20 receptions. Selected fifth overall in the 2001 NFL Draft, Tomlinson has started in all 141 regular season games he has played, missing only three contests during his nine-year career.
An eight-time 1,000-yard rusher, Tomlinson has earned recognition from The Associated Press as NFL Most Valuable Player (2006), NFL Offensive Player-of-the-Year (2006) and first-team All-Pro (2004, 2006 and 2007).
Read more
Latest headlines