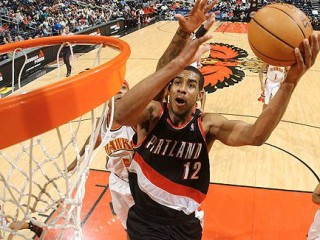 LaMarcus Aldridge biography
Date of birth : 1985-07-19
Date of death : -
Birthplace : Dallas, Texas, U.S.
Nationality : American
Category : Sports
Last modified : 2010-08-02
Credited as : Basketball player NBA, plays for the Portland Trail Blazers,
A top-flight NBA power forward needs a rare combination of skill and talent. He must be big and strong, but also have quickness and finesse. LaMarcus Aldridge of the Portland Trailblazers combines these qualities, along with something more. He understands the game as well as many league scouts and coaches. And as all of those scouts and coaches will tell you, that's what separates the good 4's from the great ones. Is LaMarcus headed for greatness? Fans in Rip City believe he is the right man in the right place at the right time. The smart money—and LaMarcus—says they are right, too.
GROWING UP
LaMarcus Nurae Aldridge
was born July 19th, 1985, in Dallas, Texas. No one wa surprised when he came into the world at 11 pounds and 22-plus inches. His mother Georgia stands 6-2, and his father Marvin is 6-6.
LaMarcus grew up as a football fan and rooted for the hometown Cowboys. The team was a Super Bowl contender almost every season with Troy Aikman, Michael Irvin and Emmit Smith in their prime years.
The Cowboys notwithstanding, basketball was the family game. Marvin was a high school hoops legend, and in time so was LaMarcus's brother, LaVontae, who was six years older. LaMarcus had the size to play, but not the game. He didn't join his first league until he was in 4th Grade. In pick-up games, he was often the last boy picked. For much of his childhood, basketball was a lesson in humiliation.
Home life wasn't all that easy, either. Marvin's dad had a drinking problem. Sometimes the bills didn't get paid and the lights were shut off. Marvin wasn't very involved in LaMarcus's life. By the time LaMarcus reached his teens, Georgia kicked Marvin out of the house.
The part of Marvin that remained with LaMarcus was his basketball genes. LaVontae, meanwhile, passed on his basketball knowledge. LaMarcus was tall, but he lacked the coordination. His older brother stressed the importance of fundamentals. LaVontae explained the basketball was a game of anticipation and quickness— and a game of intelligence.
LaMarcus proved to be a fabulous student—on the court and in the classroom. By the time he was in 8th grade, he stood 6-7 and was beginning to gain confidence in his basketball abilities. He enrolled at Seagoville High School in 2000 and showed good post moves and footwork, a hook shot and a jumper. He also was a smart defensive player.
LaMarcus became a force at both ends of the court by his sophomore year. The 800-pound gorilla of North Texas high school hoops was Chris Bosh, a senior at Lincoln High—the top team in the country. In their first varsity confrontation, LaMarcus dropped 20 on Bosh and collected 11 rebounds. Bosh's numbers were less impressive, but his team won in a blowout victory. Though congratulated for his performance by schoolmates, LaMarcus was dissatisfied. He began devouring videotape of Bosh in preparation for their next meeting.
By then, LaMarcus had grown into his body and possessed a scary arsenal of moves for a person of his size. He didn't need muchtime to become an impact players on his high school team. He owed a debt of gratitude to his coach, Robert Allen, who becamesomething of a substitute father. LaMarcus played ball year round, starting for the varsity and developing his skills in local AAU ball.
Focused on dealing with Bosh, LaMarcus tweaked his game and developed a head fake for his rival. In their second meeting, he scored 26 points, grabbed 15 rebounds and swatted seven shots. After that, many began comparing the two. Allen knew the players as well as anyone—he had coached Bosh as a freshman. Although their skills were remarkably similar, LaMarcus had a wider frame, which would one day carry more muscle. LaMarcus averaged 22 points, 12 rebounds and nine blocks as a sophomore in 2001–02.
As a junior, LaMarcus led area Texas Class 4A players in scoring at 27 points per game. He was also the area's top rebounder at 13.4 per game. LaMarcus shot 66 percent from the field and averaged four blocks. After the season he joined Team USA for the Junior World Championships in Douai, France.
LaMarcus continud his imporvement in 2002-03, pushing his scoring avrage to 28.9 points. He led Seagoville to the District 10-4A title and the quarterfinals of the state tournament. LaMarcus was named a McDonald's and Parade All-American, as well as the Texas Association of Basketball Coaches Class 4A Player of the Year. A National Honor Society member, he was also a superb student who was voted the Dallas ISD Scholar-Athlete of the Year.
ON THE RISE
The scouting services had LaMarcus ranked among the Top 20 players in the country—college included—and some predicted he would go in the Top 10 if he jumped directly to the NBA. LaMarcus decided he would test the pro waters if he were taken with a high pick and announced his attention to enter the draft.
But working against LaMarcus was a stress fracture in his back. It did not hamper his play, but the injury worried NBA clubs enough so that it became clear LaMarcus might drop into the second round. Two days before the deadline, he withdrew his name from the draft and informed the University of Texas that he would honor a scholarship offer he had accepted.
LaMarcus arrived in Austin with two other prep All-Americans, guard Daniel Gibson and forward Mike Williams. LaMarcus impresed coach Rick Barnes and earned a spot in the starting five. But 16 games into the schdule he suffered a season-ending left hip injury against Nebraska. The Longhorns had looked good up unil that point. If LaMarcus had stayed healthy, they would have had a real chance to make some hay in the NCAA Tournament.
LaMarcus caught the attention of his coaches with his dedication and hard work leading up to his sophomore season. He went many weeks without being able to use his lower body, but he used that time to strengthen his upper body and even refine the release on his shot.
The hours in the gym and weight room paid off. LaMarcus averaged 15.9 points and 9.2 rebounds a game in 2005-06, while shooting 57.9 percent from the floor. Along with forward P.J. Tucker, he gave Texas the Big 12's best rebounding duo. The only flaw in his game was his over-aggressiveness, which sometimes got him into early foul trouble. Since LaMarcus was often assigned the duty of guarding an opponent's top inside scorer, every minute he spent on the bench was devastating to the Longhorns. Still, he was named Big 12 Conference Defensive Player of the Year. UT finished with a sparkling 30–7 record.
LaMarcus was at the top of his game when the NCAA Tournament rolled around. He and Tucker led the Longhorns to the Elite Eight, where they lost to LSU in overtime, falling just short of a Final Four appearance.
LaMarcus declared for the NBA Draft, along with teammates Gibson and Tucker. He figured to go with one of the top three or four choices—at 6-11 and 245 pounds, he was the only true power forward on the board. The Toronto Raptors had first pick and was in the market for a mobile big man. They went with Andrea Bargnani. The Chicago Bulls chose next and tabbedLaMarcus. He hardly had time to process the information when he learned that the Trailblazers, picking fourth, traded LSU's Tyrus Thomas and Viktor Khryapa to obtain him.
LaMarcus wanted to celebrate his passage into the pros with his entire family. He invited Marvin to his draft night party on one condition—that he show up sober. Marvin didn't, and the two haven't seen each other since. It was a joyous night for LaMarcus, but a painful one, too.
LaMarcus joined a club nicknamed the "Jail Blazers." Though the bad apples had all been jettisoned by the time the rookie arrived, coach Nate McMillan still had quite a job to do. LaMarcus and fellow first-rounder Brandon Roy would be counted on to lead the team. That strategy went off the rails over the summer, when LaMarcus injured his should and required minor surgery.
LaMarcus missed only a half-dozen games at the start of the season, but the Blazers worked him into the lineup judiciously—so much so that he wasn't even invited to play in the Rookie-Sophomore Game at All-Star Weekend. LaMarcus began to pick it up in the second half= and graduated to the Portland starting lineup when Joe Przybilla was lost for the year with a knee injury. He averaged better than 14 points and eight rebounds as a starter, and finished second to Roy as Rookie of the Month for March. LaMarcus's teammate went on to snag the Rookie of the Year award. LaMarcus made the NBA All-Rookie First Team.
MAKING HIS MARK
In a late-season game against the Los Angeles Clippers, LaMarcus complained of dizziness. He was diagnosed with a heart abnormaility known as Wolff-Parkinson-White Syndrome. The Blazers kept him on the bench for the team's April games. LaMarcus was cleared to resume play over the summer and performed for Portland's Summer League team that July. He shared the spotlight with the team's first draft choice, Greg Oden, who was impressed by LaMarcus's skills and work ethic.
LaMarcus was also invited to join the USA Select Team. He withdrew as a precaution when a sore left heel failed to respond to treatment. His top priority was getting ready for the 2007–08 season. With Oden in camp, the Blazers needed LaMarcus to improve his game to draw attention away from the rookie center. When it was announced that a stress fracture would sideline Oden for the year, LaMarcus's role became more complex. Often he would have to be Portland's go-to guy.
LaMarcus responded to the challenge by raising virtually all of his numbers. He averaged 17.8 points and 7.6 rebound a night, and finished third in the NBA's Most Improved Player voting. He had his best scoring effort in a December game against the Utah Jazz, netting 36 points.
What impressed the knowledgeable Portland fans most was LaMarcus's consistent play at both ends of the court, plus his ability to adjust to different game situations. He also showed signs of leadership in support of Roy.
Coach McMillan encouraged this dynamic. In fact, that when the 2008–09 season began, he opted to bring Oden off the bench. McMillan didn't want LaMarcus to think he had been demoted to "third banana." The gamble paid off. LaMarcus became the leader of the front line, helping Oden and rookie Nicolas Batum understand the Portland system and acclimate themselves to the NBA.
As one of the league's emerging young power forwards, LaMarcus found himself challenged by some of the basketball's scarier vets. At variuous times in his third pro season, he faced down Lamar Odom, Amare Stoudemire and Kevin Garnett. This was the final building block in LaMarcus's credibility as a bona fide team leader and franchise building block. Indeed, younger players often sought him out for advice instead of the coaches.
LaMarcus played 81 games and averaged 37 minutes a contest, putting to rest any concerns that he could not handle the physical demands of being an NBA power forward. He scored 18.1 per game and averaged more than seven rebounds.
After missing the playoffs for most of the century, the Trailblazers won 54 games and played their way into a postseason showdown with the McGrady-less Rockets. Houston was still a heavy favorite. LaMarcus played extremely well, doing a great job under the boards. The team, however, needed him to score more, and McMillan became frustrated when he was overly generous with the ball. Down three games to one, Portland looked to LaMarcus for a big effort in Game 5 and he delivered with 25 points in an 88-77 victory. LaMarcus scored 26 two nights later, but it wasn't enough. Houston eliminated Portland in six games.
With LaMarcus keying the defense, Portland turned in the second-lowest points allowed mark in the Western Conference in 2008–09. As he evolves as a scorer—and meshes with Oden and Roy—the Blazers have a chance to be a very special team. And an expensive one. Many of their players will be coming up for new contracts over the next year or two.
Who the Blazers keep and who they jettison could be the key to a long-awaited return to the NBA Finals. LaMarcus wants to be one of those who stays.
LaMARCUS THE PLAYER
LaMarcus is a smart player. He understands the game as well and as deeply as any player his age. He is often an extra coach on the court for the Blazers. In between games, he can break down footage as well as many NBA scouts.
On the court, LaMarcus can hit outside jumpers and is getting better at bulling his way to the basket. His shot is one of the hardest in the league to block, and he has become quite adept at playing with his back to the basket.
LaMarcus runs the floor well and is an aggressive rebounder and shot blocker. He is also a very versatile defender. Indeed, Portland's defensive strategy relies heavily on how LaMarcus and Greg Oden work together. As LaMarcus gains more confidence and experience, he will continue to build an All-Star caliber career.
EXTRAS
* LaMarcus was an All-State selection as a junior and senior at Seagoville High.
* In high school, LaMarcus asked Shaquille O'Neal for advice about jumping to the NBA. Shaq told him to go to college.
* LaMarcus began his sophomore season at Texas with six straight double-doubles. LaMarcus was a Third-Team All-American that season.
* When LaMarcus was recovering from hip surgery in college, he worked out with pros Chris Bosh and Kurt Thomas.
* When LaMarcus, P.J. Tucker and guard Daniel Gibson were drafted in 2006, it marked the first time Texas had three players taken in the NBA Draft.
* LaMarcus started 22 of the 63 games he played in his rookie year.
* LaMarcus joined Brandon Roy, Andrea Bargnani, Randy Foye, Rudy Gay, and Jorge Garbajosa on the 2007 NBA All-Rookie First Team.
* LaMarcus has stenciled TXBOY 12 on the heels of both of his game shoes.
* LaMarcus is friends wth Tank Johnson of the Cowboys.
* LaMarcus is an accomplished piano player. He began playing in college.
Read more
Latest headlines