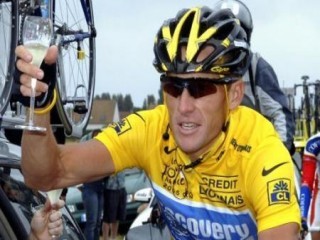 Lance Armstrong biography
Date of birth : 1971-09-18
Date of death : -
Birthplace : Plano, Texas, U.S.
Nationality : American
Category : Sports
Last modified : 2010-07-21
Credited as : Cyclist Team RadioShack, Tour de France, UCI ProTour
Early career
Lance Armstrong
was born on September 18, 1971, in Plano, Texas, a northern suburb of Dallas.
At the age of 12, he began his sporting career as a swimmer at the City of Plano Swim Club and finished fourth in Texas state 1,500-meter freestyle. He stopped swimming after seeing a poster for a junior triathlon which he entered and won easily.
In the 1987–1988 Tri-Fed/Texas ("Tri-Fed" was the former name of USA Triathlon), Armstrong was the number one ranked triathlete in the 19-and-under group; second place was Chann McRae, who became a US Postal Service cycling teammate and the 2002 USPRO national champion. Armstrong's points total for 1987 as an amateur was better than the five professionals ranked that year. At 16, Armstrong became a professional triathlete and became national sprint-course triathlon champion in 1989 and 1990 at 18 and 19, respectively.
It became clear that his greatest talent was for bicycle racing after he won the U.S. amateur championship in 1991. Representing the U.S., he finished 14th in the 1992 Summer Olympics. This performance earned him his first professional contract with Motorola, riding alongside Sean Yates. He won his first race with Motorola, the Trophee Laigueglia in Italy, beating the favourite Moreno Argentin. Also in 1992, Armstrong competed in the Tour of Ireland race.
In 1993, Armstrong won 10 one-day events and stage races. He stunned the cycling world when at age 21 he became one of the youngest riders to ever win the UCI Road World Championship, held in pouring rain in Norway that year. Prior to his World's win, he took his first stage win at the Tour de France, in the stage from Châlons-sur-Marne to Verdun. He was in 97th place overall when he abandoned the 1993 race in the Alps after the 12th stage.
He also collected the Thrift Drug Triple Crown of Cycling: the Thrift Drug Classic in Pittsburgh, the K-Mart West Virginia Classic, and the CoreStates USPRO national championship in Philadelphia. Thrift Drug said it would award $1 million to a rider winning all three races, a feat previously unachieved. At the USPRO championship, Armstrong sat up on his bicycle on the final lap, took out a comb, combed his hair and smiled for the cameras.
In 1994, he again won the Thrift Drug Classic and came second in the Tour DuPont in the United States. His successes in Europe were second placings in the Clásica San Sebastián and Liège-Bastogne-Liège.
He won the Clásica San Sebastián in 1995, and this time won the Tour DuPont and took a handful of stage victories in Europe including the stage to Limoges in the Tour De France. He dedicated the win to teammate Fabio Casartelli who died in a crash on the descent of the Col de Portet d'Aspet on the 15th stage, two days before.
Armstrong's successes were much the same in 1996. He became the first American to win the La Flèche Wallonne and again won the Tour DuPont. However, his performances began to suffer and he was only able to compete for five days in the Tour De France. At Atlanta he was only able to finish 6th in the time trial and 12th in the road race in the 1996 Olympic Games.
Cancer
On October 2, 1996, at age 25, Armstrong was diagnosed with stage three testicular cancer. The cancer spread to his lungs, abdomen and brain. On that first visit to a urologist in Austin, Texas, for his cancer symptoms he was coughing up blood and had a large, painful testicular tumor. Immediate surgery and chemotherapy were required to save his life. Armstrong had an orchiectomy to remove his diseased testicle. After his surgery, his doctor stated that he had less than a 40% survival chance.
The standard chemotherapeutic regimen for the treatment of this type of cancer is a cocktail of the drugs BEP (bleomycin, etoposide, and cisplatin (or Platinol)). Armstrong, however, chose an alternative, VIP (etoposide, ifosfamide, and cisplatin), to avoid the lung toxicity associated with the drug bleomycin. This decision may have saved his cycling career. His primary treatment was received at the Indiana University (IU), Indianapolis, Medical Center, where Dr. Lawrence Einhorn had pioneered the use of cisplatinum to treat testicular cancer. His primary oncologist there was Dr. Craig Nichols. Also at IU, his brain tumors were surgically removed and found to contain extensive necrosis (dead tissue). His last chemotherapy treatment was received on December 13, 1996.
His cancer went into complete remission, and by January 1998 he was already engaged in serious training for racing, moving to Europe to race for the U.S. Postal team. A pivotal week (April 1998) in his comeback was one he spent training in the very challenging Appalachian terrain around Boone, North Carolina, with his racing friend Bob Roll.
Tour de France success
Before his cancer treatment, Armstrong had won two Tour de France stages. In 1993, he won the 8th stage and in 1995 he took stage 18 in honor of teammate Fabio Casartelli who crashed and died on stage 15. Armstrong dropped out of the 1996 Tour on the 7th stage after becoming ill, a few months before his diagnosis.
Lance Armstrong finishing 3rd in Sète, taking over the Yellow Jersey at Grand Prix Midi Libre
Armstrong's cycling comeback began in 1998 when he finished fourth in the Vuelta a España. In 1999 he won the Tour de France, including four stages. He beat the second rider, Alex Zülle, by 7 minutes 37 seconds. However, the absence of Jan Ullrich (injury) and Marco Pantani (drug allegations) meant Armstrong had not yet proven himself against the biggest names. Stage wins included the prologue, stage eight, an individual time trial in Metz, an Alpine stage on stage nine, and the second individual time trial on stage 19.
In 2000, Ullrich and Pantani returned to challenge Armstrong. The race that began a six-year rivalry between Ullrich and Armstrong ended in victory for Armstrong by 6 minutes 2 seconds over Ullrich. Armstrong took one stage in the 2000 Tour, the second individual time trial on stage 19. In 2001, Armstrong again took top honors, beating Ullrich by 6 minutes 44 seconds. In 2002, Ullrich did not participate due to suspension, and Armstrong won by seven minutes over Joseba Beloki.
The pattern returned in 2003, Armstrong taking first place and Ullrich second. Only 1 minute 1 second separated the two at the end of the final day in Paris. U.S. Postal won the team time trial on stage four, while Armstrong took stage 15, despite being knocked off on the ascent to Luz Ardiden, the final climb, when a spectator's bag caught his right handlebar. Ullrich waited for him, which brought Ullrich fair-play honors.
In 2004, Armstrong finished first, 6 minutes 19 seconds ahead of German Andreas Klöden. Ullrich was fourth, a further 2 minutes 31 seconds behind. Armstrong won a personal best five individual stages, plus the team time trial. He became the first since Gino Bartali in 1948 to win three consecutive mountain stages; 15, 16, and 17. The individual time trial on stage 16 up Alpe d'Huez was won in style by Armstrong as he passed Ivan Basso on the way despite setting out two minutes after the Italian. He won sprint finishes from Basso in stages 13 and 15 and made up a significant gap in the last 250 m to nip Klöden at the line in stage 17. He won the final individual time trial, stage 19, to complete his personal record of stage wins.
In 2005, Armstrong was beaten by David Zabriskie in the Stage 1 time trial by 2 seconds, despite passing Ullrich on the road. His Discovery Channel team won the team time trial, while Armstrong won the final individual time trial. To complete his record-breaking feat, Armstrong crossed the line on the Champs-Élysées on July 24 to win his 7th consecutive Tour, finishing 4m 40s ahead of Basso, with Ullrich third.
On July 24, 2005, Armstrong officially announced his retirement from professional cycling after his 7th consecutive Tour de France win.
Comeback II
Armstrong announced on September 9, 2008 that he would return to pro cycling with the express goal of participating in the 2009 Tour de France. "After talking with my children, my family and my closest friends, I have decided to return to professional cycling in order to raise awareness of the global cancer burden", Armstrong said on his livestrong.org website. VeloNews reported that Armstrong would race for no salary or bonuses and would post his internally tested blood results online.
The announcement ended speculation that he would return with Astana in the Tour of California, Paris-Nice, the Tour de Georgia and the Dauphiné-Libéré. Astana missed the 2008 Tour de France after Alexandre Vinokourov was ejected from the 2007 Tour for testing positive.
Australian ABC radio reported on September 24, 2008 that Armstrong would compete in the UCI Tour Down Under through Adelaide and surrounding areas in January 2009. UCI rules say a cyclist has to be in an anti-doping program for six months before an event, but the Tour Down Under allowed Armstrong to compete after he engaged Don Catlin, a leading anti-doping scientist, to independently test him throughout his comeback races. The Premier of South Australia, Mike Rann, declared that Armstrong's participation would make the tour "the biggest sporting event in South Australian history."
In October 2008, Armstrong confirmed he would compete in the 2009 Giro d'Italia, his first participation.
On January 17, Armstrong said at a press conference for the Tour Down Under that his comeback was motivated by spending most of his days spreading the Livestrong message and raising national awareness of cancer. Though his fitness levels had supposedly returned to peak condition, Armstrong placed 29th in the race. Armstrong said he considered this a successful result, as the thousands of fans who flocked to Adelaide to see him compete — booking every hotel room in the city — added A$17 million to the South Australian economy, and the government rewarded his effort by pledging A$4.1 million towards the construction of a centre for cancer research.
Armstrong's Trek bicycle was stolen while he was in Sacramento, California, for the Amgen Tour of California. This time-trial bike was returned to the Sacramento police by an anonymous citizen on February 18, 2009, four days after it disappeared from the Astana team truck. A police statement read, "The facts surrounding how the person came into possession of the bicycle are not being released at this time due to an ongoing investigation."
In February 2009, Armstrong was confirmed to compete in the Tour of Ireland from 19–23 August 2009, before then participating in the Livestrong Global Cancer Summit from August 24-26th in Dublin. The Astana Cycling team confirmed in early March that Armstrong would return to Europe to continue his comeback season with races at Milan-Sanremo and the Vuelta a Castilla y León. He had to retire from the 2009 Vuelta Castilla y León during the first stage after crashing in a rider pileup in Baltanás, Spain and breaking his collarbone.
Armstrong flew back to Austin, Texas, for corrective surgery, which was successful, and was back training on a bicycle within four days of his operation. On April 10, 2009, a controversy emerged between the AFLD and Armstrong and his team manager, Johan Bruyneel, stemming from a March 17, 2009 encounter with an AFLD anti-doping official who visited Armstrong after a training ride in Beaulieu-sur-Mer. When the official arrived, Armstrong claims he asked—and was granted—permission to take a shower while Bruyneel checked the official's credentials. In late April, the AFLD cleared Armstrong of any wrongdoing. Armstrong returned to racing after his collarbone injury at the Tour of the Gila in New Mexico on 29 April.
On 7 July, in the fourth stage of the 2009 Tour de France, Armstrong narrowly failed to win the yellow jersey after his Astana team won the team time trial. His Astana team won the 39 km lap of Montpellier but Armstrong ended up just over two tenths of a second (0.22) outside of Fabian Cancellara's overall lead. Armstrong finished the 2009 Tour de France in third place overall, 5:24 behind the overall winner, his Astana teammate Alberto Contador.
Team RadioShack: 2010
On July 21, 2009, Armstrong reported that he plans to return to the Tour de France in 2010. RadioShack has been named as the main sponsor for Armstrong's team in 2010: Team RadioShack. Armstrong made his 2010 season debut at the 2010 Tour Down Under where he finished 25th out of the 127 riders that completed the race. He made his European season debut at the 2010 Vuelta a Murcia finishing in 7th place overall. Armstrong was also set to compete in several classics such as the Milan-San Remo, Amstel Gold Race, Liège-Bastogne-Liège, and the Tour of Flanders, but bouts with gastroenteritis forced his withdrawal from three of the four races. Armstrong returned to the United States in mid-April to compete in the Tour of Gila and May's Amgen Tour of California, both as preparation for the Tour de France. However, he crashed outside Visalia early in stage 5 of the Tour of California and had to withdraw from the race. He showed fine form after recovering from the Tour of California crash, placing second in the Tour of Switzerland and third in the Tour of Luxembourg. On June 28, Lance Armstrong announced via Twitter that the 2010 edition would be his final Tour de France.
Physical attributes
Armstrong has recorded an aerobic capacity of 83.8 mL/kg/min (VO2 max), much higher than the average person (40–50), but lower than some other Tour De France winners, such as Miguel Indurain (88.0, although reports exist that Indurain tested at 92–94) and Greg LeMond (92.5). He has a resting heart rate of 32–34 beats per minute (bpm) with a maximum heart rate of 201 bpm.
Collaboration of sponsors
Armstrong revolutionized the support behind his well-funded teams, asking sponsors and suppliers to contribute and act as part of the team. For example, rather than having the frame, handlebars, and tires designed and developed by separate companies with little interaction, his teams adopted a Formula One relationship with sponsors and suppliers named "F-One", taking full advantage of the combined resources of several organizations working in close communication. The team, Trek, Nike, AMD, Bontrager (a Trek company), Shimano, Giro and Oakley, collaborated for an array of products.
Family and personal life
Armstrong was born to Linda Mooneyham, a secretary, and Eddie Charles Gunderson, a route manager for The Dallas Morning News. He was named after Lance Rentzel, a Dallas Cowboys wide receiver. His father left his mother when Lance was two and has two other children from another relationship. His mother later married Terry Keith Armstrong, a wholesale salesman, who adopted Lance in 1974. Linda has married and divorced three times. Armstrong refuses to meet his birth father and has described Terry Armstrong as deceitful.
Armstrong (center) on the set of College GameDay during the 2006 UT football season
Armstrong met Kristin Richard in June 1997. They married on May 1, 1998 and had three children: Luke, born October 1999, and twins Isabelle and Grace, born November 2001. The pregnancy was possible through sperm Armstrong banked three years earlier, prior to chemotherapy and surgery. The couple filed for divorce in September 2003. At Armstrong's request, his children flew in for the Tour de France podium ceremony in 2005, where Luke helped his father hoist the trophy, while his daughters (in yellow dresses) held the stuffed lion mascot and bouquet of yellow flowers.
Armstrong began dating singer-songwriter Sheryl Crow in the autumn of 2003 and revealed their relationship in January 2004. The couple announced their engagement in September 2005 and their split in February 2006. In October 2007, Armstrong and fashion designer Tory Burch ended a relationship after several months. He dated American actress Kate Hudson from May-July 2008. On July 30, 2008, a representative for Hudson announced the relationship had ended amicably.
In December 2008, Armstrong announced that his girlfriend, Anna Hansen, was pregnant with his child. The couple started dating in July 2008 after meeting through Armstrong's charity work. Although it was believed that Armstrong could no longer father children, after having undergone chemotherapy for testicular cancer, this child was conceived naturally. The baby boy, Maxwell Edward "Max" Armstrong, was born on June 4, 2009 in Aspen, Colorado. Armstrong announced the birth using the micro-blogging service Twitter. Armstrong has become a popular Twitter user with over 2.5 million followers.
In April 2010, Armstrong, using Twitter, announced that he was having a fifth child, to be born in October 2010.
Armstrong owns homes in Austin, Texas, and Aspen, Colorado, as well as a ranch in the Texas Hill Country. Armstrong is a fan of the University of Texas Longhorns college football program and is often seen on the sidelines supporting the team.
In regards to religion, he is agnostic, quoted as saying, "at the end of the day, if there was indeed some body or presence standing there to judge me, I hoped I would be judged on whether I had lived a true life, not on whether I believed in a certain book, or whether I'd been baptized. If there was indeed a god at the end of my days, I hoped he didn't say, 'But you were never a Christian, so you're going the other way from heaven.' If so, I was going to reply, 'You know what? You're right. Fine.'"
Allegations of drug use
For much of the second phase of his career, Lance Armstrong has faced persistent allegations of doping, but has never failed a test. In addition, Armstrong has been criticised for his disagreements with outspoken opponents of doping such as Paul Kimmage and Christophe Bassons. Bassons wrote a number of articles for a French newspaper during the 1999 Tour De France which made references to doping in the peloton. Subsequently, Armstrong had an altercation with Bassons during the 1999 Tour De France where Bassons said Armstrong rode up alongside on the Alpe d'Huez stage to tell him "it was a mistake to speak out the way I [Bassons] do and he [Armstrong] asked why I was doing it. I told him that I'm thinking of the next generation of riders. Then he said 'Why don't you leave, then?' Armstrong confirmed the story. On the main evening news on TF1, a national television station, Armstrong said: "His accusations aren't good for cycling, for his team, for me, for anybody. If he thinks cycling works like that, he's wrong and he would be better off going home". Kimmage, a professional cyclist in the 1990s who later became a sports journalist, referred to Armstrong as a "cancer in cycling". He also asked Armstrong questions in relation to his "admiration for dopers" at a press conference at the Tour of California in 2009, provoking a scathing reaction from Armstrong. This spat continued and is exemplified by Kimmage's articles in The Sunday Times.
Armstrong has continually denied using illegal performance-enhancing drugs and has described himself as "the most tested athlete in the world". A 1999 urine sample showed traces of corticosteroid in an amount that was not in the positive range. A medical certificate showed he used an approved cream for saddle sores which contained the substance.
On March 17, 2009, French Anti-doping Agency tested Armstrong for the 24th time in the last year and the test was negative for performance-enhancing drugs.
Read more
Latest headlines