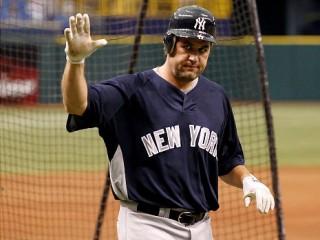 Lance Berkman biography
Date of birth : 1976-02-10
Date of death : -
Birthplace : Waco, Texas
Nationality : American
Category : Sports
Last modified : 2010-10-16
Credited as : Baseball player MLB, first base with the New York Yankees ,
GROWING UP
William Lance Berkman was born in Waco, Texas, on February 10, 1976. The second Cynthia and Larry Berkman's three children, Lance had an immense appetite as an infant, slurping down entire bottles without stopping. What intrigued Larry was that his son would then hurl the bottle out of his crib. Lefthanded.
The elder Berkman had been a pretty fair baseball player in his time—good enough to log three seasons at the University of Texas as a walk-on outfielder in the late 1960s. Larry decided that Lance's southpaw bottle tosses were a sign that he would become a ball player himself.
Larry bought Lance his first plastic bat and began pitching to him around the age of two. He was alarmed when his son preferred to take cuts from the right side and not the left. (There are relatively few players in the big leagues with this combination). Larry adjusted his thinking and determined that Lance would become a switch-hitter, just like his childhood idol, Mickey Mantle.
Larry was a young attorney working in Waco for the first six years of Lance's life. In 1982, the family moved to Austin, and the boy's baseball training intensified. Back then, conventional wisdom held that young players shouldn't lift weights. But Larry remembered meeting a scout when he was at UT who suggested that arm strength could be built safely and effectively in kids by having them swing a bat at a tire. So he hung a tire from a tree and told Lance to take 100 cuts—50 lefthanded and 50 righthanded—each day after school.
Because tires have more mass than baseballs do, Lance had to drive through the hitting zone with a lot of energy just to complete his swings. This gave him strength other boys did not possess. He also hit off a tee, helping him to hone his mechanics. And mechanics were everything to Lance. He devoted his weekends to his swing throughout his childhood and teens years, spending countless hours in the batting cages when his friends were goofing around and having fun.
Lance's father was there every step of the way, serving as coach for most of his youth-league teams. To sharpen his son's switch-hitting skills, he would have Lance alternate at-bats from the right and left sides, regardless of the pitcher. There were times in close games where Lance's teammates lobbied hard to have him jump across the plate and hit righthanded, but Larry would have none of it.
And Lance's dad would not tolerate disrespect for the game. He was coaching his son in his Little League championship when a young umpire blew call after call, ultimately costing them the game. Lance was so furious after the final out that he kicked dirt on the ump. Almost instantly, Larry pinned his son against the dugout by his neck and told him never to repeat the transgression again.
Lance made the All-Star team every year he played youth baseball. When he was nine-years-old, he hit his first tape-measure shot. The ball sailed over the fence and into the parking lot of a Sonic, where it shattered an employee's windshield. Larry congratulated his son and then instructed him he had to pay for the damage.
Being bigger than most other kids, Lance inevitably tried his hand on the pitcher's mound. He was not a hard thrower, and he had no control, so this experiment usually lasted no more than an inning or two each season. Lance didn't care—he was a hitter, pure and simple. Aware of every detail of his two swings, he was an expert on the science of swinging, having read Ted Williams' book dozens of times.
When he entered high school in Austin, Lance, a more consistent righthanded hitter, was starting to develop a power stroke from the left side. After his sophomore year, the Berkmans moved south to Garden Ridge, in the hill country outside of San Antonio. In preparation for his junior season, Lance began lifting weights. He hated the workouts, but he knew that he needed to sculpt his ample frame in order to draw he attention of college scouts. It wasn't that he dreamed of a scholarship—he needed one. Lance planned to play baseball for a living, and he understood that playing at a top Division I school would be the stepping stone. There was really no Plan B.
Lance hit .330 with four home runs in 1993 for New Braunfels Canyon High. By now, he was switch-hitting in the traditional manner. Because most of the pitchers he faced were righthanded, he got many more at-bats as a lefty, and over four varsity seasons he actually became a superior lefthanded hitter—so much so, that some scouts wondered whether he should abandon batting righty altogether.
As his senior season began, Lance knew he wasn't being scouted by the pros. In their eyes, his speed and throwing arm cancelled out any promise as a hitter. Lance also heard whispers that no one thought the doughy kid would hit well at the Division I level. This was disappointing for a kid who hit .539 average with eight home runs and drove in a run a game.
Outside of his high school coach, Ralph Behrend, the one person who thought Lancee had a shot at big-time successwas Wayne Graham, the baseball coach at Rice University in Houston. Randy Taylor, a scout for the Texas Rangers, tipped off Graham, who saw Lance play only once. That was enough. Graham recognized a hitter when he saw one—he already had Jose Cruz, Jr. and Mark Quinn on the roster. Graham offered Lance a partial scholarship, and afew weeks later, when not a single major league club thought it worth gambling a pick on Lance in the draft, he became a Rice Owl.
Lance's freshman year found him in the heart of one of the Southwest Conference's most talented lineups. The star of the Owls was Cruz, Jr., whose father was something of a legend in Houston baseball. In his final year at Rice, the junior batted .377 with 16 homers. He and Lance roomed together on road trips.
Quinn, a senior who won six games on the hill and hit .380 with 18 homers as the team's DH, was headed to the pros with Cruz as well. Senior shortstop David Brooks was one of the SWC's best players, while fellow freshman Matt Anderson earned All-Conference honors with an 11-2 record and league-leading 2.51 ERA. A reliever on the team, Jeff Baker, became a good friend to Lance. He introduced him to his sister, Cara, and they began dating. Lance and Cara were married three years later.
Playing first base and a little outfield, Lance hit .322 with six home runs as a frosh. He also rapped out 26 doubles, which topped the conference. Not bad considering his miserable start. After striking out in his first two college at-bats, Lance got a couple of hits and then promptly went 0-for-17. Graham finally pulled him aside and told him he was playing no matter what he batted. Lance picked up 17 hits in his next 21 at-bats
Rice went 43-19 overall and finished one game behind Texas Tech in the SWC. That was good enough to make the NCAA Tournament, where they went 3-2 in the Midwest Regionals and finished as runner-up to Wichita State. It was the first time the school had advanced that far.
Lance had a blast in college, majoring in eligibility (as he puts it). He was there to play baseball and did what he had to in order to maintain his grades. In the offseason, Lance amused himself in intramural flag football. This was against team rules, and Graham went ballistic when he found out. He ordered Lance to quit, lecturing him on responsibility. Lance's reaction was to go right back on the field, where he broke his collarbone in the next game. Furious, Graham told Lance that he was playing in Rice's home opener whether his shoulder was healed or not, so the sophomore got to work on his rehab as soon as doctors gave him the OK. He was back in the swing of things with time to spare.
Lance took a big step forward as a soph, leading the SWC with 20 home runs and finishing fourth in the batting race with a .398 average. With Cruz and Quinn gone to the big leagues, he carried the load offensively, with help from outfielders Bubba Crosby, Jacques Landry and Jeff Venghaus. Anderson pitched well in multiple roles, going 9-3 with four saves in 25 games. The Owls finished at 42-23, though they had an unremarkable 9-15 in the conference.
ON THE RISE
The Southwest Conference disbanded in 1997, and Rice joined TCU a a move to the Western Athletic Conference, which included baseball power Fresno State. The Owls surprised some by posting a 47-16 record and winning the WAC's South Conference with at 20-9. Anderson was dominant again, with a 10-2 mark and 2.05 ERA. Crosby had a big year at the plate with 22 homers and 88 RBIs.
As for Lance, all he did was turn in one of the greatest season in Division I history, winning the WAC Triple Crown with a .431 average, 41 homers and 134 RBIs. He also led the conference in runs and hits. Overall, Lance was 11th in the nation in batting, second in runs, third in hits, second in slugging, and first in total bases, RBIs and home runs. In the NCAA Tournament, Rice swept through the Central Regionals, and Lance was named the Most Outstanding Player. The Owls' subsequent trip to the College World Series was the first in school history.
With a .385 average, 67 home runs and 272 RBIs in three college seasons, it was time for Lance to move on. A certain first-round pick, he let it be known that he was ready to go pro.
The first player taken in the `97 draft was Anderson, who went to the Detroit Tigers. Lance was drafted by the Houston Astros with the 16th overall pick. The team assigned him to Kissimmee of the Florida State League. There he played 53 games for manager John Tamargo on a club that finished the second half of the year in first place with a 43-26 record. Lancee batted .293 with 12 homers in 184 at-bats and did a nice job in left field after spending most of his time at Rice as a first baseman. Lance's teammates in the FSL included future major leaguers: Ramon Castro, Julio Lugo, Freddy Garica and Wade Miller.
Lance moved up to Class-AA Jackson of the Texas League in 1998. He clubbed 24 home runs in 122 games with a .306 average for manager Jim Pankovitz. He was promoted during the season to the Class-AAA New Orleans Zephyrs, where he added another six homers in 17 games. Overall, Lance combined for 30 homers, knocked in 102 runs and drew 97 walks—fifth-best in the minors.
In the first Triple A World Series ever, the Zephyrs took on the International League champion Buffalo Bisons in a best-of-five match-up. After splitting the first two games, the Zephs scored a thrilling comeback win in Game 3 with back-to-back jacks by Ken Ramos and Marc Ronan, who had hit a total of six homers between them all season. This set the stage for Lance, who pumped three balls out of Las Vegas's Cashman Field in Game 4 to nail down the championship. His final blow cleared the 433 foot mark in dead center by a good margin. He was named MVP of the series.
For the 1999 capaign, the Astors planned to give Lance a full year at Triple A, and then work him into the Houston outfield as soon as he was ready. The strategy was the same for Daryle Ward, the Astros's other power-hitting prospect. But Ward was more of a first baseman, and with Jeff Bagwell at the height of his powers, he was forced to play an unfamiliar position. Both players ended up splitting time between Houston and New Orleans, with Lance batting a somewhat disappointing .237 in 34 big league games. A knee injury suffered in April delayed his start, but he hit well enough to earn a promotion in July.
By then, the Astros, in the thick of the Central Division race, were riddled by injuries in their outfield. Moises Alou was already on the shelf for the year with a bad knee, and when Carl Everett went on the DL, Lance took his place. Weeks later, with Houston looking for more production, he was sent back to New Orleans. But Lance was quickly recalled when Richard Hidalgo went down. It was a huge relief. Lance had convinced himself that he had missed his one opportunity to be a big leaguer.
The Astros ended up edging the Cincinnati Reds for the Central crown. Lance watched most of the action from the bench. In the playoffs, Houston lost to the Atlanta Braves in the NLDS. The Astros left Lance off its postseason roster, but they probably could have used his bat. In the Atlanta series, Houston's outfielders collected just 10 hits in 54 at-bats.
With Alou healthy, Hidalgo in his prime, Roger Cedeno signed to play center field, and Ward slated as the fourth outfielder, the 2000 season did not look too promising for Lance. He started the year in New Orleans, came up for a brief stint at the end of April, and then joined the team for good on May 25. Cedeno broke his foot and Ward's weight was hampering his outfield defense, so the Astros decided to go with their young switch-hitter the rest of the way.
Lance responded with a big year, batting .297 with 21 home runs in 353 at-bats. He hit especially well when manager Larry Dierker put him in the cleanup spot. After starting out in right field—the first time he had ever played that position—Lance was moved to left, where he got to know some of the trickier angles in the Astros' new ballpark, Enron Field.
Lance was part of the league's most powerful lineup. He combined with Alou and Hidalgo for 95 home runs, with Ward adding another 20 and Jeff Bagwell belting 47. Injuries to table-setters Cedeno and Craig Biggio killed the club, however, and Houston's pitchers did not cope well with their new environs, turning in an ugly 5.42 ERA. The result was a precipitous drop in the standings, from 97 wins to a mere 72.
MAKING HIS MARK
The 2001 season saw the Astros retool behind the sparkling performances of young pitchers Wade Miller and Roy Oswalt, plus the lights-out relief of Octavio Dotel and closer Billy Wagner, who returned from elbow surgery to record 39 saves. Biggio played a full year and scored 118 runs, Bagwell had his usual terrific season, and Lance went wild with a .331-34-126 campaign. The Astros tied with the St. Louis Cardinals atop the division at 93-69, and they won the crown based on their head-to-head record.
Although Wagner got most of the credit for the 21-victory improvement, Lance was a revelation. He made the All-Star team, led the league with 55 doubles, and as a switch-hitting cleanup man, gave the Astros a tremendous advantage when setting their lineup. He batted over .300 from both sides of the plate, though all but two of his home runs came as a lefty. Houston had been concerned that he might not hit lefthanders well enough to remain a switch-hitter, but Lance showed he could do damage from both sides of the plate. He also improved as an outfielder, learning to play the tricky left field wall at Enron and even manning center field for 40 games when Hidalgo was hampered by an injury.
The Astros faced the Braves again in the NLDS, and once again they could not solve Atlanta's pitching. Bagwell was the only regular to hit his weight, as Houston fell in three straight. Lance batted a meager .167, as did Biggio, Alou and shortstop Jose Vizcaino.
After the season, Houston inked Lance to a three-year, $10.5 million deal.
The Astros came to camp in 2002 with high hopes, despite question marks at two power positions, third base and right field. Morgan Ensberg was expected to win the everyday job at the hot corner, but he could not seal the deal, leaving Geoff Blum and others to fight over playing time. The departure of Alou, signed by the Chicago Cubs as a free agent, left a hole that Ward was slated to fill. Since he was only able to play leftfield, Lance was forced to move to center, with Hidalgo switching to right.
New manager Jimy Williams thought he had the horses to take the division crown, but when injuries started thinning his pitching staff, the Cardinals—inspired after the death of Darryl Kile—pulled away and won by 13 games. In retrospect, Houston's 84 wins were quite an accomplishment. Every hitter in the lineup was either hurt or failed to match his past numbers, including Bagwell and Biggio, who were now in their mid-30s.
The lone bright spot on offense, was Lance, who batted .292 with 42 home runs and a league-high 128 RBIs. He added 106 runs and 108 walks, and slugged. 578. His 334 total bases were third in the league. Despite a sore knee and hamstring, Lance appeared in a team-best 158 games. The only area where he underperformed was his production from the right side, where his average dropped to .240.
As the 2003 season started, Lance got it into his head that the Astros would only go as far as he took them. He tried to do too much early on and overswung his way into a horrendous slump. He went 10 games before recording his first hit or RBI, and Williams eventually dropped him into the six spot, hoping to take the pressure off. Lance righted his ship by the All-Star break and finished strong enough to post respectable numbers (.288, 25 homers and 93 RBIs). But his stats were nothing near what he or anyone else in baseball had expected.
The season was not a total bust, however.Realizing pitchers were trying to get him to swing at junk, Lance becamce more patient as a hitter and took 107 walks. In turn, he scored 110 runs to lead the team. The true frustration of his season came in the final week, when the Astros came up a victory short in a three-way race with Chicago and St. Louis for the Central Division title. Bagwell and Hidalgo had good seasons, Ensberg blossomed into a quality player, and newcomer Jeff Kent contributed big hits, but the Cubs were one win better. Lance looked back at his slow start and kicked himself for not pulling out of his funk sooner.
Lance approached 2004 with much greater maturity. The results spoke for themselves. He returned to All-Star form by hitting a very disciplined .316 with 127 walks, 40 doubles, 30 homers, 104 runs and 106 RBIs.
Lance had a decent first half, but the team started slowly. Miller and free agent Andy Pettitte both went down with injuries, leaving Oswalt and un-retired Roger Clemens to pick up the slack. This they did, but the Astros were still stuck at .500 in July.
Changes soon followed. Williams was replaced by Phil Garner after 88 games, Houston acquired Carlos Beltran, and Brad Lidge became a lights-out closer in his first year on the job. Though the Cardinals were too far ahead to catch, suddenly the Wild Card was looking like a possibility. The team's "Killer B's"—Bagwell, Biggio, Beltran and Berkman—lived up to their nickname and finished the year on fire. When the Cubs and Giants tanked down the stretch, Houston found itself in the playoffs with a 92-70 record.
The Astros had not won a postseason series since the franchise had entered the league in 1962. With the Braves as NLDA opponents once again, no one was holding out much hope. But this Atlanta team was uncharacteristically short on starting pitching. In fact, Jaret Wright had to start twice. Houston hammered him in Game 1 and again in Game 5, and won two of three in between to take the series. The Killer B's were magnificent. Lance hit .409, Biggio hit .400, Bagwell hit .318 with a pair of homers, and Beltran went completely insane, with a .455 average, four homers and nine RBIs.
The NLCS, against the Cardinals, was one of the most heart-stopping series in recent memory. St. Louis took the first two games at Busch Stadium, but the Astros fought back to win their three games at home (in what was now Minute Maid Field). Kent's walk-off homer in Game 5 sent the series back to St. Louis with the Astros just one victory away from their first World Series.
Trailing 3-2 in the ninth inning of Game 6, Houston tied the game and sent it into extra innings. But Jim Edmonds struck back for St. Louis in the 12th to force Game 7. The Astros felt confident with Clemens on the hill, but the Cardinals got to him in sixth and won the game, 5-2. The star of the series for Houston was Lidge, who pitched some of the best late-inning baseball ever seen. Beltran also had an amazing series, with four home runs and 12 runs scored.
Lost in these wondrous performances was Lance's contribution. He belted three home runs and led the Astros with nine RBIs. But like his fellow Astros, he could not produce the big hit in the final two games.
With an exciting postseason under his belt, Lance looked forward to a relaxing offseason. Deeply religious and very involved with his church, he decided this was a good place to focus his energy. A few weeks after the St. Louis series, he was playing in a flag football game with some parishioners when he felt something pop in his right knee. He underwent surgery to repair his ACL and threw himself into rehab in hopes of missing just a few weeks of the 2005 season.
The injury put Houston in an interesting situation. The team's player contracts prohibit the type of activity Lance had engaged in, but because he was in his arbitration year, technically he was not signed at the time. Upset by the turn of events, the Astros nonetheless were impressed by Lance's forthrightness about how and when the injury happened, as well as his willingness to accept responsibility for it.
Houston, which had let Beltran to leave via free agency, realized it needed to sign Lance to a long-term deal. Confident that he was the kind of guy around which they could retool their club, the Astros swallowed hard and gave him a $85-million, six-year pact. Not bad for a guy who wasn't allowed to run for 10 weeks.
Houston needed Lance's bat desperately when he returned to the team in May. The Astros started the campaign at 15-30, despite strong efforts from Oswalt and Clemens. The team simply could not muster any offense. Biggio and Bagwell were showing their age, and role players like Adam Everett and Mike Lamb weren't able to pick up the slack. If not for the contributions of rookie Willie Taveras and young slugger Jason Lane, the club might have written off the season. The Houston Chronicle did, declaring the Astros dead in June.
But with Lance heating up at the plate, Houston climbed back into the playoff race. Also chipping in was Pettitte, who was nearly unbeatable in the second half. The Astros fended off the Philadelphia Phillies down the stretch and grabbed the Wild Card with a record of 89-73. Despite having only Ensberg to protect him in the lineup, Lance finished up with good numbers, including a .293 batting average, 34 doubles, 24 homers and 82 RBIs in less than 500 at-bats.
The question in the postseason was whether anyone would pitch to Lance. Atlanta chose not to tempt fate early in the first round. The Braves walked Lance three times in Game 1, but he got plenty of support from his teammateshe Astros won in a blowout, 10-5. After the teams split the next two, Atlanta seized a commanding lead in Game 5. But Kyle Farnsworth made the mistake of leaving a fastball over the fat part of the plate to Lance with the bases juiced in the bottom of the eighth. He lined the pitch into the left field seats to help set up the longest game in baseball postseason history. Chris Burke ended the drama into the 18th inning with a solo home run.
The victory earned the Astros a rematch with the Cards in the NLCS, and this time Houston took care of business. Oswalt was dominant in his two starts, while the offense managed to scratch out runs when they were needed. Again, Lance didn't see much to swing at. His three-run dinger in the seventh inning of Game 6 seemed to put the series on ice, but Lidge coughed up the lead two innings later. Oswalt, however, closed the door two nights later, and the Astros went to the World Series for the first time in franchise.
Their trip to the Fall Classic proved a huge disappointment. In the midst of a legendary postseason run, the Chicago White Sox steamrolled the Astros in four straight. Lance did all he could, collecting five hits and six RBIs in the first three games. But Ensberg was awful behind him in the batting order, and no one else hit with runners in scoring position. The series ended fittingly with a 1-0 Chicago win.
For Lance, the '05 campaign revealed a lot about his character and healing powers. Since speed and quickness are not major parts of his game, he was able to fight through the lingering pain of his knee injury and emerge as the type of player who can carry a team.
Prior to the 2006 season, Lance agreed to an interview with a Houston sports radio station. When the Q&A turned to his nickname "Fat Elvis," he said he didn't know why fans called him that. Instead, he claimed he moved like a puma. From then on fans and teammates called him the "Big Puma." A couple of years later, young Astros fans started showing up in cat costumes. The called themselves the "Little Pumas."
With Bagwell announcing his retirement, Lance was finally ready to take his catlike defensive game where it belonged all along: first base. Healthy all year in '06, he enjoyed his best season. Lance hit .315 and clouted 45 homers, making him only the second switch-hitter besides Mickey Mantle to top 40 round-trippers twice. Lance also broke Bagwell's team record when he drove in his 136th run of the season.
After a sluggish start, the Astros made another magnificent stretch run, winning nine straight in late September to challenge the division-leading Cardinals. Unfortunately, Houston fell a victory short when John Smoltz and the Braves beat them 3–1 on the season's final day.
In 2007, the Astros bottomed out, finishing 16 games under .500. Garner was fired and replaced by batting coach Cecil Cooper. Lance was part of the problem, having what for him was an off-year. He hit 34 homers and drove in 102 runs in 153 games, but his average dropped to .278. Most of his production came after Houston had tumbled into the second division. Biggio and Ensberg also fell short of expectations. Free agent Carlos Lee and rookie Hunter Pence had terrific years at the plate, but the net effect was not enough to overcome a disastrous year from every pitcher not named Oswalt.
Lance bounced back in 2008 with a fantastic first half. He was named Player of the Month for May, and at times pitchers literally could not get him out. While the Houston pitching staff was getting cuffed around, Lance led an offense that featured six players who reached double-figures in home runs, including newly acquire Miguel Tejada. It was the first time in two decades that the Housotn offense didn't include Biggio, who retired after the '07 campaign.
Lance cooled off after the All-Star Break, but his final numbers were solid. He led the Astros with 29 homers, 46 doubles, 114 runs and 106 RBIs. His .312 average was second to Lee's .314 mark. Lance also stole 18 bases. Houston won 86 games—far behind the Cubs, who went 97-65. The Astros did stay close enough to make the Wild Card race interesting, but a five-game losing streak in mid-September enabled the Milwaukee Brewers to slip past them and snag a playoff berth.
The 2009 Astros could not maintain their hitting prowess, and their pitching staff got bombed on a regular basis. That translated into 74 wins and a pink slip for Cooper. Lance's knees bothered him a good part of the year, keeping him out of the lineup for 26 games. When he played, he seemed a half-beat slower. The result was a down year at the plate, with 25 homers, 80 RBIs and a .274 average. How bad were the Astros? Lance still led the club with a .509 slugging average—the lowest since his rookie year.
Heading into 2010, the Astros were pinning their hopes on a revitalized pitching staff. Wandy Rodriguez was coming off a promising year, Oswalt looked good in the spring, Brett Myers joined the rotation, and top prospect Bud Norris was being counted on to continue his progress. Matt Lindstrom, acquired from the Florida Marlins, looked solid as a closer.
Those hopes faded quickly, however. The offense looked like it would struggle for the second year in a row, and it did. Lance hurt his left knee in spring training and had to have it scoped. He struggled to get his average to .250 in the first half, partly because he saw very few good pitches to hit. The rest of the offense was in a collective slump, so there was no reason to pitch to Lance.
By mid-June, the Astros had to face the fact that Lance and Oswalt were luxuries they could not afford. It was time to rebuild. Several American League contenders expressed interest in Lance, including the White Sox, who had a package of players Houston liked. But Lance invoked his no-trade clause and killed tghe deal before it developed. Meanwhile, Oswalt went to the Phillies. A couple of days later ,Lance was acquired by the Yankees. In return, Houston got pitching prospect Mark Melancon and minor-league speedster Jimmy Paredes.
Astros fans were sad to see Lance go. The Big Puma was a homegrown star and favorite son. He had nearly brought Houston its first world championship.
Lance's job in New York will be to do what Nick Johnson could not—stay healthy and hit. With Mark Teixeira at first base, Lance will have to adjust to life as a DH. But with Yankee Stadium's cozy dimensions and 50,000 screaming fans filling the seats every night, he should relish each at-bat. Upon his arrival in pinstripes, he couldn't help but smile. Fat Evlis is eager to start feasting on AL pitching.
LANCE THE PLAYER
Although their styles differ dramatically, Lance is the closest thing to Tony Gwynn that baseball has seen in recent years. He may not have the classic body or the classic game, but he is a classic hitting machine. His swing is pure and sound, so much so that many of his home runs are "unintentional."
Lance has earned his place in the pantheon of great switch-hitters. He hits for immense power from the left side, averaging a homer every 15 at-bats from the port side in a typical season. His right-handed stroke is more of a slash, producing singles and doubles, though rarely much more than that. In Lance's best years, he has been around .300 as a righthander; in his worst, in the low .200s.
As a baserunner, Lance is not fast, but he is aggressive. Over his first few seasons, he was smart about taking the extra base, but he also ran himself into some pretty bad outs. This part of his game has become more judicious, partly because of his knee problems.
In the outfield, Lance was athletic and adventurous, which led to some "Play of the Day" catches and some highlight-reel miscues. On almost any other team in baseball, he would have been a first baseman from the start, but he did not move into the position until Bagwell's departure from the Astros. In New York, he is unlikely to do more than spell Teixeira a game or two.
When he's not hitting, Lance is at his most valuable in the clubhouse, where he is a cherished teammate. He is modest and down to earth, he tells a great story, and he is welcoming and supportive to new players. The Yankees hope that he will provide the kind of postseason heroics that Hideki Matsui did throughout his career in the Bronx.
Read more
Latest headlines