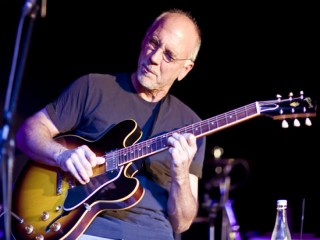 Larry Carlton biography
Date of birth : 1948-03-02
Date of death : -
Birthplace : Torrance, California.U.S.
Nationality : American
Category : Arts and Entertainment
Last modified : 2011-11-01
Credited as : Singer, jazz guitarist, Hill Street Blues
Larry Carlton is an American jazz, smooth jazz, jazz fusion, pop, and rock guitarist and singer. He has divided his recording time between solo recordings and session appearances with various well-known bands. Over his career, Carlton has won four Grammy Awards for his performances and compositions, including performing on the theme song for the hit television series, Hill Street Blues (1981).
The impressive career of jazz guitarist Larry Carlton dates back more than 30 years. During the 1970s and 1980s, Carlton served as a session player with some of the biggest and most respected names in the music industry, covering a vast musical terrain. Although often referred to as a "smooth" jazz musician, he aptly played everything from rock, pop, folk, and jazz to country, gospel, and R&B. His credits include work with the likes of John Lennon, Steely Dan, Joni Mitchell, Ray Charles, Barbra Streisand, and hundreds of others. At the height of his career as a session player, he contributed to more than 500 recordings per year and, in total, played on more than 100 gold albums. He furthermore worked on numerous film and television soundtracks, including the theme from the show Hill Street Blues, which won a Grammy Award in 1981 for Best Pop Instrumental Performance.
All the while, Carlton gained recognition for his own work in the studio and on stage. After securing a major-label contract in 1977, he recorded several solo albums and, in March of 2002, at the 44th Annual Grammy Awards in Los Angeles, won the prize with fellow guitarist Steve Lukather for Best Pop Instrumental Album for No Substitutions: Live in Osaka.
He displayed an aptitude for music early in life. Picking up the guitar at the age of six, he subsequently discovered jazz while in junior high school after hearing the album Moment of Truth by the Gerald Wilson Big Band, featuring guitarist Joe Pass. As a high school student, Carlton also gravitated toward players such as Barney Kessel, Wes Montgomery, and B. B. King, as well as saxophonist John Coltrane. He was influenced in particular by Coltrane's classic album from 1962 entitled Ballads.
Throughout the early 1960s, Carlton honed his skills playing club gigs and taking on occasional studio work in and around Los Angeles. In 1968 he released his debut album, With a Little Help from My Friends, which proved a success among critics and colleagues. Immediately, the entertainment/media industry took notice, and the young guitarist landed a job playing with a group of singers, the Going Thing, for radio and television commercials. In that same year Carlton toured with the group the Fifth Dimension. Then, during the middle of his second year as a professional, he was appointed musical director for the Emmy-nominated children's television show Mrs. Alphabet. With this gig, Carlton additionally displayed his acting skills as "Larry Guitar," the show's co-star.
By 1970 Carton was regarded as a solid session player, and his early studio dates included work for pop stars such as Vicki Carr, Andy Williams, and the Partridge Family. In 1971 he accepted an offer to join the legendary jazz/rock group the Crusaders, remaining with the band until 1976. In between touring and making records with the Crusaders, Carlton, who released his second album, Singing/Playing, in 1973, continued to contribute to the recordings of other artists.
Some of his most celebrated performances of the decade include Joni Mitchell's 1974 album, Court and Spark, and Steely Dan's 1976 recording, The Royal Scam. On both works, Carlton displayed his distinctive style--one marked by a bluesy sound and the use of a volume pedal. "I try to exercise the utmost taste at all times," he said of his technique to Guitar Player in February of 1977. "That's where a lot of players falter--they try to impress too many people. I'm a subtle guitarist, but it pays off. The expression of honesty and emotion best describes what I try to do when I pick up my guitar."
When Carlton's association with the Crusaders ended, the guitarist opted to concentrate more on solo work and signed a recording contract with Warner Bros. Records. Remaining with the label through the early part of the 1980s, he released six albums during this period: Larry Carlton, Strikes Twice, Mr. 335 Live in Japan, Sleepwalk, Eight Times Up, and Friends.
In 1985 Carlton moved to MCA Records, releasing three albums--Alone/But Never Alone, Discovery, and Last Night--the following year. The song "Minute by Minute," recorded with Michael McDonald, won Carlton his second Grammy Award in 1987 for Best Pop Instrumental Performance. Additionally, Carlton's live album Last Night received a Grammy Award nomination for Best Jazz Fusion Performance.
In 1988, while working on his next album for MCA, Carlton was shot in the neck outside his Los Angeles-area home, leaving him temporarily without control of his left arm. Fortunately, a positive attitude and intensive therapy allowed him to make a full recovery. The event also encouraged Carlton to form Helping Innocent People (HIP), a nonprofit organization designed to aid the victims of random gun violence. "It made me realize that we're all the same, that good and bad things can happen at any time," he told Los Angeles Times writer Bill Kohlhaase of the incident. "It was a very humbling experience. I was fortunate that nine months after the shooting I was back to playing, if not better than ever, and had full use of my arm." Just one year after the shooting, in 1989, Carlton released the Grammy Award-nominated set On Solid Ground.
In 1990 MCA acquired GRP Records, placing all the label's jazz artists on the new subsidiary. That year, GRP released an album of Carlton's "greatest hits" for MCA entitled Collection Vol. 1. His next effort, the 1992 pop-oriented jazz set Kid Gloves, saw Carlton for the first time combining electric and acoustic elements on the same album. Afterwards, Carlton resumed work on a blues-based album he had begun back in 1991 with drummer John Ferraro, keyboardist Matt Rollings, bassist Michael Rhodes, and harmonica player Terry McMillan. He took six original tracks to Nashville, met up once more with Rhodes and McMillan, as well as new drummer Chris Layton, and recorded four new songs. The resulting Renegade Gentlemen appeared in 1993.
Following an extensive tour, Carlton teamed with Fourplay guitarist Lee Ritenour for the album Larry and Lee. Released in 1995, it garnered Carlton another Grammy Award nomination. In 1996 he returned with The Gift, followed by the release of Collection Vol. 2 in 1997. That same year, he accepted an offer to join Fourplay, as Ritenour had departed in order to form his own label. He recorded three albums with the band--including 4 in 1998, the Christmas album Snowbound in 1999, and Yes, Please! in 2000--while simultaneously pursuing his solo work. Returning to Warner Bros., he released Fingerprints in 2000. The following year, Carlton and longtime friend/guitarist Steve Lukather toured for three weeks together in Japan. The highlights of these concerts were thereafter released by the Favored Nations label under the title No Substitutions: Live in Osaka, which won a Grammy Award the following year.
Back in 1996, Carlton relocated from his Hollywood Hills home to the Nashville area in order to live closer to Lebanon, Tennessee, home of his children from a previous marriage, and to fulfill a longtime dream of living in the country. "I knew in my 20s that I wanted to eventually live a more rural lifestyle," he explained to Michael McCall in the Los Angeles Times. "I was born and raised in Torrance, but my parents are Okies. As a kid, I'd go on vacations to farms in southeastern Oklahoma. We'd fish and hunt, and I'd ride horses and play along the rivers and creeks. I always loved that, and I wanted to have that kind of a life as an adult." Carlton and his second wife, Michele Pillar, a former Contemporary Christian singer, make their home on a 100-acre farm in the community of Lieper's Fork, Tennessee.
Besides assuming a simpler way of life, Carlton also found the music scene in Nashville much more fulfilling. "In the music community, and especially the songwriting community, it's just an open book here," Carlton told Los Angeles Times contributor Josef Woodard. "They welcome you, they appreciate you and want to interact with you.... It's not clique-y like it can be in Los Angeles. Consequently, there are many opportunities to interact with people who you think are great." Although he does not miss living in Los Angeles, Carlton nevertheless looks forward to frequent visits to play gigs and spend time with his parents and friends.
In 2000, Carlton furthered his solo career with Fingerprints. His career received another boost the following year when his live performance with Lukather, No Substitutions: Live in Osaka, garnered his third Grammy. Carlton's more recent work included Deep Into It, Sapphire Blue, and Firewire.
At the beginning of 2007 Carlton released two CDs. A live recording together with blues guitarist Robben Ford, Live in Tokyo, and The Jazz King album. The Jazz King record is the result of a composition Carlton wrote for H. M. King Bhumibol Adulyadej of Thailand. The Jazz King project was initiated to celebrate the 60th anniversary of King Bhumibol's accession to the throne as well as his 80th birthday in 2007. Carlton was commissioned to write this composition by the Royal Project Foundation and Rotary Club of Bangkok. These compositions were released on CD only in Thailand, the net proceeds of the CD will be used to support the indigenous hill-tribe children of Thailand. Carlton's compositions for this Jazz King project resulted in a concert held on January 28, 2007 at BEC-Tero Hall, Suan Lum Night Bazaar, Bangkok.
In July, August and September 2009, Carlton joined Steely Dan as guest guitarist for six dates in New York, Los Angeles and Chicago. Carlton reprised this role with another special guest guitarist appearance in Steely Dan's September 23, 2011 concert at New York's Beacon Theatre.
In June 2010 Carlton released Take Your Pick, an album made with Tak Matsumoto. This album won the 2011 Grammy for "Best Pop Instrumental Album". Carlton's 4th Grammy win.
Selected discography:
-With a Little Help from My Friends , Uni, 1968.
-Singing/Playing , Blue Thumb, 1973.
-Larry Carlton , Warner Bros., 1977.
-Strikes Twice , Warner Bros., 1978.
-Sleepwalk , Warner Bros., 1981.
-Eight Times Up , Warner Bros., 1983.
-Friends , Warner Bros., 1983.
-Alone/But Never Alone , MCA, 1986.
-Discovery , MCA, 1986.
-Last Night , MCA, 1986.
-On Solid Ground , MCA, 1989.
-Collection Vol. 1 , GRP, 1990.
-Kid Gloves , GRP, 1992.
-Renegade Gentlemen , GRP, 1993.
-Larry and Lee , GRP, 1995.
-The Gift , GRP, 1996.
-Collection Vol. 2 , GRP, 1997.
-(With Fourplay) 4 , Warner Bros., 1998.
-(With Fourplay) Snowbound , Warner Bros., 1999.
-Fingerprints , Warner Bros., 2000.
-(With Fourplay) Yes, Please! , Warner Bros., 2000.
-Deep into It , Warner Bros., 2001.
-(With Steve Lukather) No Substitutions: Live in Osaka , Favored Nations, 2001.
Read more
Latest headlines