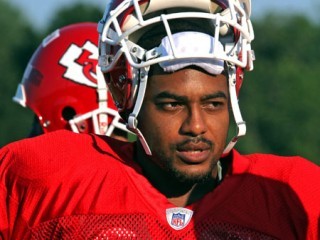 Larry Johnson biography
Date of birth : 1979-11-19
Date of death : -
Birthplace : LaPlata, Maryland, U.S.
Nationality : American
Category : Sports
Last modified : 2010-08-12
Credited as : Football player NFL, currently plays for the Kansas City Chiefs, Super Bowl
In pro football, anger management is everything. A chip on the shoulder can weigh a player down or, as in the case of Larry Johnson, liberate him to accomplish great things. The Pro Bowl running back has been running angry since grade school, leaving a string of hapless tacklers in his wake. After leading the AFC in rushing in just over half a season, Larry established himself as the head
Chief in Kansas City
in 2006, and showed how a man possessed could become the top possession running back in the game.
GROWING UP
Larry Alphonso Johnson Jr.
was born on November 19, 1979, in LaPlata, Maryland to Christine and Larry Sr. The day Larry arrived in the world, his father gave him a Nerf football. Larry Sr. was a high school football coach and vice principal in Maryland, a disciple of coach Herman Boone of "Remember the Titans" fame. He was six-time Coach of the Year at Maurice McDonough High School, a powerhouse program in the DC area during the 1980s and '90s. Larry's mother was a huge Dallas Cowboys fan. He had a younger brother, Tony, and a younger sister, Teresa.
The fall he turned eight years old, Larry played in his first organized league. His father signed up to coach the team. As soon as his son began showing aptitude for the running back position, Larry Sr. pulled out old video of NFL greats, and told him to pay close attention to Marion Motley, Earl Campbell, and Ollie Matson—runners who combined speed with size and power.
Larry also was drawn to the styles of Jim Brown and Walter Payton. He liked the way they initiated contact, picked themselves up after a tackle and walked slowly back to the huddle. In addition, neither star ever celebrated on the field.
One day during a scrimmage, a tackler nailed Larry as he ran down the sideline. It took him almost a quarter before he felt like going back in the game. When he did, he took a ball around end and repaid the monster hit by running over the player for a touchdown. Ever since that day, Larry was at his best "running angry."
Larry continued to develop as a football player, starring in local leagues and at LaPlata High School as a freshman and sophomore. He played linebacker, defensive end and running back for the Blue Knights.
In 1996, Larry's junior year, his father was hired by Joe Paterno as an assistant coach at Penn State. The family moved to State College, Pennsylvania, and Larry had to prove himself on the gridiron in a town where football is nothing short of a religion. Everyone in his old town knew who Larry was. No one in his new town had ever heard of him. In State College Area High School—a 97% white upper-crust school—it was assumed that Larry and his siblings were from the 'hood, when they had always attended suburban schools.
Weathering the stereotyping was easy compared to playing football for a coach other than his father. As a newcomer at SCA, Larry was denied a chance to start. After four games on the bench, he finally got in a game—and immediately racked up 200 yards. He was running angry again, and it earned him the respect of teammates and opponents, as well as a reputation for surliness off the field. Larry always had something to prove, always saw a wall he had to break down. His coaches and classmates gave him a wide berth.
Larry was unstoppable as a senior, rumbling for 2,159 yards and 29 TDs. In a game against Punxsutawney High School, he set a school mark with 374 rushing yards. For the year, he also registered 31 tackles and seven sacks as a defensive end. Larry was named Allegheny Conference Player of the Year and was second-team All-State.
The Johnsons were a Penn State family through and through, so when Larry was officially offered a football scholarship it was a forgone conclusion which college he would attend—even though he thought UNC was a better fit.
ON THE RISE
After sitting out 1998 as a red shirt, Larry played on special teams and logged time as a reserve running back in 1999. The first time he touched the ball as a Nittany Lion, he took a short pass 60 yards for a touchdown against Arizona. The rest of the year was less exciting, as he finished with 171 yards and returned 13 kickoffs. Penn State won its first eight that year, then lost its final three. The Nittany Lions then beat Texas A&M in the Alamo Bowl.
Though Larry made only one start as a sophomore, Paterno could see he had a special player on hands. Larry played in every game of the 2000 campaign, carrying the ball 78 times for 358 yards and returning 18 kickoffs. That season his brother, Tony, made the varsity as a wide receiver. Penn State had a down year, going 5–7 and not qualifying for a bowl bid.
Larry saw a fair amount of action as a junior in 2001. He started five games and registered a team-high 71 carries and averaged 4.7 yards per carry. He was a special teams stud, returning 17 kicks and blocking two punts.
However, all was not well. Larry was openly critical of Paterno's offense, saying it was so predictable that opponents could scout the team with eight-year-old game films. Larry's father urged Jo-Pa to suspend his son for his remarks, but the coach gave him a pass. Though the Nittany Lions dropped their first four games of the season, the team rallied to win five of its remaining eight against stiff competition.
In 2002, Larry finally got a chance to be Penn State's featured back. After four years of sitting, he tore through opponents with a vengeance. Larry's most dominant performances as a senior came against Indiana and Michigan State. He carried 28 times and broke his own school record with 327 yards, and also scored four TDs against the Hoosiers. Against the Spartans he rolled up 279 yards and four more scores in the first half before sitting out the remainder of a 61-7 laugher. Penn State finished 9–3.
Larry completed his senior season with an NCAA-best 2,087 yards—the first 2,000-yard rusher in Big Ten history. Along the way, Larry obliterated the school rushing record of 1,567 yards set by Lydell Mitchell in 1971. He averaged almost eight yards per carry and 160 yards per game, and hauled in 41 passes, scoring 23 times. Larry's final college numbers were 460 carries for 2,953 yards and 26 touchdowns. He caught 65 passes and returned 59 kickoffs and three punts for another eight scores. He also blocked a pair punts and scored two TDs on defensive special teams. His 5,045 all-purpose yards eclipsed the record set by Curt Warner.
Although Larry did not win the Heisman Trophy—he finished third in the voting—he did take home the Doak Walker Award as the nation's best running back and the Camp and Maxwell trophies as college Player of the Year. Obviously, he was also a consensus All-American and All-Big Ten pick.
Larry was projected to be the first back taken in the draft, but disparaging remarks made by him about his teammates and offensive line after a subpar performance in his final game—a loss to Auburn in the Capital One Bowl—dropped his stock with teams such as the Baltimore Ravens, Detroit Lions, Tampa Bay Bucs and Chicago Bears.
The Chiefs held the 16th pick in the 2003 draft, and GM Carl Peterson had his eye on Larry despite the presence of Pro Bowler Priest Holmes in the KC backfield. Holmes was shouldering a heavy workload, and had injured his hip late in 2002. Larry was viewed as an insurance policy with a huge upside. Coach Dick Vermiel wanted a defensive player, but was overruled by Peterson.
Figuring Larry would be available later in the draft, the Chiefs got cute and swapped picks with the Steelers at 27, picking up a third-rounder and sixth-rounder in the exchange. Sure enough, Larry was still around when it came time for KC to select and the club grabbed him. The Steelers, meanwhile, tabbed Troy Polamalu with the Chiefs' pick. A few weeks later, Larry Inked a seven-year deal.
Larry spent about half his rookie season as an inactive player. He appeared in six games and scored his first NFL touchdown on a broken play against the Bears in December. The Chiefs went 13–3 and made the postseason, but Larry was not asked to suit up for the Division Playoff game. He watched in frustration as KC went down in flames against Peyton Manning and the Indianapolis Colts.
There was more bench time for Larry as he started his second NFL season. The whispers were starting that he was just another Penn State running back bust. Meanwhile, several teams—most notably Miami—were working through back channels to see if the Chiefs were giving up on larry. They weren't.
MAKING HIS MARK
Larry finally began displaying his enormous potential at the end of the 2004 campaign, when he rolled up 100-yard games in the final three contests of a lost 7–9 season. Fullback Tony Richardson was instrumental in getting Larry to trust his blockers, run with more patience, and not be such a perfectionist. Despite beginning the year on special teams, he finished the campaign as the club's go-to guy when Holmes and Derrick Blaylock were hobbled by injuries. Vermeil lit a fire under Larry when he questioned his ability to play through an injury, saying it was "time to take the diapers off." The third-year back ended '04 with 581 yards and 11 TDs—nine on the ground and two on passes.
Larry was given a bigger role in 2005, spelling Holmes every third series in September and October. When a neck injury ended Holmes's season, Larry was ready to step into for him. He ran for 107 yards and a pair of touchdowns in his first start, and scored the winning touchdown as time expired. Vermeil showed great confidence in Larry by calling his number on the final play. The Chiefs could have played it safe and taken a game-tying field goal, but the coach wanted to send a message to Larry and the rest of the club. That game was played on November 6th, and it was just an appetizer for what was to come.
Larry would gain 1,351 yards in KC's November and December contests, by far the most in NFL history. He finished the year as the AFC's rushing leader with 1,750 yards, despite being a substitute for seven of the season's 16 games, and finished second in the NFL in carries. He also caught 33 passes and scored a total of 21 touchdowns. Larry notched a pair of 200-yard performances down the stretch, including 211 against the Texans, which broke the team record set by Barry Word in 1990.
On a simple dive play in the Houston game, Larry powered through the line and juked safety Marcus Coleman out of his jock on his way to a 23-yard touchdown. It was a perfect showcase of Larry's diverse running skills. Unfortunately, he did not have a chance to dispaly his talents in the postseason. Despite a 10–6 record, the Chiefs were nudged out of the playoffs on the final day.
Heading into the 2006 season, the Chiefs hired Herm Edwards to coach the club. One of his first moves was to proclaim Larry his starter. With Holmes still hurt but possibly coming back, Edwards wanted clarity on this situation. This was a rare moment for Larry—a coach had stated publicly and unequivocally that he was needed for the team to win. Edwards promoted Mike Solari to Offensive Coordinator, which also made Larry a happy man. Solari had been the Offensive Line Coach since Larry joined the Chiefs and they had a good rapport.
As the start of the season neared, the press made a big deal of the fact that Larry had topped 2,000 yards in his fourth season of high school and again in his fourth season of college ball. This would be Larry's fourth NFL season. Would the 2,000-yard barrier fall yet again?
Larry and the Chiefs began the year slowly, losing their first two games before wins over the San Francisco 49ers and Cardinals. The win over Arizona was keyed by a 78-yard catch and run be Larry, who was brought down just short of the goal by a facemask tackle by Antrel Rolle. He lay motionless for what seemed like an eternity, but was back in action the following week.
Larry found his stride in wins over the San Diego Chargers, Seattle Seahawks and Rams. In the St. Louis game, he carried the ball 27 times for 172 yards and a TD. He became the object of controversy in a loss to the Steelers after Damon Huard was picked off by Troy Polamalu, and Larry brought down the Pittsburgh star by grabbing his hair. He was assessed a penalty, even though hair is considered part of the uniform by NFL rules.
In a November win over the Oakland Raiders, Larry celebrated his 27th birthday with a 159-yard performance. He followed that with 157 yards in a victory over the Broncos. Larry snared the league rushing lead in that game, and also topped 1,000 yards for the season. Though 2,000 yards was almost certainly out of reach—especially with an offensive line slowed by injuries to Kevin Sampson, Brian Waters and tight end Tony Gonzalez, and the retirement of All-Pro Willie Roaf—the division lead was not. The Chiefs set their sights on Denver and San Diego and, with the defensive-minded Edwards on the sideline, prepared to rattle a few cages in the playoffs.
Regardless of how far the Chiefs go in 2006, they have found in their taciturn star running back a leader who can take them even farther down the road. Larry does more than lead by example, he can pick up a team and carry it to victory.
LARRY THE PLAYER
Larry carries the ball like a linebacker. He often initiates contact with opponents, and is strong enough to fend off solo tacklers.Surprisingly shifty between the tackles, he is also athletic enough to dodge hulking linemen completely, and when he gets a little daylight he has excellent speed.
Larry's stamina gives him a huge advantage late in games. When the Chiefs need to protect a lead, they hand him the ball and let him hammer away for first downs. He is also a good route-runner and pass-catcher.
The scouts had their doubt when Larry first came into the league. They said he was slow hitting the holes, and did not have the speed to turn the corner. Obviously, they were wrong. Larry paces himself during games, picking his spots to break off long runs. KC opponents know that the speed is there whenever he needs it.
EXTRA
# In high school and college, Larry's favorite runner was Ricky Williams.
# In 2002, Larry became only the ninth college player to run for more than 2,000 yards. He was the first 2,000-yard man to average over 7.5 yards per carry.
# During Larry's senior year at Penn State, his teammates encouraged him to strike a classic Heisman pose after touchdowns. He refused to do so, saying it would be disrespectful to Coach Paterno.
# Larry averaged 6.4 yards per carry at Penn State. He finished his career as the school's fifth leading rusher behind Curt Warner, Blair Thomas, Curtis Enis and D.J. Dozier.
# Larry was the first player in NCAA history to lead the nation in rushing and all-purpose yards in the same season.
# Larry's four 200-yard games at Penn State broke John Cappelletti's school mark.
# Larry is the first player in NFL history to top 150 rushing yards in each of his first three starts.
# Larry changed his uniform number from 34 to 27 after his rookie year.
# In December of 2004 Larry began a six-game streak scoring two or more touchdowns. The only player in history with more consecutive two-touchdown games was John Riggins.
# In 2005, Larry won the Chiefs' Derrick Thomas Award as team MVP.
# Larry was the AFC Player of the Month for November and December of 2005. The last players to win that honor back-to-back were Terrell Davis and Vinny Testaverde, both in 1998.
# After the 2005 season, Larry gave Breitling watches to his offensive linemen and tight ends
# In 2006, Larry passed Marcus Allen for the fifth spot on the Chiefs' all-time rushing list.
# Larry was the first running back drafted by the Chiefs to make the Pro Bowl since Christian Okoye.
# Larry's "big brother" on the Chiefs was Tony Richardson, the starting fullback. He showed Larry the ropes as a rookie. After Richardson left the Chiefs via free agency, Larry took over the tradition of meeting with the KC running backs in George Brett's restaurant and reviewing game film each week.
# Larry was nicknamed the "Centaur"—half man, half beast—by the Chiefs' radio crew.
# Larry's favorite games are the twice-yearly contests against Ladainian Tomlinson and the San Diego Chargers.
# In 2004, Larry became the first NFL player to join the Junior Player Develop Program, coaching local middle school players each week. He also coaches a Little League team during the summer called LJ's Lions.
# Larry graduated with a degree in Integrative Arts.
# Larry's brother had a brief NFL career, playing for the Vikings and 49ers in 2004.
# Larry's sister, Teresa, played softball for Penn State in 2001 and 2002.
# After the 2005 season, Larry was invited to do a Roca Wear fashion shoot with Jay-Z and Beyonce Knowles. An endorsing athlete, Larry gives the Roc sign after each rushing touchdown.
Read more
Latest headlines