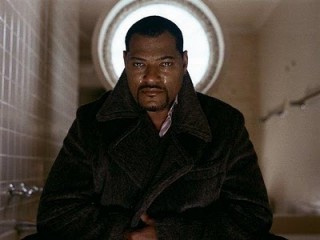 Laurence Fishburne biography
Date of birth : 1961-07-30
Date of death : -
Birthplace : Augusta, Georgia, U.S.
Nationality : American
Category : Arts and Entertainment
Last modified : 2010-08-02
Credited as : Actor producer, playwright, screenwriter
Laurence John Fishburne
, also credited as
Larry Fishburne, Larry Fishburne III
, born Laurence John Fishburne on July 30, 1961 in Augusta, Georgia, USA is an American actor, producer, director, playwright and screenwriter.
Possessing as much flash, energy and intelligence as anyone currently in the game, Laurence Fishburne has certainly played his share of regulation black hoodlums and threats but also has benefited from color-blind casting as his tour de force Broadway performance as England's King Henry II (opposite Stockard Channing as his Eleanor) in a 1999 revival of "The Lion in Winter" attests. His role as Cowboy Curtis, best buddy to Pee-wee Herman on TV's legendary kid series "Pee-wee's Playhouse" (CBS), is another reminder of his tremendous versatility.
Although born in Georgia, Fishburne was raised by his divorced mother in Brooklyn. It was she who encouraged him to be an actor and young Larry (as he was then billed) began his professional career with a New York stage debut at age ten. For three years (from 1973 to 1976), he portrayed adoptee Joshua West Hall on the ABC soap opera "One Life to Live" and made his film debut as the "Me" in "Cornbread, Earl and Me" (1975). After 18 months filming in the Philippines, Francis Ford Coppola's "Apocalypse Now" (1979) brought him to mainstream attention, and he subsequently appeared in the director's "Rumble Fish" (1983), "The Cotton Club" (1984) and "Gardens of Stone" (1987). Other prominent roles included playing Swain in Steven Spielberg's "The Color Purple" (1986) and Afro-centrist Dap Dunlap in Spike Lee's "School Daze" (1988).
Fishburne starred as a loose cannon former convict in the 1990 world premiere of August Wilson's "Two Trains Running" at Yale Repertory Theater and recreated the role on Broadway in 1992, winning several prizes including a Tony Award. After his no-holds barred histrionics elevated his psychotic killer in "The King of New York" (1990) above that of a garden-variety thug, he provided the moral center of "Boyz N The Hood" (1991) as Furious Styles, a model father who steers his son away from L.A. gang life, then radiated a sullen intensity as an undercover cop in Bill Duke's edgy thriller, "Deep Cover" (1992). On the heels of his winning an Emmy for a guest appearance in the 1992 Fox anthology series "Tribeca", Fishburne earned a Best Actor Oscar nomination for his riveting, unflattering portrait of 60s pop star Ike Turner, so critical to the success of the Tina Turner biopic "What's Love Got to Do With It" (1993), which reunited the actor with Angela Bassett, his estranged wife in "Boyz". He also lent solid support as a streetwise chess player in the underrated "Searching for Bobby Fischer" (also 1993).
In 1995, Fishburne appeared in four diverse features. In John Singleton's "Higher Learning", he was an articulate political science professor attempting to motivate his apathetic students. Underutilized as a spy paired with Ellen Barkin in "Bad Company", he delivered the goods as a tough cop resentful of the investigations of a law professor (Sean Connery) in "Just Cause". And despite never having performed Shakespeare before, Fishburne made screen history as the first black actor to portray the Bard's Moor in a major studio film in Oliver Parker's "Othello". 1995 saw Fishburne make his Off-Broadway debut as a playwright and director with "Riff-Raff", a popular, loosely structured drama about an African-American con man (Fishburne) and his relationship with a white junkie, which he adapted into the feature "Once in the Life" (2000). Also that year, the actor delivered an Emmy-nominated turn as a courageous WWII pilot in the superior HBO movie "The Tuskegee Airmen."
Reuniting with Bill Duke, Fishburne executive produced and starred in "Hoodlum" (1997), essaying real-life Harlem racketeer 'Bumpy' Johnson, on whom his "The Cotton Club" character had been based. The extremely watchable Depression-era film benefited greatly from the fresh angle its black point-of-view brought to a fairly well-known historical account, and Fishburne displayed a great range of emotions lurking under Bumpy's seemingly placid exterior. He pulled down his second Emmy as executive producer of the universally acclaimed "Miss Evers' Boys" (HBO, 1997), a dramatization of the Tuskegee Study, a shameful medical experiment in which the US Public Health Service withheld treatment from a group of African-American men with syphilis to examine the effects. Fishburne also co-starred as an early participant in the study who romances Alfre Woodard's nurse Eunice Evers. After executive producing and starring as Socrates Fortlow in HBO's "Always Outnumbered" (1998), he enjoyed his biggest commercial success to date with the sci-fi actioner "The Matrix" (1999). Finding a balance between action hero and Zen Master, Fishburne offered a commanding presence as the mysterious revolutionary Morpheus, but it was the arresting visual style of its writer-directors (the Wachowski brothers) that attracted the hordes through the turnstiles.
After the mega-success of "The Matrix," Fishburne took his first turn behind the camera as the director of "Once in the Life" (2000), an adaptation of his 1994 play "Riff Raff" in which he starred as two-bit hood 20/20 Mike, a supposed expert at self-preservation whose world is thrown into chaos when his white junkie half-brother fouls up a heroin heist. The film was well-acted and handsomely filmed, but suffered from the claustrophobic confines of its theatrical origins. Fishburne next appeared in the fast-paced action film "Biker Boyz" (2003) as Smoke, the reigning champion among a ring of African American professionals by day who become motorcycle street racers by night. That same year he returned to the role of Morpheus--now exchanging his signature cool for volume and bravado in Morpheus' new incarnation as a borderline zealot--for "The Matrix Reloaded" and its filmed-back-to-back sequel, "The Matrix Revolutions."
The actor was then used to strong effect by director Clint Eastwood in "Mystic River" (2003), playing police detective Whitey Powers, who doubts the ability of his partner (Kevin Bacon) to stay impartial on a homicide case involving two of his childhood friends (Sean Penn and Tim Robbins). Next it was on to the role of a powerful crime kingpin whose arrest provokes an all-out invasion of a police precinct house in the well-assembled 2005 remake of the thriller "Assault on Precinct 13." Fishburne next costarred alongside Tom Cruise, Philip Seymour Hoffman and Michelle Monaghan in "Mission: Impossible 3" (2006), the third installment to the popular spy franchise—directed this time by "Lost" creator J.J. Abrams—that depicted a retired Ethan Hunt (Cruise) living a slower-paced life while training new IMF agents. But he's called back to action to due battle with Owen Davian (Philip Seymour Hoffman), an international weapons dealer who may turn out to be Hunt's toughest adversary yet.
EXTRAS
* 1971 Professional stage debut as a young baseball fan in Charles Fuller s My Many Names and Faces at NYC s New Federal Theatre
* 1973 Appeared regularly on One Life to Live (ABC) as Joshua West Hall, the adopted son of a police captain
* 1975 Film debut in starring role in Cornbread, Earl and Me
* 1975 Played Tony Pridgeon in Section D at the New Federal Theatre
* 1976 Co-starred Off-Broadway in the Negro Ensemble Company production of Eden
* 1977 Went to the Philippines for 18 months to shoot Apocalypse Now (1979) under Francis Ford Coppola s direction; credited in the film as Larry Fishburne
* 1979 Credited as Laurence Fishburne III for Fast Break
* 1980 TV series debut, The Six O Clock Follies (NBC)
* 1983 Reteamed with Coppola for Rumble Fish
* 1984 Third film with Coppola, The Cotton Club ; for his role as the fictional Bumpy Rhodes, he researched the real Harlem gangster Bumpy Johnson, whom he would later portray in Hoodlum (1997)
* 1985 Cast as Swain in Steven Spielberg s The Color Purple
* 1986 Had continuing role as Cowboy Curtis on Pee-wee s Playhouse (CBS); met a young production assistant named John Singleton, who would later direct him in his breakthrough role Boyz N the Hood (1991)
* 1987 Fourth film with Coppola, Gardens of Stone
* 1988 Acted in Spike Lee s School Daze
* 1990 Provided some of the muscle for Christopher Walken s drug operation in Abel Ferrara s King of New York
* 1991 Won acclaim for his lead performance as the father in Boyz N the Hood ; directed by John Singleton
* 1992 Co-starred as an ex-con romancing a waitress in August Wilson s stage drama Two Trains Running ; play first produced at Yale Rep before moving to Broadway; received Tony Award
* 1993 Earned an Emmy Award as Best Guest Actor for his turn in the pilot episode of TriBeCa (Fox)
* 1993 Played Ike Turner to Angela Bassett s Tina Turner in What s Love Got to Do with It ; received Best Actor Oscar nomination
* 1993 Portrayed the Washington Square Park mentor of a young chess prodigy in Searching for Bobby Fischer
* 1994 Formed Loa Productions, an independent production company
* 1995 Became first black actor to portray Shakespeare s Othello in major studio feature
* 1995 Played Hannibal Iowa Lee in the acclaimed HBO movie, The Tuskegee Airmen ; earned an Emmy nomination
* 1995 Reteamed with Singleton for Higher Learning
* 1995 Wrote, directed and starred in the Off-Broadway - one-act play, Riff Raff
* 1997 Executive produced (also starred) the acclaimed HBO movie Miss Evers Boys ; received an Emmy nomination for Outstanding Lead Actor in a Miniseries
* 1997 Reteamed with Bill Duke as star of Hoodlum playing Ellsworth Bumpy Johnson, a 1930s Harlem racketeer who locked horns with Dutch Schultz (Tim Roth) and Lucky Luciano (Andy Garcia); also executive produced
* 1998 Executive produced and starred as Socrates Fortlow in HBO s Always Outnumbered
* 1999 Portrayed the mysterious Morpheus in the blockbusting The Matrix
* 1999 Starred as Henry II in a Broadway revival of James Goldman s The Lion in Winter at NYC s Roundabout Theatre
* 2000 Made his feature directorial debut with Once in the Life the film version of his play Riff Raff
* 2003 Again portrayed Morpheus in The Matrix: Revolutions
* 2003 Played a cop opposite Kevin Bacon and Sean Penn in Mystic River ; directed by Clint Eastwood
* 2003 Reprised Morpheus in The Matrix: Reloaded
* 2005 Starred with Ethan Hawke and Maria Bello in Assault on Precinct 13
* 2006 Cast in Emilio Estevez s directorial debut, Bobby
* 2006 Played Cruise s mentor in Mission: Impossible III directed by J.J. Abrams
* 2008 Cast as Supreme Court Justice Thurgood Marshall in the Broadway production of Thurgood at the Booth Theatre; earned a Tony award nomination for Best Actor in a Play
* 2008 Played a casino security agent in 21 a film based on a group of MIT card counters
* 2008 Replaced departing series star William Petersen on CSI: Crime Scene Investigation (CBS) as a college lecturer and former pathologist
* 2010 Appeared in Predators, a sequel to cult favorites Predator (1987) and Predator 2 (1990) about an elite group of warriors hunted by a merciless alien race
* First part was in second grade playing Peter Pan
Read more
Latest headlines